Those Elusive Desert Elephants
From our lodge of Camp Kipwe in Twyfelfontein, we embarked upon the exciting tour of tracking desert elephants. (For more on the accomodation check out our post on Camp Kipwe)
These elusive animals are now only to be found in the Kunene region of Namibia and Mali in North Africa.
If you're considering a road trip through Namibia, then your in for a holiday of a lifetime. I always find it incredibly useful to plan our trips with the help of a guide book.
Take a look at this informative Bradt guide, it will give you great tips and advice.
There were only four of us on the 7 am drive to track the Desert Elephants, so this meant it was going to be quite a personal experience.
'Taffy', our tracker, although not very Welsh, drove us to the Elephants last known location. En-route he came upon some old tracks, no sure definition in the footprint, but appeared to point us towards a waterbed.
As we approached the waterbed, the footprints were crisscrossed by fresh tracks that made us perform a U-turn and head towards the mountains.
Start creating your own adventure, and discover the amazing scenery & African wildlife of Namibia for yourself.
We chose British Airways, and it was all done with a few clicks, a brief stopover in Johannesburg, and our luggage was there for our arrival in Windhoek.
Were we really doing this?
This is such a fantastic experience, the feeling of anticipation and expectancy that you get while bumping around in the back of an open safari truck, wishing and hoping that your dreams will be realised, cannot be surpassed.
We were in luck, we came across a small herd of mainly females, with some juvenile young males, a total of about seven animals. 'Taffy' parked the truck close to the group, in a place where they wouldn't feel threatened.
We were within 25 feet of them. However, they were free to move around us.
Taffy explained this was only part of the herd, there were more to be found, but I was slightly reluctant to leave just in case we didn't discover any more.
However, we headed off to track the other part of the herd which apparently included an infant.
After about 30 minutes we managed to track the mixed herd, which did include the month old baby.
Unbelievable, Taffy again placed us a safe distance away, but we were still fairly close to them all.
We had to pinch ourselves; there are only about 600 of these beautiful animals left in Namibia now.
Although they have risen to this number in recent years due to local conservation, in the early 20th century there were 3,000 roaming this landscape.
These desert dwellers rove wild around this area of Namibia and cover about 15km in a day.
We sat observing this herd of elephants for quite a while, watching them dust bathing was a fantastic experience.
Does life get any better?
Unfortunately, we had to start heading back.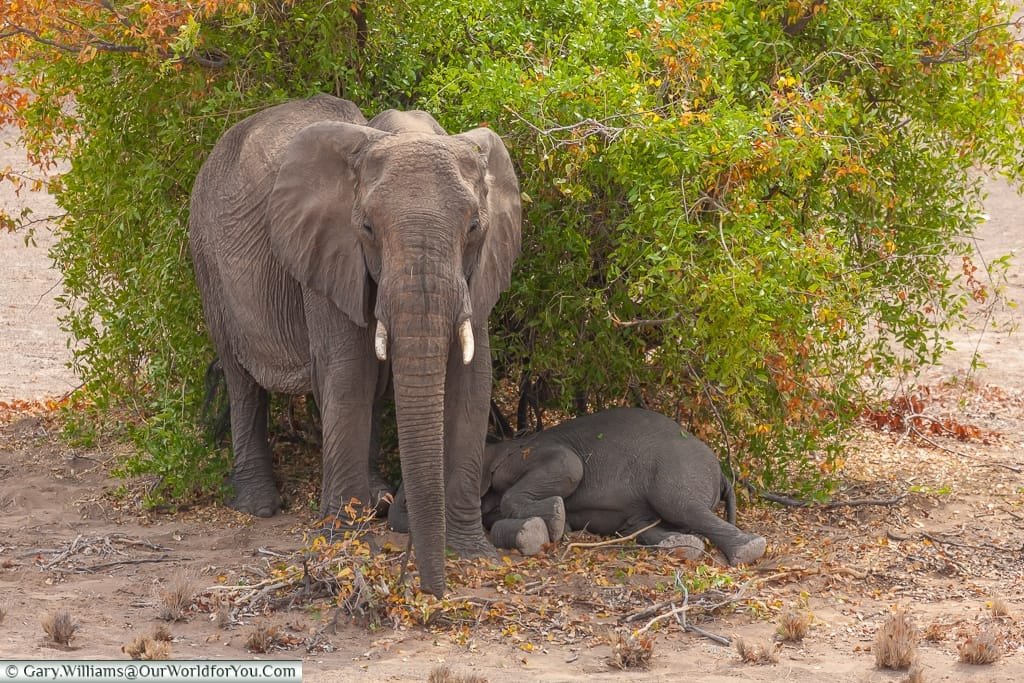 Just before we left Taffy drove us around the back of a large rock and let us get out and climb up, so that we could view the elephants without the protection of the truck.
Witnessing the desert elephants in this environment, was one of the things we wanted to see before we set off on this trip, and it was mission accomplished.
Jumped on board a safari truck and tracked creatures in the wild? Or did you discover them as part of your self-drive adventure?
Inspired to visit Namibia?
Why not have a look at all our posts from our Namibian adventure?
Hopefully, there's plenty to inspire you, and you'll get the urge to plan that trip of a lifetime.