A visit to Berlin's Christmas Markets
What you'll discover in Germany's capital at Christmas
The Christmas tree in front of the Brandenburg Gate
We knew Berlin was a large city, so would it be embracing all things Christmassy throughout, we were about to find out.
To get an understanding of the city, we decided to head into the centre, and we took a stroll around the Gendarmenmarkt area. This attractive square is surrounded by some incredible buildings, the Concert Hall, Deutscher Dom and Französischer Dom.
These made a lovely backdrop to the Weinachts Zauber Christmas market. Although, what we were initially surprised about, was that people were queuing to get into the market. We'd visited quite a few German markets before and never had to queue, and this comes from a Brit, a nation of people who are renowned for queuing.
Concert Hall & Deutscher Dom
We soon realised that this was for security checks, and with the developments over recent years around these events, it wasn't too surprising.
Also, for this market, there was a €1 entry fee if you arrived after 2pm. Live music was on the central stage here, so you were entertainment as you strolled around.
The Concert Hall from the market
We visited during the day and evening, and like most Christmas markets, it has a more subdued feel during the day. Which actually is ideal, as this is when you can seek out those unusual gifts while browsing the stalls and indulge in the local delights.
Some toffee covered grapes
Also within the Weinachts Zauber Christmas market, there was an indoor section all along one side. So, if the weather took a turn for the worse, you can jump inside and carry on browsing, or like us, it was a chance to grab a glühwein & rest our feet.
There's lots going on within this market, a little brass band wandering through the lanes, plenty of food stalls, to grab a snack. What we also noticed here that there were quite a few pop-up eateries where you could sit and enjoy a meal.
Sampling the delights of the market
Don't be put off by the queuing or the entrance fee, Weinachts Zauber is a delightful market to visit.
The Christmas market at the Rotes Rathaus is known as "Berliner Weihnachtszeit", this market is full of fun, for all ages of your family. At times, some of the markets may be more orientated to adults or children; however, this had it all.
There were no security checks here, it was straight into the festivities. I really enjoyed this market and probably my favourite of the ones we visited in Berlin.
There was an ice rink, huge Ferris-wheel, miniature railway and so many stalls. I couldn't resist the aroma of the warm chocolate covered nuts so had to grab a bag while enjoying a glühwein.
St. Mary's Church and the TV Tower
The sun was setting while we were here, so the market was waking up around us, with lights twinkling, festive cabins coming alive and the ice rink was aglow this one was fun & as usual never short of a food stall or two.
The ice rink in front of the Ferris Wheel
It's quite a short walk from Rotes Rathaus to Alexanderplatz where you'll find another market.
Trying to dodge the heavy rain we arrived at the Christmas Market in Alexanderplatz. This market for me, I felt was aimed a little bit more towards adults, although there was an ice rink, carousel and other things for children to enjoy.
Carousel and the World Clock
I always love to see the Käthe Wohlfahrt cabin, it wouldn't quite be the same without it and also the traditional Christmas Pyramids. Nearby here is also the World Clock and a must to see, and has been in the square since 1969.
Käthe Wohlfahrt on Alexanderplatz
Colourful Christmas Pyramid
I love nothing more than planning a trip and so often I use the DK Eyewitness books.  I find them  extremely informative, easy to follow and the pictures and maps tempt you into discovering more.
We used a previous version of this book to plan our Germany road trips, now you can grab the revised copy.
Not to be defeated for the evening, we headed over to Eco-Friendly market along Sophienstrasse near Hackesche Höfe.
This market is only open the four weekends in advent. It is a lot smaller than the other major markets; however, it felt more unusual and unique, and the gifts were made with the environment in mind.
Strolling along Sophienstrasse
Start creating your own Christmas Market adventure and discover the culinary delights for yourself, take a browse through ebookers.com for departures from your local airport.
Discover more of Germany on a road trip like us, Rental Cars searches multiple well-known car hire brands and discovers the deals that suit you the best.
We headed to Potsdamer Platz, which was once No-man's Land for a few reasons, the main reason being the history of the area and that there are still parts of the Berlin Wall on display. Also, it was a chance to visit the last of our Christmas markets whilst in Berlin.
Potsdamer Platz Christmas market
Potsdamer Platz is in a modern part of the city, and we were there during the day, so couldn't fully appreciate the market coming alive in the evening. It had a nice selection of stalls and rides, and even had an ice stock curling rink and a mini ski slope.
The tyre ski slope at the Potsdamer Platz market
Although there are more Christmas markets dotted around the city, if time is not on your side, you may have to pick and choose which ones to visit, as public transport will be your best option.
Would you like a little more?
We have created a little YouTube video of Berlin, why not check it out?
Why not subscribe to our channel and get the latest clips as we post them?
Too much history not to miss
As this was our first trip to Berlin, we didn't want to spend all of our time visiting the Christmas markets. Gary and I are intrigued with history and Berlin is just overflowing with so much.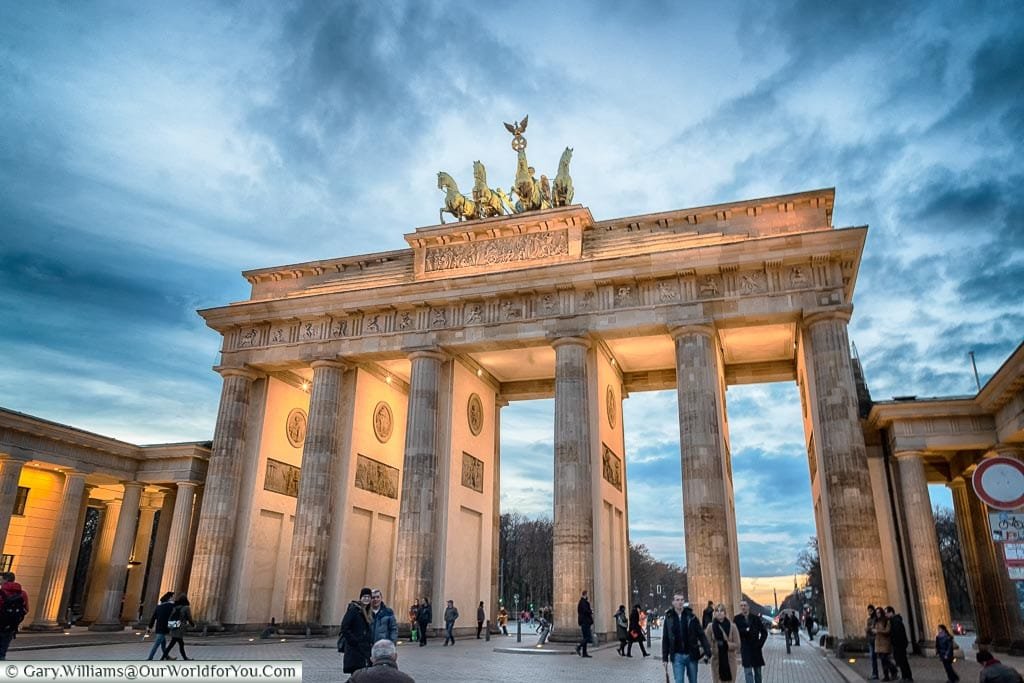 The Brandenburg Gate at dusk
The falling of the Berlin Wall in 1989, was a moment in time that we both remember watching together with amazement. So, we weren't going to let this opportunity slip by.
We headed to the Berlin Wall Memorial, via Checkpoint Charlie, which was a crossing point between East Berlin and West Berlin during the Cold War.
Piece of the Berlin Wall near Checkpoint Charlie
It has now become a bit of a tourist attraction, although, it still holds a significant point in history that I wanted to visit.
We jumped on the U-Bahn to Naturkundemuseum station and strolled the few minutes up the road to the Berlin Wall Memorial.
The Berlin Wall at the memorial
It took my breath away, I couldn't believe I was standing there next to it. Whether it was because it only fell in 1989, so recent in terms of history and the division and atrocities associated with it.
Sections from the Berlin Wall
I couldn't help myself but go and lay the palm of my had on it, somehow trying to alleviate some sort of pain.
A few who lost their lives
It was an astonishing sight to see, some of the buildings that the wall was built alongside in 1961 still remain. You are also able to see where numerous tunnels were dug for escape.
One of the tunnels dug under the wall
Part of the Berlin Wall in Potsdamer Platz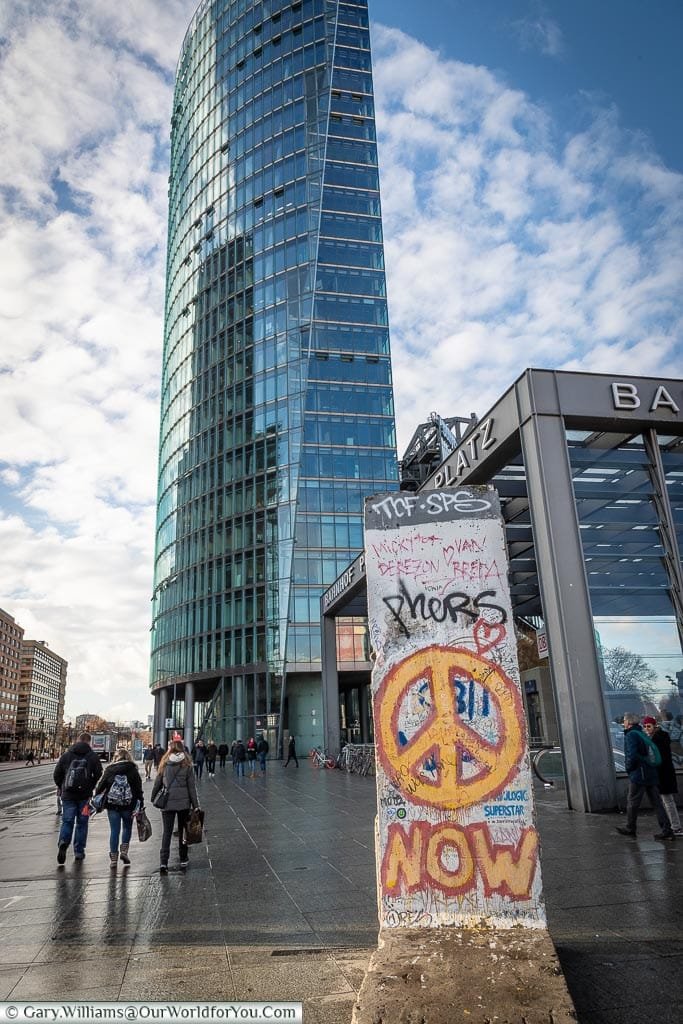 Berlin Wall in Potsdamer Platz
Story behind the Berlin Wall
Trying to hold back the tears while reading and listening to innocent people's stories was too difficult.
That there was a Museum Island in the heart of Berlin. This island is a UNESCO World Heritage Site and is home to five incredible museums built between 1824 and 1930.
Probably one of the most photographed landmarks in Berlin if not Germany. We visited the Brandenburg Gate a couple of times, as we wanted to see it during the day and the evening.
When we were there during the day, there was a demonstration taking place, which is often witnessed by this 18th-century neo-classical building.
Heading back later in the evening it was a lot quieter and looked very impressive at dusk.
Another place Gary and I wanted to visit, was the Reichstag Building (Parliament Building). Although you have to book a time slot in advance (which is very easy), this tour is amazingly free of charge to visit along, with an audio guided tour.
The dome on the Reichstag Building
From within the glass dome at the top, the views across the city are incredible, as you stroll around in circles winding your way up to the top of the roof, all the significant landmarks are pointed out for you.
Inside the Reichstag dome
Ensure you book your Reichstag visit in advance; otherwise there is a high probability you won't get in. We used their official Deutscher Bundestag, website and it is very easy to register. However, make sure you bring a form of official ID and also there are airport-style security checks.
We walked down the road to the Memorial of the Murdered Jews of Europe. This Holocaust Memorial is quite moving, 2,711 grey concrete slabs of differing heights, lay across a sloping field. They portray a cold starkness, that really does make you stop and think.
Memorial of the Murdered Jews of Europe
You can wander amongst the slabs; however, I felt at times some people could have been more respectful here.
Holocaust Memorial flowers
Step inside the Holocaust Memorial
(These options are provided by GetYouGuide.Com. We will earn a small commission, at no extra cost to you if you book through our site)
Although we really enjoyed our time in Berlin, mixing the trip with the Christmas markets and visiting the historical sites, we felt that as a whole, Berlin didn't entirely embrace Christmas throughout its streets like other German towns and cities.
In hindsight, this wasn't a bad thing as it gave us the opportunity to uncover more of its history.
For the three nights, we were in Berlin, our accommodation was at Adina Hotel Checkpoint Charlie. It is only about a 10 minutes' walk to the Gendarmenmarkt and close to public transport connections.
It also had onsite parking, which was one of the reasons we chose it. I would highly recommend this hotel, and the staff were extremely helpful.
Inspired to visit Berlin and its Christmas Markets?
This city is so full of history you'll need a few days to cover all your must-see sites
Why not checkout the latest deals on Booking.Com?
(Why not Pin It for Later?)
* This post may contain links to affiliated sites where we earn a small commission at no additional charge to you.