Camp Kipwe, Twyfelfontein, Namibia
Hidden behind the boulders
Camp Kipwe is nestled amongst the boulders and rocks and blends in with the scenery seamlessly. You almost perform a double take to distinguish where the landscape finishes, and the domed lodges begin.
The camp has been thoughtfully designed to give an unobscured view of the surroundings, and the mergence with nature is flawless.
To ensure this lodge fitted impeccably with the landscape, natural materials were used as much as possible, even utilising the boulders and rocks as walls.
The pathways weaving between the rocks even hide a secluded pool.
If you're considering a road trip through Namibia, then your in for a holiday of a lifetime. I always find it incredibly useful to plan our trips with the help of a guide book.
Take a look at this informative Bradt guide, it will give you great tips and advice.
The staff at Camp Kipwe could not do enough for you; if you stay at this stunning Damaraland luxury lodge, you won't be disappointed.
There are eight standard circular domed rooms/lodges, all with secluded outside bathrooms with a view to take your breath away.
The thatched luxury suite sprawling across three rooms was stunning.
Perched up on the rocks this secluded hideaway is truly memorable. Not just for the care and the detail, but for the beautiful views of the region, while relaxing in your open-air bath.
This certainly isn't something you experience every day.
You could also embark upon the adventure to track down the elusive Desert Elephants, all from the safety of the safari truck.
These elephants were once widespread through Africa but can now only find them in Namibia and Mali. Their numbers have dwindled considerably over time, but conservation measures are now in place, and their numbers have increased to 600, although around the early part of the 20th century there were around 3,000.
This Global Block does not have any content.
The evenings at Camp Kipwe are equally special; the staff encourage everyone to partake in enjoying a sundowner high above the lodge.
After selecting your preferred beverage at the bar, you are shown to the winding route up to the top of the boulders, closely followed by your G&T's. You can sit around, chat and eat nibbles while the sun slowly sinks across the skyline.
We were lucky that we stayed at this luxury lodge for two nights, so we were able to enjoy this truly memorable experience twice.
Start creating your own adventure, and discover the amazing scenery & African wildlife of Namibia for yourself.
We chose British Airways, and it was all done with a few clicks, a brief stopover in Johannesburg, and our luggage was there for our arrival in Windhoek.
This Global Block does not have any content.
Once the sun had set we headed down to the thatched semi open-air dining terrace, where once again you had unobscured views, but this time to the evening sky.
The service and food here were fantastic; you wouldn't believe you were actually in a remote part of Africa.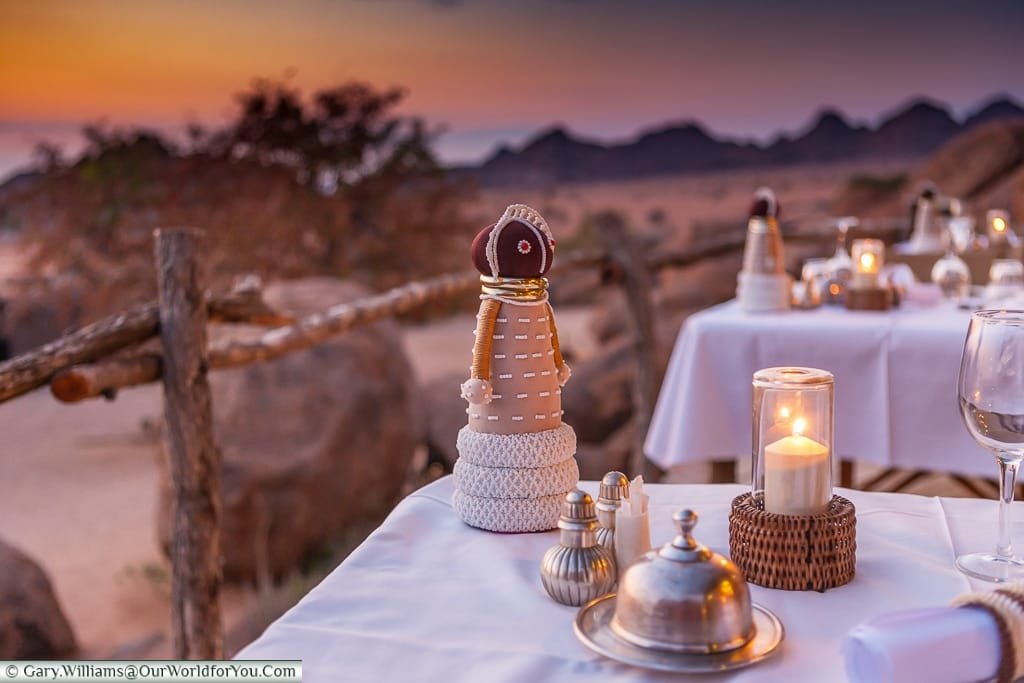 I wouldn't hesitate to return.
Stayed at Camp Kipwe? Enjoyed Sundowners overlooking the plains? Or is it just a dream (for now 😉)
This Global Block does not have any content.
Inspired to visit Camp Kipwe?
It makes a great base in Damaraland.
A place to rest & relax, or enjoy the activities laid on by the resort such as the Desert Elephant Traking, or the Twyfelfontein, Burnt Mountain and Organ Pipes Excursion.
All part of that perfect road trip through Namibia