A day amongst the vines, Champagne, France
Pick yourself a champagne route and go explore
Hold on one second, did you think I was going to give you the route? Well I will, but this is no hard & fast path to take; explore, enjoy yourself.
Sure there are signs labelling 'Routes du Champagne', but there are many pretty villages in this region that deserve a look, and rolling along the valleys that link them is a joy, so let's get going.
If like us, you love visiting different regions of France then this Michelin guide will definitely assist in your planning.
We used a previous version of this book to plan our eastern France road trips, now you can grab the revised copy.
We are based in Châlons-en-Champagne, a town that renamed itself to make sure you knew where it was located.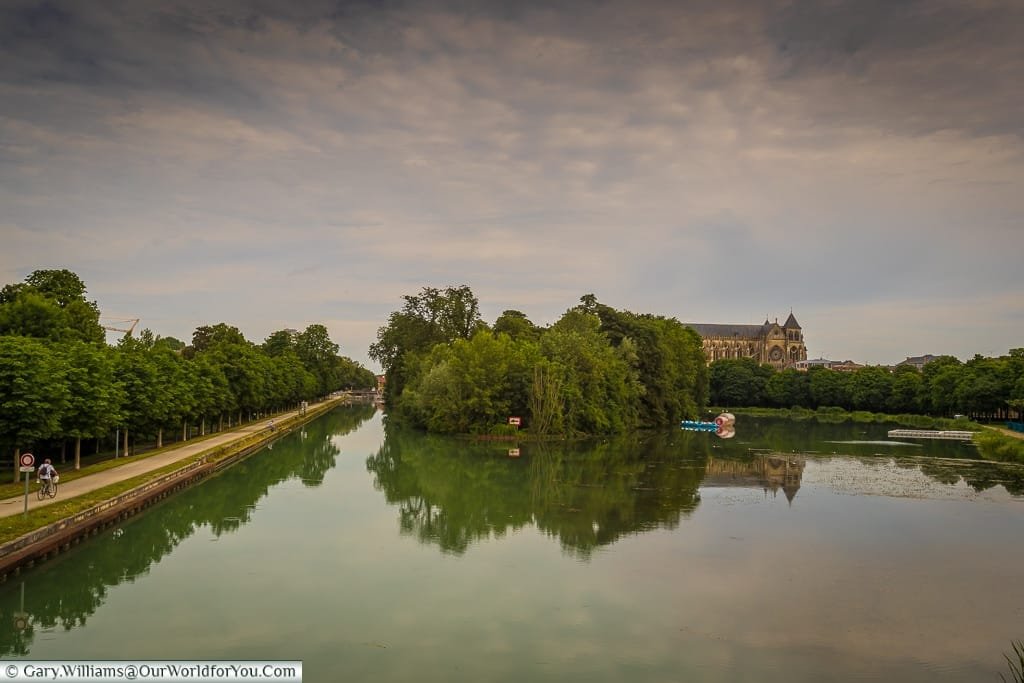 Who needed to know it was founded on the banks of the river Marne? (Châlons was formaly known as Châlons-sur-Marne until 1998)
Our planned route is north, heading swiftly out of the town along the N44, which turns into the D944 just after La Veuve some 6miles/10km.
We head a little further north, our destination is the Champagne heartland, so we head west along the D37 towards Villers-Marmery.
(The actual GPS trace of the route taken on my adventure)
As with so much of France, driving is a pleasure. The roads are quiet; the drivers, in the main, courteous - even those in tractors! This is going to be a pleasurable few hours in the saddle. Sure, you'll have a lunchtime destination in mind, or maybe just wing it - you will find somewhere where you'll want to stretch those legs.
So as you soak up one village after another, Ambonnay, Bouzy, Mutigny you'll probably notice how quiet the places are.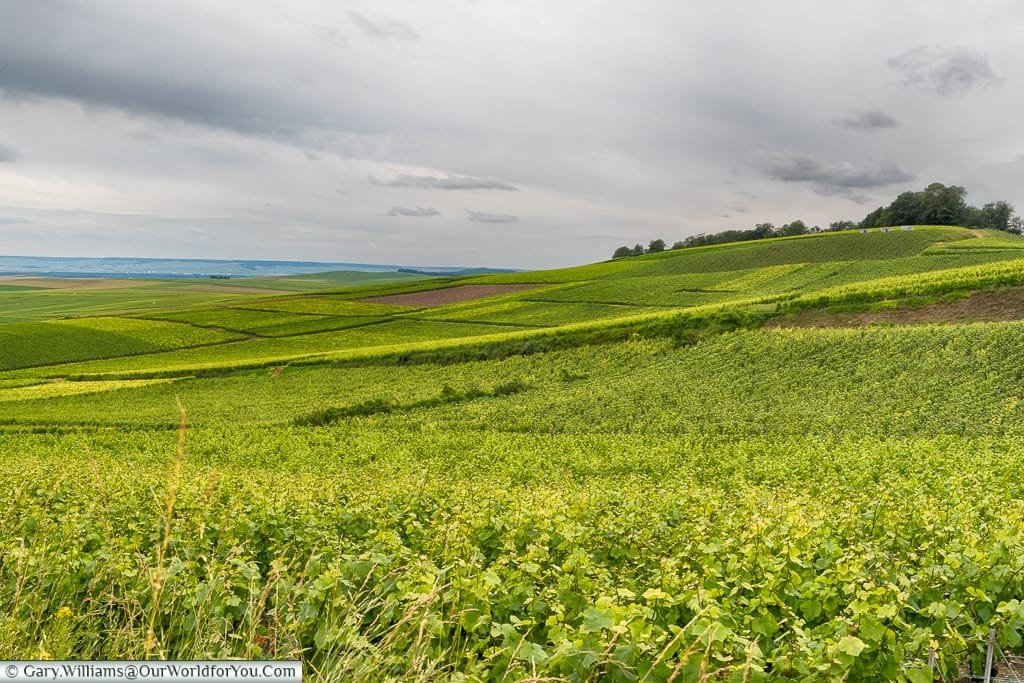 As you follow the courses of the rivers, the Marne, La Livre, you'll see the white Renault van parked by the side of the vineyards. You may notice the signs of the houses that own the parcels of land, names you'll recognise.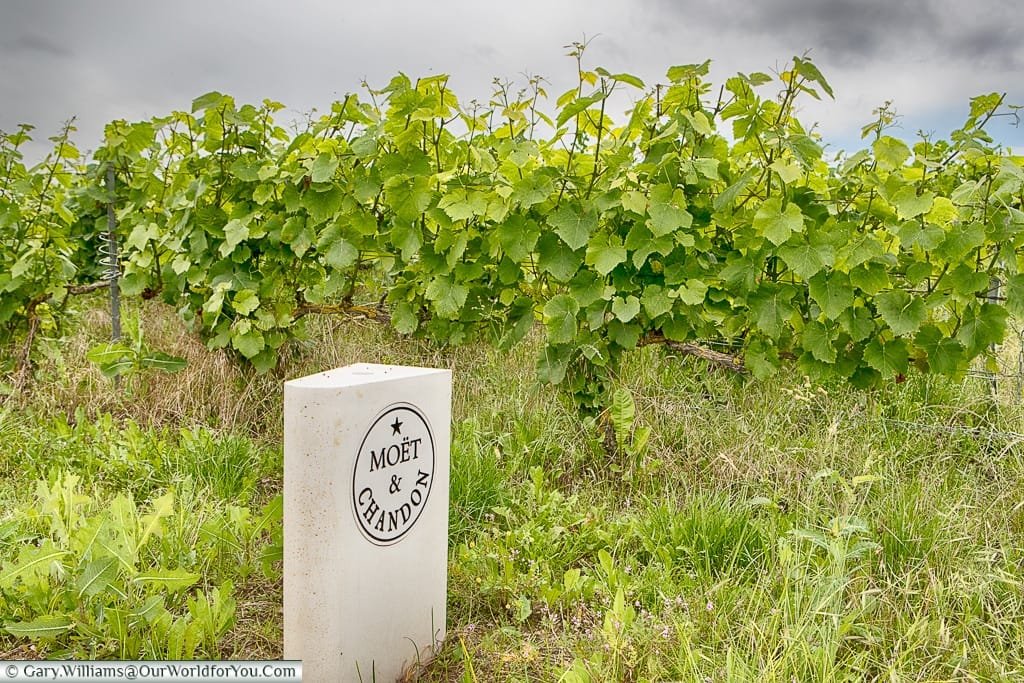 Make time for feeding & watering
Our appetites were whetted when we reached the beautiful little town of Ay. Crawling into town from the north following one of those white Renaults we come across one of the most beautiful roundabouts we have ever seen - a globe rotating on a bed of water.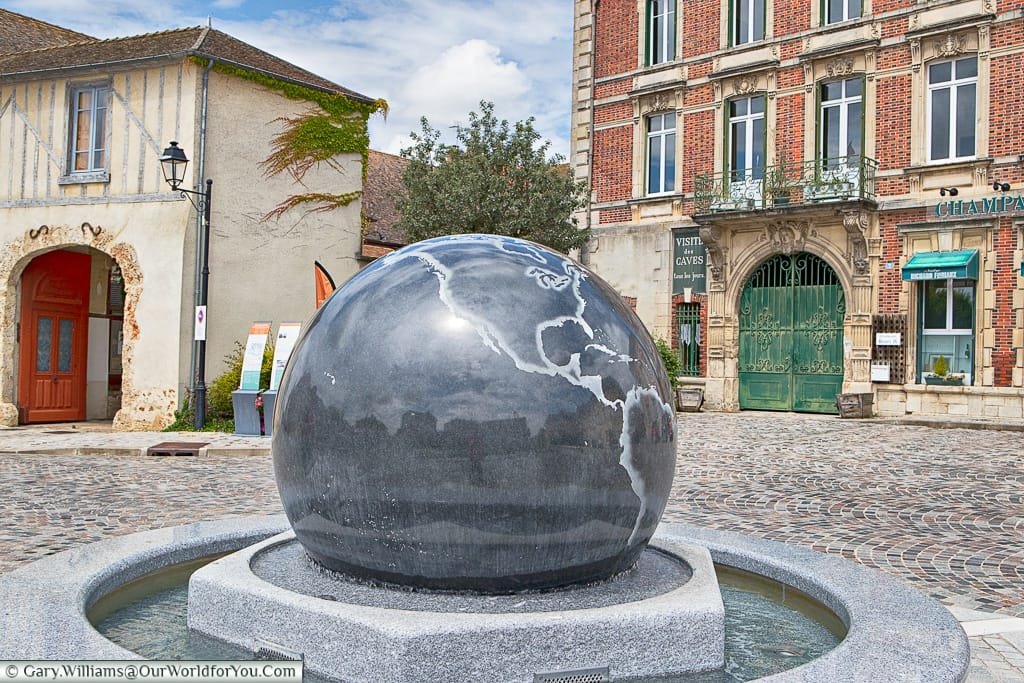 This is leg stretch time so we head into town. This beautiful little place is home to Bollinger, no less, but the list of other houses you will find here seems endless.
We pick a quiet bistro in the centre of town. I buck the trend an go for a glass of refreshing Belgium beer - oh dear, but Janis sticks to the 'rules' and samples some champagne.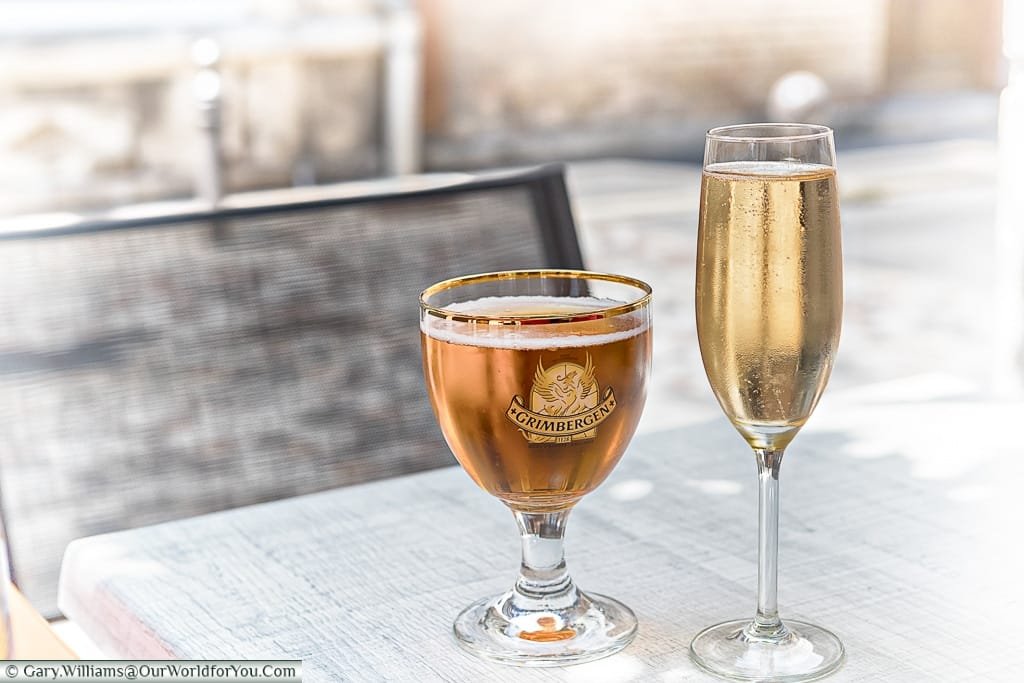 A further wander along the lanes of this charming place reveals even more wineries. A mental note has been logged too - Ay looks to be a good place to stay.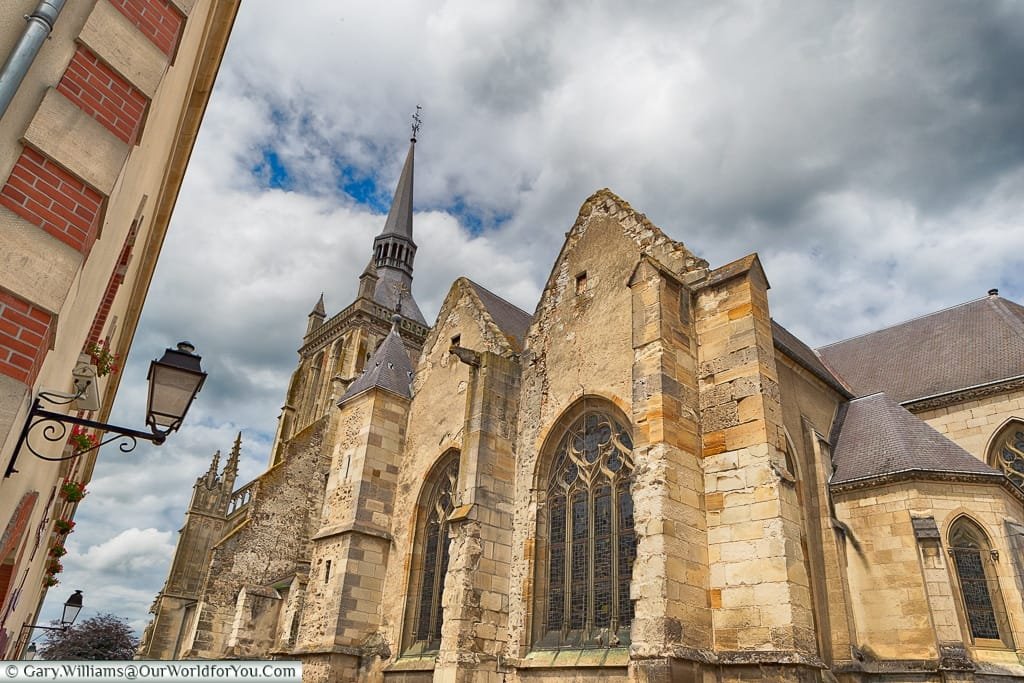 We fire up the car & drop the hood. The sun is warming on this summer's day.
A slow amble out of town, noting the shutters are closed in the main, and as always, there are few people on the streets.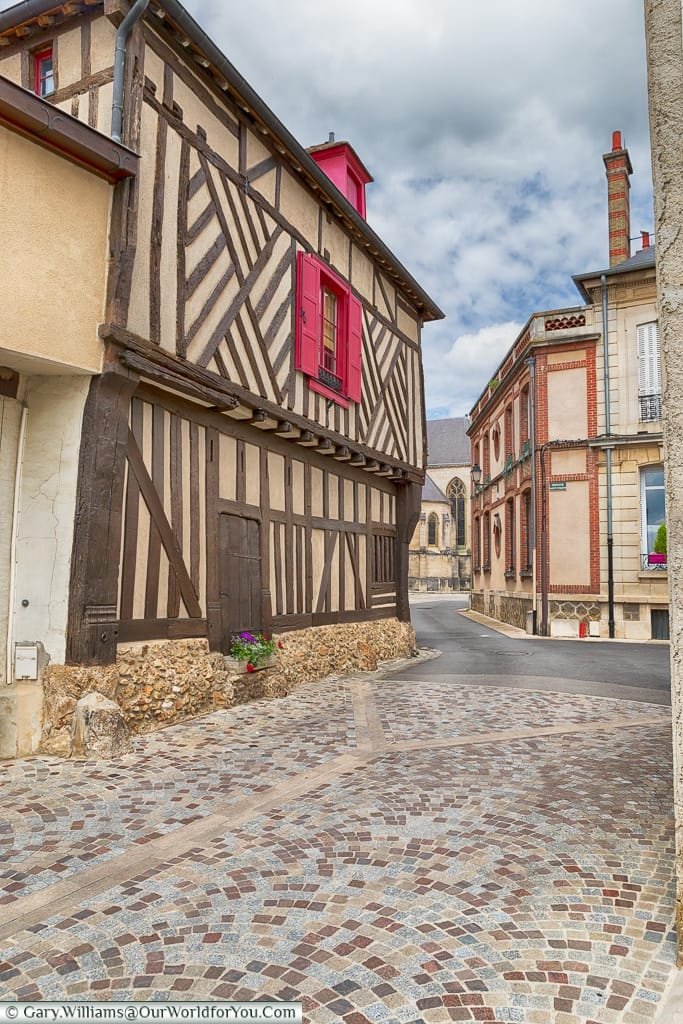 However the next place on the map has a little more life, we're heading to Epernay.
Épernay and the Avenue de Champagne
Now this is one of the bigger towns in the area, and again an ideal destination if you're planning a trip to this region. It's also well served by rail so if you are not planning on a road trip, but still want to experience the Champagne region it's just over an hour outside Paris.
Épernay proudly boasts ' Avenue de Champagne', with houses such as Moët et Chandon, Champagne Pol Roger, Champagne Perrier-Jouët & Champagne de Venoge to name but a few, and off the eastern end, on Rue de Verdun the skyline is dominated by the tower of Champagne de Castellane.
Épernay is another possibility on Tour of Champagne II, should it make it to production, and why not?
Back on the Route de Champagne
On the road again and this time heading south out of Épernay, picking out the villages of Monthelon, Morangis, Moslins before a slight detour to Grauves.
We're now heading back to Châlons-en-Champagne by way of Cuis, Oger & Vertus before picking up the D933, which must have been built over a Roman road because it's beautifully straight.
A fantastic day in the saddle, Ay was the standout village, and Épernay the town that caught our attention. The old disappointment we didn't stop at a local producer to pick up a case. Still penty of time for that.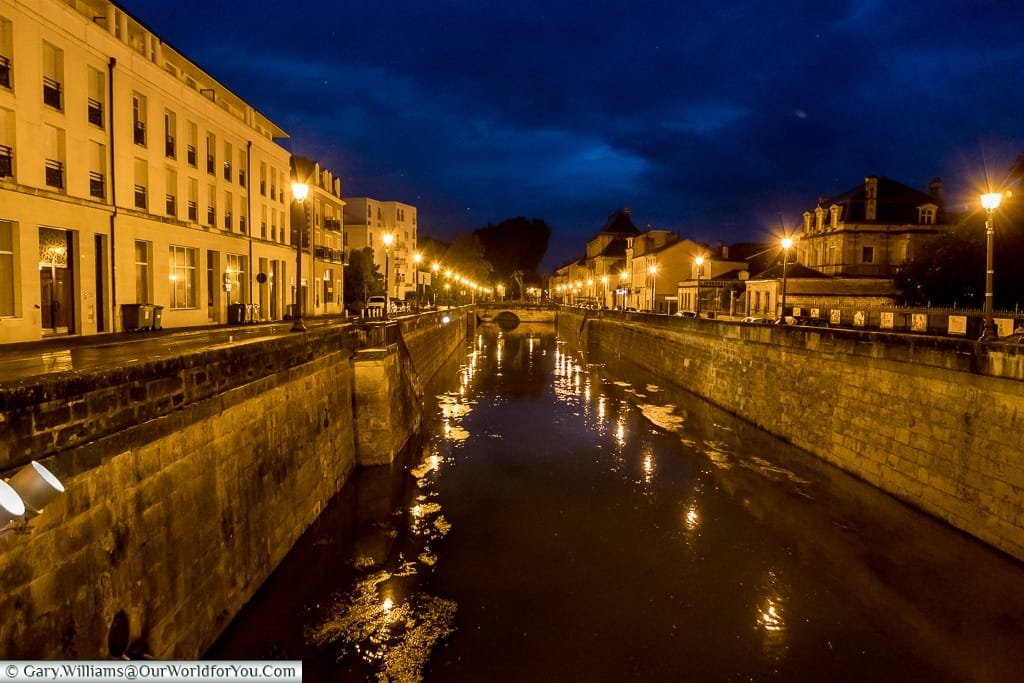 Toured the 'Routes du Champagne' and taken int he fabulous rolling scenery? Any highlights from your tour you wish to share?
Inspired to visit the Champage Region?
Our base for this tour was Châlons-en-Champagne. It's a great place to explore the region from.
Why not check out the latest deals on Booking.Com?
(Why not Pin It for Later?)