An idyllic moated manor house in Kent
Scotney Castle is secretly nestled away in Kent's picturesque countryside. As you approach the medieval ruins of the moated castle from the beautiful gardens above, you're immediately spellbound.
It was actually a bit of a 'wow' moment for me as I was taken aback at how captivating it was and that it looked so serene in the autumnal setting. The leaves on the trees evolving into their golden and crimson-red foliage made a perfect scene to these idyllic surroundings.
I could just imagine crinoline ladies whooshing past fragrant flower beds being swooned by eligible gentry. Scotney Castle effortlessly transported you to another period in time.
Why not Pin it for later?
How to get to Scotney Castle
- By Train
Scotney Castle is reasonably remote; therefore, the nearest train station is Wadhurst, which is 5.5 miles from Scotney Castle. A prearranged taxi may be advised.
- By Car
Scotney Castle can be accessed from the A21. There's a free car park for National Trust members, or parking charges apply to non-members visiting the castle.
A little history on Scotney Castle
From dinosaurs to the Elizabethans
Scotney Castle is now managed and cared for by the National Trust; the estate was bequeathed to them in 1970 by Christopher Hussey.
However, centuries of deep and rich history have been weaving their way through Scotney's landscape for many, many years. The earliest records reveal that there has been occupancy at Scotney since 1137.
Scotney Castle from the gardens
Though it wasn't until invasions from the French which led to the alluring moated castle being built in 1377 on its own island. The medieval castle slowly began to fall into decline over the succeeding 400 years. It is believed that when Scotney Castle was in its heyday that there would have been four round corner towers, and as it stands today, just one remains.
In 1778 the Hussey family took residence. In the 1830s, Edward Hussey III had the Elizabethan Scotney 'New' Castle erected, referred to as Scotney House.
Scotney House
Around 1835, sandstone was quarried from within the estate, and a delightful home was built for Edward and Henrietta Hussey and their six children. The family home overlooked the rolling Kent countryside and the ancient ruins of Scotney Castle below.

While the quarrying took place, fossilised remains were found from the Wealden seabed. They unearthed a 100-million-year-old impression of an Iguanadon dinosaur's footprint.
Where to stay nearby Scotney Castle
- Sissinghurst Castle Farmhouse – Yes, amazingly, you can stay within the grounds of the National Trust Sissinghurst Castle Garden.
This beautiful farmhouse has been lovingly decorated throughout and offers a delicious variety of breakfasts.
- The Woolstore – This delightful holiday cottage is within a short distance of Sissinghurst.
The Woolstore makes a perfect place to stay while discovering the Garden of England. Wake up every morning amongst cherry orchards and sheep meadows.
Exploring Scotney Castle gardens
No detail overlooked
Scotney Castle is located within 780 acres of mixed woodland and offers an abundance of specimen trees with an array of eye-catching foliage. We visited Scotney in the autumn, and it was awash with so many vibrant shades of gold, emerald and carmine.
Scotney Castle through the foliage
The gardens at Scotney Castle are one of the reasons to return time and time again as every season will offer something different.
The gardens, which are lovingly maintained by the National Trust, seemingly give an unkempt feel; however, you know that each and every plant and shrub is there for a purpose.
I can't wait to see the rhododendrons and azaleas in full bloom.
View up to Scotney House
Take a stroll through the open parkland, wander amongst the Kentish hops and watch the butterflies and bees busy themselves in the wild meadows.
Hiking the Kent Countryside
Scotney Castle is located near Royal Tunbridge Wells. This region of Kent is ideal for hikes as it is in the High Weald (AONB), an Area of Outstanding Natural Beauty. To explore the trails in this region of Kent, the Ordnance Survey maps that will help you along the route is no. 136, 'High Weald'.
Alternatively, why not purchase and download the OS Maps App, which covers all of Great Britain.
Discovering Old Scotney Castle
A stroll through the enchanting ruins
It's incredible to believe that ancient architecture like Scotney Castle has survived for so many centuries. I appreciate that the moated manor house that remains today isn't quite as it may have originally appeared. However, the ruins now maintained by the National Trust truly evoke a sense of emotion and convey you to another period in time.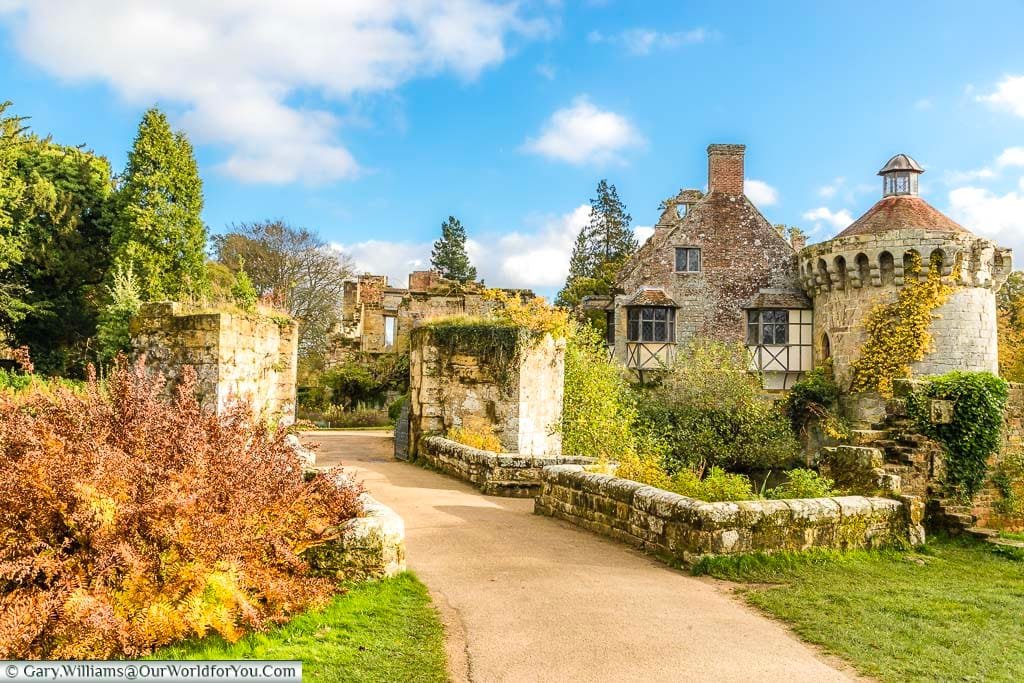 Approaching Scotney Castle
During the nineteenth century, the medieval manor had deteriorated to such a point where it became damp and uninhabitable. Edward Hussey III then deliberately ruined it further to create a magnificent backdrop to the picturesque moat.
The ruins of Scotney Castle
As you amble across the little bridge, Scotney Castle reveals its true fairy-tale glory. The protruding timber-framed windows and the eerie elements of the connecting ruins look so natural.
The creeping foliage
The rear of Scotney Castle
I love how the old English roses and the wisteria within the ruins snake their way up through the old guardrails and creep through the derelict stone window frame terraces. All the time twisting and turning amongst the crumbled shell of Old Scotney Castle.
The Round Tower at Scotney Castle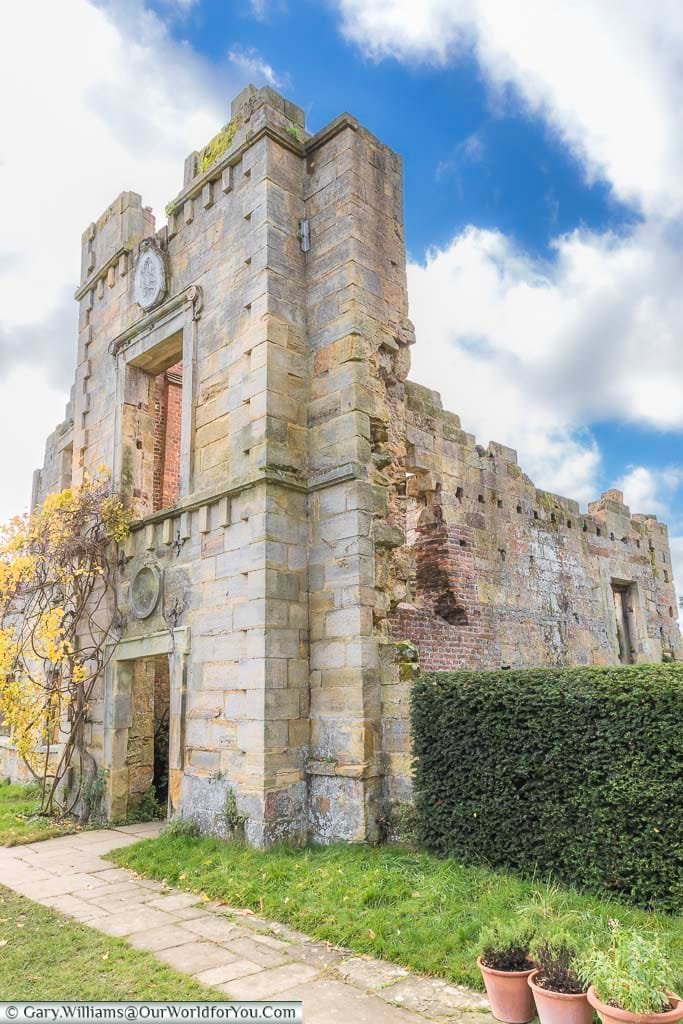 The hidden side of Scotney Castle
Strolling around the rear of the ruins, the flower beds give a sympathetic feel of the surroundings and brings the natural outdoors into what feels like a crumbling glasshouse. Keep wandering to the back of the remaining round tower, and you'll be greeted by an enchanting courtyard and dovecote.

We loved it around here, it felt so atmospheric and a delight to just sit and admire.
If you're intrigued by Kent's weird and wonderful history, or all unusual stories around the county, then take a peek at "Kent's Strangest Tales".
You won't be able to put it down, you can pick it up for your Kindle or in good old paperback.
Exploring Scotney House
A home full of memories
The grand and distinguished Scotney House was built in 1837 in the Elizabethan revival style and positioned perfectly to embrace the countryside and magnificent views beyond.
The rear of Scotney House
As mentioned, it was fashioned as a family home for the Hussey's and their six children.
In 1894 it was then inherited by his son Edward Windsor Hussey who oversaw the running of the estate with his wife, Rosamond.
They lived at Scotney House during both World Wars and welcomed evacuees from Kings' School in Rochester in 1939.
The entrance hall at Scotney House
Fireplace in the entrance hall
We first step into the majestic entrance hall in Scotney House. The well-used grand fireplace immediately catches my eye. Surrounded by the Hussey's family, heirlooms and furnishings bequeathed along with many paintings and ornaments to the National Trust.
The study
We then stroll through to the welcoming study with its traditional décor and a beautiful globe, which I always love to see. A study isn't complete without one, in my opinion.
The library
The next stop is the library, with historical books and novels towering high into the wood panelled walls. Keep a lookout for the secret door in the library made to look like a bookcase.

The library was a more relaxed place to socialise and where not only board games and cards were played, but they would also partake in a tipple or two.
The dining room
Through into the elegant dining room, which was used by the residents on more formal occasions. Beautifully laid out, as if they are just waiting for their guests to arrive.
The last two stops were to the small dining room used by the Hussey family on a day-to-day basis and onto the simple kitchen beyond. These rooms were utilised until Scotney House was left to the National Trust in 1970.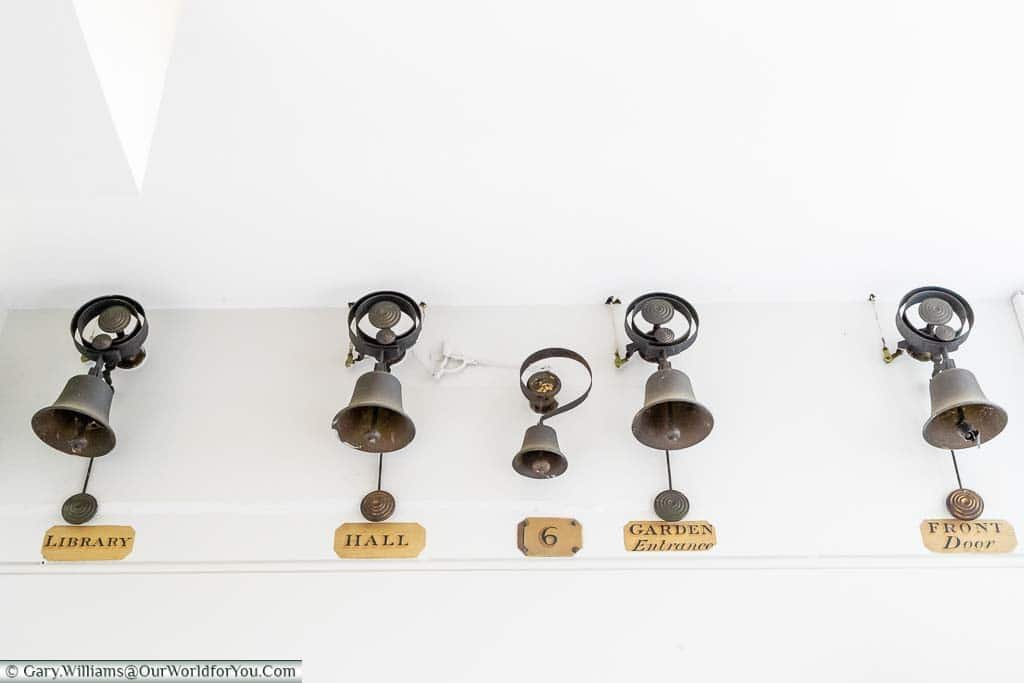 The bells echoing through the kitchen
When the estate was run by Edward Windsor Hussey, six flats were converted within the house to secure its maintenance from the rent. One of which was frequented by Margaret Thatcher during her time in office, so she could make a hasty retreat from Whitehall.
Why not extend your mini-break in Kent and explore the picturesque landscape on a Kent countryside road trip through the Garden of England?

Rental Cars cover all budgets and allow you to pick up and drop off at different destinations.
Scotney's walled garden
And a little refreshment
The last area of the garden we visit is the one-acre walled garden. I do love a walled garden; I think it's the rustic terracotta bricks that add so much charm and character to a plot.

The walled garden was first built around 1840 and used by the Hussey family to source fresh fruit and vegetables for the household.
Scotney Castle's walled garden
Basking in the autumn sunshine
A visit to a National Trust site wouldn't be complete unless afternoon tea and cakes were involved and a little exploring around the onsite shop. You never know; you may find that plant you've always been searching for.
Scotney Castle shop and tearoom
I can't wait to return to Scotney Castle in the spring; it'll give me a boost for our own garden.
Our video of Scotney Castle
We have created a little YouTube video of our day at Scotney Castle.  Why not take a look?
Also, why not subscribe to our YouTube channel and get the latest clips as we post them?
If you love exploring intriguing historic castles and charming stately homes, then take a peek at our posts on
Hever Castle
,
Ightham Mote
,
Knole
and
Sissinghurst Castle
. These ancient homes are reasonably close by and would make an excellent weekend mini-break.
* This post may contain links to affiliated sites where we earn a small commission at no additional charge to you.