The 'Perfick' way to fall in love with the Garden of England
Imagine it now, the breeze in your hair, steam engines chugging through the lush countryside, oast houses nestled by vineyards and haunted villages ready to welcome you in.
Yes, you've arrived into "Darling Buds of May" country, in the beautiful Kent countryside in the southeast of England.

So, climb on board the "sharra-bang" (charabanc) we're taking you on a tour of some of Kent's most charming towns and villages.
In this region of Kent during the 14th century, King Edward III introduced weavers from Flanders. The Wealden cloth industry then began to flourish, which resulted in so many eye-catching half-timbered 'Cloth Halls' dotted around the county.
If you're intrigued by Kent's weird and wonderful history, or all unusual stories around the county, then take a peek at "Kent's Strangest Tales".
You won't be able to put it down, you can pick it up for your Kindle or in good old paperback.
We start our mini road trip adventure in Headcorn, which is only 10 miles south of Kent's county town, Maidstone.
'The Chequers' & Shakespeare House - cloth hall, Headcorn
When strolling around this lovely bustling village, you really feel that it has its community at heart and blends effortlessly with its historical past.
Half-timbered cloth halls are standing shoulder to shoulder in the High Street. Family-run independent stores and the traditional butchers and bakers, serving the same loyal locals for years.
Church of Saint Peter & Paul, Headcorn
Take a stroll around the picturesque churchyard of St Peter and Paul, located at the far end of the High Street. Where there are beautiful cottages and charming medieval homes all along Church Walk.
Although there are 10 destinations on this circular road trip, the distance from Headcorn picking up all these picturesque locations and back is only around 38 miles (62 km).
However, you may want to detour off along the way.
The next stop is Pluckley, and I love this pretty tiny village, it just feels like you have stepped back in time. If it wasn't for a couple of modern-day vehicles, you might believe that you had strolled onto a movie set, and quite literally.
It's here within the tranquil village of Pluckley that the heart-warming TV series "Darling Buds of May" was filmed. With the stars David Jason and Catherine Zeta-Jones, yes, it is 'Perfick'.
Pluckley local post office and butchers
One of the other reasons that Pluckley attracts visitors is because of its ghoulish goings-on. Pluckley is believed to be the most haunted village in England. I've never witnessed any spooky activities, although I wasn't going to hang around to find out.
Pluckley, could it be England's most haunted village?
When we hopped out of the car at Smarden, it was one of those places that I immediately felt an affinity with. I could so comfortably live there; it was picturesque and quaint with its lovely local cricket green and half-timbered cloth halls.
The Chequers Inn on The Street, Smarden
However, it felt like the heart of the village was its community, and it was so peaceful. Very few visitors around and a couple of very tempting country pubs, serving local food and ales.
Half-timbered home in Smarden
The attractive church in Smarden is St Michael the Archangel. The church is sometimes known as "The Barn of Kent" due to its high scissor beam roof. Within the church, a copy of the Royal Charter can be found. This was originally granted in 1333 by King Edward III, for the village's efforts for the weaving industry. It was later ratified by Queen Elizabeth I in 1576.
Churchyard of St Michael the Archangel, Smarden
Theirs is so much history in Smarden for such a little village.
Travelling further through the Kent countryside we stop at High Halden, and park by its central village green.
Village green in High Halden
In High Halden, you must pop into the Grade 1 listed St Mary's Church. This incredible church was built during the mid-13th-century. Its unique feature is the timbered tower which was constructed in the late 13th Century. It has an octagonal ground floor, a square upper storey and then rises to an 80-foot octagonal spire.
Grade 1 listed St Mary's Church
Inside St Mary's Church in High Halden
When you enter through the main wooden doors, you immediately step into a dark timber cladded area which is used by the local bell-ringers. It feels quite eerie.
Something to make your travels easier?
The bustling town of Tenterden has a larger community than some of the other places we visited; however, it is equally as charming.
 
All through the main High Street are antique shops, boutiques, coffee shops and beautiful character buildings. It is also in this delightful town that you'll discover the nostalgic Kent and East Sussex Railway.
This heritage steam railway is kept running by enthusiasts and lovers of all things locomotive. Hop on board, and you can visit the 14th-century moated Bodiam Castle, run by The National Trust.  Which is just five stops along the line.
Final preparations at Tenterden Town railway station
However, if you fancy a visit to a lush English vineyard, head to Chapel Down, just on the outskirts of Tenterden, the wines are incredible.
If you're curious about English wines
Take a look at our post on our tour and tasting at Chapel Down. You can read all about our personal experience on one of their guided tours. It was so informative and relaxed, and I loved the fact they didn't pressure you into purchasing their products.
Ahh, Rolvenden, another pretty village and this quaint little place also has a tiny motor museum, which appears to double as an antique shop.
You will really want to jump out of your car here and go and discover. Not only does Rolvenden have a beautiful half-timbered cloth hall and white weather-boarded homes. It also has pretty oast houses, which are so synonymous with the Kent countryside.
Cloth hall & oast houses, Rolvenden
Along with the antiques barn, which is overflowing with curiosities, the Bull Inn looks very tempting. Just a short walk out of the main village is the restored Rolvenden post mill, circa1580 and of a type now rare in Kent, the mill, stands on a little hill and was featured in the Tommy Steele film Half a Sixpence.
The central village green and cricket ground in Benenden is so quintessentially English, with the local village church of St. George standing so proud as the backdrop.
Never one to pass up an opportunity to take a stroll around an ancient churchyard. Gary and I had a little wander and found some touching Commonwealth war graves.

Benenden has a lovely village feel with quaint, picturesque homes surrounding the green. One of which was an old converted school. Then a short walk further on and there are tea rooms and little stores vying for your custom.
Discover more of the Great British Isles, why not jump in a car and tour the country at your own pace. You can do it all on a road trip, Rental Cars cover all budgets and allow you to pick up and drop off at different destinations.
Heading onto Cranbrook, which is a small town, is in the heart of Kent's 'High Weald'. The countryside all around this area of the High Weald is beautiful, so it's no surprise that it has been classified as 'AONB' Area of Outstanding Natural Beauty.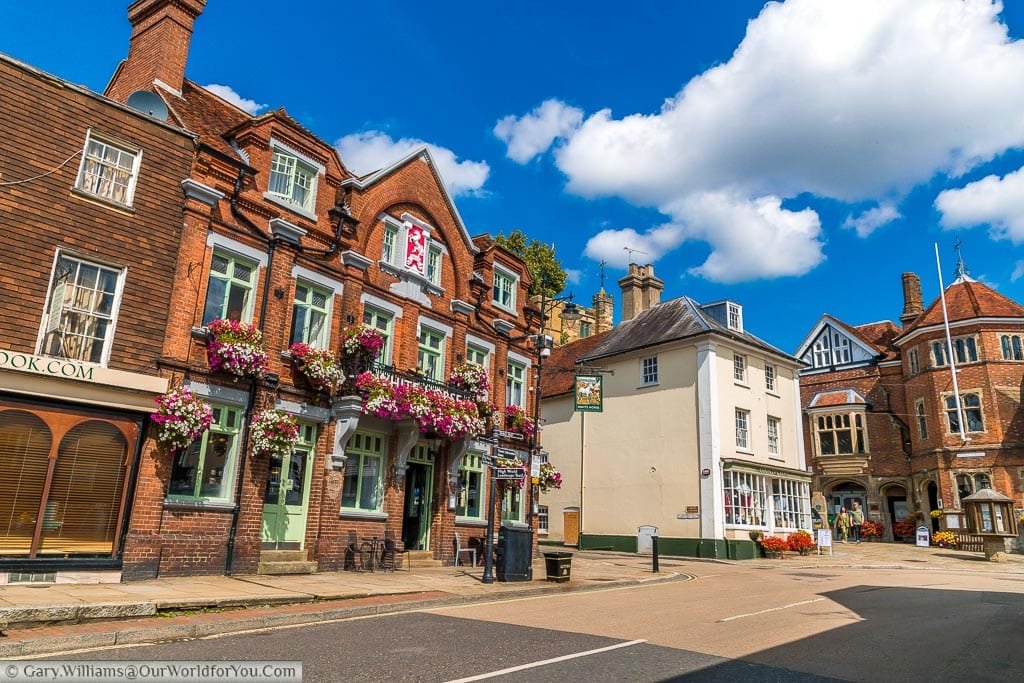 White Horse pub, Cranbrook
Cranbrook has some really attractive features, black and white half-timbered homes, beautiful English country gardens and a very interesting local church.
Within the church's tower is a clock mechanism, which was installed in 1855 and was the prototype for 'Big Ben' in London.
St Dunstan's churchyard, Cranbrook
Just a short hop from the church is the late medieval George Hotel, which has undoubtedly had a chequered past. As it was once frequented by Queen Elizabeth, I in 1573 and then during the 18th-century smugglers from the notorious Hawkhurst Gang hatched plans from here.
Just a short hop north from Cranbrook and you'll arrive at Sissinghurst. Although this village is tiny, it's so pleasant to visit.
Quaint little homes with white picket fences around their front gardens, overflowing with rambling roses and colourful window boxes.

Even though the village is small, there is always a place for the local store, as this is so often the hub of a community.
Last but by no means least is the larger village of Biddenden. This village also has strong links with the Flemish clothworkers, as you'll see there are quite a few half-timbered cloth halls dotted all around.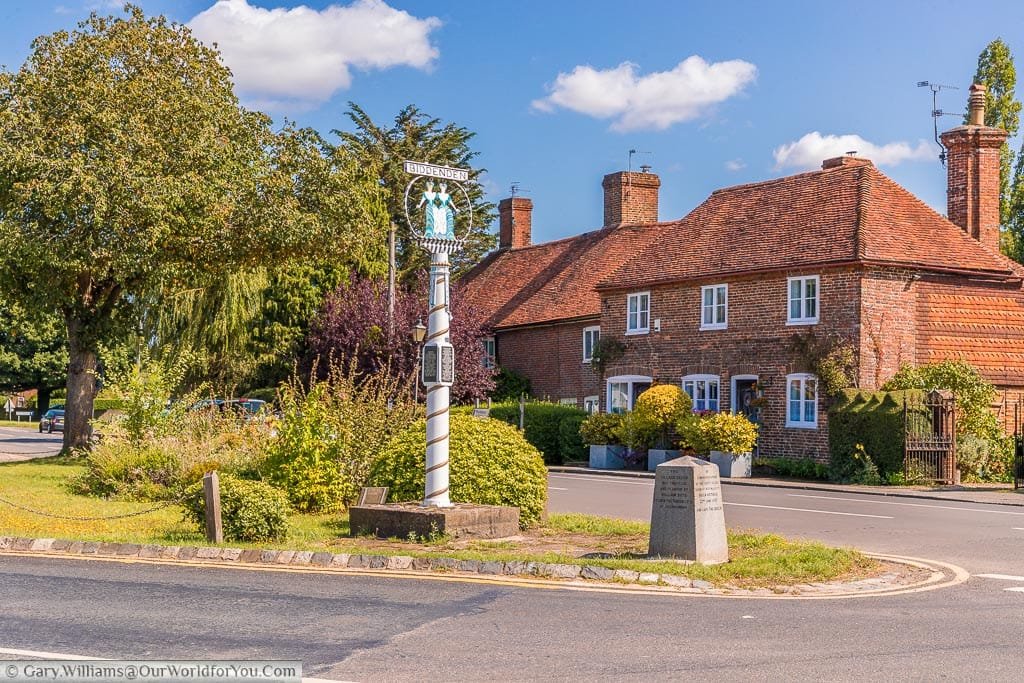 Biddenden with the 'Biddenden Maids' village sign
This is once again lovely village to take your time to stroll around as it is immaculately kept and has an attractive 13th-century church. You can also pop into one of the local tea rooms and enjoy a cream tea while watching the world go by.
Biddenden is also known for its 'Biddenden Maids' who were conjoined twins born in 1100. Eliza and Mary Chulkhurst were joined at the shoulder, and the hip and amazingly lived to the age of 34 years. The village sign in Biddenden is a touching depiction to them.
Other villages to discover
You can now head back to Headcorn, or if you have a few days to discover more of the beautiful county of Kent. Why not also take a peek at Appledore, Charing and the Market town of Lenham?
Inspired to tour Kent on a road trip?
Enjoy an overnight stay in one of Tenterden's local inns spend a full day discovering the town and surrounding countryside.
(Why not Pin It for Later?)
* This post may contain links to affiliated sites where we earn a small commission at no additional charge to you.