by Janis /
4 comments
- Orginally published:23rd August 2022
Peeling back the layers of history
There's fascinating history to be found everywhere, and visiting the county town of Maidstone is no exception.
Maidstone in the southeast of the UK is Kent's largest town, although it never quite made the status of a 'city', unlike the cathedral city of Canterbury, 30 miles (48km) east.
Maidstone lies on the banks of the River Medway, the main artery weaving its way through the bustling town. There is also a smaller river to be found in the heart of Maidstone, the River Len, that feeds into the River Medway.
When visiting Maidstone it may appear a little 'rough around the edges', but if you dig a little deeper into any village, town, or city, there is always incredible history to be discovered.
Why not Pin it for later?
So, if you're intrigued to explore Maidstone's historical past, discover some quirky features, and appreciate its often-unnoticed architecture, follow along below, and spend a day out in Maidstone.
- By Train
You can catch a direct train from London Victoria to Maidstone East Station, which takes around 1 hour. It's only a few minutes' walk to the town centre.


- By Car
Maidstone is located just 2 miles south of the M20 at jct. 6. There are multiple car parks dotted around Maidstone; if you have an electric car, you can locate your nearest Pod Point.

For a little more insight into Kent's County Town then head to the Visit Maidstone website.
Discovering Maidstone's Archbishop's Palace
Explore the College of All Saints
The Archbishop's Palace in Maidstone is located directly on the east bank of the River Medway and dates from the 14th & 16th-century. It's quite a striking building today, so it must have looked incredible in its heyday.
Archbishop's Palace, Maidstone
Prior to the palace being built, a manor house was on the site and was used by archbishops as a resting place on their journey from London to Canterbury.

The manor was demolished and replaced by the Archbishop's Palace, much of which can be seen today. During the late 14th-century, the Church of All Saints and the adjacent ecclesiastical college were founded.
Archbishop's Palace from the River Medway
The palace was given to Henry VIII, who then granted it to the poet Sir Thomas Wyatt: However, due to his son Thomas Wyatt the younger staging a revolt against Mary I, the palace was returned to the Crown.

Maidstone Palace was then given to the Astley family, who extended the estate further during the 16th-century much of which can be seen today.
Archbishop's Apothecary Garden
Maidstone Palace is now in the hands of Kent County Council; this charming setting and the adjoining Archbishop's Apothecary Garden are used for weddings at the register office.

The historic structures of the College of All Saints and Master's House ceased to be used for ecclesiastical education from 1546. However, the ancient buildings can still be seen along with the College Gateways.
Tyrwhitt-Drake Museum of Carriages
Visiting Maidstone's Church of All Saints
On the banks of the River Medway
The Church of All Saints overlooking the River Medway in Maidstone was founded by the Archbishop of Canterbury William Courtenay in 1395. The grand collegiate church formed part of a new College of All Saints adjacent to the Archbishop's Palace.
Church of All Saints, Maidstone
Due to the Chantries Act in 1545, which was created in conjunction with the Dissolution of The Monasteries, the church and college separated in 1546. The large perpendicular Church of All Saints then became the main parish church for Maidstone.

Church of All Saints is a Grade I listed building and once had a far-reaching spire; unfortunately, the spire was struck by lightning in 1730 and was never rebuilt.
William Shipley formed The Royal Society of Arts
Within the churchyard lies the tomb of William Shipley, who was born in Maidstone in 1715. William Shipley was renowned for his drawings and founded The Royal Society of Arts, London, in 1754.
Where to stay in Maidstone
Strolling by the River Medway in Maidstone
Hop aboard the Kentish Lady River Boat cruise
After visiting the historical sites by Maidstone's Archbishop's Palace, head down to the banks of the Medway. Along here, you'll find the Hermitage Millennium Amphitheatre, which is a lovely outdoor space where people can perform and dance.
Hermitage Millennium Amphitheatre
Wander over the Millennium Bridge, and you'll come face to face with a giant stag. The Stag sculpture by Edward Bainbridge Copnall was his largest piece of work and was originally located in Stag Place, London, before being moved to Maidstone in 2004.
The Stag sculpture by Edward Bainbridge Copnall
The Kentish Lady River Boat
Amongst the things to do in Maidstone from spring through to autumn, is hop aboard the
Kentish Lady River Boat cruise
. There's a choice of trips along the Upper River Medway and can be embarked upon just near the Archbishop's Palace at Undercliff Boathouse.
River Medway
Or alternatively, just go for a riverside stroll and enjoy the open-air and local wildlife.
If you have an inquisitive mind and would like to find out more interesting facts about Maidstone, then take a look at 'Secret Maidstone'.
You'll discover more hidden town history, and it is available on your Kindle or paperback.
Exploring Maidstone's charming architecture
Along Bank Street & the High Street
I don't like to criticise places as we can always find positives in a location, and Maidstone's history has pleasantly surprised me. However, what I dislike about some town councils and Maidstone's is no exception is that they allow hideous shops fronts, flashing signs and run-down establishments to exist. There should be guidelines that shop owners/tenants adhere to.
We always try to look above the shopfronts as so often there are historic pieces of architecture being masked by the store below.
There you go, I have had my rant; let's go and find Maidstone's architectural gems.
One of the most historic streets in Maidstone architecturally is Bank Street. Throughout Bank Street, there are many medieval timber-framed structures, most of which are now listed buildings. Several of the buildings were attractively re-fronted in the 18th & 19th centuries with their over-hanging upper floors.
No. 78 Bank Street
One structure that particularly caught my eye was no.78, with its impressive jettied upper floor façade.
The 17th-century pargetting is so striking and quite unusual; on the left is the Prince of Wales's feathers and on the right is the Royal Arms.
No.89 Bank Street
Nearby at no.89 is another beautifully affronted timber-framed structure built in 1913. It was formerly a Prudential Assurance office and latterly a Post Office. On the first floor are two oriel windows and on either side of each of the windows is a statue of a historical notable. They are from right to left, Archbishop Courtenay, Caxton, Sir Christopher Marlowe and Lord Avebury.
Maidstone Town Hall
At the top of Bank Street, where it opens into Jubilee Square, is Maidstone's historic Town Hall built in 1762/3. The ground floor would originally have been partially open and stood at the centre of Market Place.
There are some intriguing things to see in Maidstone.
Statue of a young Queen Victoria
You'll find quite a few impressive historical buildings all around Jubilee Square. At the far end of the square is an ornate statue of a young Queen Victoria, erected in 1862 by the famous sculptor John Thomas.
If you're intrigued by Kent's weird and wonderful history, or all unusual stories around the county, then take a peek at "Kent's Strangest Tales".
You won't be able to put it down, you can pick it up for your Kindle or in good old paperback.
Things to see in Maidstone
Discovering historic buildings, don't take them for granted
Wandering through the narrow lane of Market Buildings, we find the old Corn Exchange, which dates from 1835. This historic building and collonaded walkway have now been brought to life with tantalising eateries and bars. We can highly recommend the
Frédéric Bistro
; the food was delicious.
Corn Exchange along Market Buildings
Collonaded walkway with tempting restaurants
The Corn Exchange is now home to the Hazlitt Theatre, which opened in 1955. The theatre was named after William Hazlitt, the famous essayist who was born in Maidstone in 1778. During your day out in Maidstone take in an evening show.
Corpus Christi Hall
We now continue down Earl Street to The Corpus Christi Hall, believed to have been built 600 years ago, in 1422. The Grade II listed building originally consisted of a Hall, Refectory, Chapel and Cloisters.

The historic building was given to Maidstone Grammar School when it was founded in 1549 and was in use until 1871; only the Refectory remains.
16 St. Faith's Street
Heading over towards County Hall, we spotted the above attractive black and white timber-framed cottage along St. Faith's Street; it was built during the 16th-century. The house is lovingly maintained and has so much character with its overhanging eaves.
Sessions House, County Hall
We're now strolling to County Hall, located in Sessions Square. Immediately you are face to face with the impressive sight of Sessions House. The striking façade of Sessions House, was designed by F.W. Ruck and built between 1910-1913 in the neo-Baroque style.
Through the attractive gold-coloured iron archway, you get a glimpse of the original Sessions House built in 1824 in the Greek Revival style.
To the rear of Sessions House is Maidstone Prison, completed in 1811 and built of Kentish ragstone.
Visiting Maidstone Museum
Relaxing in Brenchley Gardens
While visiting Maidstone, head inside the
Maidstone Museum & Art Gallery
. This attraction in Maidstone was once a medieval manor and formed part of the College of All Saints. Later it was renamed Chillington House and was significantly restored in 1875.
Maidstone Museum & Art Gallery
Maidstone Museum is home to a fascinating collection of over 600,000 artefacts, including pieces from ancient Egypt, archaeology, natural history, fine art, biology, and local history.

Housed within Maidstone Museum since 1960 is a museum dedicated to The Queen's Own Royal West Kent Regiment. The local regiment was involved in many British Army campaigns of the 18th and 19th-century as well as the First and Second World Wars.
Brenchley Gardens
After visiting Maidstone museum, an additional place to go in Maidstone is Brenchley Gardens just at the rear. This delightful park is ideal for relaxing and watching the world go by. A lovely bandstand, some intriguing statues, and a Cenotaph to The Queen's Own Royal West Kent Regiment are within the gardens.
To explore the hiking trails in this region of Kent, the Ordnance Survey map that will help you along the route is no. 188, 'Maidstone & Royal Tunbridge Wells'. Maidstone is located within a short distance of the picturesque region of the Kent Downs and the High Weald. They are both Areas of Outstanding Natural Beauty (AONB).
Alternatively, why not purchase and download the OS Maps App, which covers all of Great Britain.
Discovering Maidstone's plaques and history boards
Who knew that about Maidstone?
Other things to see in Maidstone as your amble around the town, is to keep a lookout for the many fascinating plaques and history boards dotted throughout the town. They are incredibly informative and offer valuable insight to Maidstone. To make our lives easier in finding the plaques, Visit Maidstone has put together their own
Blue Plaque Walking Trail
.
The Battle of Maidstone
Were you aware that during the English Civil War, on 1st June 1648, the Battle of Maidstone took place? The violent skirmish was one of the most fiercely fought battles of the Civil War, resulting in victory for the Parliamentarians commanded by General Fairfax of Leeds Castle over the Royalists.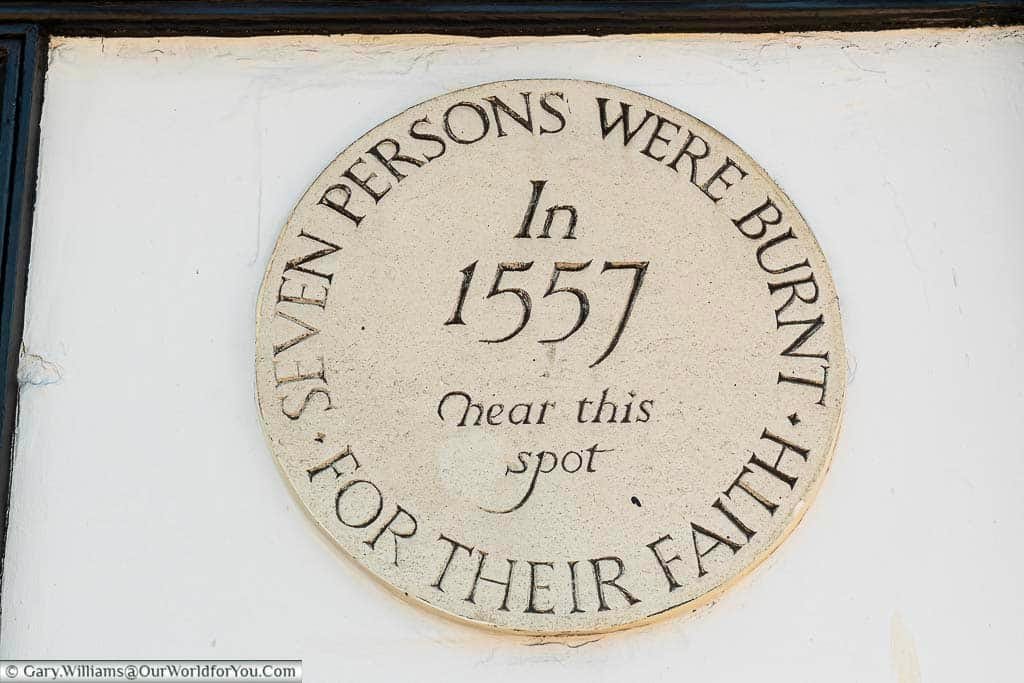 Marian Martyrs plaque
It was in Maidstone in 1557 that seven Marian Martyrs were burnt at the stake on Fairmeadow. The Protestants were executed for their faith by Queen Mary, I.

Many people were exiled, and hundreds of dissenters were killed, earning her the nickname "Bloody Mary".
Edith Cavell plaque
Edith Cavell, a British nurse renowned for her unrelentless efforts during WWI to save soldiers' lives from both sides of the conflict, tended to typhoid victims during the Maidstone typhoid epidemic.
Edith was executed by the German firing squad on 12th October 1915. A memorial service was held at Westminster Abbey, and she was buried at Norwich Cathedral.
History storyboard of Market Place
Maidstone's High Street around Jubilee Square was once the town's main Market Place from around the mid-1200s to the 1820s. The upper section of the High Street was known as 'High Town'; the Lower High Street would also have been full of local traders and, prior to the early 19th-century, would have held two of Maidstone's markets, the Shambles and the Butter Market.
Are you looking for that 'perfick' holiday hideaway to relax in while you discover the Garden of England?
After a day exploring the Kent coast and its many historic castles enjoy one of the handpicked properties and unique retreats at Holiday Cottages.
Quirky facts about Maidstone
And a few famous faces
Firstly, let's go way back in time; in fact, 125 million years ago, when dinosaurs roamed the earth. Yes, I said Maidstone had some ancient history. In 1834 during an excavation along Queen's Road in Maidstone, a fossilised bone was unearthed. After considerable research, it was found to be a piece of a partial skeleton of an Iguanodon. The fossilised discovery is now in the
Natural History Museum
in London.
An Iguanodon
Maidstone Prison is one of the UK's oldest penal institutes, which opened in 1819, over 200 years ago. Due to its age and classical prison design, it has been used in the BBC comedy series Porridge and Birds of a Feather.

Did you know that NASA has a practice of naming craters on Mars after small towns? In 1976 the Maidstone crater was added to the list of Martian geographical features.

Maidstone is the birthplace of a few modern-day celebrities, including Shaun Williamson, Tamsin Greig, Angela Barnes, and Mackenzie Crook.

I hope you liked our historical insight into Maidstone; let us know what you enjoyed by dropping a comment below.
We have created a little YouTube video of Maidstone.  Why not take a look?
Also, why not subscribe to our YouTube channel and get the latest clips as we post them?
* This post may contain links to affiliated sites where we earn a small commission at no additional charge to you.
Hi Brian,

Can you tell me what type of device, and the browser, you are accessing the site from?

I have checked from our end on the following devices;

Windows 10 PC – Google Chrome
Windows 10 PC – Edge
Macbook Air – Safari
iPad – Safari
iPhone – Safari

Everything seems okay.

The only thing is the images 'lazy-load', which in English means some of the later images load after the rest of the page has completed, so it may take a moment for them to appear.

Let me know if you still have problems, and I'll see if there is anything else we can do from this end.

Thanks so much for letting us know though; it's always good to check out any problems we may have with the site.

Kind Regards,

Gary Williams

Brian Neale

Thank you Brian, I will take a look and see if we can replicate it from our end. Janis uses a MacBook Air, so I will double check, and also the website logs too to see if there is something hidden away.

Kind Regards,

Gary