Exploring Miniatur Wunderland in Hamburg, Germany
An attraction for all ages
We love chatting to fellow travellers for hints and tips, and over a glühwein, in the German Christmas market in Hamburg, an English family said: "are you planning on visiting Miniatur Wunderland?". Well, we hadn't planned to, but it had tweaked my inner geekiness, so I persuaded Janis, and we thought why not.
The biggest train set in the world, Miniatur Wunderland
We had planned on visiting the Speicherstadt, the cities iconic warehouse district, and nestled in one of the warehouses is Miniatur Wunderland.
If you're in the area you're going to want to check out the harbour front, and the impressive Elbphilharmonie, the city's new concert hall.
More than just a big train set
Although it is the world's largest model railway, it's also so much more, but we'll get to that later.
Your journey starts at the ticket booth. If you're smart, you've booked in advance, and you can skip the line.  If you're like us and walked in off the street you may have to wait; entrance is controlled by a timed ticket to manage the crowds.
At peak times this can be lengthy, but you can check out the Miniatur Wunderland website to get an estimate of the current queue length.  it's also possible to view a 'Waiting Time Prediction page.'
However on our visit, we had a 10-minute wait, and that was in a large waiting area where you can also pick up refreshments.
The History of Civilization
On entering the miniature world, the first thing we came across was a series of dioramas that took you through significant periods of German history.
The "long" 19th Century diorama
Each scene details aspects of those steps, including the destructive forces of National Socialism.
World War I and Weimar Republic
National Socialism and World War II
Use the cloakroom facilities, it gets warm. Can you guess who wished they'd followed this advice?
The next thing to grab our attention is the scale model of a stadium concert.
That's right - a stadium, with a rock band performing on stage, including video screens. The detail is stunning; you can even appear to see that phenomenon of the sea of mobile phones in the audience.
Now marvelling at the detail in the models, picking out places we have been to before on our travels, but seen from a new perspective we notice the strangest of things: It appears to be getting dark.
That's right, every 15 minutes the light slowly fades and the scene in front of you transitions through dusk, into night time before welcoming the next morning.
Certainly Las Vegas comes to life at night.
Las Vegas at night in the Model World
As I mentioned, we visited just before Christmas, and one of the things that stood out for me were the number of scenes that contain a Christmas tree.
I assume this is a feature of the festive period.
If so, this is serious attention to detail, but to be honest, we knew that already.
Checkout the trees in th foreground
The devil's in the detail
So who was expecting an airport?
The airport in the model world
To be honest, we weren't, nor was we expecting planes to be taxing, taking off and landing, all again in both day & night.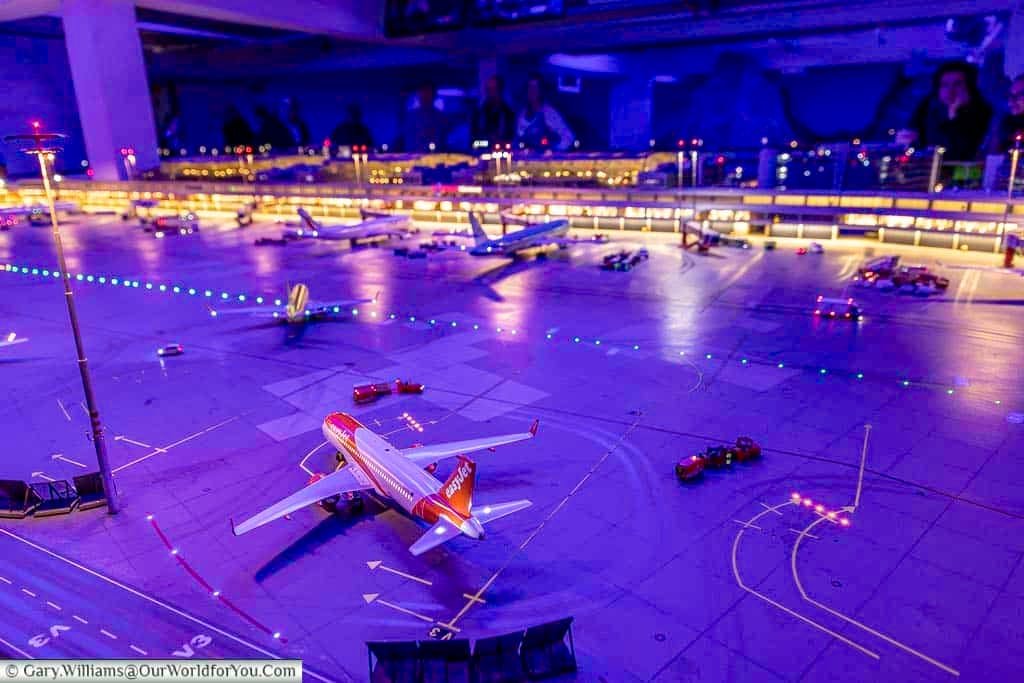 I mean the scale is impressive, this is a full-scale international airport. These folks are serious about their modelling.
The airport - recognise your flight?
It even has the car rentals and the airport parking - check out the car meet & greet in the car park - how's that for detail?
Obviously there's Hamburg
The scenes are wide and varied but there's a special place for Hamburg as you'd expect, including Speicherstadt - it's market day, check out the right of the scene.
And the city's Elbphilharmonie is also modelled. I love the way people are drawn in by the smallest detail.
Hamburg's Elbphilharmonie
And there's plenty of detail
From festivals to fairgrounds, normal daily routines, including an unlucky drama. You could spend hours looking at the detail.
It's not just about the trains
So how long you stay is down to you, and how inquisitive you are.
You'll be pleased to know taking photos and video is actively welcomed. All the shots here were taken with no special access.
C'mon, by now you're going to have expected ships floating by, haven't you? Well if you have, you won't be disappointed.
If you haven't, shame on you.
Now, we don't want to spoil it for you, but you've got a bit of Austria, Middle Germany, Switzerland, Italy, Venice and of course Hamburg
Here's a further selection of shots - (click to go fullsize);
There were folks of all ages enjoying Miniatur Wunderland on our visit, and there was plenty to keep us occupied, including a fair bit of interaction for kids old 'n' young.
We had a great few hours at Miniatur Wunderland, we could have spent longer, and for an additional fee, you can book a guided tour to give you a view behind the scenes.
Visited Miniatur Wunderland in Hamburg? What's your honest opinion? We loved it - okay, maybe one more than the other, but hey I'm a geek.
Inspired to visit Miniatur Wunderland in Hamburg?
Why not explore a world where you are a true giant?
A great few hours for all the family.
Search for your flights in one easy place with
ebookers.com
and open up a world of options. Over 400 airlines are scanned for your favoured routes and chosen dates.
(Why not Pin It for Later?)
* This post may contain links to affiliated sites where we earn a small commission at no additional charge to you.