by Janis /
0 comments
- Orginally published:18th December 2018
A visiting to Hamburg at Christmas
Watch for Santa taking flight in his sleigh!!
Leaving Berlin in our rearview mirror, we're heading north to Hamburg, our third destination on our 2018 German Christmas market road trip.
Perhaps not the most exciting journey en-route, but, hey we're heading to Hamburg, and all is looking promising, chocolate delights, bratwurst & glühwein, perfect.
Why not Pin it for later?
Exploring Hamburg at Christmas
Just a few of Hamburg's Christmas markets
The hotel we'd chosen was in a great location, just around a five-minute walk and we're straight into our first Christmas Market at St Peter's Church, this was going to be fun.
What better way to start than with a bit of sustenance to keep you going.
Four sausages  - a little Hamburg snack
The Christmas market encircling St Peter's church was charming, slightly on the smaller side; however, it still ticked all the boxes for entertainment, gifts and cuisine.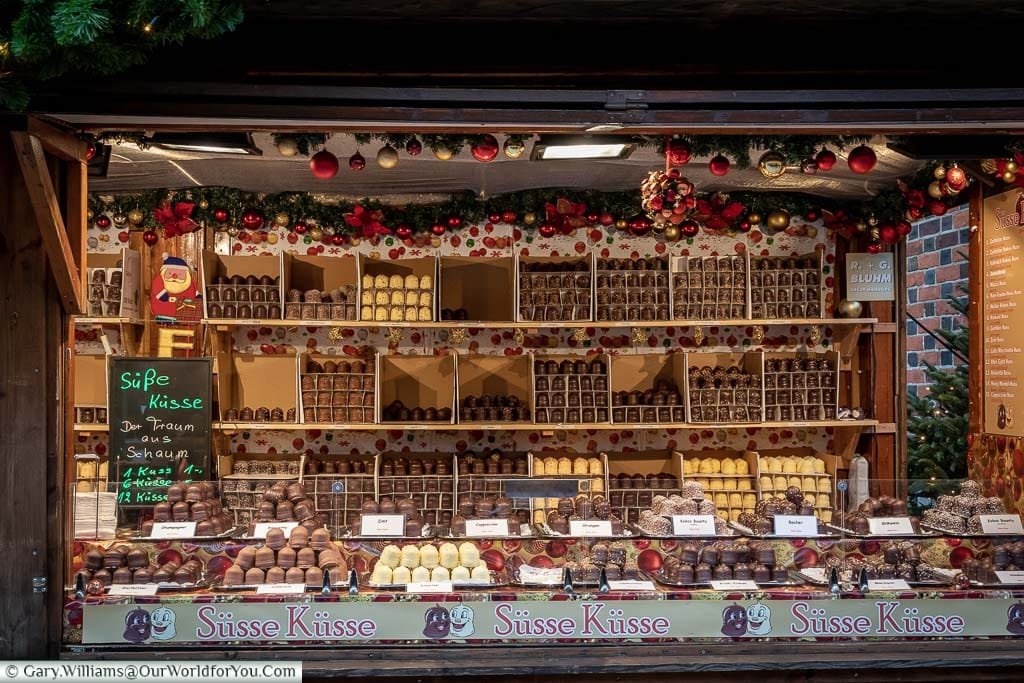 Stall of chocolate kisses
Discovering Hamburg's Christmas Market
Ho Ho Ho – Santa's at the Rathaus
Just around the corner from St Peter's church is Hamburg's incredible Rathaus. This is a stunning building, and even with all the festivities unravelling at its feet, you can't be distracted from this lovely backdrop.
An entrance to the Rathuas market
Gary and I instantly loved this market, it was bustling full of people, young and old, all enjoying themselves. We felt like we had found another city potentially on par with Cologne, in regards to its festive fun (although time will tell).
The Christmas market stalls
So there we were enjoying a lovely hot glühwein when there was a little commotion outside the cabin, and everyone was looking up. Suddenly, Santa had taken to the skies.
Santa and his reindeer
I must admit initially I thought Santa was a mannequin or a model figure and then he stood up and addressed the crowds below with a Christmas story.
Santa really does fly!
Unfortunately, due to my lack of German, I couldn't quite understand what he was saying.
Father Christmas flies across the sky every evening at 4pm, 6pm & 8pm.
Hamburg's White Christmas Market
Weißerzauber
Then there's the white market 'Weißerzauber', which runs alongside Binnenalster (lake). Floating in the centre of the lake is a very sparkly Christmas tree.
The White Market
All around this area are beautifully decorated shops and streets, no expense has been spared. The Weißerzauber market had a modern nautical feel about it and had some really attractive unusual gifts.
Attractive white huts
- Where to eat & drink in Hamburg
If feasting on the Christmas Markets is not enough, or you want to take the weight off your feet then you can try these out.
Hamburg's Gingerbread Christmas Market
Gänsemarkt
The Christmas market in Gänsemarkt was really quite cute, we had never seen a market with the gingerbread house theme before.
Entrance at Gänsemarkt
We visited this market mid-afternoon, so the revelries hadn't quite kicked off for the day. Although during the daytime it's a good opportunity to have a closer look at the markets. It's also a lot easier to grab a glühwein.
Gingerbread House huts at the Gänsemark
There are more Christmas markets dotted around the city, if time is not on your side, you may have to pick and choose which ones to visit. Unfortunately, we couldn't get to see them all.
Winter World in Hamburg at Christmas
Winterwald
Winterwald market is in Gerhart-Hauptmann-Platz, we strolled into this market early evening, and it was already fairly busy. What I enjoy about the markets is that they're appreciated by locals as well as visitors, everyone enjoying a few drinks together.
Sweet treats on the market
What was also great here was that there was live music being played in a section of the market, it was free for everyone to enjoy, but you'd be lucky if you got very close.
Local enjoying a couple of tipples
So many goodies to be had again, it's too hard to resist at times.
The Waterwheel in the Winterwald
Start creating your own German Christmas Market adventure. Search for your flights in one easy place with ebookers.com. Over 400 airlines are scanned for your favoured routes and chosen dates.
Or alternatively, like us discover a few of Germany's Christmas markets on a road trip. If you're venturing from the UK, jump on Le Shuttle.
Although, if you're unable to bring your own car or you are flying into this lovely country give Rental Cars a go. They search multiple well-known car hire brands for the best deals.
The streets of Hamburg at Christmas
Spitalerstraße
Spitalerstraße was a bit more of a foodie Christmas market and once again really pleasant.
Cabins on Spitalerstraße
It ran along a pedestrian street that leads up to the station.
Sharing a glühwein on Spitalerstraße Market
So handy for grabbing those last-minute gifts before you jump on the train.
Comfy shoes and warm layers are a must.
Our video of Hamburg at Christmas
The Christmas Markets experience through our eyes
We have created a little YouTube video of Hamburg at Christmas, why not check it out.
Also, why not subscribe to our YouTube channel and get the latest clips as we post them?
If you've yet to discover Hamburg, then let's start planning. I find these DK Travel Guides invaluable, they're extremely informative, easy to follow, and the pictures and maps tempt you into discovering more of those fascinating sites.
You can now grab a recently revised copy of this guidebook, so you won't miss a thing.
Discover more of Hamburg
A city to be explored and enjoyed
This was our first visit to Hamburg, so we were keen to see a bit more of the city other than the Christmas markets. And what better place to start than at Chilehaus, designed by German architect Fritz Höger.
The outside of Chilehaus buildings
The 1920's architecture of this building is incredible, it has such beautiful lines. You must walk through the centre to really appreciate the detail.
Chilehaus inner courtyard
A must-see in Hamburg
Speicherstadt
We strolled over to Speicherstadt, Hamburg's iconic warehouse district. This is once again a fantastic area for some amazing architecture.
A view along Speicherstadt
Rows and rows of red brick warehouses interlaced with meandering canals, some of the facades are wonderful.
It's a charming area just to wander around and take it all in.
Iconic warehouses in Hamburg
Speicherstadt warehouses
We wandered further along to the end of the vast warehouses and was greeted by the incredible Elbe Philharmonic.
Elbe Philharmonic
This eye-catching concert hall which was designed by the architectural company Herzog & de Meuron and was opened in 2017.
Hamburg's harbour is continually working, with boats coming and going all time, it's a busy old place.
Hamburg harbour
We enjoyed Hamburg so much...
... we returned a year later to discover the city before the Christmas Market festivities appeared.
We spent 36 hours in Hamburg and our fondness for this city only grew.
I know we will return again
Not to be missed in Hamburg
Miniature Wonderland
Well, I never thought I would be visiting a model railway while in Hamburg. When enjoying a glühwein the previous day, we got chatting to a British family, and they recommended visiting
Miniatur Wunderland
.
Speicherstadt in the Model Village
Never ones to turn down a recommendation we sought it out and it was in the Speicherstadt district. Some of the warehouses around this area have been converted for different uses, offices, museums and one conceals Miniature Wonderland.
Perhaps not initially my cup of tea; however, the work and incredible detail that has gone into creating the miniature world is amazing.
The airport in the model world
They have recreated different regions of the world and iconic sights and sounds. As you wander around, there are interactive buttons to set off little displays, and every so often the lights are dimmed throughout the museum and night-time descends upon the model world.
Vegas at night in the Model World
If you are interested in
Miniatur Wunderland
, why not look at our post dedicated to the experience for more details of what you will discover.
Drop your coat off in the cloakroom, it does get busy and hot inside Miniature Wonderland.
St Nicholas' Church, Hamburg
Memories of a darker time
We headed back across the canal to St Nicholas' Church, now just the neo-gothic tower remains. However, this church holds a significant part of Hamburg's history and houses a museum beneath.
St Nicholas' Church tower
The Ordeal sculpture in memory of Sandbostel
* This post may contain links to affiliated sites where we earn a small commission at no additional charge to you.