by Janis /
0 comments
- Orginally published:20th December 2017
Christmas in London is irresistible
Last Christmas Gary and I popped to London for a few hours to enjoy the festivities around Tower Bridge and along the Southbank of the Thames.
We were amazed that within a reasonably short distance how much fun could be had and the effort the locals had gone to, to show off London at its best.
So, after our annual pilgrimage in early December 2017, to visit some European Christmas markets, we decided to pop to London again and discover the delights around the West End.
Why not Pin it for later?
Discover London at Christmas
Go where the lights take you
In some ways, it's probably best that you don't really have a specific route in mind.
There are so many sparkling lights & trees alluring you, that you just keeping wandering to wherever tempts you the most.
A red London bus
Yet, you'll be surprised how much you can discover in just a few hours.
London's Christmas Ice Rink
Somerset House
We headed to Somerset House first, not that we are ice skaters, but it's quite amusing watching the British trying to stay upright. Although I didn't see any children's helper penguins or polar bears……I would have needed one of those.
On the ice at Somerset House
The hosts for this year's event are Fortnum & Mason, so no expense has been spared.
Somerset House is a lovely place to visit all year around, and you may also recognise it from it from various film locations (particularly the opening credits of Love Actually).
The Christmas Tree in front of Somerset House
The best of London at Christmas
Off to the Garden
Just a short stroll and you wander into the spectacle of Covent Garden, and I love this place any time of year, always brought alive by street entertainers.
The decorations at Covent Garden
The magic has been sprinkled here in sleigh loads, giant reindeers, a glimmering Christmas tree and giant mistletoe that nobody could avoid standing under.
The Reindeer at Covent Garden
If you've yet to discover London and its ancient history, then let's start planning. I find these DK Eyewitness Travel Guides invaluable. They're extremely informative, easy to follow, and the pictures and maps tempt you into discovering more of those fascinating sites.
You can now grab a recently revised copy of this guidebook, so you won't miss a thing.
The streets of London at Christmas
Seven Dials
Slightly northwest of Covent Garden is Seven Dials (and certainly worth a visit), once again the effort that has been made by the local boutiques is enchanting.
The view from Seven Dials
The seven narrow streets converge into one tiny chaotic roundabout, with the centrepiece being a Doric column.
Seven dials at Christmas
Which strangely has only six sundials at the top of it (the road plans changed from six to seven after the column was built).
Avoid always taking the tube, your favourite places maybe nearer to each other than you think.
Leicester Square at Christmas
Onto the movies
Now we head to Leicester Square and the glistening billboards of the latest movies. Here we find that a traditional Christmas market has sprung up in the park. It would be wrong not to head in and taste the wares.
A Christmas stall in Leicester Square
Although London was a bit on the moist side this evening, it certainly didn't dampen the atmosphere, particularly that Luke Skywalker had returned to town in "The Last Jedi".
Leicester Square at Christmas
Our next stop at Christmas
Trafalgar Square
Even though London is a big city, a short stroll is often all that's required to emerge upon your next historical discovery. If you are in the heart of the West End, Trafalgar Square is always a draw.
Trafalgar Square at Christmas
You can't miss the 25-metre high Christmas tree, which has been given as a gift from the people of Norway to London traditionally since 1947. This is in thanks for Britain's support in World War II.
Exploring London at Christmas
Where the lights take you
We strolled in the direction of Regent Street up Haymarket, only to be drawn towards Regent Street St James's, by its captivating lights and tree.
The Christmas Tree at Waterloo Place
This was definitely worth the detour & such an elegant road.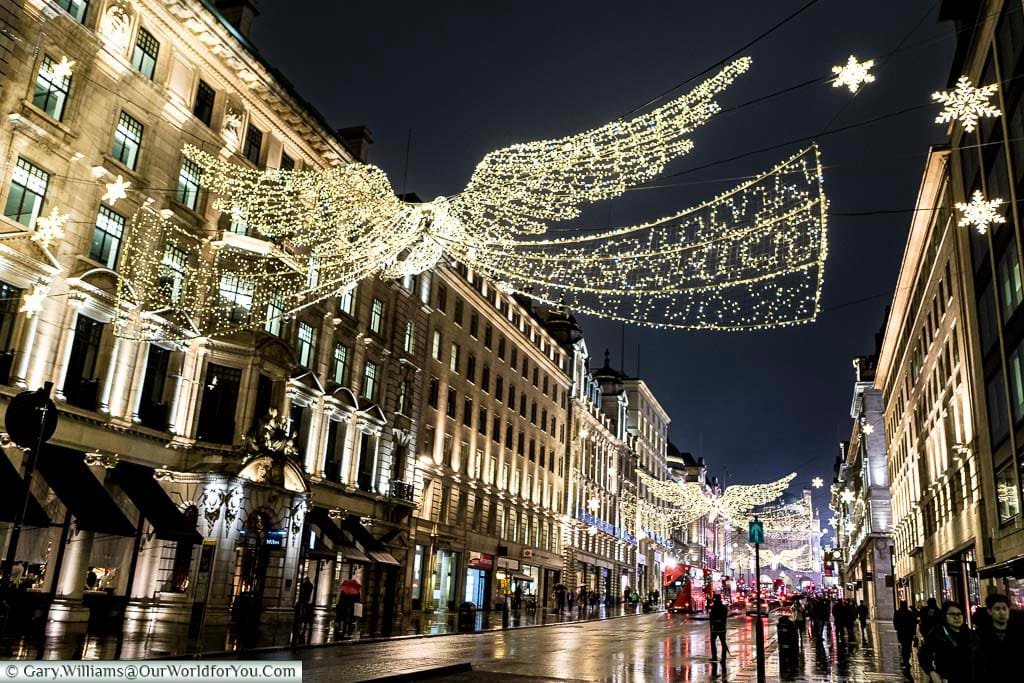 Regent Street Saint James's at Christmas
Even though London is spectacular during the day, it truly comes alive after dark.
Stylist London at Christmas
Sophisticated Arcades
Who could resist this stylish part of the city, I just love the arcades that cut through the centre and offer a shopping experience like no other.
'Piccadilly Arcade' from Jermyn Street to Piccadilly, 'Burlington Arcade' from Piccadilly to Burlington Gardens and 'The Royal Arcade' which runs from Albermarle Street to Old Bond Street.
Picadilly Arcade
Burlington Arcade
The Royal Arcade at Christmas
We have a little book on our shelves that we sometimes delve into when we're about to hit an area of London.
Packed full of historical facts, and broken down into the different regions of London, it's a great resource to help you see what's hidden in plain sight.
Available in Kindle & Hardback editions, it's an excellent addition to anyone's collection who loves London.
Regent Street at Christmas
A display like no other
300,000 twinkling little lights illuminated Regent Street for another year, 'The Spirit of Christmas' is the largest display of lights in the capital and is truly stunning.
High above Regent Street at Christmas
It will certainly stop you in your tracks.
Angels above Regent Street
The view down Regent Street
Shopping in London at Christmas
The merchants
There are so many eye-catching stores in the West End, many of whom have gone that extra mile to make the celebrations special.
The Cartier store on New Bond Store
My favourite has to be Cartier's & Fortnum & Mason.
Hatchards Booksellers to the Royal household
Fortnum &; Mason's store at Christmas
Hamleys on Regent Street
The Vintage Showroom
However, for us travellers, a trip to Covent Garden will always include a visit to Stanfords, for all your travel literature needs.
Stanfords travel bookstore
Enjoyed London at Christmas? There's so much to see from East to West, North to South, What's you're favourite part of the city?
More of London at Christmas
What also caught our eye
Narrowing down the photos for this post was tricky, as there was so much that grabbed our attention.
Here are a sneaky few more;
Carnaby Street at Christmas
The Christmas lights down The Strand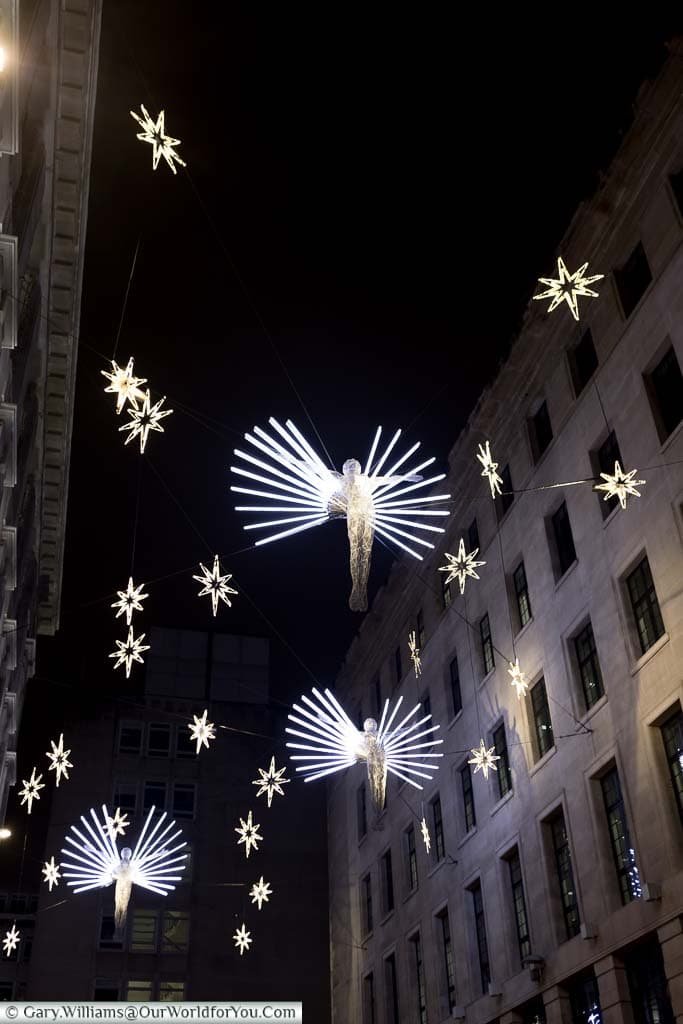 Lights apart from Charles II Street
The lights above Jermyn Street
The Ritz hotel at Christmas
The end of New Bond Street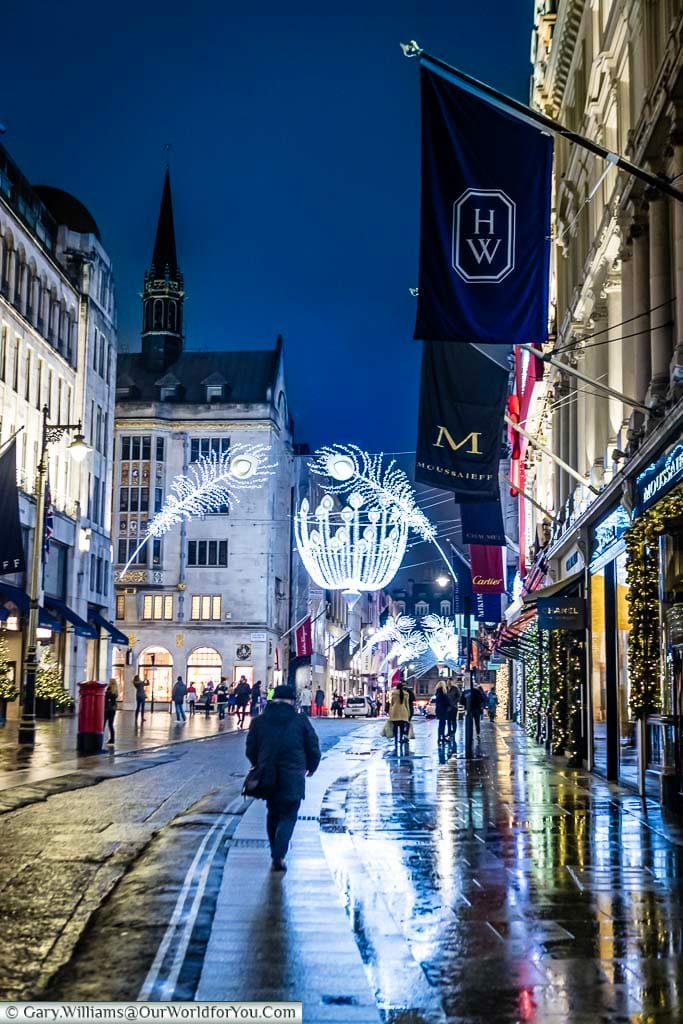 Looking along New Bond Street
Elegant New Bond Street
The Palace Theatre
Another short and sweet tour of Christmassy London
Although this is a short glimpse of the West End of London at Christmas, it takes you through some iconic and much-loved parts of this magnificent city.
* This post may contain links to affiliated sites where we earn a small commission at no additional charge to you.