Namibia holds a lifetime of memories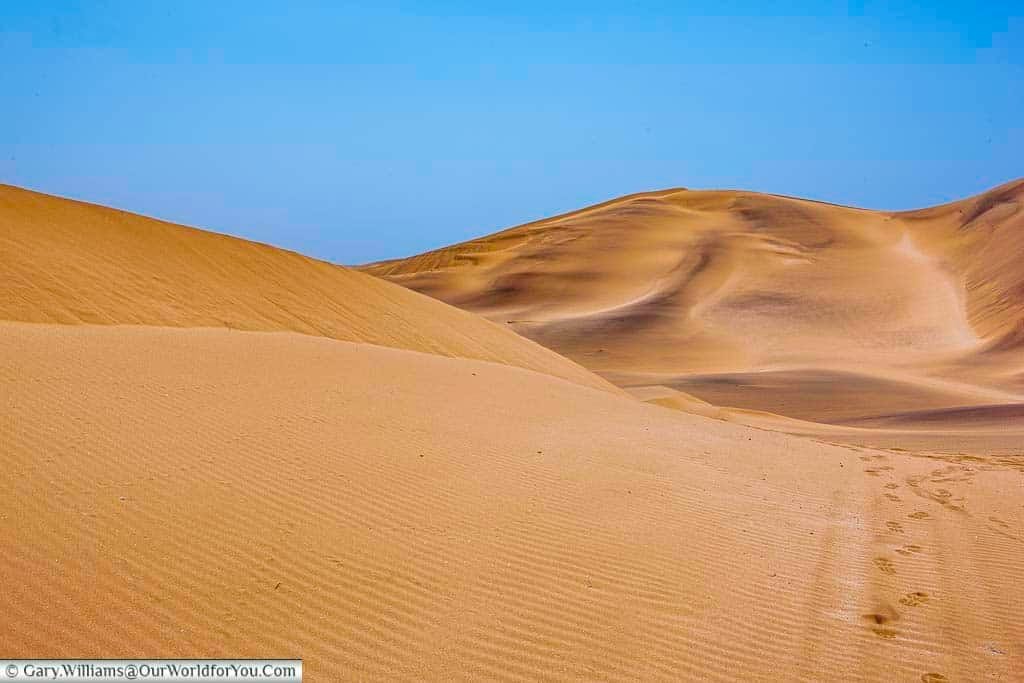 Namibia has so much to offer in such an awe-inspiring landscape. We love driving the open road, so there was no other option for us than a self-drive safari, 12 destination in 3 weeks.
I have tried my upmost to condense the highlights of this trip, as there were so many. From the sunrise climb across the red sand dunes of Sossusvlei, to our trusty 4 wheeled companion 'Heidi', as we had named her.
If you're considering a road trip through Namibia, then your in for a holiday of a lifetime. I always find it incredibly useful to plan our trips with the help of a guide book.
Take a look at this informative Bradt guide, it will give you great tips and advice.
As touched on above, the pleasure in climbing the red dunes of Sossusvlei and watching the early morning sunrise appear over the baron mystical landscape, is truly a must if you visit Namibia.
Then there is Deadvlei, the eerie moonlike landscape with its petrified trees.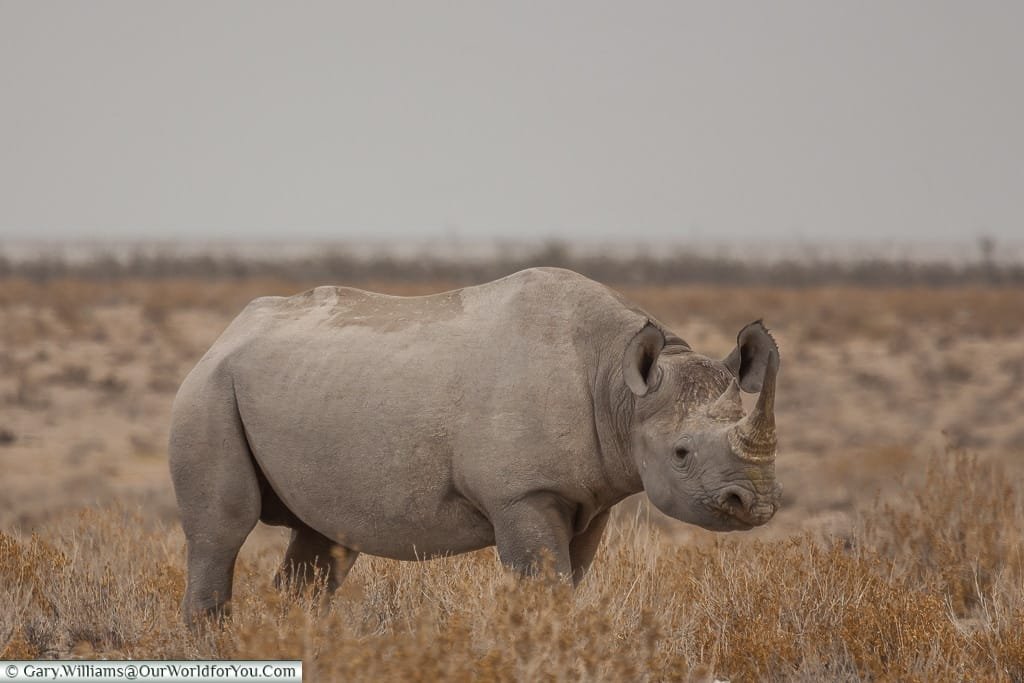 I certainly am not being flippant of the other wildlife, as seeing animals like cheetahs, bull elephants, mountain zebra, giraffes and antelope, in their natural environment cannot be surpassed.
Before we visited Namibia, I had hoped to see Desert Elephants, but as they are only to be found in the Kunene region of Namibia and Mali in North Africa, I didn't know how lucky we would be.
To visit the Himba people really was an experience I didn't expect. We only arranged it the day we arrived at Grootberg Lodge and I'm so pleased we did.
After a 2-hour truck drive on predominately unmade roads, Gary and I were treated to a first-hand experience, in how these remote people live their lives.
Kolmanskop is a deserted mining town and is absolutely amazing. For a small fee, you are free to roam in and out of the old residential and community buildings, which are now being slowly swallowed up by the Namib Desert.
Skeleton coast is a truly harsh coast line on the Atlantic Ocean, continually changing weather conditions meant this has been the graveyard of many ships.
Fish River Canyon is the largest canyon in Africa, although it was a quite a bit of a journey to the south of Namibia, the views were spectacular.
The feeling of excitement and anticipation when I jump in the back of an open safari truck, still hasn't left me and I hope it never will.
Is it so wrong to sit and watch the sunset across an African desert with a sundowner, mine's a gin and tonic, please?
Our stop in eastern Etosha was at the Dolomite Camp, we had only been in our lodge 15 minutes when a herd of elephants young and old, emerged from the bush and frolicked in the nearby watering hole which we overlooked, magical.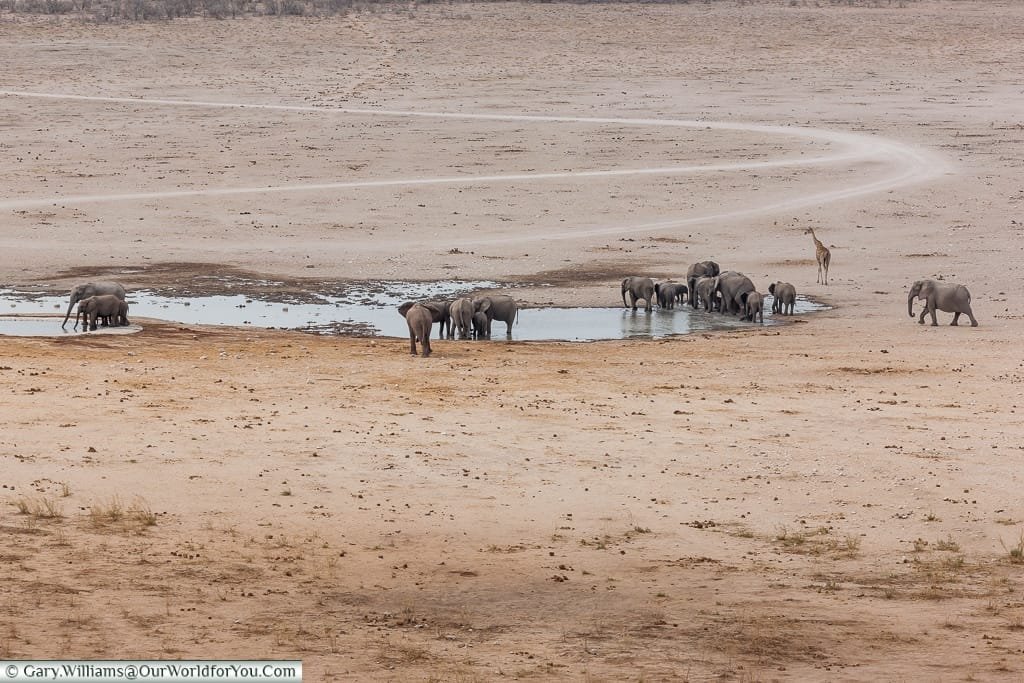 Our first night safari experience was at the Bagatelle Kalahari Game Ranch, in search of bright peering eyes through the darkness. There wasn't too much out and about that night, but we embarked on another in Etosha and caught a glimpse of our first rhinoceros.
The Guab Pass was on our route, so that meant a stop at Solitaire, and the bakery. Recommendations were right they do make a mean apple pie.
Whilst in Swakopmund we joined the Little 5 living desert tour, across the dunes. Great fun and great memories, made all the better by Chris, our very enthusiastic guide for the trip.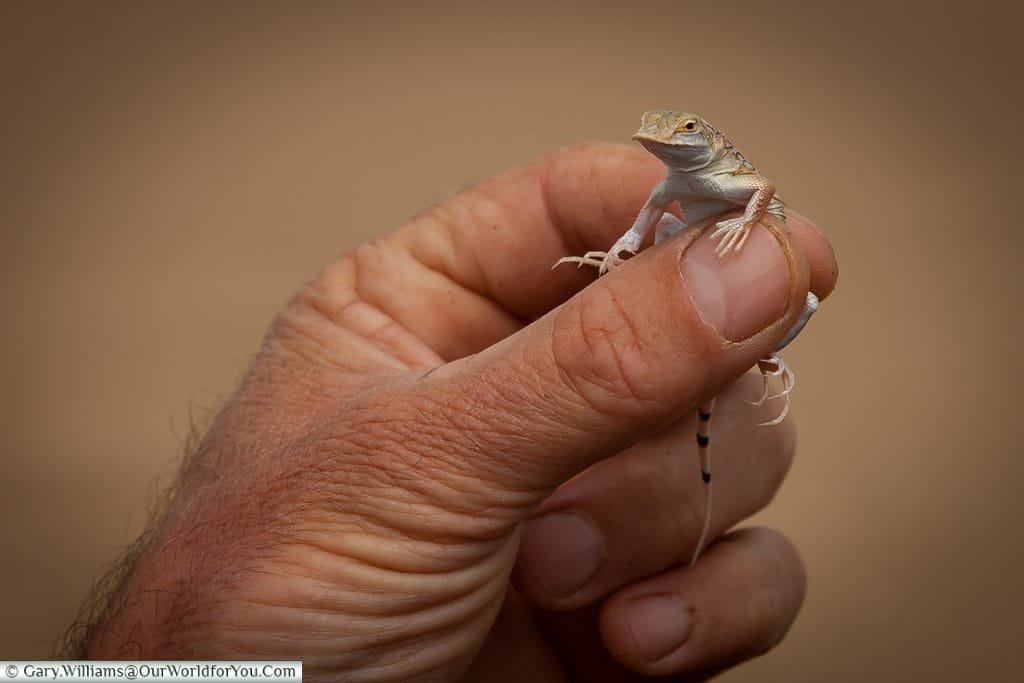 'Heidi', our trusty 4x4, navigated us through no end of undulating terrain covering 2,436miles/3,929km
A spectacular place to visit for any stargazer, the unpolluted air opens an endless night sky.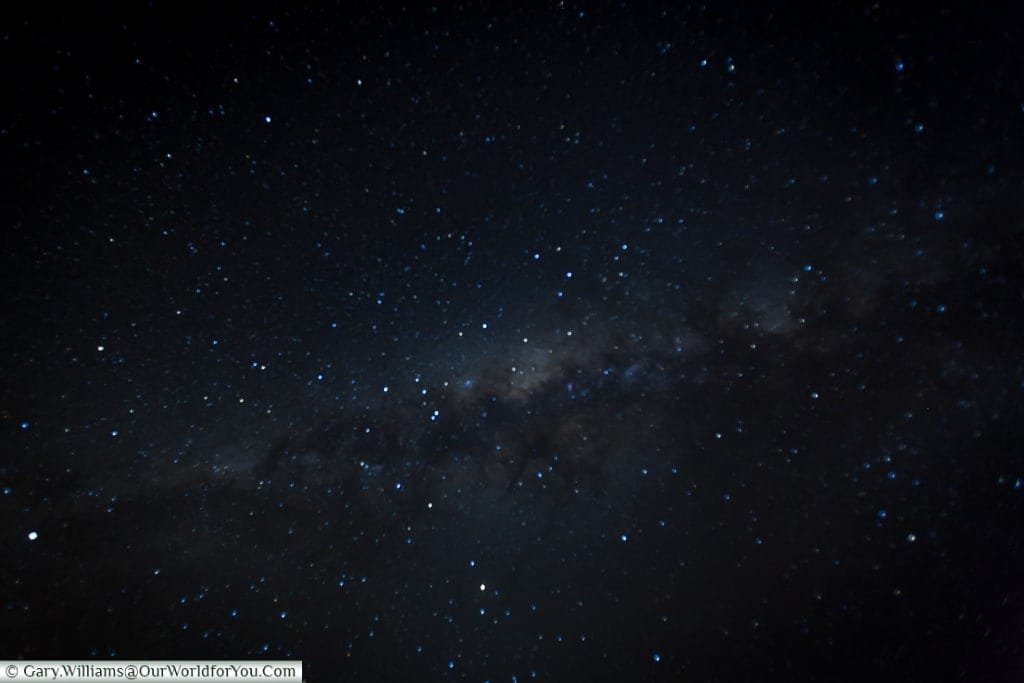 Bagatelle Kalahari Game Ranch, work along with the Cheetah Conservation Fund. It's pretty impressive experiencing feeding time alongside the 3 wonderful cheetahs.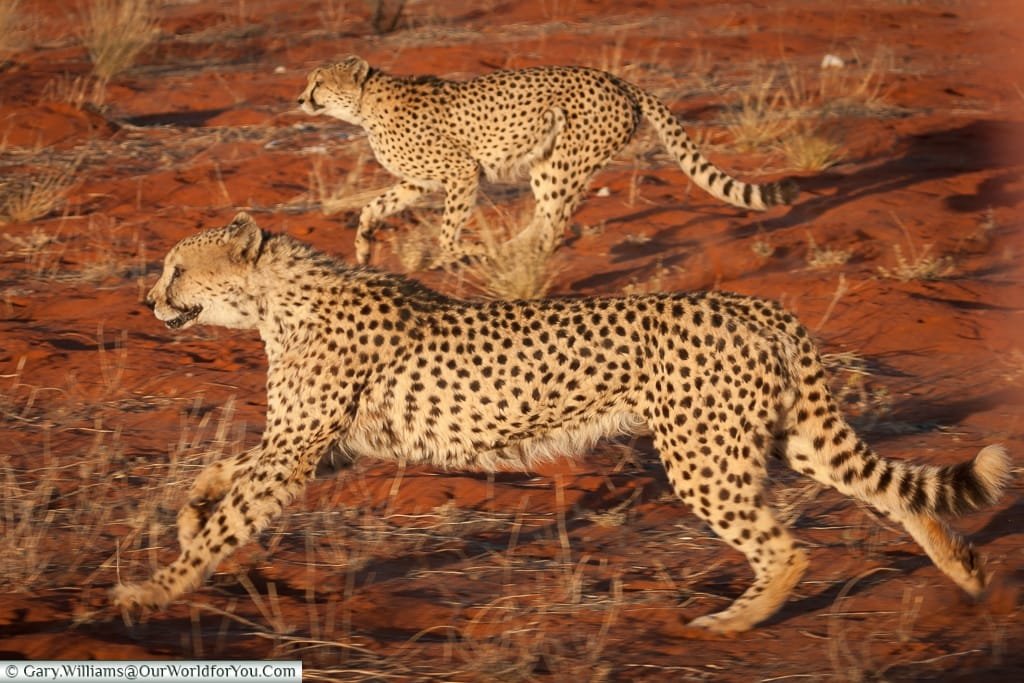 Start creating your own adventure, and discover the amazing scenery & African wildlife of Namibia for yourself.
We chose British Airways, and it was all done with a few clicks, a brief stopover in Johannesburg, and our luggage was there for our arrival in Windhoek.
Not too much as it was a great adventure and experience from start to finish.
We tried to fit in as much as we could in our 3 week trip, but if I was to return I would visit Caprivi strip, which is in the north of the country and slightly more remote.
I can laugh about it now, but the near vertical climb with the sheer drop which awaits you at Grootberg Lodge, takes some beating. Of course the lodge will give you a lift up to the plateau, but Gary didn't want to take that option.
Gary and I often pick a 'Highlight of the Day' moment, so after our long journey from the UK to Windhoek via South Africa, Gary's 'Highlight of the Day' was that our luggage had arrived (easily pleased).
We managed to pick up a puncture whilst at Fish River Canyon, luckily we were at our lodgings when we spotted it. Whilst trying to manoeuvre the spare wheel, the lodges' local handyman came to our rescue and performed an amazing repair in his workshop, that lasted us for the next 2 ½ weeks.
We found that the tourist numbers were not so high in the south of Namibia, probably because the wildlife is not in abundance as it is around Etosha, but nonetheless certainly worth a visit.
Keep in mind your fuel levels and stops that are available.
Don't forget your hat.
Obviously, a camera but binoculars are fantastic for wildlife watching
Closing note;
Namibia is gradually becoming higher on people's bucket lists and from the fantastic experience and the friendly people we met, it's easy to see why.
Inspired to visit Namibia?
Do our memories inspire you? It was very much a once in a lifetime trip, and one that we did at our own pace.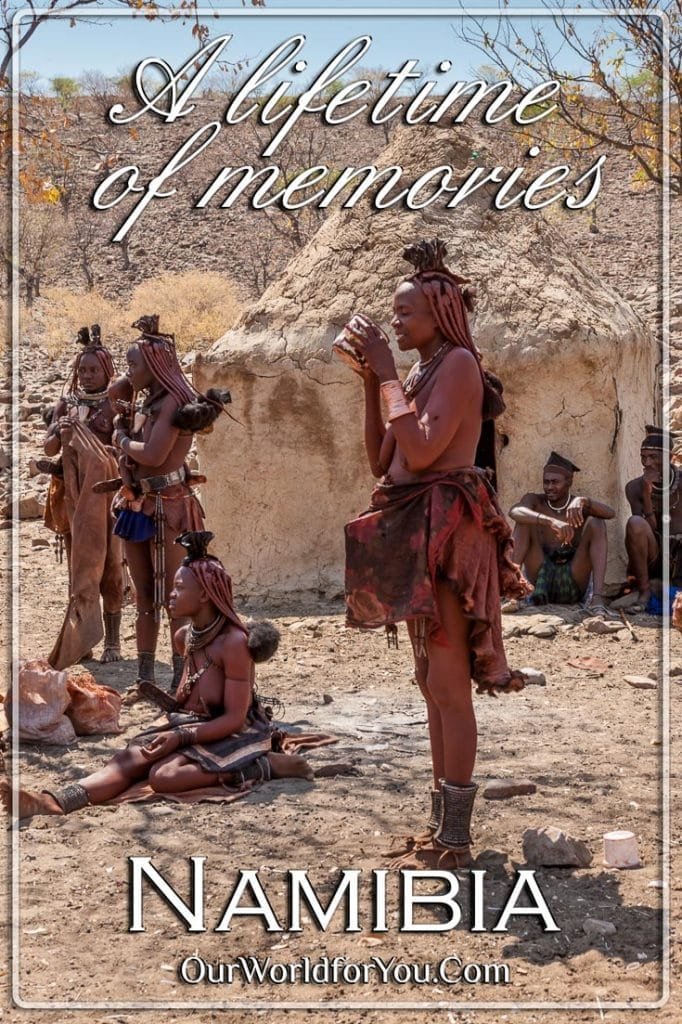 (Why not Pin It for Later?)