This wonderful memorial in the heart of London commemorates both men and women of the Merchant Navy and Fishing Fleets, who died during both world wars and have no grave but the sea.
This memorial is often overlooked by visitors, as it is located just opposite the imposing Tower of London.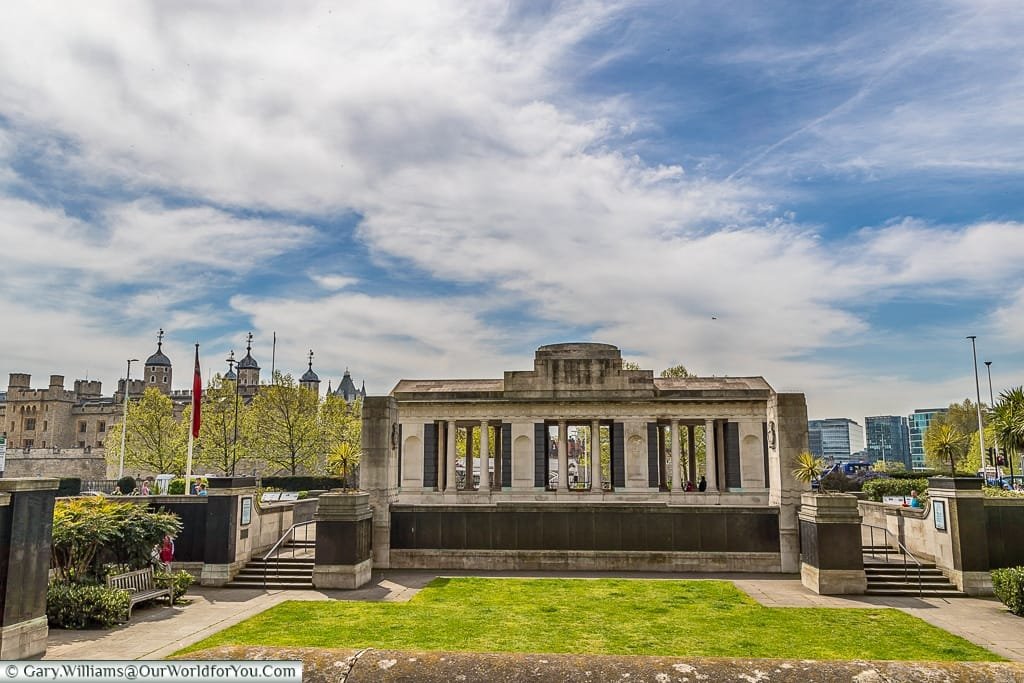 Hopefully you can take time out of your busy schedule and give this memorial the time that it deserves.
On the south side of Trinity Square Gardens stands the vaulted passageway, which commemorates almost 12,000 Mercantile Marines lives lost during World War I.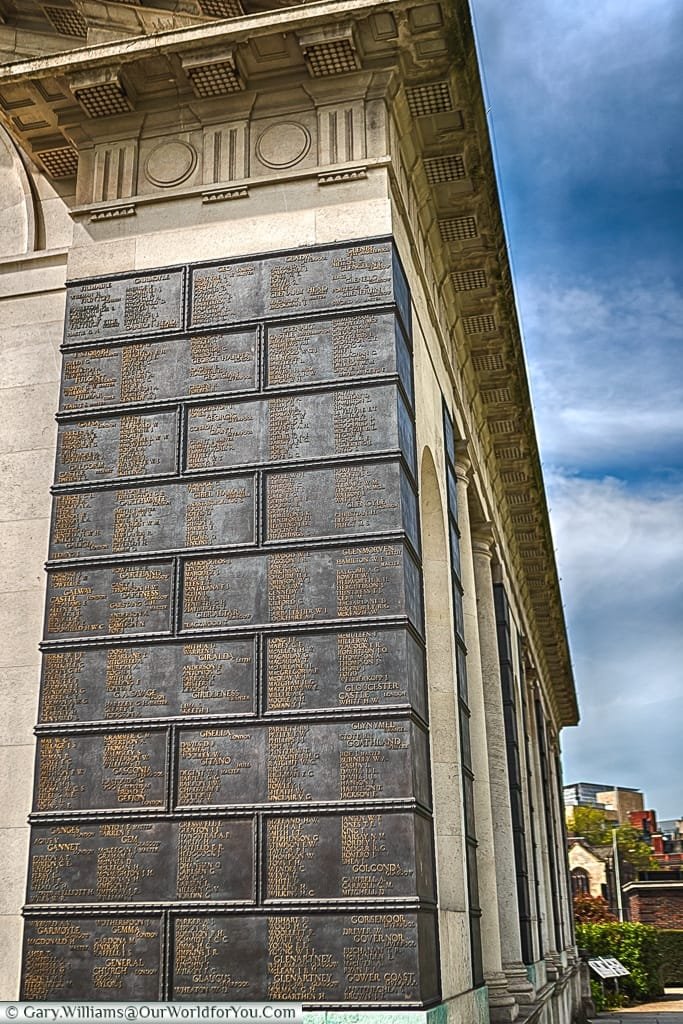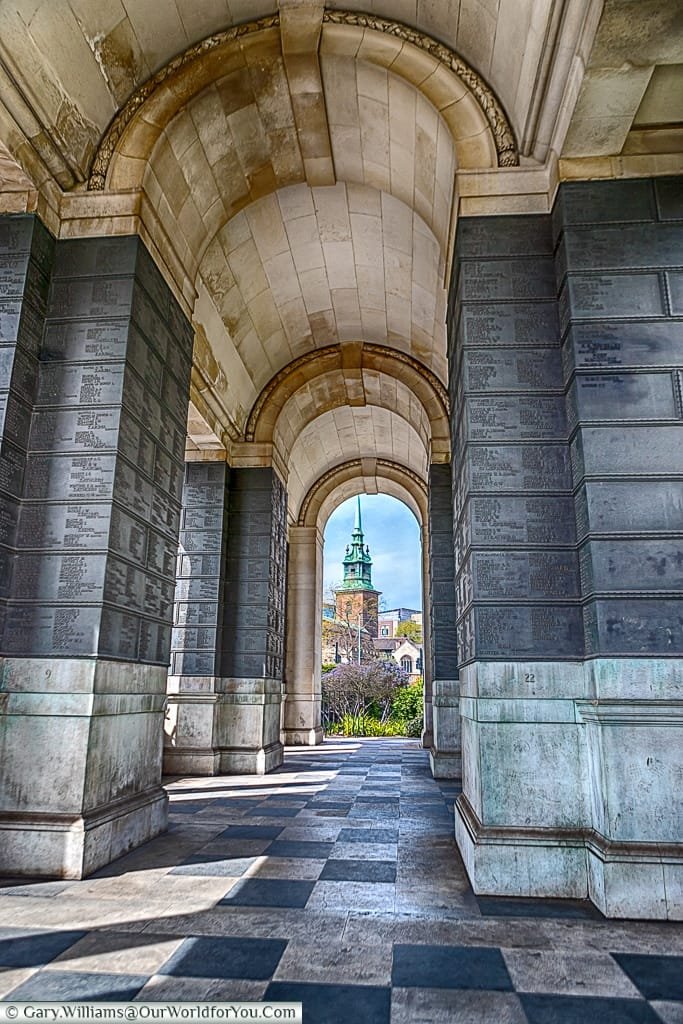 Every name is engraved upon the 12 bronze plaques, which you are free to respectfully stroll through and reflect.
The First World War memorial was unveiled by Queen Mary on 12th December 1928.
A total of 3,305 merchant ships were lost, along with 17,000 lives.
Just beyond the World War I commemoration are two striking statues, one of an officer and the other of a seaman. These two wonderful figures guide you down into the sunken garden of the World War II memorial.
Stepping down into the semi-circular sunken garden, you'll be astounded at the sea of names that engulf you. There are almost 24,000 British seamen named, along with 50 Australian seamen.
 
During the Second World War a total of 4,786 merchant ships were lost, along with 32,000 lives. More than one quarter of this total were lost in home waters.
This WWII memorial was unveiled by Queen Elizabeth II on 5th November 1955.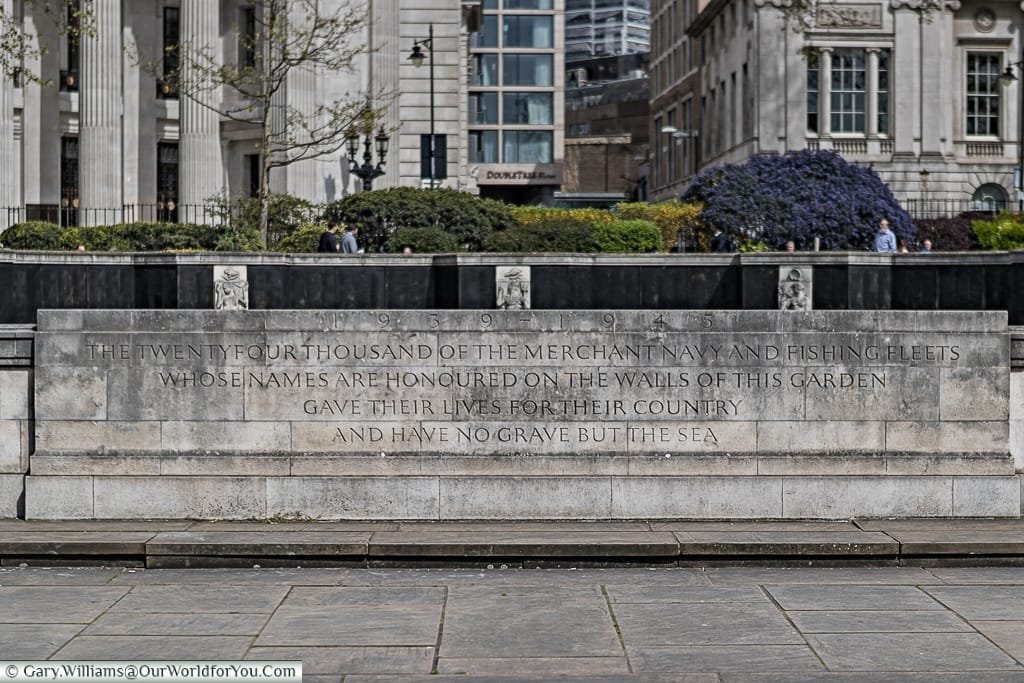 In total 35,839 identified casualties are remembered here, which have "no grave but the sea".
This Global Block does not have any content.
Visitors panels are displayed around the garden, to give you further insight into the lives of these brave men and women.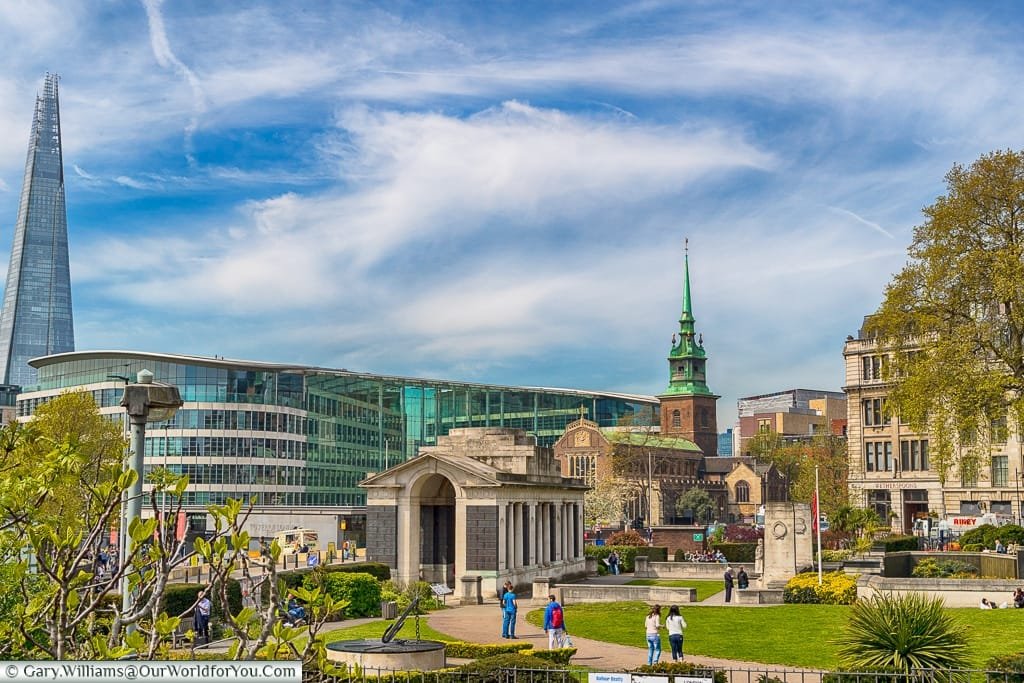 As these memorials are set within a garden, you'll often find escaped City workers whiling away their lunch break on the grass.
10 Trinity Square which was once the headquarters of the Port of London Authority, stands proud overlooking these memorials, towards the River Thames.
(Some of you may recognize it from the James Bond film 'Skyfall')
This Global Block does not have any content.
A 14th Century Scaffold Site
Within Trinity Square Gardens also lies a memorial to the Scaffold site once used for public executions, dating from 1381 to 1747. Many of whom were dignitaries and clergymen.
One of the plaques which lies in the memorial garden reads;
"To commemorate the tragic history and in many cases the martyrdom of those who for the sake of their faith, country or ideals staked their lives and lost" "On this site more than 125 were put to death, the names of some of whom are recorded here"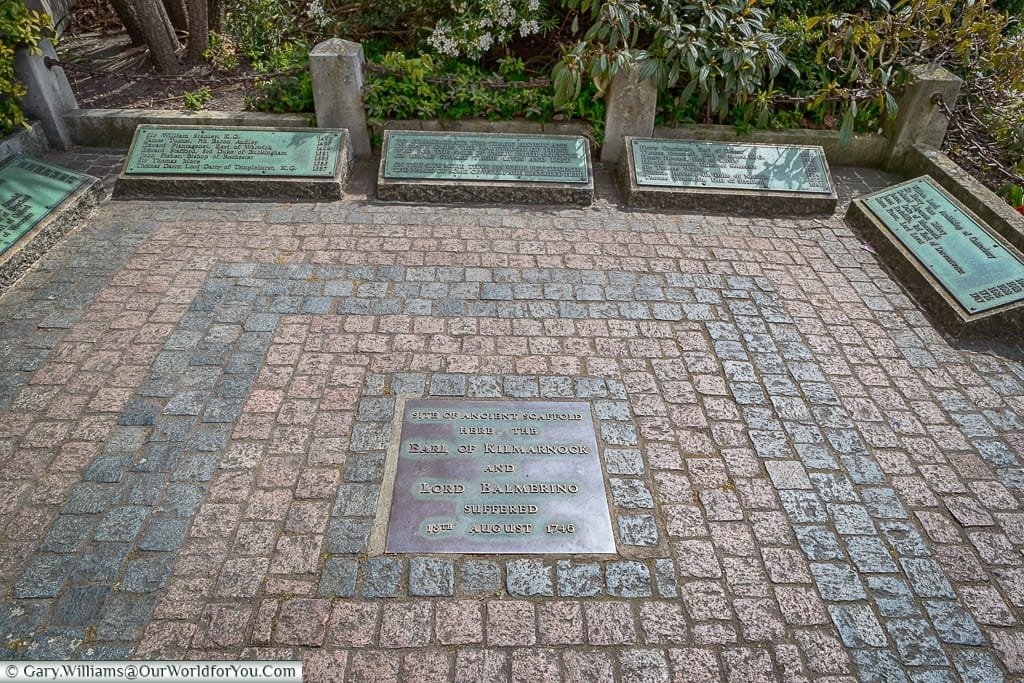 Wandered through this park? Enjoyed a picnic on the green? Or have you visted the Tower of London and missed the chance to visit the memorials without knowing they existed?
This Global Block does not have any content.
Inspired to visit the Tower Hill memorials?
It's easy to get to.
It's nearest tube is Tower Hill, or if you're coming from the east via the DLR then Tower Gateway,
Or if you're coming via overland train then Fenchurch Street, London Bridge or even Liverpool Steet are all within walking distance.
If you looking for somewhere in London, why not check out the latest deals on Booking.Com?
(Why not Pin It for Later?)