by Janis /
0 comments
- Orginally published:21st January 2020
A road trip along the Romantische Straße
Not to be rushed
Germany's Romantic Road or to give it its correct name Romantische Straße is a magnificent picturesque trail in Bavaria and Baden-Württemberg.
The enchanting route stretches 285 miles (460km) through chocolate-box towns, the foothills of fairy-tale castles and scenery that will stop you in your tracks.
Gary and I have visited this region of Germany on several occasions, often picking up the Romantic Road and winding our way through the breath-taking countryside. Though, sometimes it's the lure of a twisting alpine lane that leads you off onto another meandering route.

So, don't worry if you end up deviating from the official trail, take it in your stride and weave your back later.
Why not Pin it for later?
The route of the Romantische Straße
The open roads await, pop in your location details, then
Rental Cars
will search well-known car hire brands and discover the deals that suit you the best.
- The 29 towns on the route are;
Where to start on the Romantischestraße?
A road trip through Bavaria
Well, to be perfectly honest, it doesn't matter, as it really depends on where you're coming from and which locations take your fancy. As there are so many beautiful places to choose from. We've covered sections of the Romantic Road from north to south, south to north and also jumped on it in the middle.
A wintery scene in Rothenburg ob der Tauber
Officially there are two towns where the Romantische Straße starts and finishes. These are Würzburg in the north and Füssen in the south, which is actually within yodelling distance of Austria. So, you could even nip across the border and tour around some Austrian alpine lanes too.
Dinkelsbühl Medieval walls and Faulturm
In total, there are 29 towns that you can visit along the route, and all with their own unique tales to tell. I've come to realise that on our few visits we've only just scratched the surface. There is so much intriguing history to uncover from centuries past.
Würzburg
Beautiful, even on a grey day
Out of simplicity on my part, I'm going to start at the northernmost location that Gary and I visited along the Romantic Road. We will then wind our way south through the enchanting highlights along the way.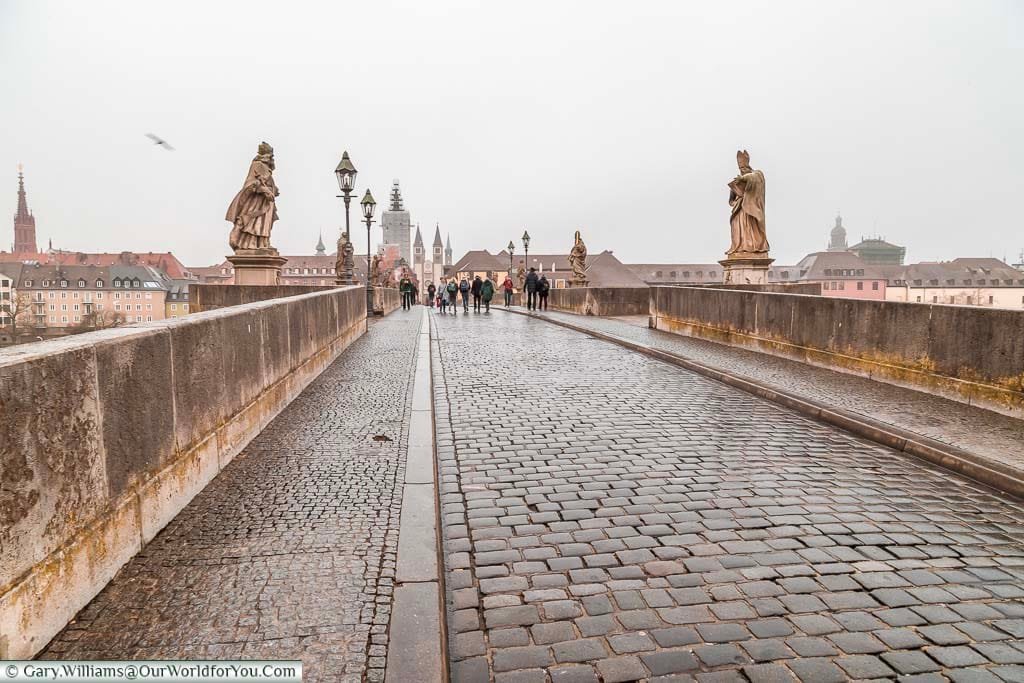 Walking across the Alte Mainbrücke in Würzburg
The city of Würzburg is a delightful place to start, take a stroll around the streets of the Old Town to really get a feel of Bavarian history and culture.
Visit the eye-catching Romanesque Würzburg Cathedral and one of the cities, many museums and galleries.
On the Alte Mainbrücke in Würzburg
The part of the city that we loved was down by the River Main. Strolling across the Old Bridge, you get a wonderful view of the Marienberg Fortress perched high above the town.
As Würzburg is located in the heart of a wine-producing territory, what better place to stop and enjoy a tipple of the region.
Rothenburg ob der Tauber
Just picture postcard perfect
Rothenburg ob der Tauber is an extremely popular location along the Romantic Road route, and it is so easy to see why.

When you first step within the Medieval city walls that encircle the town, you feel like you have walked onto a movie set. The beautifully preserved half-timbered homes and shopfronts are enchanting and just make you smile.
A view across Marktplatz
Rothenburg ob der Tauber is a town you'll need to spend some time discovering. It's incredible that such places still exist and can honestly give you a flavour of the Medieval past.

You may even recognise Rothenburg ob der Tauber from some of the scenes in movie Chitty Chitty Bang Bang. When you visit, see if you can spot the Rat Catchers carriage.
Entering the town from the south
The Siebersturm in Rothenburg ob der Tauber
One of the local delicacies you must try here is the Schneeball. It's made from strips of shortcrust pastry rolled into a ball and often covered with different flavourings. Be warned it's messy, and it's filling, but it's fun.
Dinkelsbühl
Step back through time in Germany
Dinkelsbühl
is another striking town along the Romantic Road and was lucky enough to be spared the devastation of WWII. So, the bountiful number of colourful half-timbered buildings lining the medieval streets is just incredible.
On the Romantische Straße at Dinkelsbühl
Dinkelsbühl is also very fortunate that it still has its all-encompassing city walls and ramparts.
What I particularly loved here was the number of city gates that are preserved. You are still able to drive through some of the tower gates. Each of them is named after the neighbouring town that the road leads onto.
The water around Dinkelsbühl
Bäuerlinsturm
You may be thinking that these attractive locations must get so busy and you're right they do. However, all you have to do is head one or two lanes back, and it is so tranquil. You can then wander by the ancient walls admiring the local homes and their beautifully kept courtyard gardens.
I love nothing more than planning a trip and so often I use the DK Eyewitness books.  I find them extremely informative, easy to follow and the pictures and maps tempt you into discovering more.
We used a previous version of this book to plan our Germany road trips, now you can grab the revised copy.
Nördlingen
A walled wonder in Bavaria
Now, what is a little different about Nördlingen is that it has been built within an ancient crater. It is believed that 15 million years ago a meteorite fell and formed the Ries crater, which was 1km wide, and now it is home to Nördlingen.
The historic Rathaus of Nördlingen
Also just likes its neighbours further north along the Romantische Straße of Rothenburg ob der Tauber and Dinkelsbühl. Nördlingen is another rare example of a medieval town entirely encircled by its ancient walls and towers.
The Kriegerbrunnen, or Warrior fountain
Streetlife in Nördlingen
Admittedly Nördlingen isn't quite as drop-dead gorgeous as its sister towns, but nonetheless, it has plenty of charm. We strolled all around the ancient lanes, around the Tanners District and up and around the ramparts. Finishing in the lovely Marktplatz amongst the Rathaus and Tamzhaus.
If you are planning a trip to this beautiful part of the world, then take a look at the
Romantische Straße
website. It's full of handy information about each location en-route.
Augsburg
A warm historic city in Bavaria
Augsburg
is one of the few cities along the route, and it is also one of Germany's oldest towns. It was founded in 15 BC by the Romans and named after the emperor Augustus.
Storm clouds brewing over the Rathaus
Like so many German towns and cities, the heart is often in the Rathausplatz and Augsburg is no exception. Within the large square is the imposing Town Hall; however, you need to head inside to appreciate truly its magnificent Golden Hall.

The main road that runs through Augsburg Old Town is Maximilianstrasse, also known as 'The Imperial Mile'. I recommend you start at the south end and stroll all the way along; it is full of so many historical buildings, fountains and churches.
Fuggerei in Augsburg
While in Augsburg be sure to head to the
Fuggerei
as it is fascinating to see.  It is the first social housing settlement in the world and was founded in 1521.  Parts of the quaint complex are now a museum. However, it still has 150 residents who continue to pay the original annual rent of a Rhine Guilder, (which today is 0.88 Euros).
Where to stay in Augsburg
-
City Hotel Ost am Kö
- A great central hotel with parking available close-by. The room was comfortable & clean, but the highlight was a splendid breakfast selection in a charming setting.
Start creating your own Romantic Road adventure by flying into Munich with ebookers.com.  Over 400 airlines are scanned for your favoured routes and chosen dates.
Or alternatively, like us discover more of Germany on a road trip. If your venturing from the UK, jump on Le Shuttle and head east. Although, if you're unable to bring your own car or you are flying into this lovely country give Rental Cars go.
Füssen
The end of our Bavarian road trip?
We've come to the end of the road, or the beginning if you're just starting out.
Füssen
is such an attractive and colourful town, and when you stroll through the cobbled streets, you have no doubt that you are in Bavaria. You can even grab your lederhosen and dirndls here.
Strolling through Füssen towards Hohes Schloss
We stayed in Füssen for a couple of nights, one day we went out and about and explored the surrounding countryside.
The other day, yes you guessed it, we visited the stunning fairy-tale castles of Neuschwanstein and Hohenschwangau.
Looking up at Schloss Neuschwanstein
These two castles are enchanting and an absolute must-visit, and highly recommend the guided tour. Although, arrive early as they get rather busy.
-
Hotel Hirsch
- A great family-run hotel on the edge of the old town of Füssen, and just a 10-minute drive from the castles of Neuschwanstein and Hohenschwangau.
* This post may contain links to affiliated sites where we earn a small commission at no additional charge to you.