Our Zimbabwe Memories of a Lifetime
An African country with incredible prospects
When a family wedding invitation to Zimbabwe winged its way through to my mailbox, there wasn't any hesitation of whether we would accept the invite.
 
There were two major decisions to make, firstly what was I going to wear and then how long we should go for?
It had been 20 years since we'd last visited Zimbabwe, and the wonderful memories were still so vivid. So, after some deliberation of the locations to visit and the logistics of getting to and from these places, we'd hatched a plan.

Gary and I just love reminiscing about our trips and jogging each other's memories. That's what we adore about travelling, it's creating these valuable moments that will always remain with you.
Hopefully, our memories will tempt you into a trip of a lifetime to Zimbabwe. All this reminiscing is now making want to return. Here is a taster of what we discovered.
Once of the best views, Victoria Falls, Zimbabwe
Personally, the experience of jumping in the back of a safari truck, with the anticipation of the African wilderness ahead, will always be my nirvana.
The warm Zimbabwean breeze brushing across my face, bouncing across the undulating terrain, I wish I could bottle this feeling.
A lone giraffe, Hwange, Zimbabwe
The wildlife that we were lucky enough to see was breath-taking. Matriarchal herds of elephants, giraffes were stretching through Acacia trees, hippos wallowing in mud, the piercing eyes of lions through the darkness, and a cheetah staring us down. These are just a handful of our safari experiences.
Heading out on the truck, Rhino Safari Camp, Lake Kariba
The thunderous UNESCO World Heritage site of Victoria Falls is magnificent to witness any time of the year. We visited this natural wonder on our previous visit when the water levels were low. On this occasion we got a free shower, the incredible spray that the falls creates just engulfed us, it was astonishing. A wonder not to be missed.
Victoria falls from the Zimbabwe side
Ensure you also have a wander around
Victoria Falls town
. It may be the touristy side of Zimbabwe. Still, nonetheless, the old trains chugging through the heart of Victoria Falls is an unforgettable sight too.
To really gain how immense and beautiful the Victoria Falls are and see how they cut through the earth, take to the skies. The helicopter '
Flight of Angels
' trip is breath-taking.
The Victoria Falls and plenty of mist
Matobo Hills National Park
Also known as Matopos, this UNESCO national park is beautiful. It almost feels mystical as the landscape has not changed in centuries. The ancient rock paintings and the balancing boulders are just a wonder to see.
Granite has worn away over centuries, Matobo National Park, Zimbabwe
It is also at Matobo Hills National Park that Cecil John Rhodes is buried. The vista at the site where he lay has to be seen to be believed. The burial site is known as "World's View", and with the far-reaching landscape beyond, you can truly understand why.
World's View, Matobo National Park, Zimbabwe
Lake Kariba has to be our favourite location in Zimbabwe. There are so few places on earth like it, you feel like you've entered somewhere almost primaeval.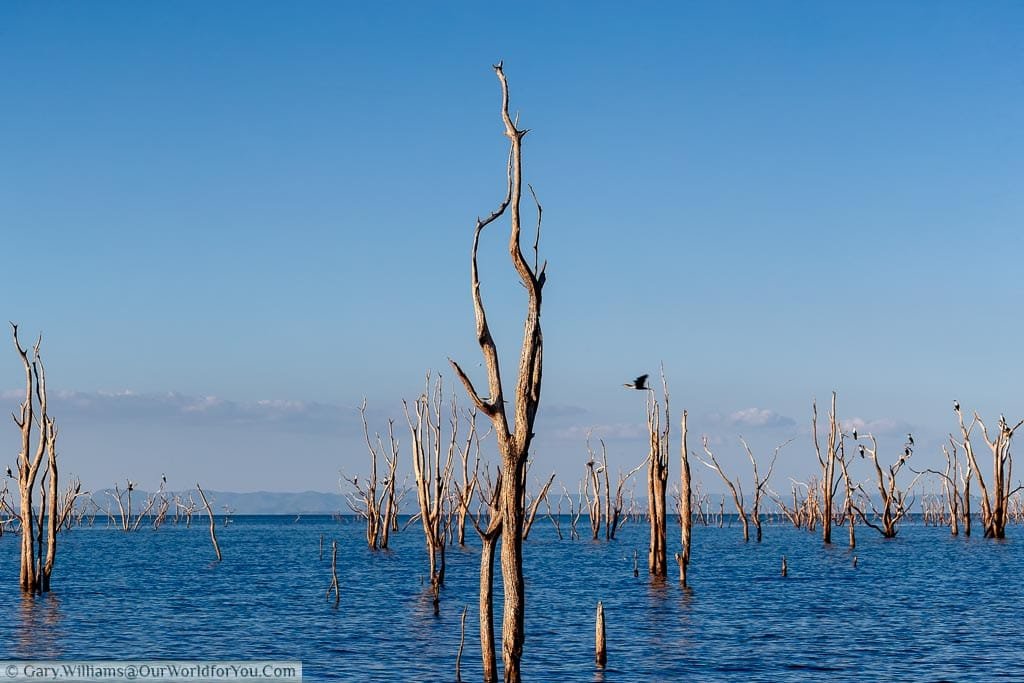 Floating amongst the ancient forest, Lake Kariba, Zimbabwe
Lake Kariba in the north of Zimbabwe is the world's largest manmade lake, it was created in the late 1950s after Kariba Dam was built. The area was then flooded, and the trees that once formed part of a dry landscape, now protrude like lightning bolts from the lake.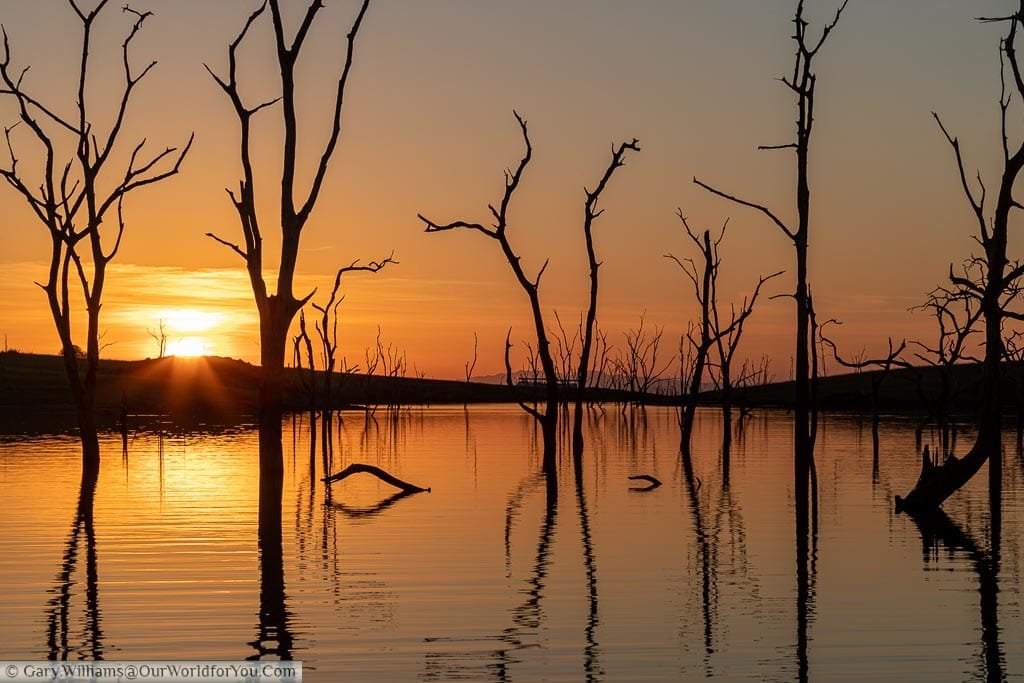 Farewell to the sun, Lake Kariba, Zimbabwe
The lake is now often used by locals and tourists, for recreational purposes. The wildlife here is extraordinary, from the tiniest of insects to majestic elephants.
Sundowner cruise with Hippos
One of the animals I love to watch in Zimbabwe is the glorious hippo. On land, its powerful bulk is used to protect itself and will stride it out, if need be, at a vicious rate of knots. However, in water it has so much grace, paddling along bobbing its head up and down all the while grunting and groaning.
A pod of Hippos in Lake Kariba, Zimbabwe
While we were staying at Rhino Safari Camp, we headed out onto Lake Kariba for a sundowner cruise. It has to be one of the most memorable experiences of my life. We sat silently in our little boat while a pod of hippos floated and yawned all around us. At that moment in time there was nowhere else on earth I wanted to be.
We had so many incredible moments at the Rhino Safari Camp, and one has to be the walking safari through the bushland, in Matusadona National Park.
Tettindra guiding us through the dry riverbed on a bush walk, Rhino Safari Camp
We headed out with our experienced guides, Tettindra and Mark, following their strict instructions on the do's and don'ts when you're faced with a wild animal. Keeping our expectations low as this is often the way with wildlife, we head off in single file.
Buffalo watching us on a bush walk at Rhino Safari Camp
Our luck was with us, as not only did we see a herd of buffalo and a wallowing hippo, we also saw a lion sitting at the base of a tree in a dry riverbed. This was truly unbelievable, backing off to keep our distance as she was only 30 metres away.
Take a peek at our Zimbabwe posts and start creating your own adventure for yourself.
We chose British Airways, and it was all done with a few clicks, a brief stopover in Johannesburg. Our luggage was there waiting for us on arrival at our end destination in Harare.
Touring around Zimbabwe was an enjoyable experience, so many of the people we met were incredibly friendly and warm towards us.
One cool guy , Victoria Falls Town
We were stopped on the streets in Bulawayo and Harare by Zimbabweans, just wanting to say hello and wishing us an enjoyable trip.
Beaming smile at Flavourlitious
After our visit to Victoria Falls, we headed to Hwange, an area with an amazing national park. We stayed at the Tree Lodge at Sikumi which is on a concession near the park.
Elephants arriving, Hwange, Zimbabwe
We ventured off on an afternoon safari not knowing what lies ahead. Danny our guide pulls into an area surrounded by Acacia trees, we sat there after spotting a couple of elephants emerge from the bush. Then gradually a whole herd appears from the very young to the very old.
Playtime, Hwange, Zimbabwe
Sitting perfectly still knowing that elephants do not have perfect eyesight, they came closer and closer to us, almost within touching distance.
Driving the roads of Zimbabwe
Part of our visit to Zimbabwe we incorporated into a road trip, visiting Lake Kariba and Bulawayo under our own steam. This is not always the easiest nor the cheapest way to get about but, believe me, it's the most fun.
Street life & smiles, Bulawayo, Zimbabwe
You really see parts of the country you would miss if you flew around. It was such an eye-opener travelling through the bustling African towns. Where day to day life was selling your produce on the side of the road. Carrying your groceries on your head and dodging heavily laden commuter buses racing to pick up their next fare.
When we visited Zimbabwe previously, we didn't manage to spend much time in the heart of Harare, the countries capital city.
This time we headed into the bustling centre. We strolled around, enjoying the local parks, its central squares, flower sellers and galleries. Downtown Harare has a diverse mix of architecture, from its colonial past to the modern-day glass high rises
Arriving at Rhino Safari Camp
When we set off on our adventure to Rhino Safari Camp, we knew it was going to be remote. We were informed that it didn't have any electricity, the lodge ran off of solar power.
Sunrise in our lodge at Rhino Safari Camp on Lake Kariba
Which was fine; however, I don't think I truly appreciated it until we arrived at Kariba marina. We were met by our skipper and informed that it would take an hour by speed to arrive at our idyllic stilted lodges. Ohh heaven.
I couldn't tire of this view from Rhino Safari Camp
If you're considering an adventure around Zimbabwe, then your in for a holiday of a lifetime. I always find it incredibly useful to plan our trips with the help of a guide book.
Take a look at this informative Bradt guide, it will give you great tips and advice.
What surprises when visiting Africa is that there doesn't appear to be much of a dusky evening sky. It just suddenly goes dark, as if someone has turned off the lights.
The night sky at Rhino Safari Camp, Lake Kariba, Zimbabwe
Although this is when Africa comes into its own. Not only does the volume of the wilderness appear to be ramped up, but also, the night sky truly blossoms. In the remote parts of Zimbabwe where the light pollution is almost non-existent, galaxies just emerge like a blanket above you.

In the time we stood taking some photographs, three shooting stars rocketed in front of us.
A must-try delicacy in Zimbabwe (as long as you are not a vegetarian) is biltong. On the way to Lake Kariba, we stopped at a tiny town named Lions Den. Here we headed into Saucey Sue's for a delicious burger, and then popped next door into Lions Den Butchery, for its famous biltong.
Biltong for sale at Lions Den
We still have some of the mementoes from our visit to Zimbabwe of 20 years ago. However, we couldn't resist visiting the roadside Newlands Craft Market.
Newlands craft market, Harare
As you can imagine, there are only so many ways that you can craft an elephant or giraffe out of wood or stone. But that doesn't stop us haggling with the smiling locals to purchase some other keepsakes from our visit.
Word of advice, try and avoid rocking up in the bustling heart of Bulawayo at around 3pm on a Friday afternoon in your hire car.
On the corner of Plumtree Border
This was an eye-opener, how we didn't manage to get rammed by another vehicle or hit a hand cart manoeuvring between cars I don't know. That was without the street sellers trying to negotiate a deal through your car window.
Just a little TLC, Bulawayo
But hey, these are all memories we've gained along our way. And to say we stood out like a sore thumb when we strolled around the striking colonial town the following day was an understatement.
During our day around Harare, we visited the Shona Sculpture Gallery. This place is like a little oasis hidden away. The works of art are incredible, and each sculpture is made from one piece of African stone.
I really struggled to resist purchasing a piece of art. However, when I returned to the UK, it played on my mind. My excuse was that I had a significant birthday this year. I did a bit more investigating and found out that they had a sister gallery in the UK.

How lucky was I and they had one I loved, it was named 'Revising', although I have since renamed her to 'Hope'.
"Adult Literacy" by Jonathan Mhondorohuma
Tour the country, you won't regret it
We flew to Victoria Falls with
Air Zimbabwe
, we'd heard mixed comments, due to reliability. However, I must admit, that other than it departed slightly late from Harare, the flight was comfortable.
Fastjet airlines
also run a service to Victoria Falls from Harare and other destinations within Africa.
Visit Mana Pools National Park
If I were to return to Zimbabwe again, I would love to visit Mana Pools. I'm told that this part of the country is beautiful and full of so much wildlife.
Some would say that once is unlucky, but twice, surely that's careless. To be perfectly honest none were our fault, as neither of us was driving, we just happened to be passengers.
Feeling brave from the side of the track
Although in both cases Gary was on hand to assist, one was on our taxi on the way to our safari lodge in Hwange. On this occasion, Gary was the mechanic. The other was out on safari, and the truck got a puncture. This time Gary was the assistant, and I was on watch for any prying eyes in the bush.
Have you visited Zimbabwe or any of its neighbouring countries, share with us your memories?
Due to the lack of fuel in Zimbabwe, we had to cut back on our road trip. So, our initial plans of heading east were slightly scuppered.
Times they are a-changing
I cannot speak highly enough of the people and our whole incredible experience in Zimbabwe. It is truly sad to see that they are currently experiencing some economic problems with money and fuel.

If you don't mind an adventure, just go for it.
* This post may contain links to affiliated sites where we earn a small commission at no additional charge to you.
Inspired to visit Zimbabwe?
(Why not Pin It for Later?)
If you enjoy what you see, and you'd like regular updates then join us for a monthly newsletter.