Sundowner cruise at Rhino Safari Camp, Lake Kariba, Zimbabwe
An unforgettable evening on the lake...
The sun's setting, the air is warm, hippos wallowing in the background and a glass of gin and tonic in my hand, yes, I've arrived in heaven.
The astonishing landscape that has been formed across the lake is so unique.
With the creation of Kariba Dam in the late 1950s, a vast area of land was flooded and gradually transformed the scenery to this beautifully peaceful and emotive backdrop.
Natural architechture of Lake Kariba
Mmm, let me think about it!
When we were offered the opportunity of a sunset cruise on Lake Kariba, we nearly bit their hand off saying yes.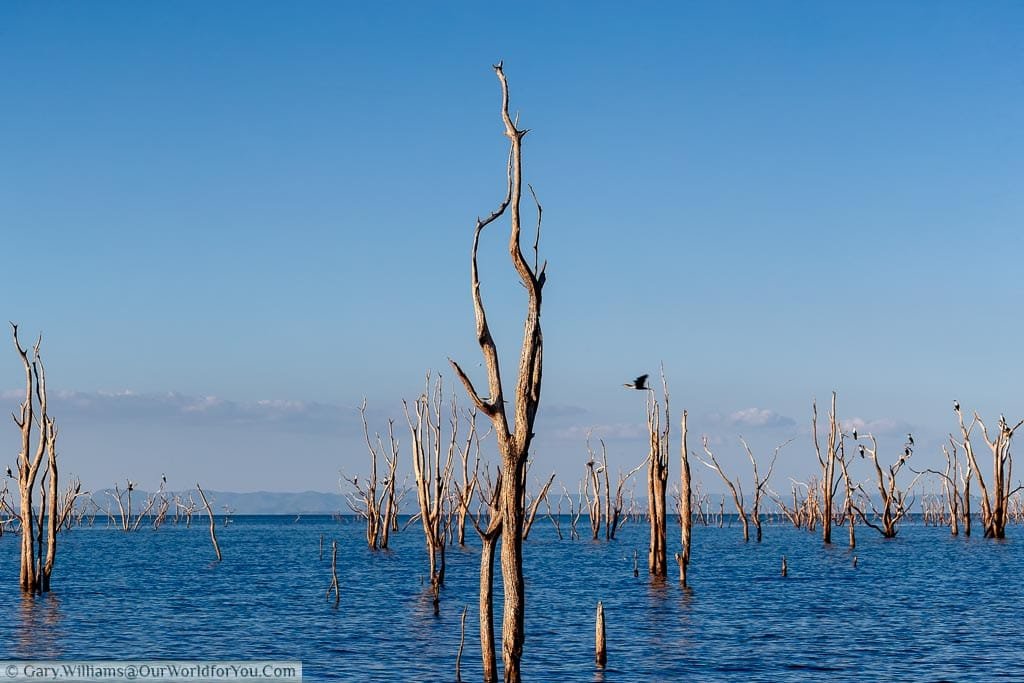 Floating amongst the ancient forest
At Rhino Safari Camp every evening you have a choice of a sundowner safari drive or a sundowner cruise on the lake. So, to mix it up a couple of the evenings we chose the cruise, and I'm so pleased we did.
If you're considering an adventure around Zimbabwe, then your in for a holiday of a lifetime. I always find it incredibly useful to plan our trips with the help of a guide book.
Take a look at this informative Bradt guide, it will give you great tips and advice.
Our first venture out, we headed around the bay to see what birdlife we could discover perching high on top of the skeletal trees.
It's such a beautiful feeling as the engine on the little boat is cut out, and we are just drifting slowly between the branches, gently bobbing up and down on the water.
White-breasted cormorants are soaring above us trying to decide if we are friend or foe. It's so amazing the way the cormorants have built their nests amongst the bare branches, they appear to just teeter on the edge with minimal support.
Cormorants keeping an eye out
Home for the White-breasted cormorants
It feels slightly eerie without an engine running, so peaceful and with nothing around us but wildlife, water and the soundtrack of Africa's nocturnal creatures waking up for the evening.
Ensure you take a hat and sun cream, you'll need it. Oh, and of course your camera and binoculars.
We manoeuvred around the sunken forest to an island where a colony of Grey-headed Gulls were mating and nesting.
Nesting Grey-headed Gulls
We sat there from a distance, they were incredible to watch as although they nested on the ground, they were frantically flying around trying to impress each other.
The island that the Grey-headed Gulls were nesting on was flooded the previous year, so they had decided to make a home elsewhere.
We were poured a G&T and sat peacefully on the lake watching the sunset, what better way to spend Easter Sunday. It was beautiful, amazing colours of pink, blue, russet & red.
We sat there for a while enjoying the moment, then headed back to shore and made our way to the lodge, by which time it was getting dark.
light reflected off the wake of the boat
Fancy heading to Lake Kariba?
Lake Kariba is around 356km (221 miles) from Harare, at present there are no scheduled commercial flights, so your best option is to drive. Allow 5 to 6 hours for your journey, the roads are tarmac, however, can be slightly hectic at times. But don't let this put you off Lake Kariba is a magical experience.
There are also two tolls en-route which are two Zimbabwe Bond each.
I didn't think the first evening sunset cruise could get any better, how wrong I was?
Earlier in the day a lovely Italian family that were staying at the lodge, and ones that we had been on a walking safari with the day before, were trying to decide whether to go on the sunset cruise or a sunset safari. We had a chat with them to explain how special the experience was and showed them some photos from our first cruise, there was no going back, we were all heading to the lake.
This was our final evening at Rhino Safari Camp, and secretly, I didn't want to leave. So, I was hoping that this was going to be an unforgettable way to end our four days.
Ohh, yes, there were hippos
We set off with Mark our guide, and Pearson, our skipper, to discover what a Wednesday evening on Lake Kariba had in store. We headed off in a different direction from our previous trip, to tour between the inlets and bays that snake off from the lake.
Immediately we came across a pod of hippos, diving and snorting at us, as we had disturbed their peace. They were keeping a close eye on us all, ready for a hasty plunge under the water if we came to close.
We took a slow leisurely amble around a section of the bay; you need to make sure you keep your eyes peeled all the time, as the camouflage that some of these animals have is incredible.
Did someone say Crocodile?
I kept having trouble spotting the crocs on the side of the banks, as soon as they heard a slight hum of the engine they jumped into the lake. I did manage to see one or two; however, you have to be quick with your camera, these guys are not up for posing.
The birdlife around Lake Kariba is magnificent, we even managed to see a couple of different types of kingfishers.
We caught one of them after it had taken a nosedive for a fish.
Kingfisher after having a dip
Leisurely cruising on, the evening reflections in the lake were beautiful, particularly with the dead trees shimmering in the diminishing sunlight. Once again, you just lose yourself in the tranquillity and calmness.
Take a peek at our Victoria Falls and our Morning safari posts and start creating your own adventure for yourself.
We chose British Airways, and it was all done with a few clicks, a brief stopover in Johannesburg, and our luggage was there waiting for us on arrival at our end destination in Harare.
The evening light was beginning to fade slowly, and Mark and Pearson found a wonderful spot for us to appreciate the sunset and savour our sundowners.
With the engine turned off we all sat there with smiles on our faces, all the while with a pod of hippos keeping us company.
They watched on, but, didn't seem to be bothered with us, occasionally they would dip under the water and other times they just gave a big old yawn.
This was idyllic, I can't think of a better way to spend our last evening in Lake Kariba, than watching the sunset across the bay and 12-15 hippos as companions.
Would you like a little more?
We have created a little YouTube video of our time on Lake Kariba.
Why not subscribe to our YouTube channel and get the latest clips as we post them?
Inspired to visit Lake Kariba?
You really should stay at Rhino Safari Camp; the sunset cruise on the lake is what memories are made of.
Search for your flights in one easy place with
ebookers.com
and open up a world of options. Over 400 airlines are scanned for your favoured routes and chosen dates.
(Why not Pin It for Later?)
* This post may contain links to affiliated sites where we earn a small commission at no additional charge to you.