by Janis /
0 comments
- Orginally published:26th January 2021
So this post is our light-hearted view of Porto in Portugal
It has some of the interesting stuff, a few trivial facts, and our thoughts on this charismatic, welcoming city.
The sections to explore;
You can click on the link to jump to the section, and to return, just click on the title.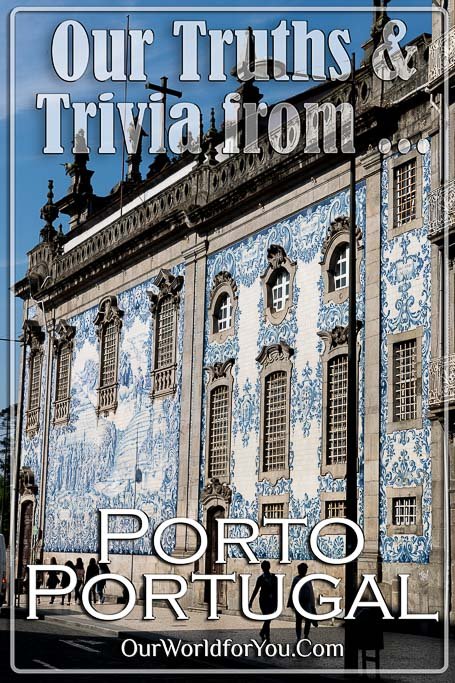 Why not Pin it for later?
The Location
The Three C's
As ancient history goes, Porto has a lot to brag about. Especially as it can trace its origins back to around 300 BC.
 
Prince Henry the Navigator, highly regarded for the "Age of Discovery" was born in Porto in 1394, to the Portuguese king John I. There's a magnificent monument to the Age of Discoveries in Belém, Lisbon.
 
During the 15th-century Porto became prominent for shipbuilding in Portugal and developed as a major trading port.
 
One of the reasons I adore Porto is for its architecture. The beautiful churches with their inlaid façades of azulejo blue tiling are stunning. However, I love the vibrant streets with their intricate wrought-iron balconies clinging to the side of colourful homes. Ladies were peering across their washing lines, having a gossip with their neighbours opposite.
 
Yes, of course, Porto's namesake needs a mention, it's the delectable Port wine. This fortified wine is not only produced in red varieties, but you also need to sample the white too. They are amazing!
 
The Historic Centre of Oporto was granted UNESCO World Heritage status in 1996, followed by Alto Douro Wine Region in 2001.
 
Porto was a European Capital of Culture for 2001, along with Rotterdam.
Where's Porto in the world?
Porto makes a perfect location for a city-break, with centuries of history flowing through the streets. There's magnificent architecture around every corner and spectacular scenic views along the Douro River.
 
Porto is a little hilly in places, so be prepared to get the heart racing. However, strolling amongst the intriguing, heartfelt lanes is the only way to appreciate Porto and its iconic cityscape.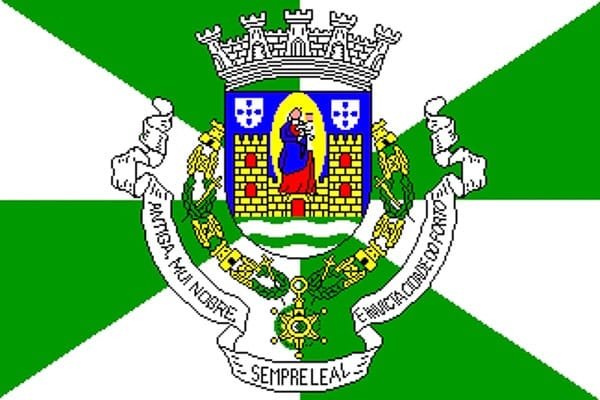 Language
Portuguese (English is widely spoken)
International Dialling Code
Timezone
Coordinated Universal Time (UTC)
If you've yet to visit the charming and colourful city of Porto, then you're in for a treat.
I found this DK Top 10 Pocket Travel Guide invaluable.
They're extremely informative, easy to follow, and the pictures and maps tempt you to discover more.
That the thin, narrow boats that have been transporting casks of Port wine along the turbulent waters of the River Douro, since the 10th-century are named Rabelos?
The quickest way across the Douro is on the Rabelas River Taxi. For €3 and 5 minutes later, you could be sipping a beer from a riverside bar.
Next to each other in Praça de Gomes Teixeira is the Igreja do Carmo and Igreja dos Carmelitas. These two churches one built next for nuns and the other for monks are just separated by a 1-metre-wide house.
The Portuguese Way or the Caminho Português is Portugal's route to Santiago de Compostela. The route starts in Porto and winds its way north passing Portugal's birthplace, the ancient city of

 

Guimaraes.
The Portuguese appear to love singing. Not only did we listen to 'tunas universitárias' the student troubadours on the streets of Porto, but we also observed an elderly local lady serenading the balconies above.
Just a few miles south of Porto, in Miramar is the Capela do Senhor da Pedra. The tiny oceanfront chapel dating from 1686, is perched on a rock along the stunning Portuguese Atlantic coastline. Unfortunately, we didn't manage to get there; however, this is undoubtedly one for next time.
Port Wine Tasting
Yes, most of us have heard of Port wine, but how much do we really know. Surely there's no better place to put your knowledge and taste buds to the test, than in Porto. Pop over to Gaia on the south-bank of Porto and choose your favourite cellar.
Franchesinha
A sandwich like no other. Inside your two slices of bread are ham, smoked sausage, regular sausage, steak, cheese, and a tomato & beer sauce. If you're feeling hungry, you can add an egg, and if that's not quite enough, you can also have a side order of fries.
My friend's Portuguese husband recommended Café Santiago, which serves one of the best in town. It's a bit of a guilty pleasure.
Majestic Café
For a little bit of indulgence head to the Art Nouveau
Majestic Café
along Rua Santa Catarina. This attractive café that opened in 1921, not only serves exceptional coffee but the surroundings are beautiful too.
Leitão assado da bairrada
Roast suckling pig is a traditional dish in Portugal and shared with the whole family young and old. A local friend urged us not to miss out and recommended Casa Ribeiro. Mmmmm, it was delicious.
Jump on a heritage tram, route 22 to be precise. It's a circular route and takes you through some of Porto's popular spots.
- 
Condes de Azevedo Palace Apartments
 – The bright, modern, fully equipped apartments are located in a historic building just around 500 yards from Porto's Ribeira district. Free onsite parking is available.
or What are the chances of us revisiting?
(0% - You'll have to drag us over hot coals to go back 100% - Why am I not there now?)
We loved Porto, especially for its relaxed and welcoming approach to tourism. The city may not be immaculate to the eye and perhaps even a little rough around the edges, but that's what we treasured.

I'd love to discover more of Porto 3-nights just wasn't enough.
Our value for money index.
Don't forget we're Londoners, and that means our baseline is quite high.
(0% - How much? I wanted to buy a drink, not the bar 100% - How much? I'll take two.)
In general, I think Porto was reasonably priced, there are always popular spots; however, we found the food was good value. If you take a little wander to where you'll find more locals, the prices are lower, and the atmosphere is absorbing.
What's it like discovering the city? Is it walkable? do you need to use public transport? did we leave with weary feet?
(0% - It's mountainous and public transport's a joke 100% - I'm in paradise.)
Porto is rather mixed in terms of getting about town, it is fairly reasonable to walk around the main sights. However, it's when you get closer to the Douro River that the hills start emerging and you'll need your crampons.
 
But don't forget there's always a tram to get you around town.
I loved the warmth and friendliness of Porto, strolling the ancient lanes, admiring the architecture and of course, a splendid glass of Port.
Mmm, that's difficult, I actually can't think of anything as I wouldn't hesitate to return.
Search for your flights in one easy place with
ebookers.com
and open up a world of options. Over 400 airlines are scanned for your favoured routes and chosen dates.
So much, the architecture, the food, the drink - but I guess it's the soul of the city - which you can really feel as you stroll its streets & lanes.
It has to be the hills, but that's a small complaint really
* This post may contain links to affiliated sites where we earn a small commission at no additional charge to you.