And Christopher Columbus's last resting place
It's really quite difficult to portray in words and pictures the enormity of Seville Cathedral when you step inside. It isn't surprising that it took over a century to build, from 1401 to 1528, although, it was consecrated in 1507.
The Cathedral also known as Cathedral of Saint Mary of the See, occupies the site of an existing mosque which was built during the 12th-century, gradually changes were made to reflect Christian worship.
Seville Cathedral is the third largest church in the world, behind the Basilica of the National Shrine of Our Lady of Aparecida in Brazil and St. Peter's Basilica in the Vatican City.
Although, Seville Cathedral can boast to be the largest Gothic church in the world.
Before we visited the cathedral, I wasn't aware that Christopher Columbus was entombed here, how amazing is that.
The grandeur of the Cathedral is incredible, and the towering columns make the people standing below look like ants in a forest.
The total area occupied by the building is 23,500 square metres, and the Gothic section alone has a length of 126 metres and a width of 83 metres.
Its central nave rises to an awe-inspiring 42 metres and to give further scale, it is bordered by 80 side chapels.
Start creating your own Spanish adventure and discover the colourful city of Seville yourself, easyJet & British Airways are just a couple of options.
Home of the Archbishop past & present
You'll find the Archbishop's Baroque style Palace outside of the cathedral on the north-eastern side. I don't think you'll miss it; it's quite a striking building with elegant red façade and large balconies.
Gary and I occasionally visit places of worship when we travel, and this was definitely one to remember, although my favourite is still the Mezquita – Mosque-Cathedral in Córdoba, it literally did stop me in my tracks.
Inspired to visit Seville Cathedral?
Why not jump on a flight and head to the sun-kissed city of Seville,
Why not checkout the latest deals on Booking.Com?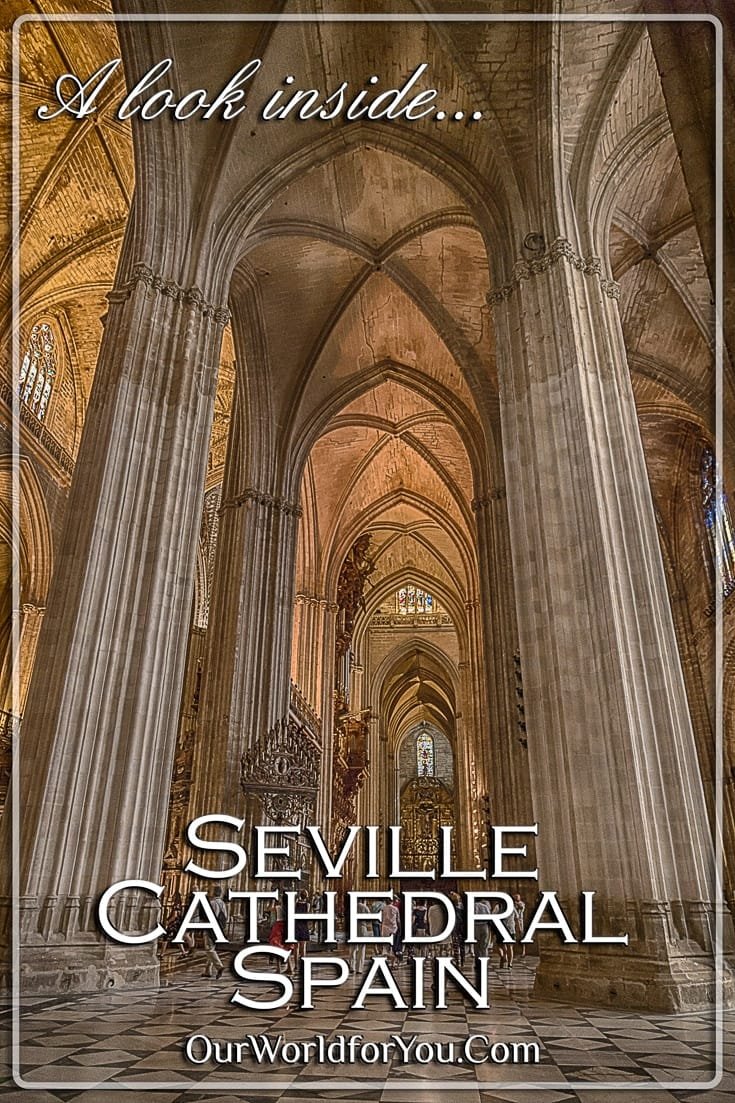 (Why not Pin It for Later?)