Sossusvlei – The land that time forgot
It does not sound that inspiring, but this vista is one of the most inspiring on the planet.
You may not have been to Namibia, but if you're interested in travel then you will have seen Sossusvlei.
Actually Sossusvlei is a blanket term for the area, which is located within the Namib desert in the Namib-Naukluft National Park, this also incorporates Deadvlei, with its petrified acacia trees.
If you're considering a road trip through Namibia, then your in for a holiday of a lifetime. I always find it incredibly useful to plan our trips with the help of a guide book.
Take a look at this informative Bradt guide, it will give you great tips and advice.
Sossusvlei is as isolated as it looks - this is not a movie set, this is real. You will, therefore, be looking at staying around Sesriem.
A wonderful series of lodges built in what is described as 'an environmentally sensitive manner, primarily from wood, canvas and thatch' that truly allows you to feel close to nature.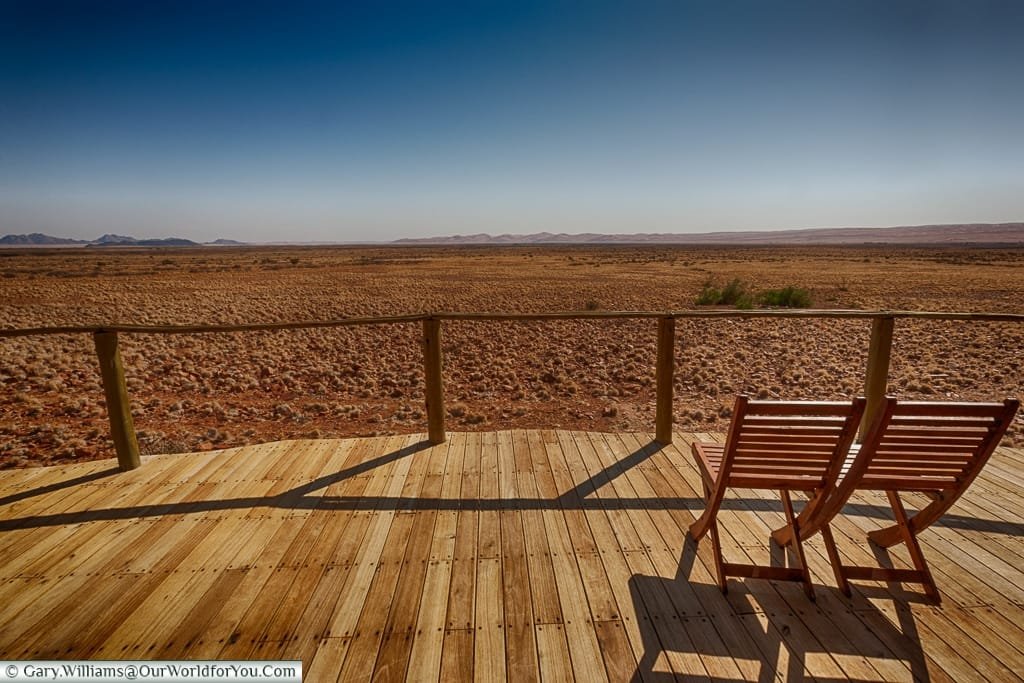 The view of the night sky is simply breath taking.
The lodges are perched out on stilts with a wonderful unobscured view across a watering hole.
However, there are choices of accommodation to suit all budgets, have a search around for whatever suits your purse.
Guided tour, or your own transport, either way it is a very early start, the 4:15am wake up call wasn't a joke. It's around 31miles/50km to the major dunes & Deadvlei, a good portion is on tarmac until you reach the gates of the 2x4 parking, at this point it turns to deep sand.
If you are driving your own hire car, it has to be a 4x4, but if you are touring Namibia I guess you've already figured that out. What is important is that when you are driving on sand you need to drop the tyre pressures to give you adequate grip. The recommendation is between 10-15PSI or 0.7-1BAR, and remember to inflate the tyres again before heading off on the tarmac.
Taking this into account we opted for the sun-rise guided tour and breakfast and give Heidi (our Toyota Hilux) a day off. We were glad we did, on the way there we drove passed a couple of abandoned vehicles. However, on our return journey we had to pull over and assist a group that had got stuck deep in the sand.
Start creating your own adventure, and discover the amazing scenery & African wildlife of Namibia for yourself.
We chose British Airways, and it was all done with a few clicks, a brief stopover in Johannesburg, and our luggage was there for our arrival in Windhoek.
Prepare yourself, this is a destination of a lifetime
Over time the landscape is ever evolving, you are a witness to one particular moment in time.
However progress is slow, some may say glacial, but that's the wrong end of the temperature scale, here it's warm - very warm.
As you climb one of the dunes, either Big Daddy, Big Mamma or any of the others in the area the stunning vista gradually appears before you.
Sunrise over the dunes has to be seen to be believed, one word describes it - magical.
It's hard to imagine that a further 30miles/50kms and you have the Southern Atlantic Ocean, and roll on further and you're in Rio.
You could never get bored of this view the climb was truly worth it, but the slide back down the dune was great fun as well.
To walk the pan at Deadvlei amongst the black petrified acacia trees, which are said to be 600 to 700 years old, is to take an out of world experience.
To walk the pan at Deadvlei amongst the black petrified acacia trees, which are said to be 600 to 700 years old, is to take an out of world experience.
Another good reason to take the organised tour is the breakfast that awaits you after the climb.
All laid out under the shade of a tree with dunes as the back drop.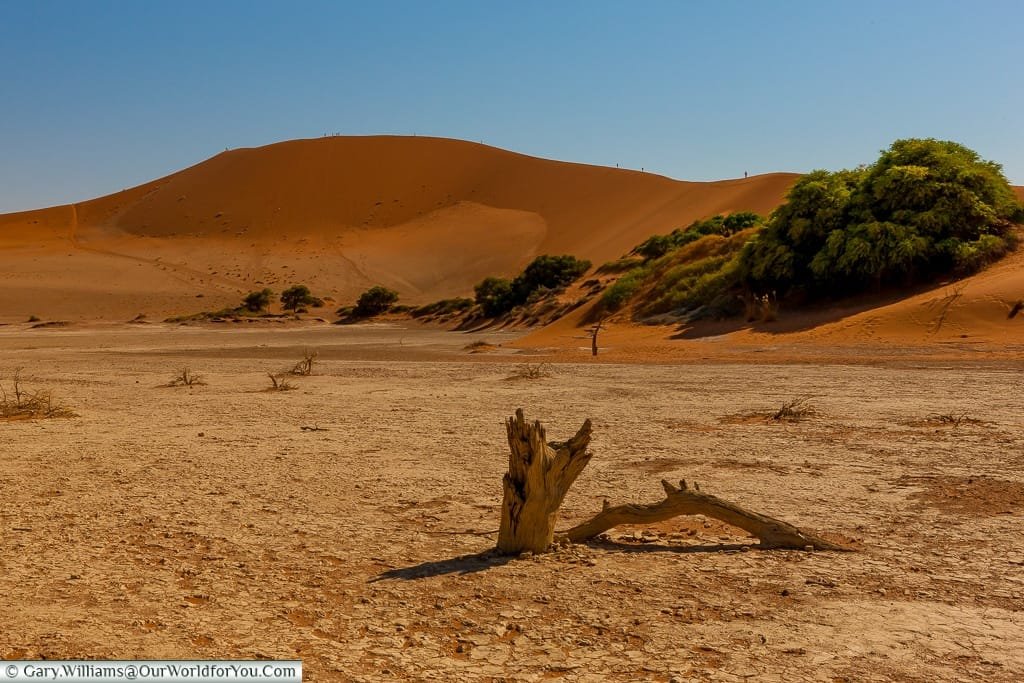 This memory is going to last a lifetime.
The light is great but sand is your enemy. If you are taking a SLR with interchangeable lenses then my advice is you pick your lens carefully and select one for your visit, and change it in a clean area, or investigate the methods for safely swapping whilst in the field.
The same is true of memory cards. Try to make sure you have planned a little ahead and have a big, empty, memory card loaded because you're gonna be trigger happy.
For all cameras temperature can be an issue in the heat of the desert. Do what you can to protect your camera from the heat. If your camera bag has a rain shield that can be better than the heat absorbing black that is standard.
Visited Sossusvlei? Seen the sun rise over the dunes. Are you still finding sand in your luggage?
Inspired to visit Sossusvlei?
You'll be amazed by the night sky with zero noise pollution.
The landscape is impressive, you feel like you in one of the most inhospitable places on earth.
Make your own adventure happen. Check out the latest deals on Booking.Com?