In aid of the 5k Pretty Muddy Cancer Research event.
On a normal drizzly September morning in Blackweir Fields - Bute Park in Cardiff, you would expect to see people out walking with their hoods up and heads down.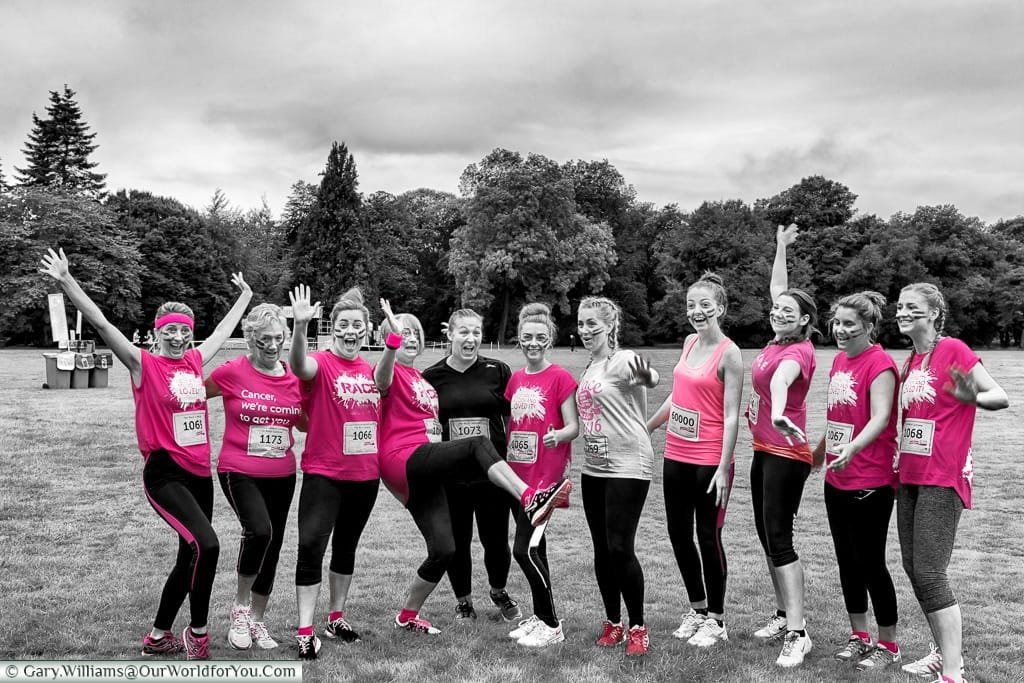 But not today, the park was teeming with a festival of pink ladies preparing to take on the 5k Pretty Muddy Cancer Research challenge. Ladies and girls all putting their inhibitions behind them and ready to face cancer head on.
There are so many touching stories behind everyone's reason for being there. My sister-in-law organised the 11 strong group named the 'Risca Cuckoos', which included my mum, who at the tender age of 69 made us all very proud.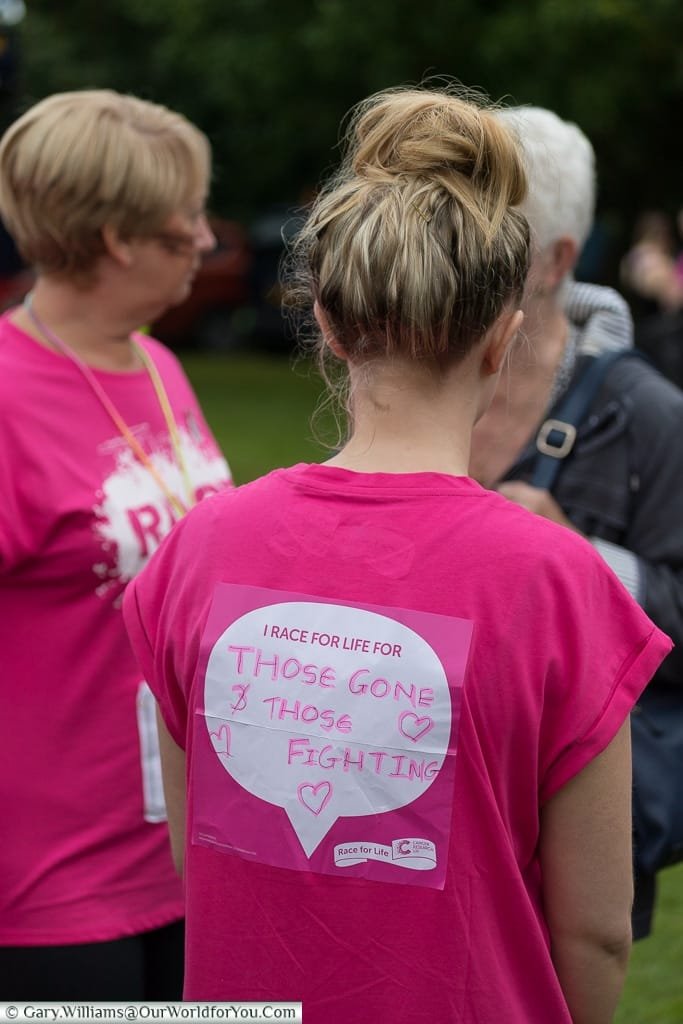 With our Risca Cuckoos all ready with their heartfelt messages on their backs and the Pretty Muddy tattoos applied to strategic parts of their bodies, they were ready for the motivational group warm up. The cuckoos headed off in the direction of the start line as they were in the first of 21 groups of 300 pink ladies. A total of around 6,300 fundraisers were embarking upon the course on just one day.
Heart radio were there giving their support and welcomed anyone on stage to say a few words. So with very little persuasion my niece Aimee went up to share with everyone why they were there that day and explained that her mum (my sister-in-law) had recently been given the fantastic news of 'all clear' but also for the tragic loss of a very close family friend, Jo, who was taken away far too early in her mid forties.
All the Risca Cuckoos have their own personal reasons for taking on this challenge.
With everyone limbered up they all headed to the start line, and by which time the rain had stopped, but they were soon to find out that a little bit of rain was going to be the least of their worries.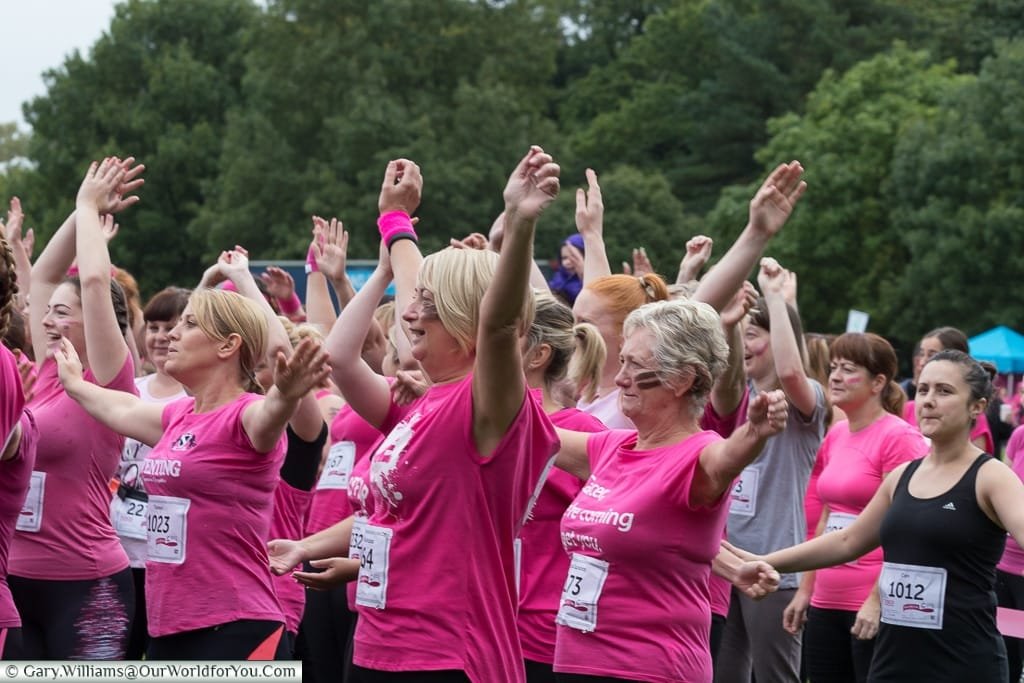 They were off , through a cloud of pink smoke the masses emerged already full of smiles. Laughter and smiles was certainly the recipe of the day, the aim was not how quick this assault course could be completed but how much support they gave each other along the way.
There were nine obstacles for them to tackle along the muddy 5k route, including slides, space hoppers, tubes, balls and crawling under cargo nets, to name a few. Progressively getting wetter as they waded through the mud, all the time with smiles on their faces.
I remember one girl shouting to her friends "hold on to your tiaras ladies you might lose them in here" not something you hear every day.
All the way around friends and families were on the sidelines cheering on their loved ones. As their whole bodies were aching they still pushed on until the bitter end, with their pretty pink outfits disheveled and discoloured.
Crossing the finish line the relief and joy was written all over their faces
It had all been worth it. Not a care in the world as to what they looked like (which was handy, as we had the photos to remind them).
Trainers and tutus were being discarded, but who cared, it was for a great cause. And hopefully everyone's Just Giving account being topped up with every step.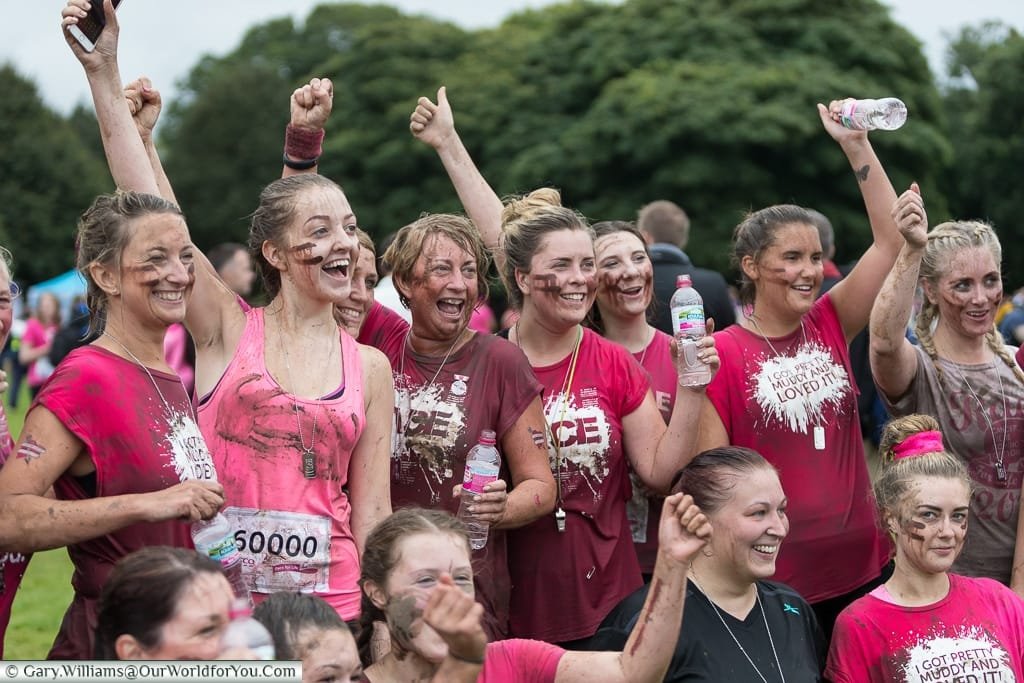 To all of those loved ones lost and those still fighting.
Xxx