Staying in The Tree Lodge at Sikumi, Hwange, Zimbabwe
Yep, you get your very own treehouse at this safari lodge...
When you stay at Tree Lodge at Sikumi, which is just on the edge of Hwange National Park, peace, privacy and enjoyment are at the forefront.
We'd arrived at Sikumi by car after spending a few nights at Victoria Falls, which is around 2 hours away. As soon as we jumped out of the car, we were greeted by the welcoming, smiling face of Sini.
For the three nights, we were at the Tree Lodge at Sikumi, Sini was always on hand to make our safari experience one we would forever remember.
As we headed up the little stone path to the lodge reception, it was so peaceful. Tree Lodge at Sikumi is nestled amongst Mangwe trees. So, when the sun is shining all the lodges and cabins are bathed in dappled sunshine.
The Reception at Tree Lodge at Sikumi
The communal rooms are a single level, and all have traditional thatched roofs, so they blend in so well with the natural Zimbabwe surroundings.
The Boma and outside dining
The position of Tree Lodge at Sikumi is beautiful, as it sits at the end of a shallow valley and has far- reaching views into the distance along the dry vlei.
Morning mist over the dry vlei
At dusk, it looks so tranquil, and all you can hear are the nocturnal Zimbabwean insects waking up. However, in the early morning, the mist hovers above the ground, and as it slowly fades away the bush starts awakening for the day.
Prior to arriving at Hwange, we'd visited Victoria Falls town for a couple of nights, after flying in from Harare. It goes without saying that a visit to the incredible UNESCO World Heritage Site of Victoria Falls is a must; however, I urge you to venture further afield. Hwange National Park is only around a 2-hour drive from Victoria Falls town, and there's such incredible wildlife at your fingertips. Another location I highly recommend is Lake Kariba, this is truly an experience you'll treasure for life.
 
Flight options from Harare to Victoria Falls are with either Air Zimbabwe or Fastjet airlines.
Sini offers us a welcoming refreshing juice and sits and explains to Gary and me all the do's and don'ts around the lodge. As after all, you are on the edge of Hwange National Park which covers around 5,650 square miles, and there are no fences around the park.
In the grounds of Tree Lodge at Sikumi
It is imperative to be aware of your surroundings, as you're on holiday, and it's important to respect your fellow campers and elephants.
Considering we were in fairly remote surroundings, the Wi-Fi was pretty reasonable throughout the lodge.
If you're considering an adventure around Zimbabwe, then your in for a holiday of a lifetime. I always find it incredibly useful to plan our trips with the help of a guide book.
Take a look at this informative Bradt guide, it will give you great tips and advice.
As mentioned, the camp is well-positioned within the Mangwe trees, so nobody is looking directly onto another lodge.

There are 13 en-suite tree chalets in total, nine with single/double occupancy and four are family lodges. All of which have hot and cold running water, shower facilities, toiletries and fluffy towels.
The bedroom was reasonably spacious with wooden furniture, giving it a very natural feel.
The bed was comfortable, it had adequate storage, sufficient electrical points and a mosquito net to keep out those pesky critters.
Although Tree Lodge at Sikumi did have electricity in the treehouses, we also took a small solar panel with us.
Some safari lodges are very remote, and if you wish to keep in touch with the outside world, then you will need to charge your battery packs, phones and tablets.
I love the fact that the camp was reasonably small in size as it really gave that personal touch. The treehouses weaved their way down to the swimming pool, which looked very inviting. From our chalet, we could also see part of the watering hole.
Inviting swimming pool on a hot day
One of Sikumi's great assets is that it has its own watering hole which is maintained by the lodge. So, it's always kept at sufficient levels to attract the surrounding wildlife.
The watering hole
Animals come and go throughout the day and night, when we arrived two large troops of baboons were all around the waterhole and stayed enjoying themselves for ages.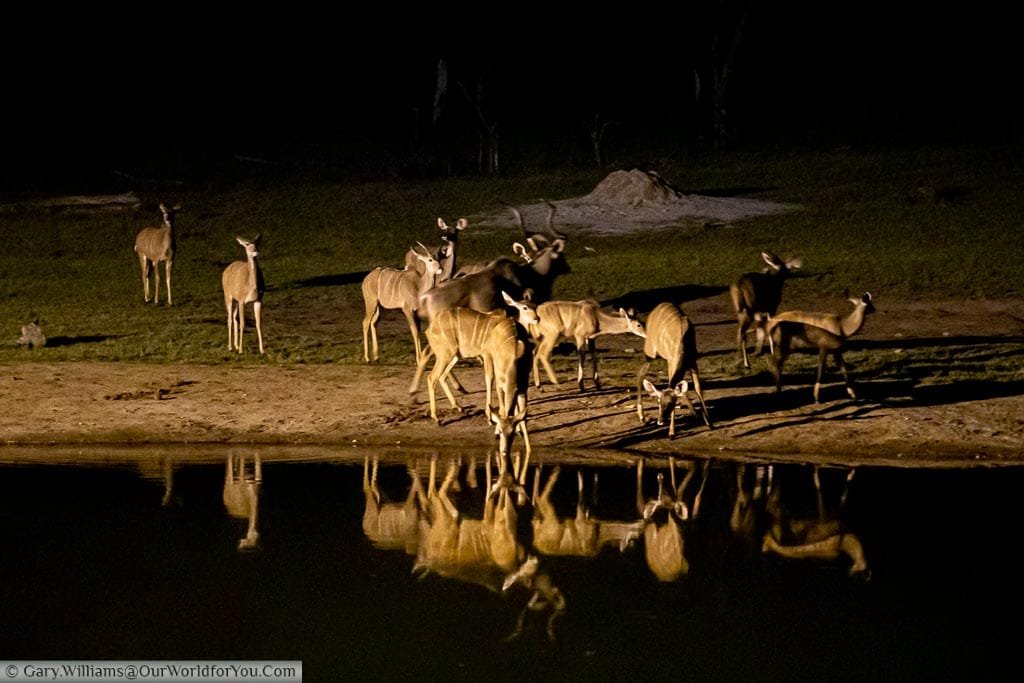 The watering hole at night
Take a peek at our other posts on Zimbabwe for inspiration and start creating your own adventure.
 
We chose to visit Zimbabwe via British Airways. It was all done with a few clicks, a brief stopover in Johannesburg, and our luggage was there waiting for us on arrival at our end destination in Harare.
The package we booked at Sikumi was inclusive of three meals a day, soft drinks and one morning or evening safari drive a day.
Danny was the safari guide and took us out on all of our game drives, he was extremely knowledgeable of all the little creatures as well as the large. Of an evening sitting around the Boma, Danny and Sini would discuss with us which type of safari drive we would like to choose for the following day.
Giraffe nibbling at the Acacia tree
This may sound obvious, but ensure you apply sun cream, wear a hat, light coloured clothing and don't forget your camera and binoculars. If you are heading out on a sundown safari take a warm top.
A little bit of luxury, I know, but we use Swarovski CL Companion 8x30 Binoculars, and they are incredible.
The morning drives set off around 6am, and Sini was there with a hot drink for you before you leave. You then have a freshly cooked breakfast on your return.
Playtime for the baby elephants
There's nothing quite like the anticipation of what lies ahead that makes you spring out of your tree lodge ready for a morning safari drive.

The thrill of it never fails to put a smile on my face.
The evening game drive sets off at 3:30pm and includes watching the beautiful Zimbabwean sunset across the magical African landscape. Danny brings along some light refreshments, fruit and some homemade snacks, the samosa was delicious.
Danny, our guide, at sunset
What Gary and I loved about the drives with Danny, was that not only did we see some magnificent African wildlife, but Danny was never rushing us. The morning and evening drives lasted around four hours, and that time just flew by.
 
It was always our choice to move on, or if we wanted to stop to take photos, it was no problem at all for Danny.
Personally, I feel that if you are on an inclusive package, you should be able to go on both AM and PM safaris every day. As this wasn't the case, we paid a small supplement at the lodge to embark on an additional drive on one of the occasions.
 
I believe the packages that Tree Lodge at Sikumi offer are flexible, as some guests had organised their own safari trips externally.
We found some beautiful spots to watch the sunset, and as the sky was slightly cloudy on this occasion, the pastel shades cast a delightful glow across the evening.
Preparing for your safari
You never know what's lies ahead
it's the unknown that I love. Some days you're lucky, and see some incredible wildlife passing through the bush, and other days the animals keep their distance.
A lioness & her cub watching us
We'd visited Zimbabwe on two previous occasions 20 years ago and had never seen any lions. On the way back to Sikumi one evening that all changed.
Every evening before dinner a fire is lit in the Boma and guests are welcome to sit and enjoy a relaxing drink and a leisurely chat around the night fire.
Your homemade meals are served at very informal non-communal or communal tables, whichever you wish. You also have the choice of sitting outside overlooking the watering hole, or if it is a bit chilly, there is an indoor dining area.
* This post may contain links to affiliated sites where we earn a small commission at no additional charge to you.
Inspired to visit the Hwange National Park?
(Why not Pin It for Later?)
If you enjoy what you see, and you'd like regular updates then join us for a monthly newsletter.