Morning safari at Tree Lodge at Sikumi, Hwange, Zimbabwe
Discovering Africa
Anytime is a good time for a safari drive
It's one of those days when you're pleased there are two 5:15's in one day, yep this one is in the a.m. There's nothing quite like the anticipation of what lies ahead that makes you spring out of your tree lodge ready for a morning safari drive.
The raised tree lodges at Sikumi
We were staying at the Tree Lodge at Sikumi on the edge of Hwange National Park, this was going to be our first-morning game drive since we arrived in Zimbabwe.
We were eager to get going, even at 6 am. The thrill of a safari drive never fails to put a smile on my face, it's the unknown that I love.
Some days you're lucky, and see some incredible wildlife passing through the bush, and other days the animals are deep in the undergrowth watching us instead, having the last laugh.
Off into the sunrise
Zimbabwe at its best
Danny, our guide and Sini, the lodge host, greets us with a smile and a morning coffee, as it's autumn in Zimbabwe the early mornings can be a little fresh. Tree Lodge at Sikumi is located at the end of a shallow valley, and as we look along the dry vlei, the mist hovers above the ground slowly fading away as the bush starts awakening for the day.
Morning mist over the dry vlei
So, what was this morning going to hold in store for us? Gary and I were the only two on this morning's adventure, it was going to be a very personal tour.
We jump in the back of the safari truck with our enthusiasm building and hold on tight, we're in for a bumpy ride, and a free African massage comes with every game drive.
Make sure you take a hat and sun cream, as the morning sun shines through you'll be needing them.
The best time to Explore Zimbabwe
The tranquillity of the morning
Every so often, Danny stops the truck and cuts the engine to preserve our presence to a minimum. Danny quietly chats to us about the surrounding environment and how the incredible landscape has evolved over thousands of years.
As we slowly progress bouncing over the mixed terrain and through the woodland, I have my expectations set too high, and my fingers are crossed for spotting elephants and lions.
Our first spot of the morning was a lone giraffe, well, I say lone, it had a couple of little feathered friends pecking at his neck for some breakfast.
The giraffe has spotted us
The giraffe also looked like it had been in the wars, as one of its little horns was missing. We sat and watched it for a while, and it just sauntered off into the trees.
Have you visited Zimbabwe or any of its neighbouring countries, share with us your memories?
A herd of buffalo
Will we, or won't we?
We'd been weaving our way through the bush for a couple of hours, and we really felt that our luck wasn't in on this occasion. Although we had seen some beautiful birds.
We were on our return journey back to lodge, and as we crossed the vlei, Gary spotted a herd of buffalo. Danny headed over into the direction of the herd, and we cut the engine once again and stopped and sat watching peacefully from a distance.
A group on foot observing a herd of buffalo
Initially, I didn't notice, but there was a small group of people out on a walking safari, this must have been a shock for them to see the herd of buffalo slowly getting closer.
A cautious herd of buffalo
Once the walking group had moved away, Danny manoeuvred the truck closer to the herd, still at a distance not to startle them.
They are very cautious animals, so they were quite wary of us, and the group didn't come too close but looking at their horns I wasn't too bothered. They apparently have a perfect sense of smell, so knew exactly where we were.
A bit too close for comfort
The closer they got you could see what amazing animals they are, although, with their curved horns and their middle parting, it looked like they were sporting some dodgy haircuts.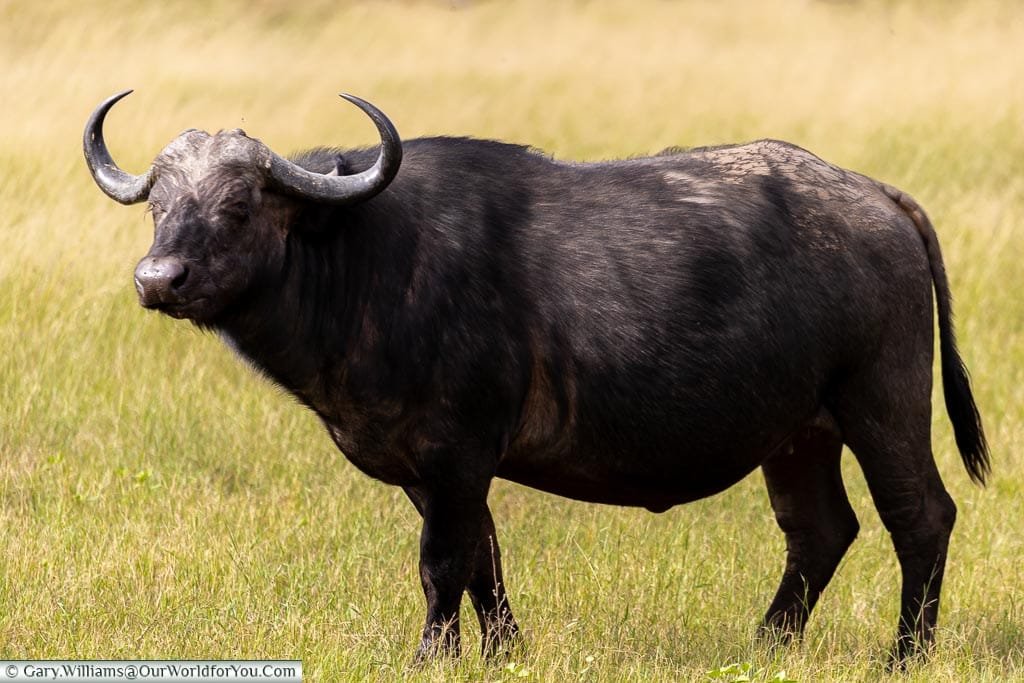 Keeping a close eye on us
Take a peek at our Sundowner Cruise and our Morning safari posts on Lake Kariba and start creating your own adventure.
Search for your flights in one easy place with ebookers.com and open up a world of options. Over 400 airlines are scanned for your favoured routes and chosen dates.
The morning is not over yet
As we headed back along the valley towards the lodge, we then came across a small group of zebras, this morning's drive was turning out great after all. You just never know what beautiful creatures you'll see.
Ohh and then just on queue before we reached the camp an inquisitive jackal decided to stride across the vlei.
A jackal aware of our presence
We had a wonderful safari drive; it doesn't matter what you see, it's the whole experience of enjoying the environment. Danny took his time driving us through the bush and ensured we enjoyed it as much as possible and didn't rush us. You often see some safari drives hurtling along, they must miss so much.
If you're considering an adventure around Zimbabwe, then your in for a holiday of a lifetime. I always find it incredibly useful to plan our trips with the help of a guide book.
Take a look at this informative Bradt guide, it will give you great tips and advice.
Prior to arriving at Hwange, we'd visited Victoria Falls town for a couple of nights, after flying in from Harare. It goes without saying that a visit to the incredible UNESCO World Heritage Site of Victoria Falls is a must; however, I urge you to venture further afield. Hwange National Park is only around a 2-hour drive from Victoria Falls town, and there's such incredible wildlife at your fingertips. Another location I highly recommend is Lake Kariba, this is truly an experience you'll treasure for life.
Flight options from Harare to Victoria Falls are with either Air Zimbabwe or Fastjet airlines.
* This post may contain links to affiliated sites where we earn a small commission at no additional charge to you.
Inspired to visit Hwange National Park?
Search for your flights in one easy place with
ebookers.com
and open up a world of options. Over 400 airlines are scanned for your favoured routes and chosen dates.
(Why not Pin It for Later?)
If you enjoy what you see, and you'd like regular updates then join us for a monthly newsletter.