An evening in or out of the saddle, all at the Cowtown Coliseum.
What great entertainment, I wasn't sure what to expect perhaps I anticipated that it was going to be a bit staged, but it certainly didn't feel like it.
The bull riders are competing not just for the prestige of winning the Stockyards Championship but for riches as well.
Coming from the UK I hadn't had the opportunity to experience the atmosphere and spectacle of a rodeo before. So as I was in Fort Worth on a Friday evening, what better way was there to spend a couple of hours, than watching men being hurtled into the air by angry brutes.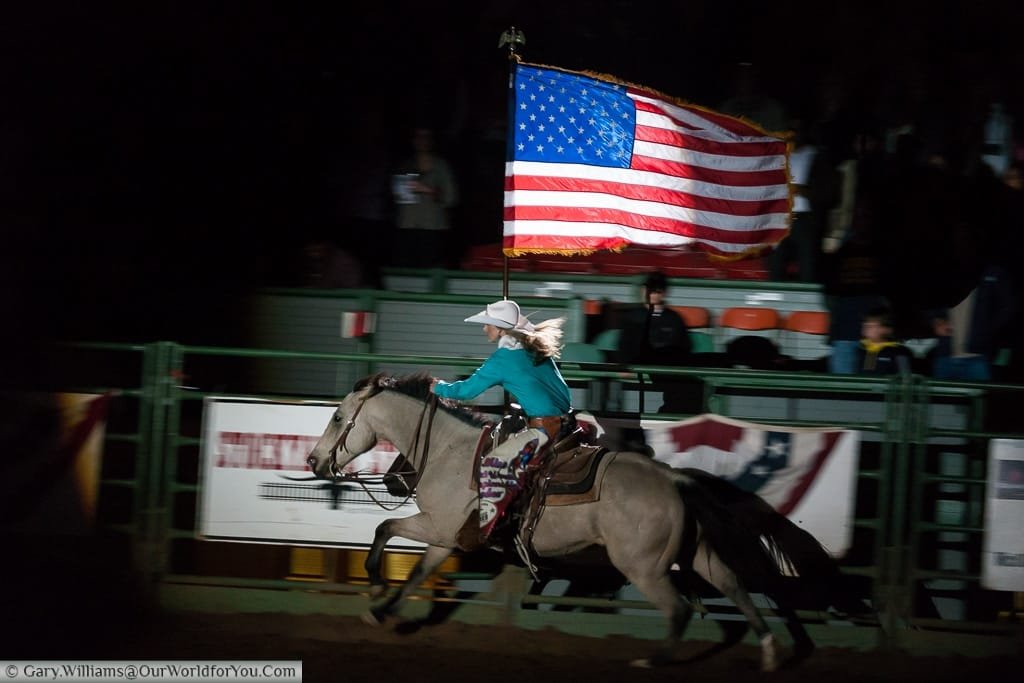 After a fine rendition of the Star-Spangled Banner, a lone rider encircled the arena with The Stars and Stripes fluttering behind. At first with a slow trot and then building up into a startling gallop.
The programme for the evening was full on speed, accompanied by some well-dressed clowns as a distraction for the bulls and also for the audience's entertainment.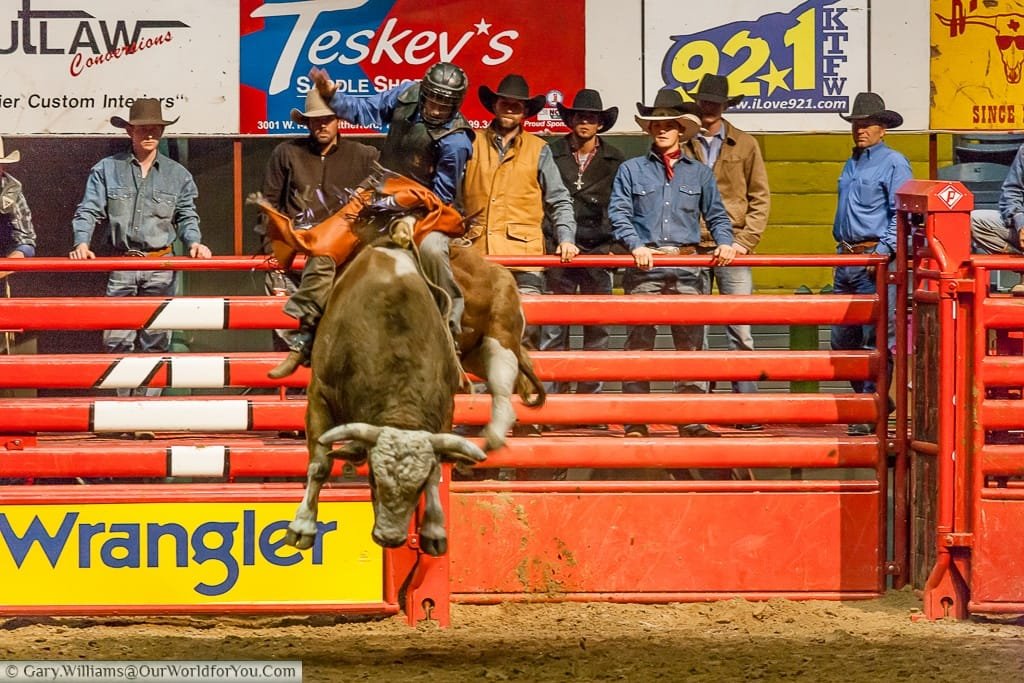 Complete with the almost obligatory cowboy hats and boots, the bull riders came in thick and fast with the bulls taking no hostages, flipping them into the air one after the other. The eight seconds must seem an eternity to them, for us it wasn't long enough.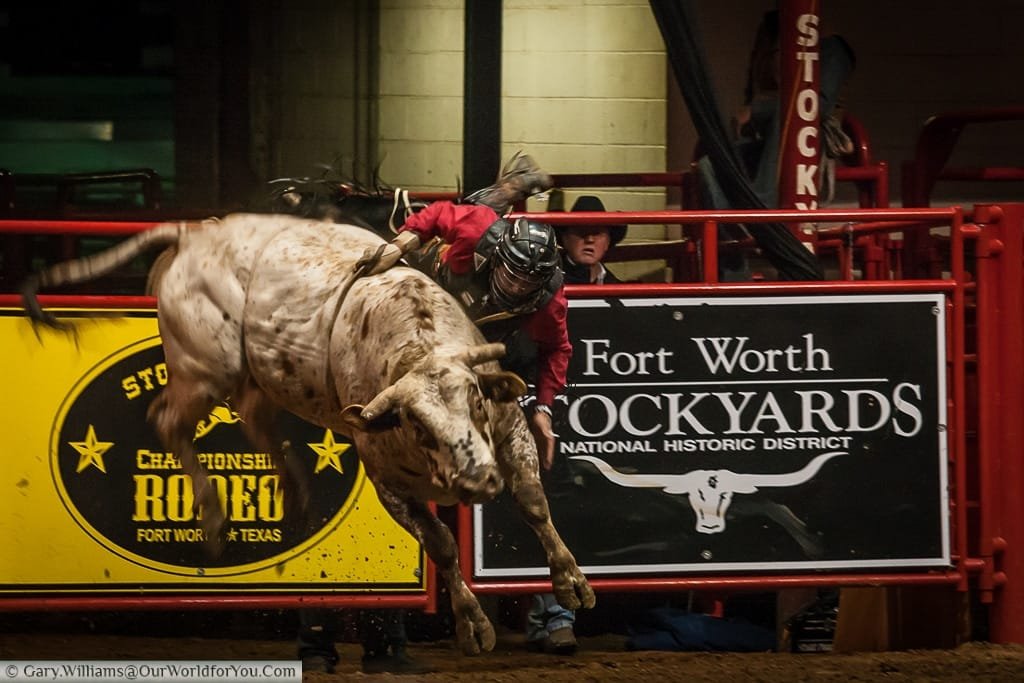 All that the rider has to hold onto is a rope wrapped around the bull's huge girth, no luxury of a saddle, this was bareback…The pair are released from the pen and its grip for dear life.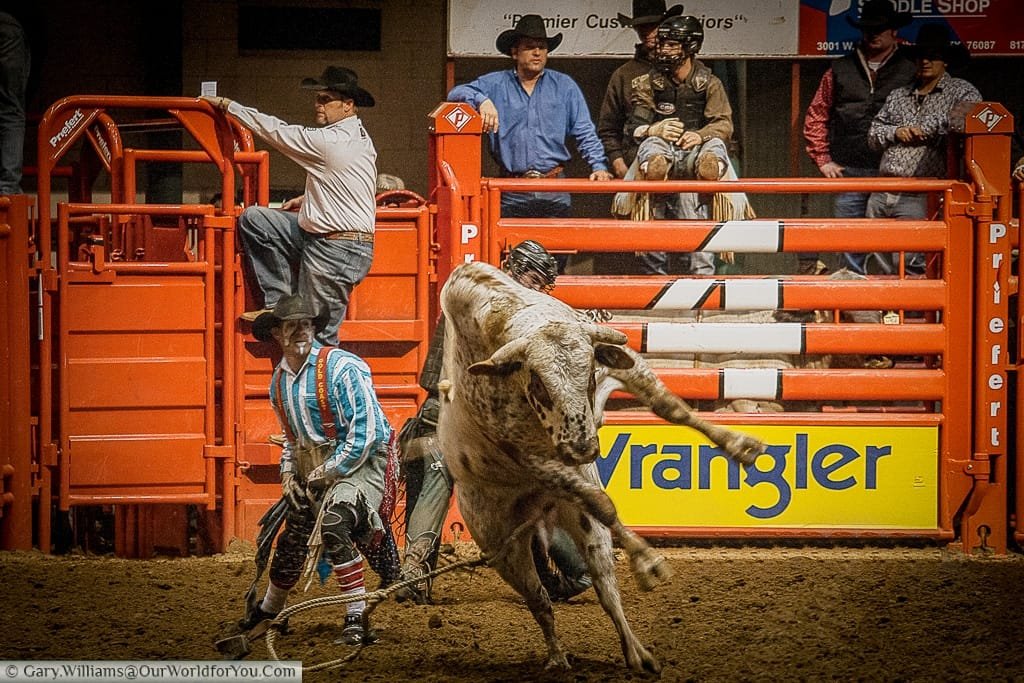 The bull rapidly starts bucking and once the rider has been tossed into the air at a vicious pace, the bull is on the loose.
This is when the clowns come in to play, well I say play, more of a hurried distraction to protect the rider. But even the clowns run the gauntlet at times, hopefully diving over the arena barriers just before contact with flesh is made.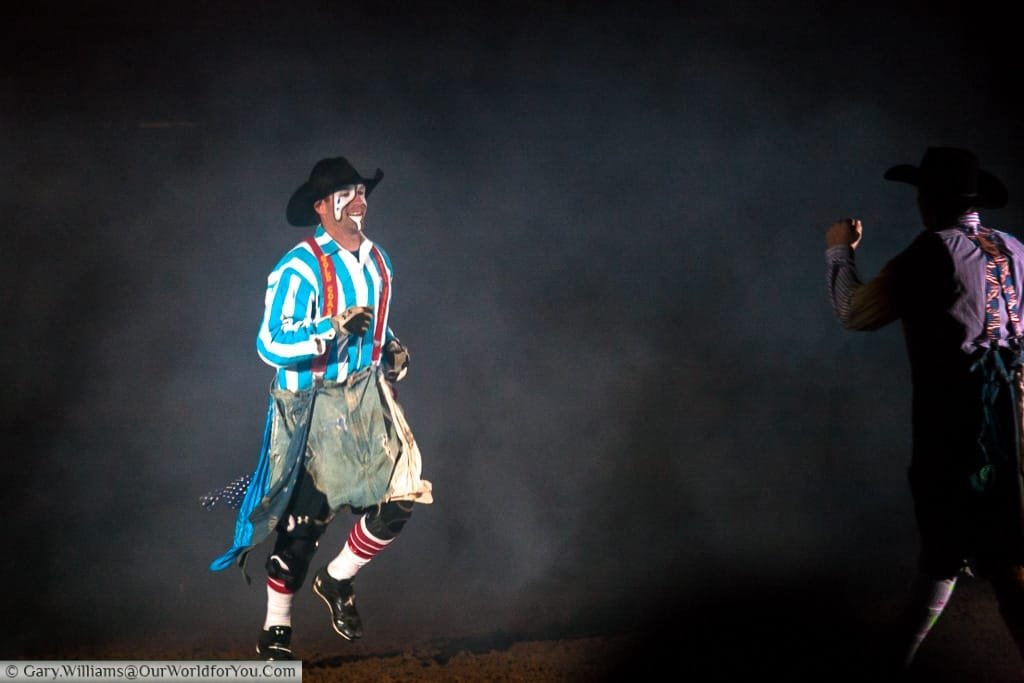 Although there are two bull riding events in the 2-hour schedule, these are sandwiched by other fast paced fun with horses, such as Tie-Down Roping, Breakaway Roping, Team Roping (quite a bit of lassoing going on here) and Barrel Racing.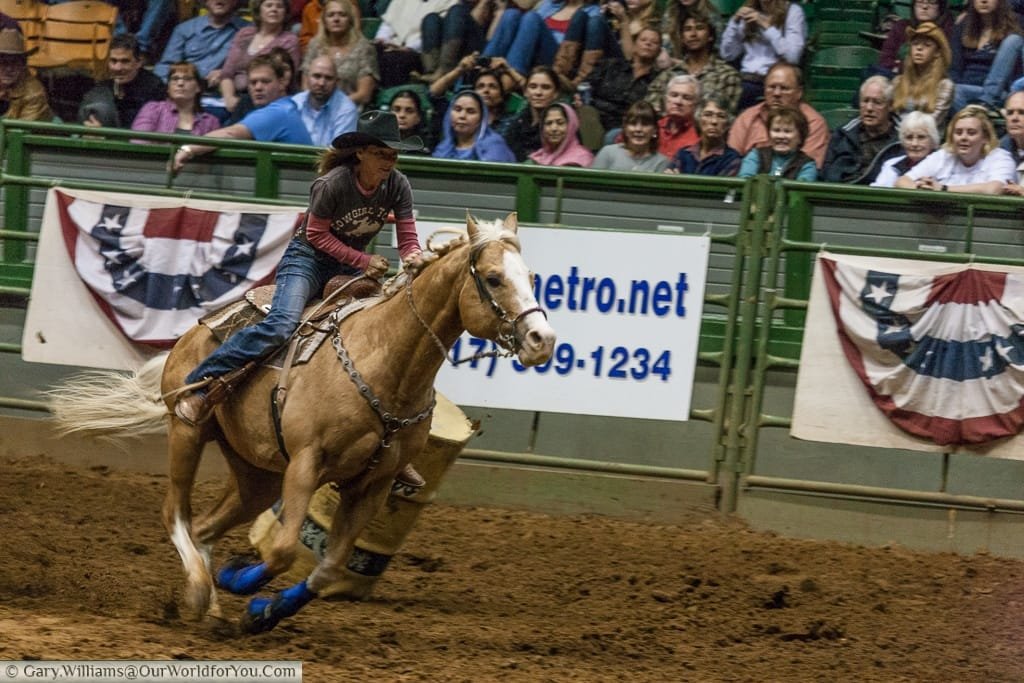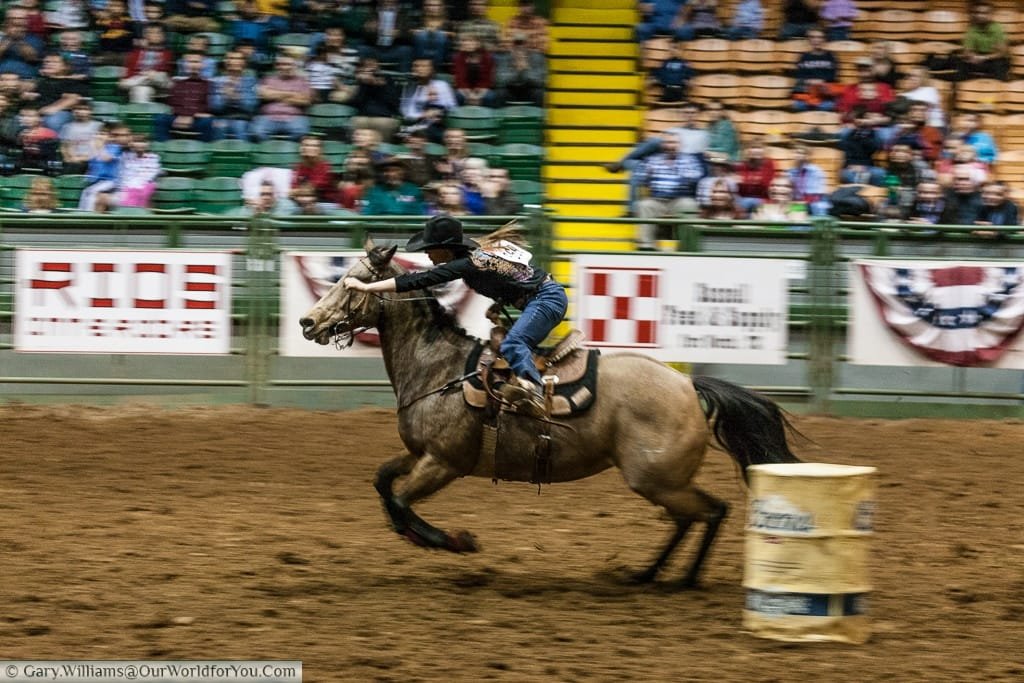 And to ensure this evening is relished by all the family, children are encouraged to head onto the arena floor and enjoy the Calf & Mutton scrambles. All good fun, if not a bit messy.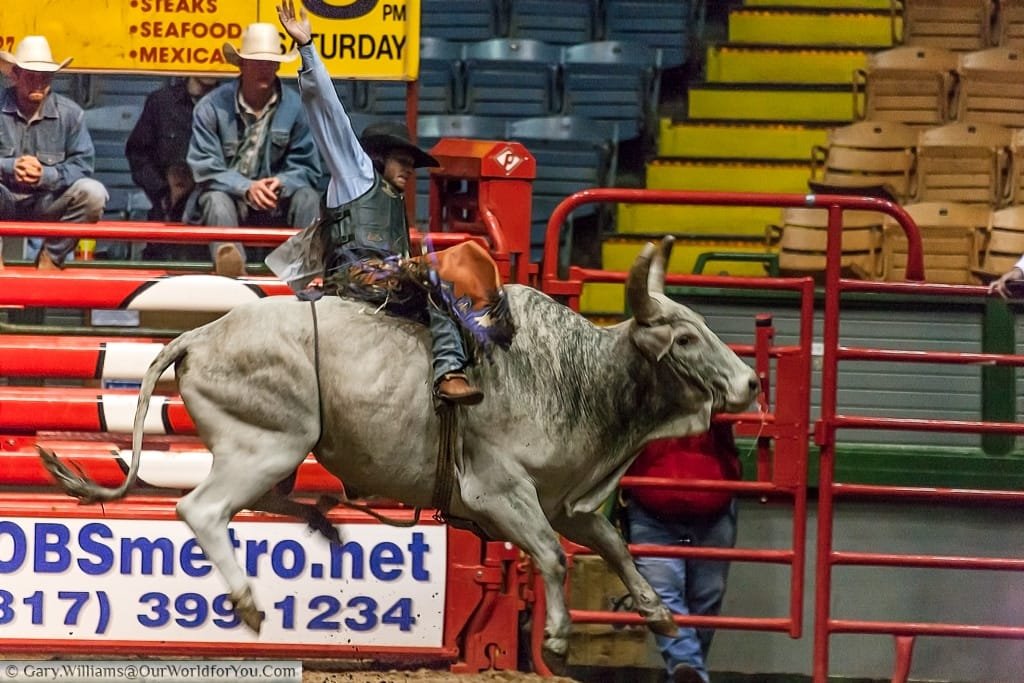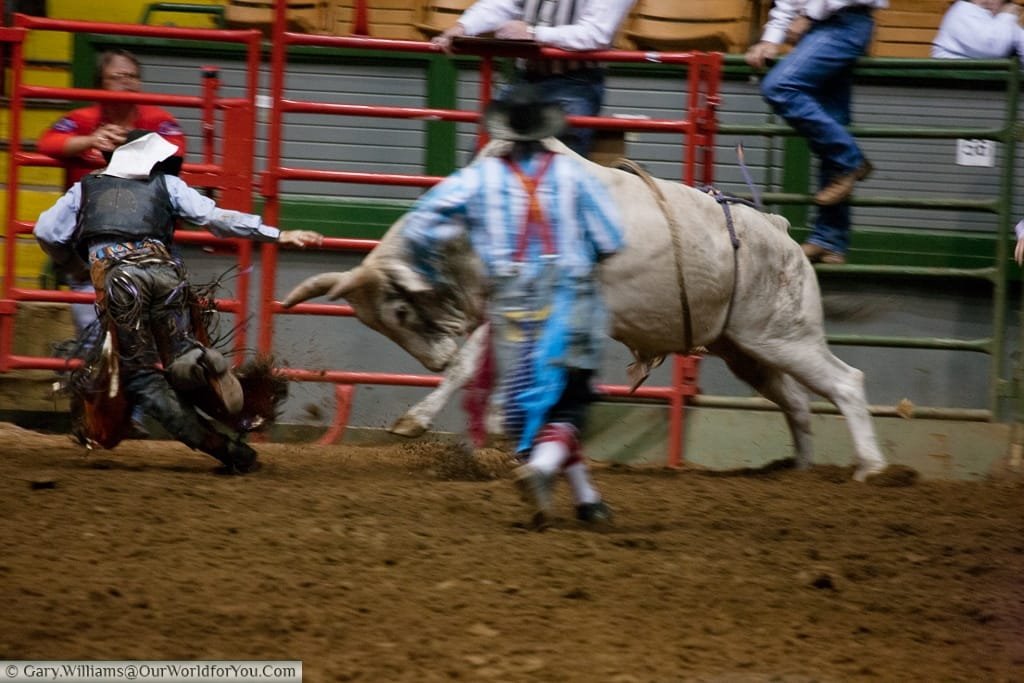 This was an extremely entertaining evening which can be spent with all the family, adult tickets were $19 & children from 3-12 years $10 (you can also book in advance). You won't go hungry either, there were various kinds of dogs 'Hot' & 'Corn' also nachos & candy.
Inspired to visit Stockyards Championship Rodeo?
This is an all American experience, and if you're on a U.S.A. road trip then perhaps it's worth considering.
(Why not Pin It for Later?)
Something to make your travels easier?