The Xeres & Tapas Spanish Road Trip
We had been awoken to the wonders of Spain, and we hope by telling this story so will you, if you're not already a fan.

Our awakening had happened on our mini break to Barcelona the previous spring. "I want to come back" - I said, Janis replied, "There's more of Spain to see". So for our 2014 main holiday we planned a Spanish road trip.
Brittany Ferries sails a route from Portsmouth in the South of England to Santander & Bilbao in Northern Spain. It takes just over 24 hrs sailing, so a night is spent on the boat.
There are plenty of options for your overnight stay, however we opted for a cabin with a view.
Whatever option you choose you need to pack an overnight bag because returning to your vehicle whilst sailing is discouraged.
As the ferry docks at around 5:30pm, you have some time to head to your first destination. Some of the fellow travellers we spoke to on-board were heading on. One intrepid motorcyclist planned to ride for as long as he could enroute to his final destination of Almeria, on the Andalusian coast. Our accommodation, the Hotel Bahia Santander, could be seen from the deck as we moored, however it still took me a few miles, and a couple of laps of the town before I found the hotel carpark. (That says more about my Sat-Nav/GPS, than the hotel's parking arrangements.)
A quick refresh and we headed out. The town surprised me; I don't want to sound negative but I had not expected much of Santander. After all it's a port town, and in my experience, people generally want to get out. However I was amazed. As we strolled along a Paseo de Pereda, past the many of the pavement restaurants, we were greeted by elegant couples out for an evening stroll in the warm autumn evening, (27°C/81°F)
It's a place to explore with intriguing plazas, welcoming bars and a fair few smiles. Santander is a hit. For us it got better. As we explored we found a bar, with a spare barrel we sidled up to. We glanced up at the board and were confused - red wine for either €1.80 or €2.20 - we had just left a country were a glass of red wine was going to cost you easily €6. We opted for the €2.20 one, we know how to live. We watched the world go by, and smiled. This was going to be a great trip.
Santander is a great location.
Check out the list of destinations that are easily within a few hours' drive, and potentially your next stopover.
We had chosen Toledo.
León - 167mls/269km
Salamanca - 226mls/364km
Zaragoza - 249mls/401km
Madrid - 282mls/455kms
Santiago de Compostela - 292mls/471km
Toledo - 324mls/522km
There are so many incredible places to discover in Spain and I love planning road trips. I often use the DK Eyewitness books, I find them extremely informative, easy to follow and the pictures and maps tempt you into searching for more.
We used a previous version of this book to plan our Spanish road trips, now you can grab the revised copy.
Travelling South - destination Toledo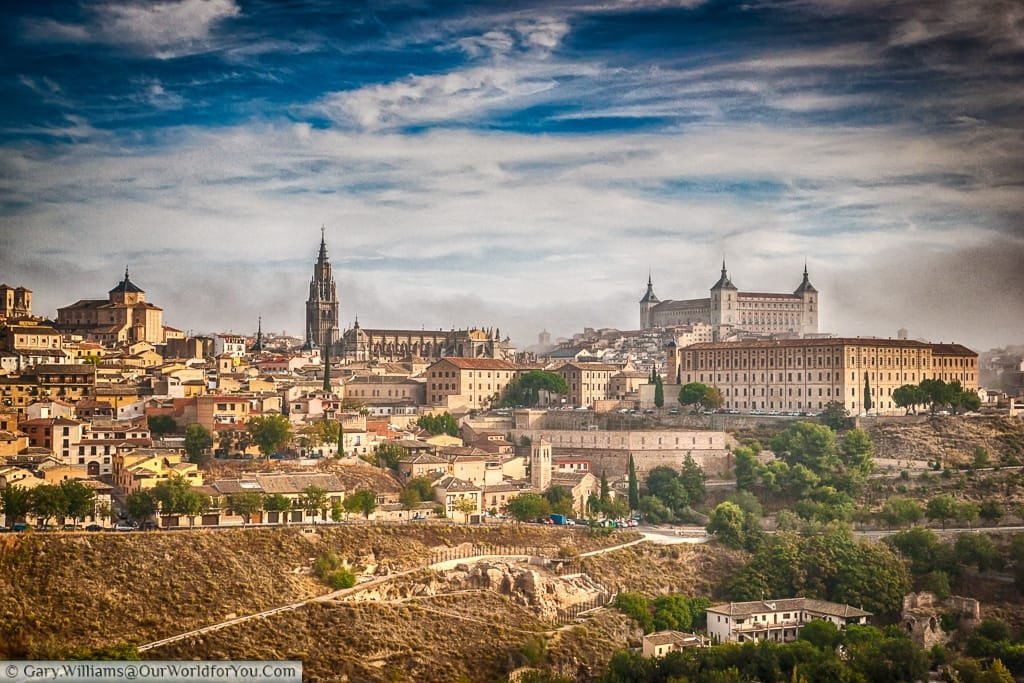 I knew this was going to be a little bit of a dull drive as it was a motorway run to the ancient city.
Time to tap the cruise and let the car take the strain. As a driver I note things like, how busy the roads are, the number of tolls, the driving standards - am I going to get to my destination in one piece? First impressions were good.
Our destination, the Hotel Pintor El Greco, once again confused the Sat-Nav, taking me on a loop or two of the cobble streets of the old town.
If you are driving something on the larger size, then a piece of good advice I wish I'd have thought of, would have been to stop before you enter the old town, and plan your route - It may save some blushes.
We located the hotel soon enough though, and parked up in their secure garage.
We headed out for a late lunch and a quick tour of the towns sights.
A regret from the trip was we only had the one night in Toledo as we were planning to head further south.
Depending on your itinerary we'd recommend at least 3 days - remember coach loads of tourists arrive during the day, and the streets quieten down in the evening.
Being close to Madrid, the geographical centre of Spain, we headed off south, through the plains of La Mancha, and the Windmills of Consuegra, but your journey can take you in any direction.
The magic of the road trip is the freedom, so we also popped into Las Virtudes which is a very small town that has Spain's oldest bullring built in 1641, unusually it's rectangular - I think we arrived during the siesta as the place was closed - well some you win, some you lose.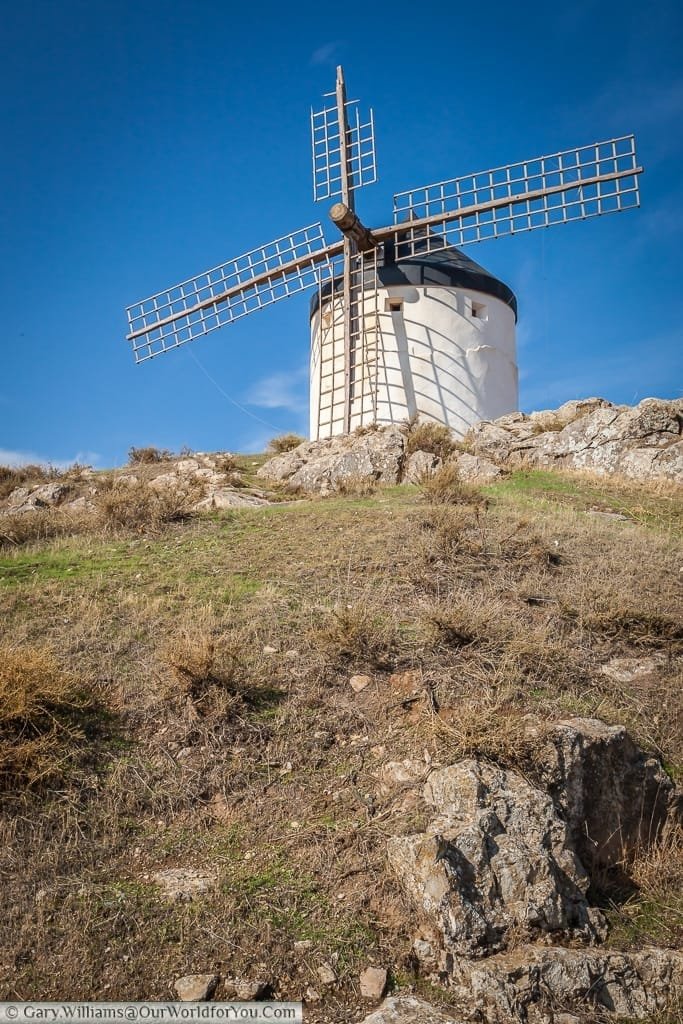 We head onto Granada where we have 3 nights planned; so 2 full days.
One to explore Granada & one to head out to the Sierra Nevada mountains and drive the mountain roads.
The original plan was to have a 'down day' to relax. However this place was just too exciting.
Take time to see the Alhambra & the cathedral but the highlight has to be the buzz of the town.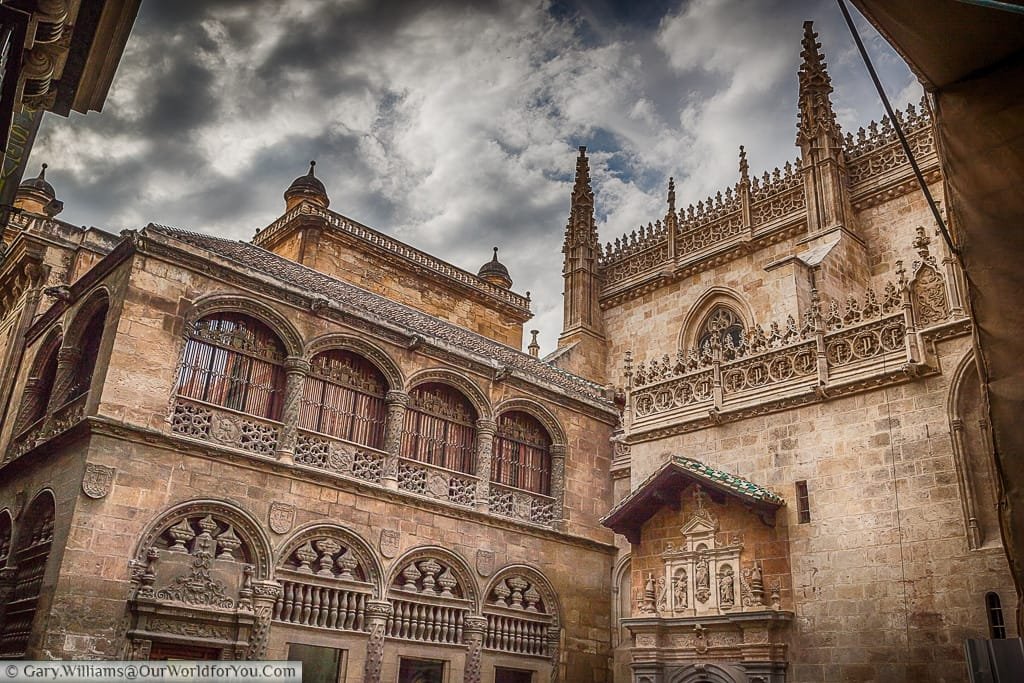 At the end of a long day find yourself a bar to review your days experiences. Ours was La Gran Taberna, a little bar we called the German bar (it's not, it was just a game of football was on against a German team in the corner that seemed to have the locals hooked.) We visited on all 3 nights, and the free tapas with each drink was amazing, although the vinho tinto had rocketed up to €2.50 by now.
I also discovered Tostadas con tomate, and life hasn't been the same again. Okay it may just be tomatoes on toast but made with great ingredients it's a wonderfully fresh breakfast that is one of my senses of Spain.
We also had our first Sangria in the Plaza Nueva after our tour of the Alhambra. Well, we had earnt it.
Later that evening, in the very same Plaza Nueva we joined a small group who enjoyed a flamenco performance. This trip was living up to, and actually exceeding our expectations.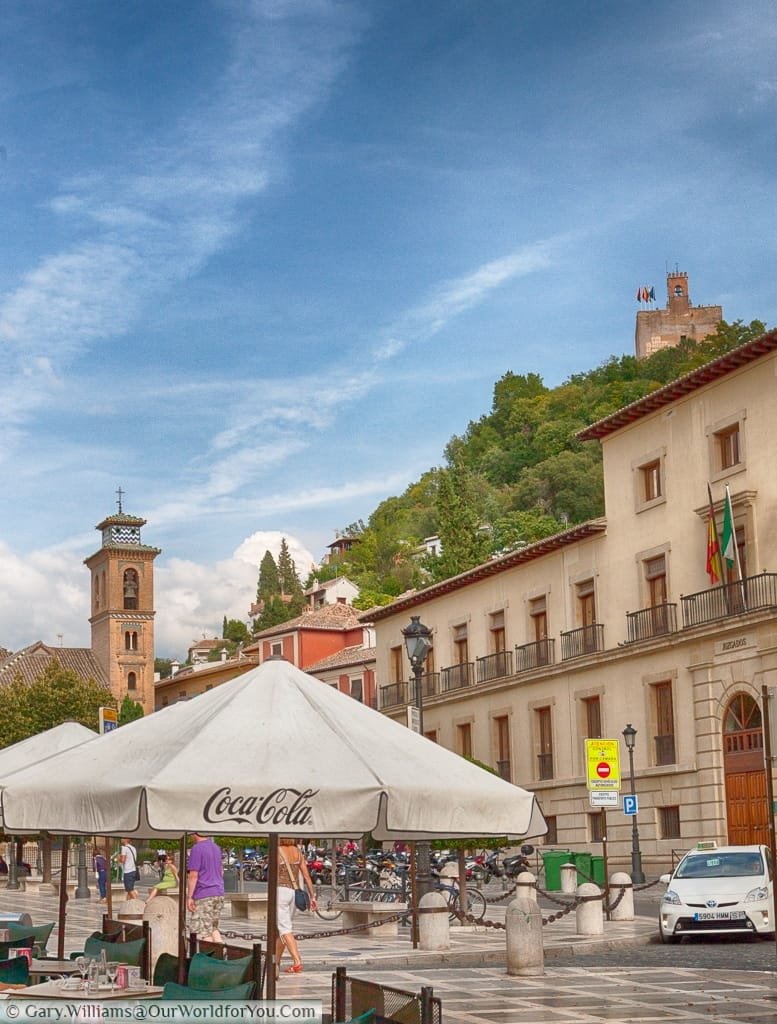 Again we could have done with more time in Granada, but we were on a max attack and now the relatively short trip to Ronda (112miles/180km).
Inspired by the Vuelta a España
Spain's cycling grand tour normally comes at the end of the season, after the Tour de France, and we like to watch.
The 2014 tour had kicked off in Cadiz on the western coast and a few days later headed inland past the Los Bermejales Reservoir, and this served as inspiration for us.
So our route to Ronda to a slight detour before picking up the Costa del Sol and the run into Ronda itself.
Ronda is a wonderful town, historical, warm & friendly and we were just dying to explore it.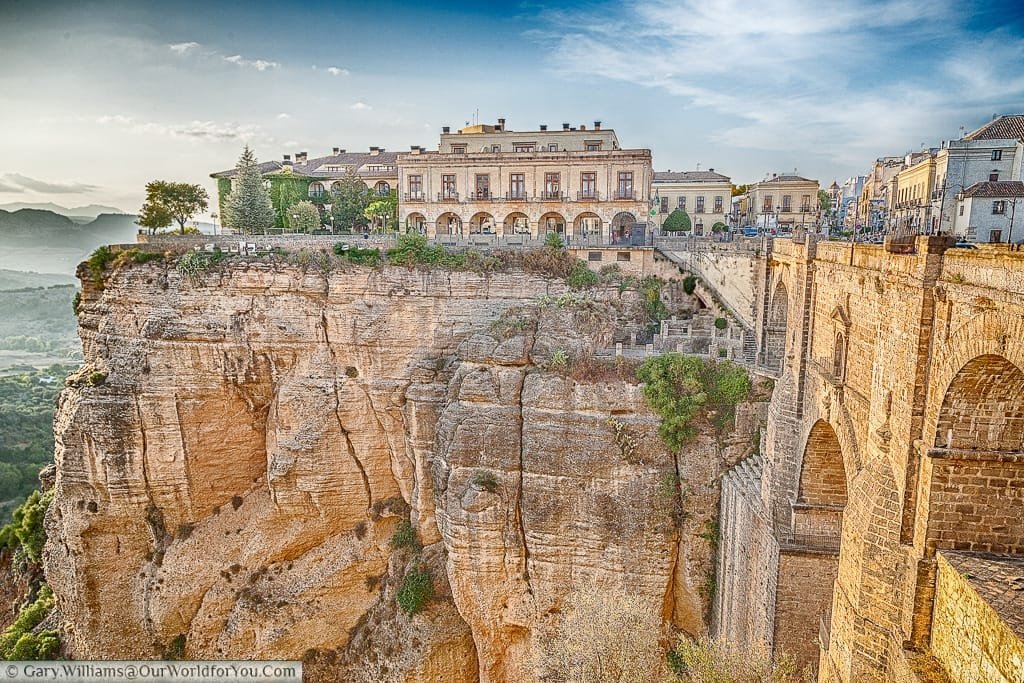 It is a place to fall in love with, and cameras ready because it has some sights.
Check out the gallery to see what I mean.
This was our first stay at a Parador, the wonderfully placed Parador de Ronda.
With the car secured we settled in to explore the town, before taking the next day to visit the sights including the Bullring, the Moorish Baths & 3 bridges.
After a hike around the town in the morning we relaxed in the Plaza Duquesa de Parcent before a cheeky siesta. We were getting into this Spanish way of life.
And then onto a destination that became life changing.
An introduction to Sherry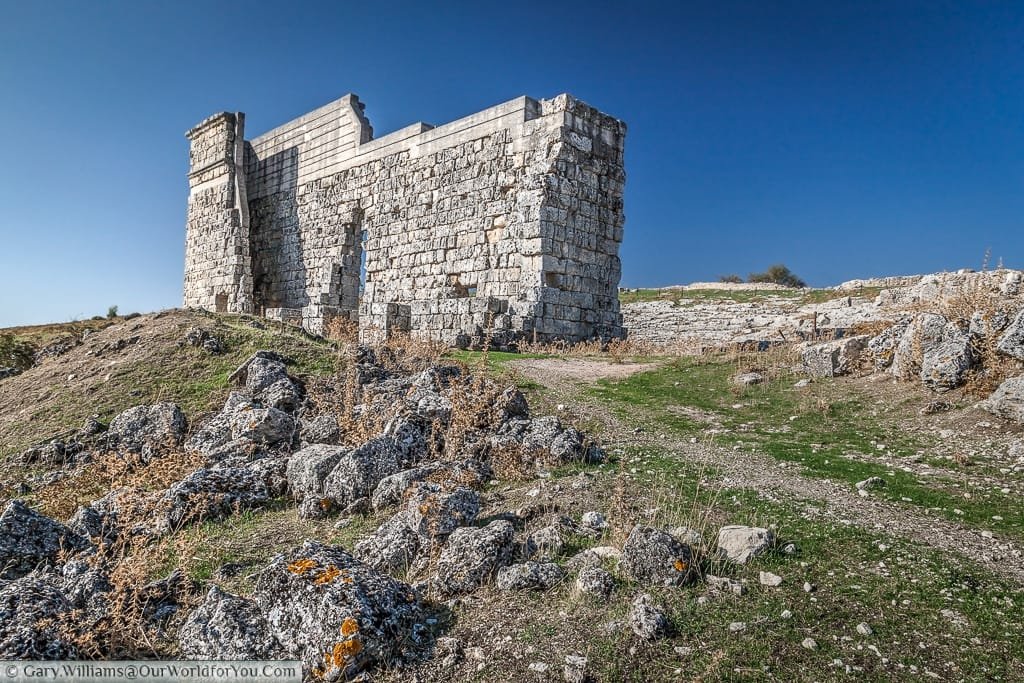 Leaving Ronda we searched out the Roman amphitheatre at Acinipo, before heading to Tarifa, the most southern point of mainland Europe where you can clearly see Morocco as it's a mere 10 miles/16kms away.
We then sneaked in to Cadiz briefly before arriving at our hotel in Jerez for the next 2 nights - the Itaca Hotel Jerez.
A stroll out into the warm October evening air before sinking into another fine glass of Spanish red at Gastrobar El Gallo Azul, whilst watching a group dancing to salsa sounds - it looked like all ages and all abilities are welcome - nope, not for me.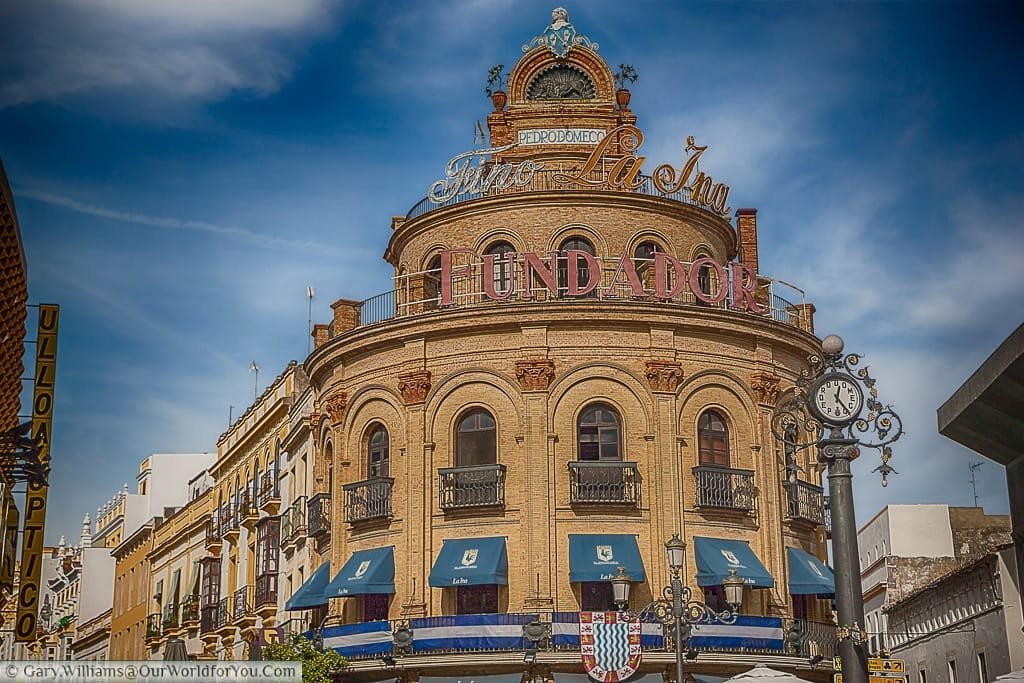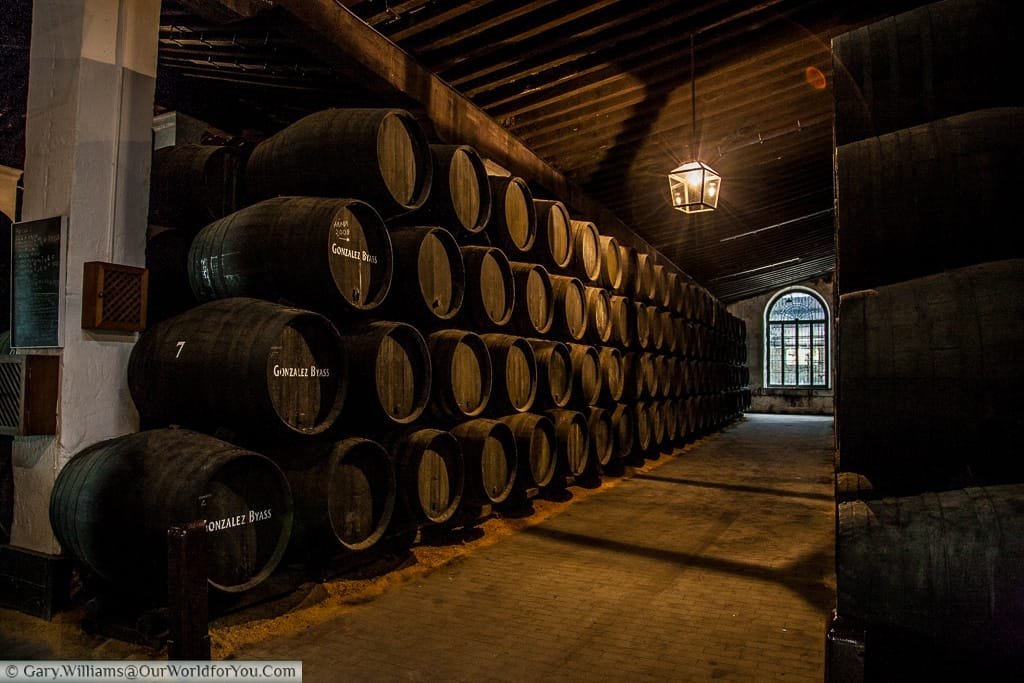 The aroma as you walk into the Bodegas Tio Pepe is immense - if I lift a schooner of Amontillado to my nose and close my eyes I can recreate that moment - I am transported back to Jerez in an instant.
That evening we visit Tabanco el Pasaje, a sherry bar that has a free flamenco performance.
Armed with our new knowledge we tick off a Palo Fino, an Amontillado & an Oloroso - all sherries, all different.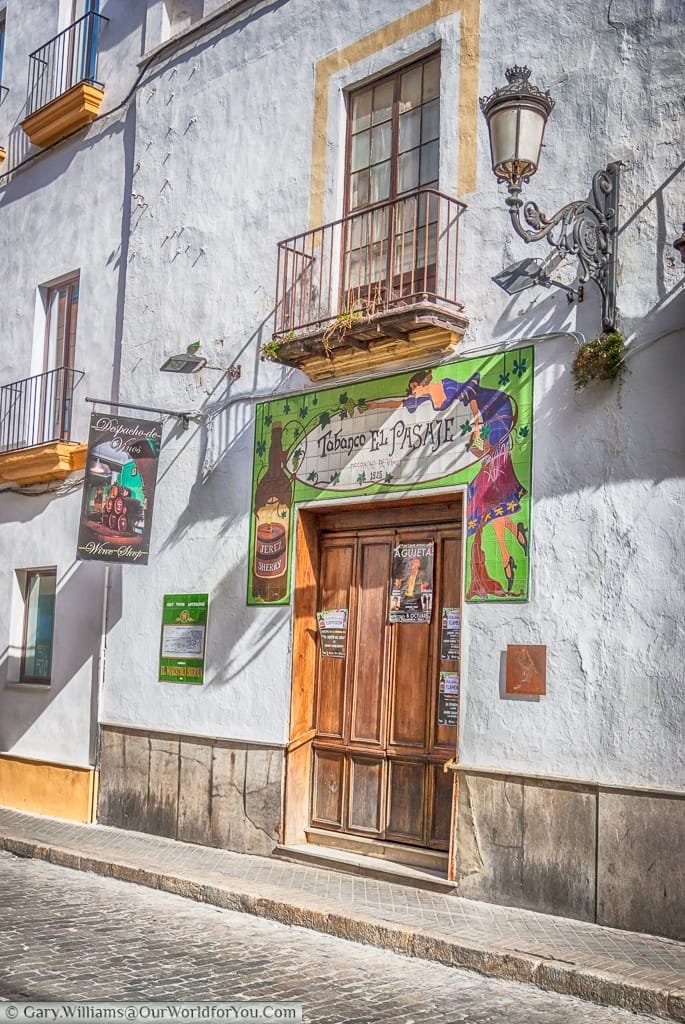 If Jerez changed our lives, the next destination touch our hearts.
I'm not sure when it happened, but it did. We fell in love with Seville, and it's a city we still love and want more of.
Don't get me wrong but the trip up to here has been superb. We have loved almost every moment, (there was the near head-on crash on the mountain roads but…), this is special.
It's wonderfully warm, it's relaxed. It amazes.
Firstly the Cathedral, an impressive structure and the largest gothic cathedral in the world, it also holds the tomb of Christopher Columbus.
Regardless of faith, it is an impressive structure.
Then you have the Alcázar, we were restricted on our tour because Game of Thrones were filming there. Yes, a real life film set, of sorts.
And that takes us on to our highlight.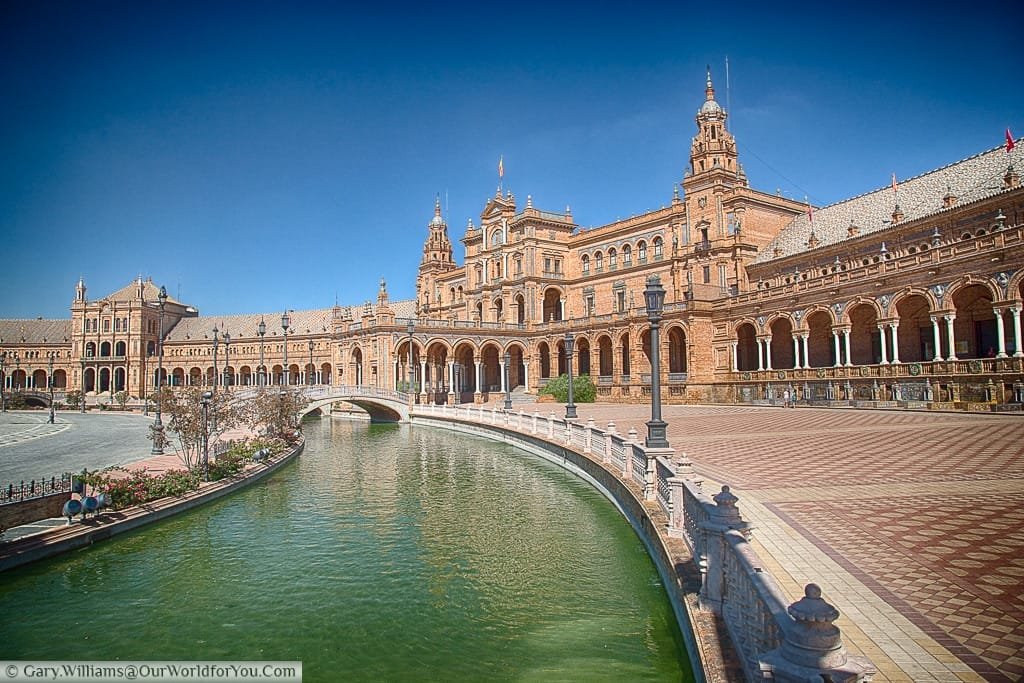 The Plaza de España, this wonderful area was built in 1928 for the Ibero-American Exposition of 1929 and is a movie star in its own right, featuring in films such as Lawrence of Arabia to Star Wars: Episode II - Attack of the Clones. It's no wonder, its beautiful, and it's free to just wander around in peace & quiet.
So the journey north remind us we have been lucky with the weather, and that luck runs out.
A large portion of the day it rains, at times it's monsoon like, forcing you to reduce your speed as the visibility drops.
And then it's thoughts of the journey home, however we are 515 miles from Santander, so we have picked a stopover about half way along the route. And that leads us to…
Salamanca - a city of two Cathedrals
So the journey north remind us we have been lucky with the weather, and that luck runs out. A large portion of the day the rain comes, at times it's monsoon like, forcing you to reduce your speed as the visibility drops.
However, magically as we pull off the motorway the rain stops, and that's it for the remainder of our stay in Spain.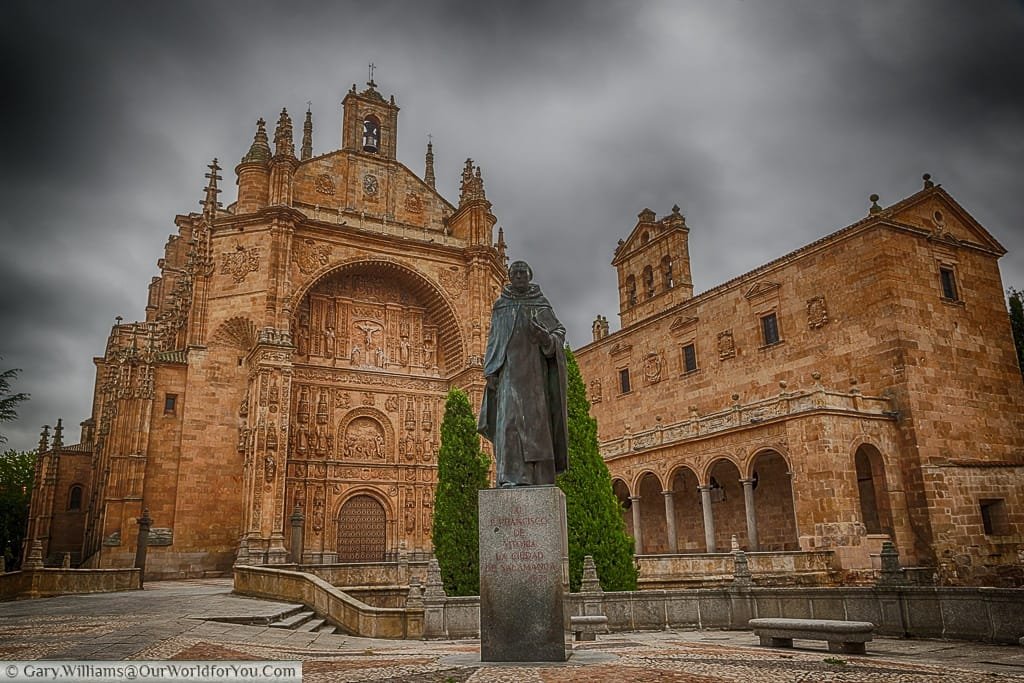 We arrive at our lodgings for the next two nights, the Hotel Grand Hotel Don Gregorio, and Salamanca, another city that does not disappointment.
As we stroll out into the evening, we head-up the hill to the Plaza Mayor, a beautiful square that looks stunning at night, and seek out tapas - this is not a difficult challenge.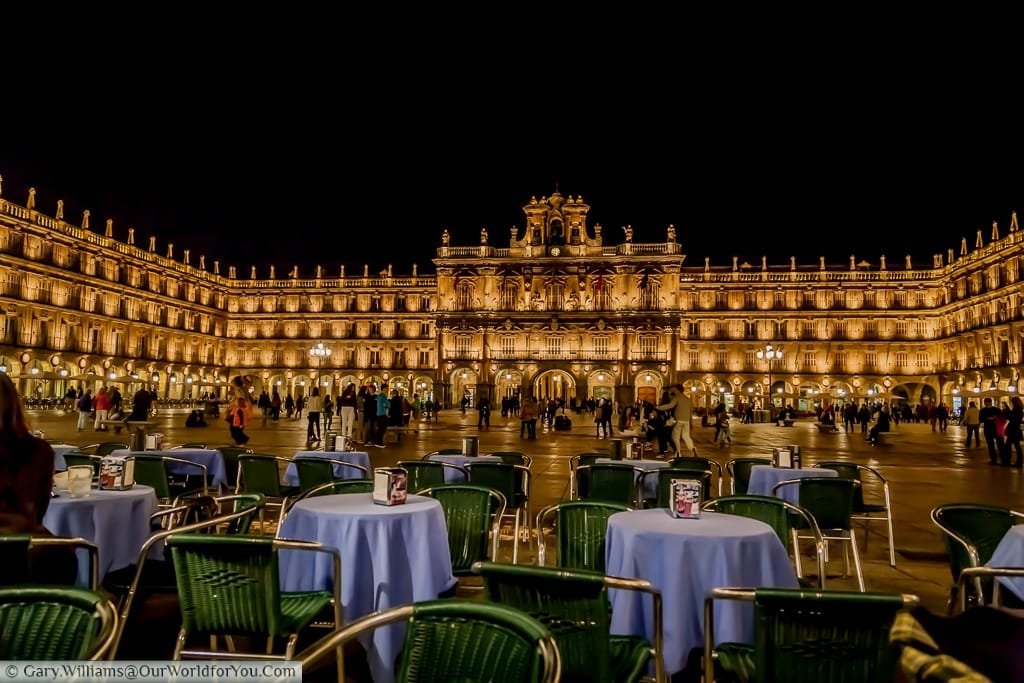 If the truth is to be told the research into the final destination has not been as thorough as some of the earlier destinations, but hey I have found a motor museum - Janis tosses her eyes.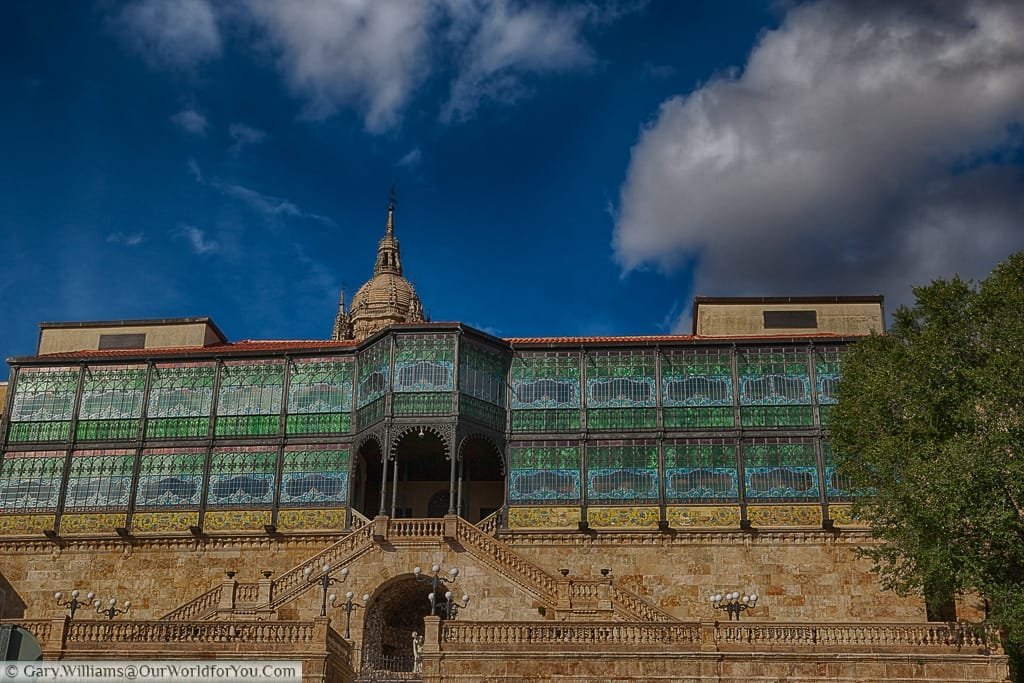 We have toured the town, seen the frog, the only thing we are missing is a souvenir, another memory, that's about to be corrected. In our hotel is a beautiful art deco lamp, it's gorgeous - can anyone see where this is heading? Well it turns out you can buy these lamps at Casa Lis. Guess what, one of the benefits of a road trip is you can pick-up a larger memento, even when it comes in its own chest.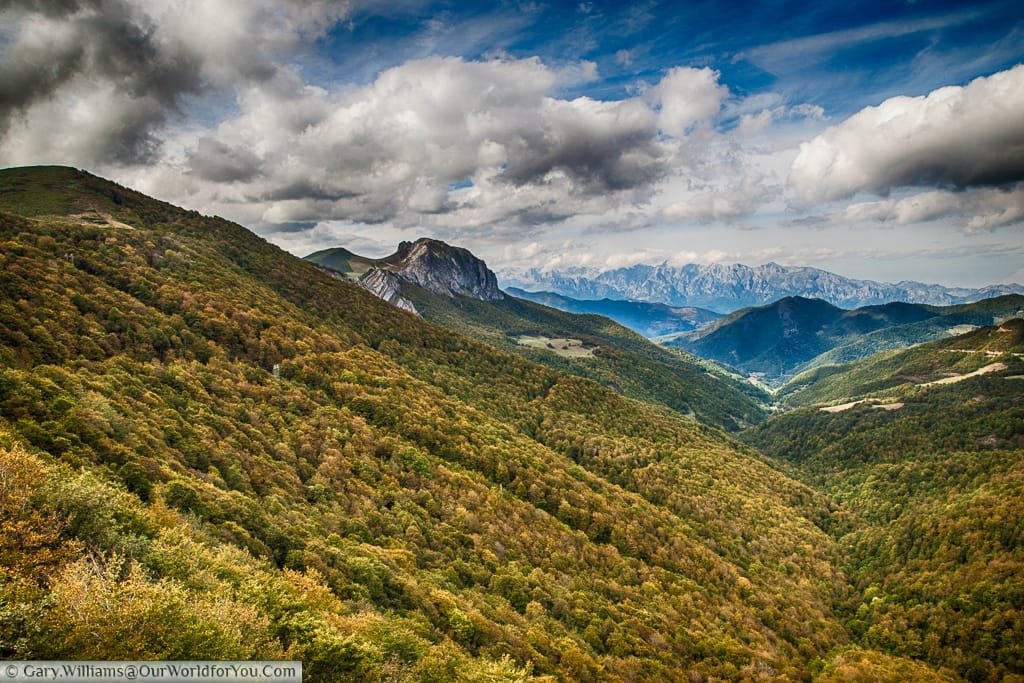 Clearly we will be back.
The ferry eases us back home with a collection of memories we will never forget and a new found love for a Spain full of fantastic adventures.
Now where am I going to put that lamp.