We had been awoken to the wonders of Spain, and we hope by telling this story so will you, if you're not already a fan.

Our awakening had happened on our mini break to Barcelona the previous spring. "I want to come back" – I said, Janis replied, "There's more of Spain to see". So for our 2014 main holiday we planned a Spanish road trip.
Brittany Ferries sails a route from Portsmouth in the South of England to Santander & Bilbao in Northern Spain. It takes just over 24 hrs sailing, so a night is spent on the boat.
There are plenty of options for your overnight stay, however we opted for a cabin with a view.
Whatever option you choose you need to pack an overnight bag because returning to your vehicle whilst sailing is discouraged.
As the ferry docks at around 5:30pm, you have some time to head to your first destination. Some of the fellow travellers we spoke to on-board were heading on. One intrepid motorcyclist planned to ride for as long as he could enroute to his final destination of Almeria, on the Andalusian coast. Our accommodation, the Hotel Bahia Santander, could be seen from the deck as we moored, however it still took me a few miles, and a couple of laps of the town before I found the hotel carpark. (That says more about my Sat-Nav/GPS, than the hotel's parking arrangements.)
A quick refresh and we headed out. The town surprised me; I don't want to sound negative but I had not expected much of Santander. After all it's a port town, and in my experience, people generally want to get out. However I was amazed. As we strolled along a Paseo de Pereda, past the many of the pavement restaurants, we were greeted by elegant couples out for an evening stroll in the warm autumn evening, (27°C/81°F)
It's a place to explore with intriguing plazas, welcoming bars and a fair few smiles. Santander is a hit. For us it got better. As we explored we found a bar, with a spare barrel we sidled up to. We glanced up at the board and were confused – red wine for either €1.80 or €2.20 – we had just left a country were a glass of red wine was going to cost you easily €6. We opted for the €2.20 one, we know how to live. We watched the world go by, and smiled. This was going to be a great trip.
Santander is a great location.
Check out the list of destinations that are easily within a few hours' drive, and potentially your next stopover.
We had chosen Toledo.
León – 167mls/269km
Salamanca – 226mls/364km
Zaragoza – 249mls/401km
Madrid – 282mls/455kms
Santiago de Compostela – 292mls/471km
Toledo – 324mls/522km
There are so many incredible places to discover in Spain and I love planning road trips. I often use the DK Eyewitness books, I find them extremely informative, easy to follow and the pictures and maps tempt you into searching for more.
We used a previous version of this book to plan our Spanish road trips, now you can grab the revised copy.
Travelling South – destination Toledo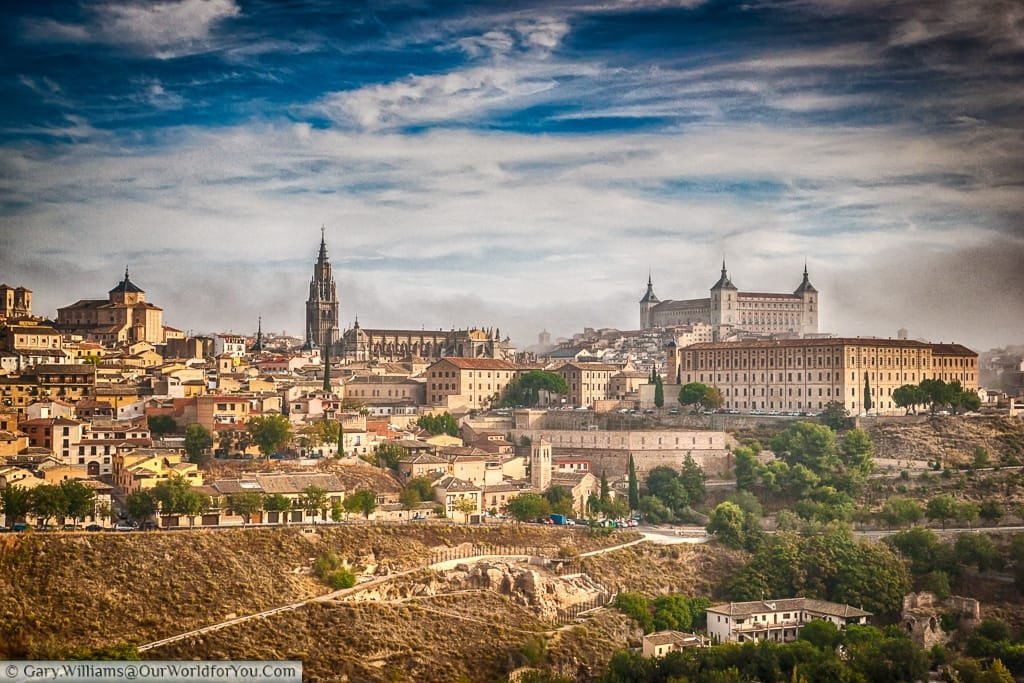 I knew this was going to be a little bit of a dull drive as it was a motorway run to the ancient city.
Time to tap the cruise and let the car take the strain. As a driver I note things like, how busy the roads are, the number of tolls, the driving standards – am I going to get to my destination in one piece? First impressions were good.
Our destination, the Hotel Pintor El Greco, once again confused the Sat-Nav, taking me on a loop or two of the cobble streets of the old town.
If you are driving something on the larger size, then a piece of good advice I wish I'd have thought of, would have been to stop before you enter the old town, and plan your route - It may save some blushes.
We located the hotel soon enough though, and parked up in their secure garage.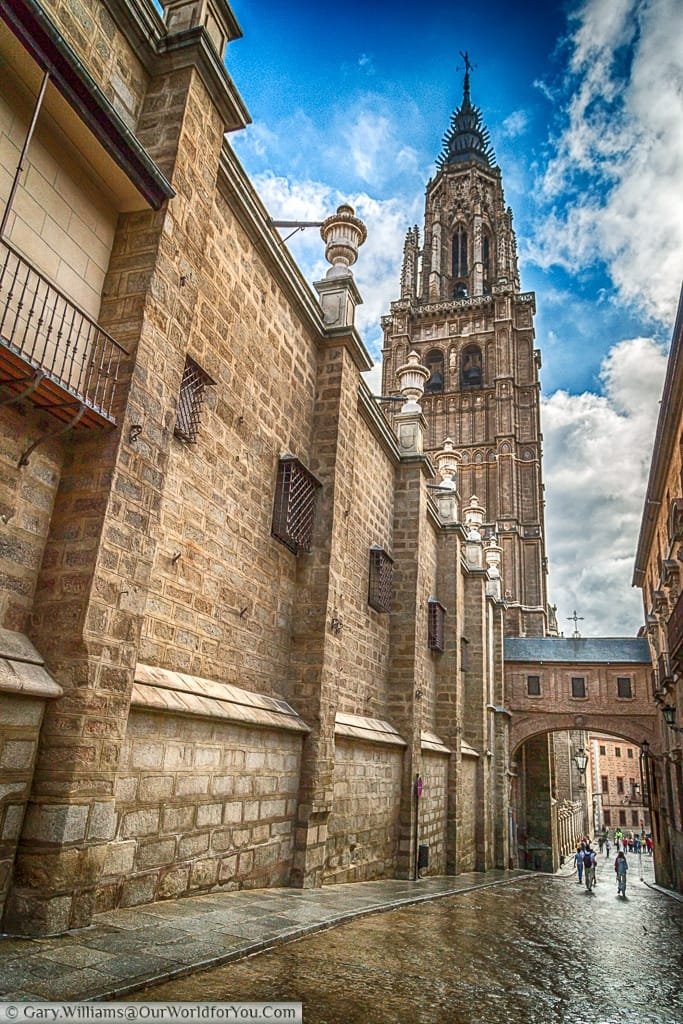 We headed out for a late lunch and a quick tour of the towns sights.
A regret from the trip was we only had the one night in Toledo as we were planning to head further south.
Depending on your itinerary we'd recommend at least 3 days – remember coach loads of tourists arrive during the day, and the streets quieten down in the evening.
Inspired to create your own Spanish Road Trip?
Obviously you don't have to take your own car with you.  You can fly into one of the contries larger airports and pick up a hire car.  We use SIXT when we need an alternate set of wheels and have not been disappointed yet.
(Why not Pin It for Later?)