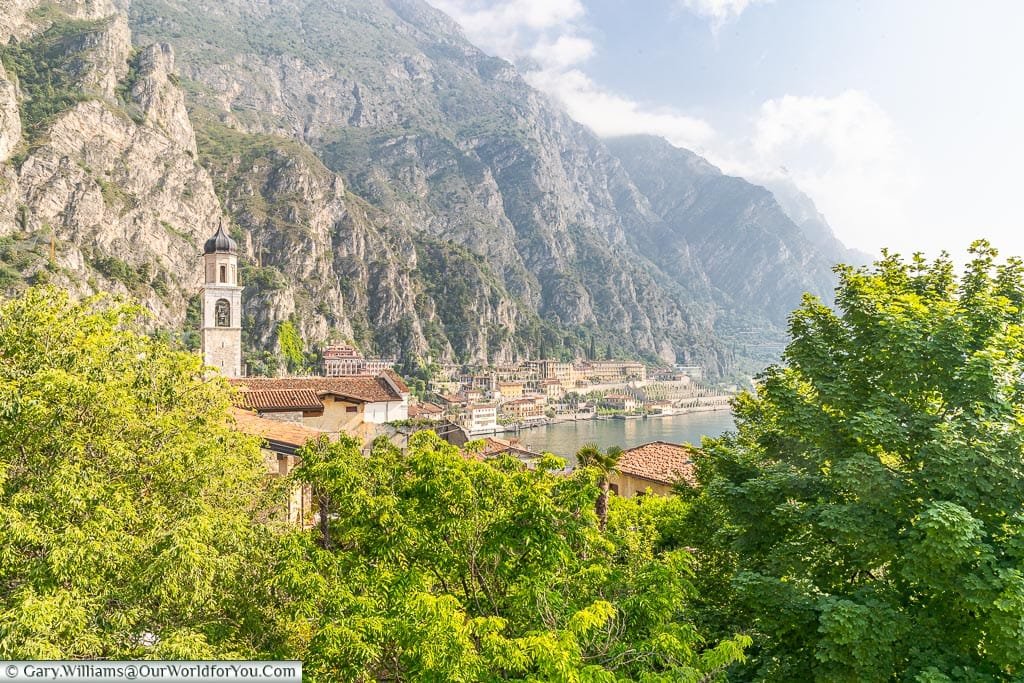 Stylish Limone Sul Garda, Lake Garda, Italy
Full of classic elegant Italian charm
I was taken aback at how enchanting Limone Sul Garda was. Although, knowing that it was nestled into the mountain foothills on the shores of Lake Garda, should have given it away.
Lake view from Piazza Garibaldi
If you're hooked like us and want to tour around the beautiful Italian Lakes in northern Italy, then take a look at this DK Eyewitness book.
This Top 10 Pocket Travel Guide is invaluable, I find them extremely informative, easy to follow and the pictures and maps tempt you into discovering more.
If you were just driving through the upper level of Limone, you'd be utterly oblivious to the narrow cobbled lanes and the ancient fishing village below. Stop, park up and discover the bittersweet citrus delight for yourself.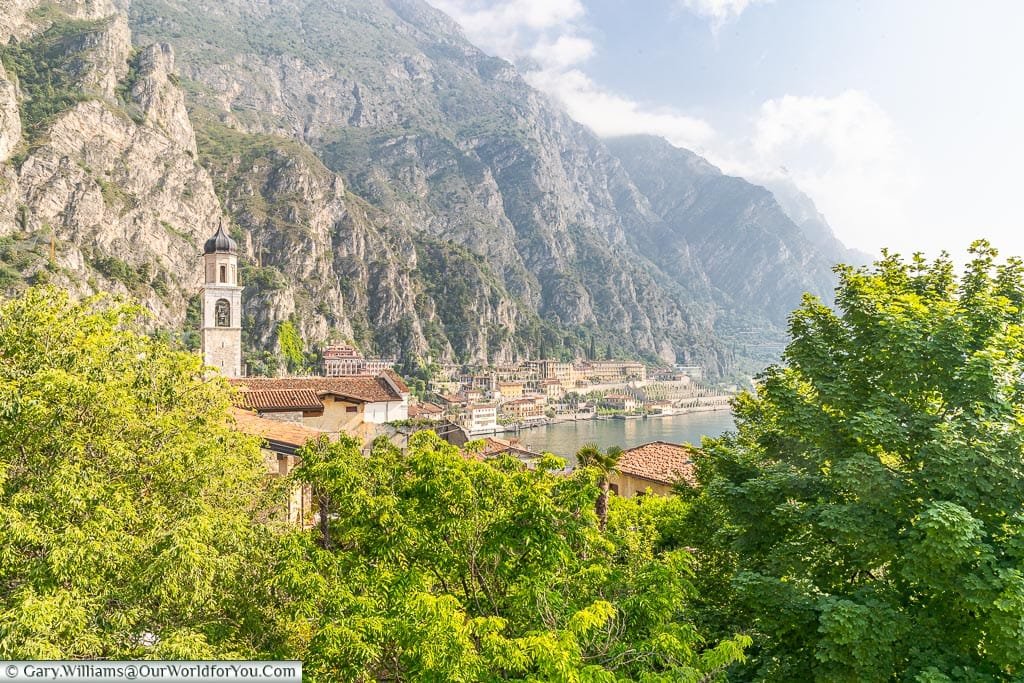 The old town of Limone sul Garda
I almost don't want to give the game away; nonetheless, I really want to tell you how beautiful Limone Sul Garda is. We'd wandered through the village taking in the rustic Italian charm, and as we turned a corner into Porto Vecchio I just stopped, and without realising said wow.
Porto Vecchio with the mountains in the background
The scene was breath-taking, it was like stepping into a virtual postcard. The soaring mountains in the background, the rippling opal lake below and the tiny fishing harbour, finished it perfectly.
Looking across Porto Vecchio
Little boats were bobbing up and down from the wind breezing over Lake Garda, leaving a soothing feeling and an air of relaxation. I felt a gelato beckoning me.
It can only be 'Bond', James Bond, if you're a fan of 007, then you'll recognise the twisting arched tunnels along the lake's edge, where James was seen in the opening sequence of Quantum of Solace. 
The lemon theme flowed throughout the narrow-cobbled streets under the arches and over the sun-baked terraces.
I now understand why these pretty lakeside villages are popular with tourists.
Ancient colourful houses stood shoulder to shoulder vying for your attention, with flowers tumbling down from the wrought-iron balconies.
Porto Vecchio settling down for the evening
Strolling further through the lanes, passing by attractive boutiques, art stalls and jewellers and you reach another jetty. This is one of the locations around the bay that you can catch a ferry from to discover other towns and villages dotted around Lake Garda.
The northern end of Limone Sul Garda
A little bit of knowledge
Did you know that Lake Garda is split over three different regions in Italy, Lombardy, Veneto & Trentino? Limone Sul Garda is in Lombardy.
Just a short walk up through the narrow streets, and we found some of the lanes were empty. It was surprisingly easy to find quieter spots, keeping in mind Limone has become a tourist resort.
One of the interesting historical features of Limone Sul Garda is the Lemon Houses. Of an evening the terraces just beyond the old town are lit up, it's so unusual. I didn't realise what they were, first of all, row after row of high stone pillars crisscrossed with huge wooden slats, layered over steep terraces.
Limone Sul Garda of an evening
It was time to dig a little deeper into the history of the Lemon-House, so we headed up to the renovated La Limonaia del Castel. 
A view from the Lemon House
You won't get lost, as there are lovely little ceramic tiles laid into the cobbles to guide through the town, to the living museum.
Along the terraces of the Lemon House
It was only €2 (in 2019) to enter and so worth it. Terrace after terrace of citrus trees and not just lemons. There were grapefruits, limes, tangerines and kumquats. I'm amazed at how the branches supported the weight of some of the fruit, they were so large.
Discover the citrus history
The structures are so high, wooden poles are slotted across the main beams for the lemon branches to stretch out amongst. Their draping arms weave through protecting the fruit, as it dangles in the sunshine.
The lemons have one of the best views
This original lemon house was built during the 18th-century. In 1997 restoration work began to bring this piece of history back to life for everyone to enjoy and was opened to the public in 2004. Throughout the lemon house, you could still see the old stone irrigation system being used.
Start creating your own Italian lake adventure and discover the beautiful old fishing village of Limone Sul Garda for yourself. You can fly into Venice or Verona. Search for your flights in one easy place with ebookers.com. Over 400 airlines are scanned for your favoured routes and chosen dates.
Discover more of Italy on your own road trip like us, if your unable to bring your own car or are flying into this lovely country give Rental Cars a go. They search multiple well-known car hire brands for the best deals.
Or alternatively, jump on Le Shuttle and tour south under your own steam.
Limone-Sul-Garda's old town is a lovely size, we used it as a base to discover more of the lake, it was such a pleasure to head back to each evening. And after you've had a stroll by the lake's edge, sit back, relax and enjoy sipping at your Limoncello spritz. There are not too many other dramatic views around the Lake Garda to beat this.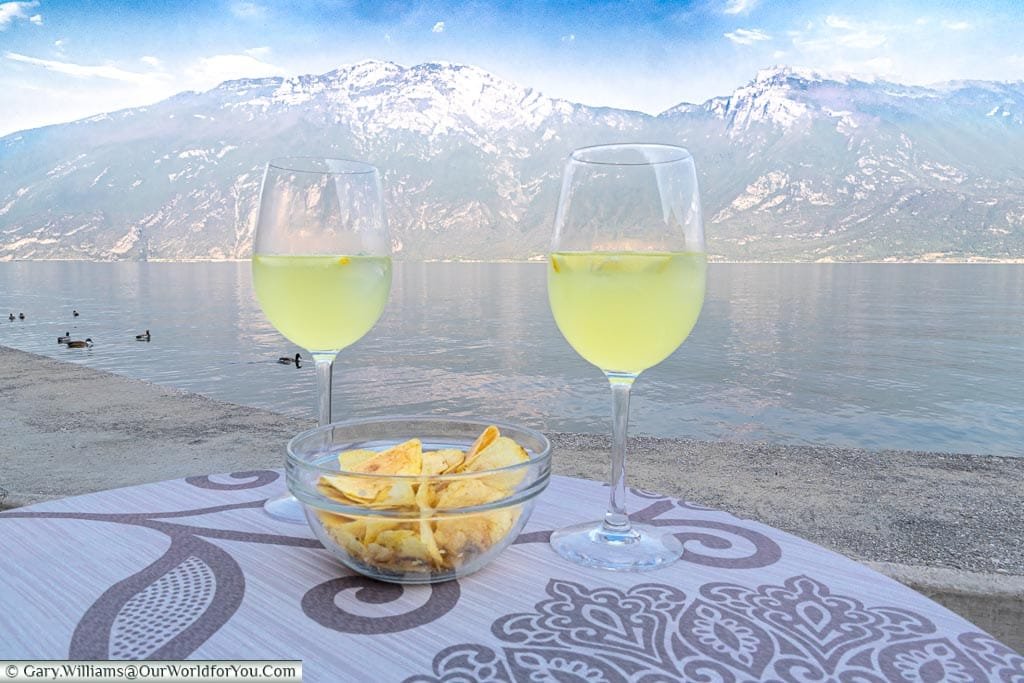 Two glasses of Limoncello Spritz
What I also thought was lovely about Limone-Sul-Garda, was that there were so many lakeside benches for visitors and locals. You'd did have to buy a coffee, just sit amongst the palm trees and colourful flower beds and enjoy the view.
Lake Garda at dusk
You could sit and watch the lake continually changing colours until your heart was content. As the sun sets across the lake, the transition that the glistening water surface evolved through was beautiful, blue to opal, to peach, pink and silver grey.
We ate in the old town each evening and considering the location and that Limone Sul Garda is popular with visitors, I thought the prices were fairly reasonable. For around €8-10 you were able to enjoy a freshly made pasta dish or a pizza at about €8. 
We stayed at Casa Albergo Sorriso for 3 nights and could so easily have stayed longer, the location is wonderful. We chose a room with a lake view, and it was stunning.
The hotel has free parking just outside, it is only around a five-minute stroll down into the heart of the old town, although, a few minutes longer back up.
Would you like a little more?
We have created a little YouTube video of Limone Sul Garda. - why not check it out?
Why not subscribe to our YouTube channel and get the latest clips as we post them?
* This post may contain links to affiliated sites where we earn a small commission at no additional charge to you.
Inspired to visit Limone Sul Garda?
Search for your flights in one easy place with
ebookers.com
and open up a world of options. Over 400 airlines are scanned for your favoured routes and chosen dates.
(Why not Pin It for Later?)
If you enjoy what you see, and you'd like regular updates then join us for a monthly newsletter.