A day exploring with the dulcet tones of Dean Martin
Weaving through the narrow tunnels carved-out from mountains, with the wind in our hair and opal waters ahead. Yes, we are touring Lake Garda in northern Italy, by car.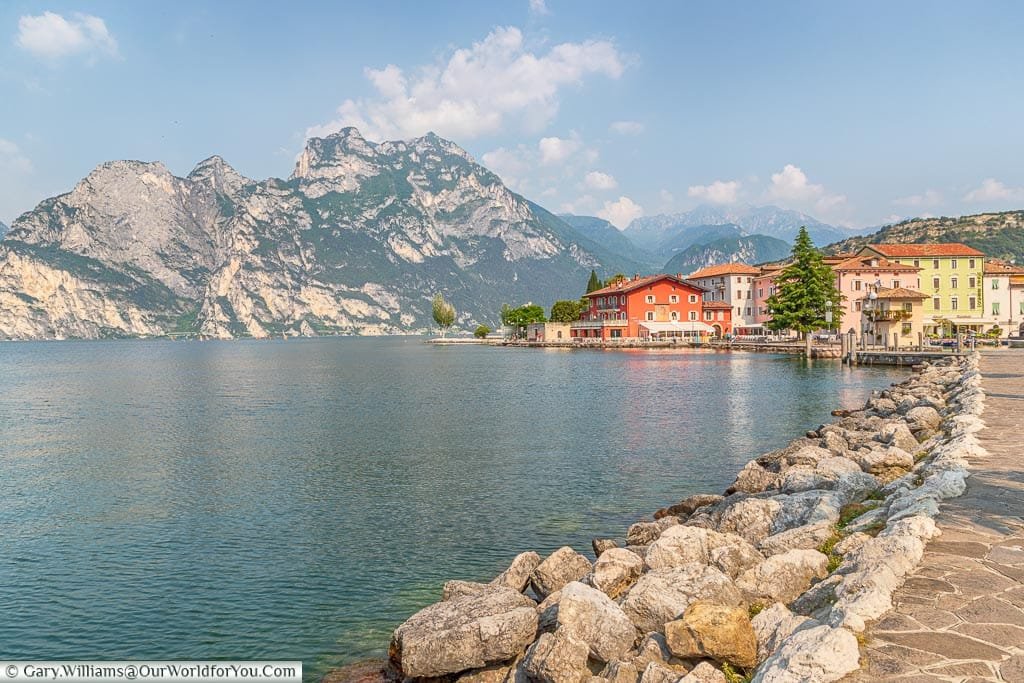 The town of Torbole
We wish we had allowed more time around Lake Garda as the scenery and little towns are so picturesque.
However, we were really pleased that we toured around the lake to appreciate its beauty from north to south.
If you're hooked like us and want to tour around the beautiful Italian Lakes in northern Italy, then take a look at this DK Eyewitness book.
This Top 10 Pocket Travel Guide is invaluable, I find them extremely informative, easy to follow and the pictures and maps tempt you into discovering more.
We started from our base of 
Limone Sul Garda
 on the northwest shores of the lake. Although to be perfectly honest you're going in a circle, so it doesn't really matter where you start. We chose a few destinations for the route; however, for this one-day itinerary, it is also about enjoying the landscape too.
The Audi RS5 parked up on Lake Garda
Our stops were to be; Peschiera del Garda, Salò and the hilltop Sanctuary of Montecastello, Tignale.
We'd visited Malcesine the previous day by boat from Limone Sul Garda.
If you are on a road trip around Lake Garda, this is a must. Ensure you drive clockwise around the lake and have the unhindered view on your right-hand side. That way you'll always be hugging the lake's edge.
With Lake Garda on our right-hand side, we head north, immediately the backdrop is stunning. In the northern region of Lake Garda, the mountains tower above the lake and look magnificent.
The view of Lake Garda from the north at Torbole
Snaking through the tunnels and arches towards the north of the lake, we pass through the bustling town of Riva del Garda. We wiggled on by, but we couldn't resist pulling over at the water's edge in Torbole, to catch the incredible view down Lake Garda. 
Driving distance around Lake Garda
Touring the whole of Lake Garda by car is around 90 miles (140km). If you didn't stop it would take about 3 hours, however, this is traffic dependent, and I'm sure you'll want to stop for a gelato.
Back on the route, we start heading south, winding our way through more tunnels and towns. With the engine echoing around you and the rumbling sounds beyond, you feel like you are in the opening scene of James Bond's Quantum of Solace.
Driving the road around Lake Garda
We meander down the eastern side soaking up the sunshine and landscape as we go. If you have more than one day to tour, then you must try and stop at numerous towns. 
Malcesine harbour
When you drive along the main route around Lake Garda, you often don't appreciate the historical villages below with their unique characters.  Malcesine and Limone Sul Garda have beautiful little harbours and tiny narrow streets that are for pedestrians only.
The further south of Lake Garda you head, you'll begin to notice that the mountains disappear in your rear-view mirror and it's a lot flatter than in the north. It's also got a lot busier.
Looking across Lake Garda
Passing through Porta Verona, we reach the town of Peschiera del Garda in the Veneto region. We are now in the southeast corner of the lake and jump out to discover it further.
Porta Verona, Peschiera del Garda
That Peschiera del Garda is included in the 
UNESCO World Heritage List
 for its Venetian defence fortification. There are six in total and span 1,000km down through Croatia and Montenegro. 
The quaint town of Peschiera del Garda is really picturesque. Lovely Italian architecture painted in delightful colours, wrought iron balconies and flowing window boxes. 
A stroll by the canal
We take a wander through the old town and around the canals, it has quite a nautical feel about it. Little boats were bobbing in the harbour and lakeside cafes to relax at. 
A view along the Mincio River
You get a lovely view over the historic centre and the Mincio River from the old city walls. The old town of Peschiera del Garda sits on its own island that it shares with the ancient fortress.
Duomo di San Martino, Peschiera del Garda
It's relatively easy to drive the whole of Lake Garda, although it does get busy in places. You may also need to slow down when passing larger vehicles in the tunnels, as these can get tight.
Heading up the western shores to Salò
We continue around the south of Lake Garda and start to head north, up to the western shoreline. At times the main route takes you slightly inland, and you are unable to follow the lakeside around. The drive is scenic nonetheless, as you pass by olive groves and honeysuckle bushes.
Promenade by Lake Garda in Salò
Now in the Lombardy region of Lake Garda, we stop at Salò, this town was recommended to us by a local, so we were definitely going to take a peek.
Porta dell'Orologio – Clock Gate, Salò
Piazza Angelo Zanelli, Salò
We found that parking was reasonably cheap around the lake at only €1 per hour.
With a history dating back to the Romans, this was another incredible lakeside town. Elegant colourful buildings throughout the old town, tiny narrow lanes and intriguing little alleyways.
Elegant buildings in Salò
Narrow lanes of Salò
Some of the beautiful buildings were in the process of being restored, and others had the rustic charm that required a little bit of TLC to get them back to their former splendour.
Salò Duomo
Start creating your own Italian lake adventure and discover the beautiful old fishing village of Limone Sul Garda for yourself. You can fly into Venice or Verona. Search for your flights in one easy place with ebookers.com. Over 400 airlines are scanned for your favoured routes and chosen dates.
Discover more of Italy on your own road trip like us, if your unable to bring your own car or you are flying into this lovely country give Rental Cars a go. They cover all budgets and allow you to pick up and drop off at different destinations.
Or alternatively, jump on Le Shuttle and tour south under your own steam.
Sanctuary of Montecastello
Our last stop around Lake Garda before heading back to Limone Sul Garda was to the hilltop Sanctuary of Montecastello by Tignale. We were informed that the views across the lake from the top were incredible.
View across the mountain tops
We parked at the bottom of the hill, we knew it was going to be a bit of a hike, but we were led to believe it was only short, I certainly had my reservations half way up.
A view from Sanctuary of Montecastello across to Malcesine
We kept going and made it to the top, and yes, the views were amazing. The monastery looked as though it was just clinging onto the edge of the mountain side.
It was a bit of a hazy day, so, unfortunately, the views weren't perfect, but hey we got to the top.
Although we should have done a little research, as we didn't realise that you weren't allowed to enter the church if you were wearing shorts.
The Sanctuary of Montecastello
So, we had to admire the Sanctuary of Montecastello from the outside and the far-reaching views beyond.
Our final stretch around the loop of Lake Garda we enjoyed the twisting arched tunnels which were used in filming the opening scenes of James Bond's – Quantum of Solace. Gary drops the car into a lower gear, and it growls its way through the tunnels.
A view from 'A Quantum of Solace'
In my opinion, it appears to be a lot more touristy in the south and also has a couple of theme parks. Not quite our kind of thing, we prefer the mountainous landscape in the north.
Would you like a little more?
We have created a little YouTube video of our lap around Lake Garda - why not check it out?
Why not subscribe to our YouTube channel and get the latest clips as we post them?
* This post may contain links to affiliated sites where we earn a small commission at no additional charge to you.
Inspired to tour Lake Garda?
Base yourselves by the beautiful mountains in the north at Limone Sul Garda. Does the idea of a road trip tempt you? Would you like to see the opal waters for yourself?
Search for your flights in one easy place with
ebookers.com
and open up a world of options. Over 400 airlines are scanned for your favoured routes and chosen dates.
(Why not Pin It for Later?)
If you enjoy what you see, and you'd like regular updates then join us for a monthly newsletter.