Another 8 of Spain's top historical locations
So, this is part two of my UNESCO World Heritage Sites to visit in Spain. I just felt to squeeze all of these fantastic places into one post didn't quite do them justice. As mentioned in part one, Spain has such a rich history, that it just brims with UNESCO sites.
The view of the Alcázar from the Templar church, Segovia
There are some locations here that people often flock to, and there's sound reasoning for this. Hopefully, there are a couple that you may never have heard of or not visited yet. Leave me a comment if you have some recommendations yourself.
The bridge to the town, Cuenca
There are so many incredible places to discover in Spain and I love planning road trips. I often use the DK Eyewitness books, I find them extremely informative, easy to follow and the pictures and maps tempt you into searching for more.
We used a previous version of this book to plan our Spanish road trips, now you can grab the revised copy.
The Historic walled town of Cuenca
Cuenca is an ancient town located high on an outcrop in the Castile-La Mancha region of Spain. Built by the Moors, there are some fascinating buildings within the city walls, notably Spain's first Gothic Cathedral, and the remains of the medieval fortress.
The Cathedral of Our Lady of Grace, Cuenca
Although what is unique about Cuenca is the Casas Colgadas, the Hanging Houses. They are marvellous to look at; they appear to be clinging to the edge of the rockface, I really don't think I could live in one of these. Cuenca was inscribed onto the UNESCO World Heritage List in 1996.
Tempted to visit Cuenca and observe the Hanging Houses for yourself, why not take a day trip with a tour guide from Madrid?
Archaeological Ensemble of Mérida
If you are in the Extremadura region of Spain, I would highly recommend visiting the archaeological site at Mérida. What I loved about the ancient ruins other than the fact that this was an incredible piece of Roman history, was that you were free to roam anywhere.
The Roman theatre, Mérida
You can climb the steps around the huge semi-circular theatre, that once entertained 6,000 people and imagine how it would have looked in its full glory. Just next to the theatre is an Amphitheatre built in 8 BC and where gladiators fought and entertained crowds of 16,000. This incredible site was added to the UNESCO List in 1993.
The gladiator's arena, Mérida
This Global Block does not have any content.
Start creating your own Spanish adventure and discover some the enchanting UNESCO World Heritage sites for yourself, by flying easyJet or British Airways. These are just a couple of options that you can take to the beautiful country.
Or alternatively, like us jump on a Brittany Ferry and tour through Spain under your own steam.
Now heading to the north of Spain, we are in the Castile and León region, Burgos to be exact. Burgos is a city that we will definitely be returning back to, as we didn't spend enough time in this charming place.
Our Lady of Burgos is a 13th-century cathedral that stands proud and prominent in the heart of the city. Construction of the Gothic cathedral began in 1221; however, it wasn't completed until 1567. The beautiful cathedral was inscribed as a UNESCO World Heritage site in 1984.
This Global Block does not have any content.
Did you know that UNESCO stands for United Nations Educational, Scientific and Cultural Organisation?
Cathedral, Alcázar and Archivo de Indias in Seville
Ahhh, Seville, this is one of my favourite cities that I have ever visited, and I do think I bore people a bit when I reminisce about the place, and here I go again.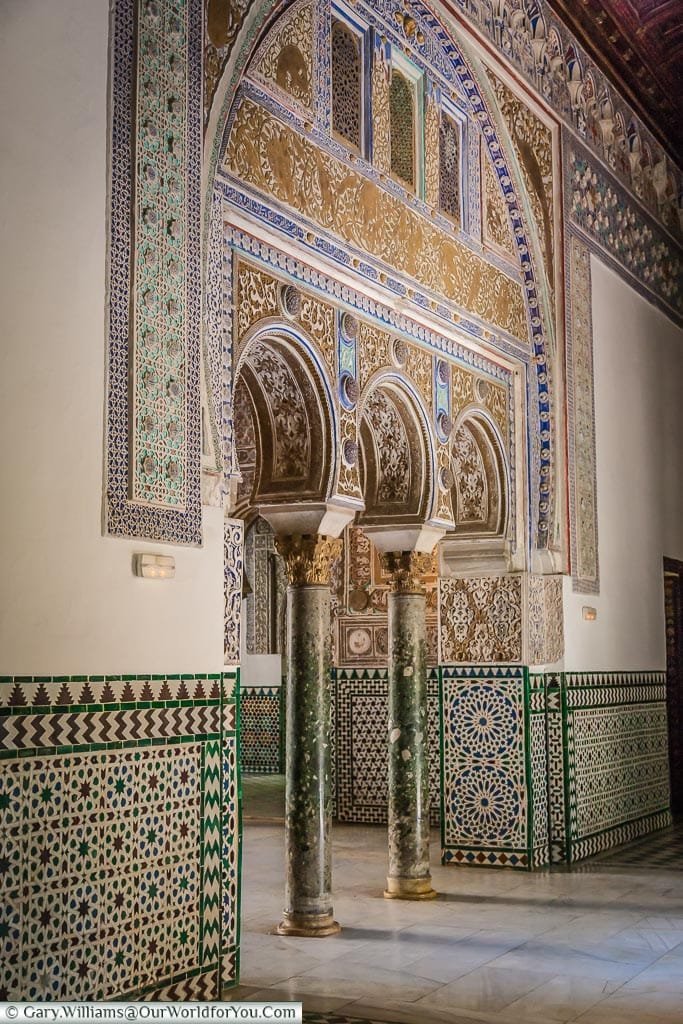 Inside the Real Alcazar, Seville
A view of the gardens of the Alcázar
The architecture in Seville is beautiful, I just love the Moorish style, and the three buildings that are listed on the UNESCO World Heritage Site are incredible. I know there are queues, but they are really worth the time and effort. The detail and opulence inside the Alcázar are magnificent, and the gardens are stunning to wander around.
Inside the Cathedral, Seville
La Giralda - The Cathedral Tower, Seville
If the Alcázar wasn't enough then head over to the equally magnificent Seville Cathedral. It is huge, and particularly when you walk inside, you really get a sense of the enormity of the church. There are a lovely cloister and gardens within the grounds and also the cathedral houses the tome of Christopher Columbus.
This is an ideal package not only do you skip the long queues at the Alcázar and Seville's Cathedral you also get a 3 hour guided tour.
Toledo in the heart of Castile–La Mancha region is a beautiful city, full of such incredible history. We loved strolling around the ancient streets, amongst the winding lanes trying not to get lost. The 13th-century Gothic cathedral stands prominent within the city along with the beautiful Alcázar.
They have some unusual souvenirs here, as the city has a long history in the production of swords. The Historic City of Toledo was added to the UNESCO List 1986, and one I think we will return back to.
You won't want to miss Toledo's historical sites, join a 3-hour tour to visit four of the monuments and you are then free to discover the other three at your leisure.
Renaissance Monumental Ensembles of Úbeda and Baeza
Úbeda and Baeza are two delightful little cities nestled in the Andalusian hills surrounded by olive groves. There are still a few traces of the Moorish influences around the two places; however, it is the Renaissance architecture that is now prominent around the towns, particularly in Úbeda.
The courtyard in front of the El Salvador Chapel, Úbeda
Take a stroll around the Vázquez de Molina Square, and you'll see the Deán Ortega Palace, the Vázquez de Molina Palace, the beautiful Basílica de Santa María de Los Reales Alcázares and the funeral chapel of El Salvador. It's such a charming square.
Saint Mary of the Royal Alcázares, Úbeda
The Renaissance buildings of Úbeda and Baeza were inscribed onto the UNESCO World Heritage List in 2003. Take a wander throughout the two little cities as they are a real pleasure and why not get yourself some olive oil while your there.
Fuente de Santa Maria, Baeza
This Global Block does not have any content.
We love embarking on road trips, so our preferred mode of transport is always jumping in a car. We find it's the best way to discover a country, so why not check out, SIXT car hire they cover all budgets and allow you to pick up and drop off at different destinations.
Old Town of Segovia and its Aqueduct
Once you have visited Segovia and observed its Roman aqueduct which was built in A.D. 50, there will be no doubt in your mind why Segovia is on the UNESCO World Heritage List.
Climb up high for the best views, Segovia
The aqueduct located in Plaza del Azoguejo is an astonishing feat of engineering like no other and what is incredible, is that not once piece of mortar was used to secure it. The Romans certainly wanted to leave their mark.
The Cathedral at night, Segovia
Segovia has such a rich depth of history throughout the old town. Not only does it have the ancient aqueduct, but it also has 11th-century Alcázar and a 16th-century Gothic Cathedral, which was the last Gothic-style cathedral to be built in Spain.
If you are staying in the bustling city of Madrid, why not head out for a day and visit the historic cities of Segovia and Toledo.
An 11-hour guided tour will escort you to both towns and allow you to skip the lines.
Routes of Santiago de Compostela
This UNESCO Site is slightly different as it takes in the routes of Santiago de Compostela, originally inscribed on the UNESCO list in 1993. If you have ever travelled through the north-west of Spain, you will have seen many people with their hiking boots on and rucksacks on their backs, walking the Christian pilgrimage to Santiago de Compostela.
Resting against the cross, León
Highlighting the way, Santillana del Mar
It's quite inspiring to see the dedicated pilgrims heading off early in the morning through town squares. They are armed with their maps and the obligatory scallop shell that symbolises the Camino de Santiago.
Inspired to explore Spain's UNESCO World Heritage sites in more depth?
Search for your flights in one easy place with
ebookers.com
and open up a world of options. Over 400 airlines are scanned for your favoured routes and chosen dates.
(Why not Pin It for Later?)
* This post may contain links to affiliated sites where we earn a small commission at no additional charge to you.