by Janis /
0 comments
- Orginally published:7th December 2021
A festive sweet treat in West Germany
When you first stroll into Aachener's WeihnachtsMarkt, you are instantly swept along with all the festive cheer, catchy yuletide tunes and, of course, the captivating, sweet aroma of Aachener Printen. From that moment on, your joyful voyage of Crimbo discovery begins.

Aachen's main Christmas Market is nestled amongst the magnificent 8th-century Aachen Cathedral constructed by order of the Holy Roman Emperor Charlemagne and Aachen's grand 13th-century gothic Rathaus.

These two incredibly historic buildings create such a stunning backdrop for Aachener's WeihnachtsMarkt, that when the evening sky descends, you feel like you've strolled into a magical fairy-tale.
Why not Pin it for later?
Aachener WeihnachtsMarkt
- By Train
Start creating your own Aachen Christmas market adventure and discover festive treats amongst the charming city streets.
In around just 3hrs 35minutes from the UK, you can hop on the Eurostar to Brussels, change onto an ICE train to Aachen Hbf, and the yuletide fun begins.
- By Car
If you're venturing from the UK, jump on Le Shuttle and tour Germany under your own steam.
Alternatively, it's so easy to visit on a road trip. Rental Cars searches multiple well-known car hire brands and discovers the deals that suit you the best.
A perfect Christmas market adventure
Baubles, bratwurst and glühwein
If visiting a Christmas market in Germany is a new experience for you, or if you're looking to combine a historical city break with your Yuletide market adventure, then Aachen is perfect for you.

There are over 100 traders throughout the cobbled streets of Aachener WeihnachtsMarkt, offering artisan gifts, handmade decorations, and delicious local produce.
Wooden figures and toy soldiers
At Aachen's Christmas market, you can indulge in the traditional German fare of bratwurst, reibekuchen and apple strudel, to name just a few. All to be washed down with the tempting waft of spicy scents from the heart-warming glühwein.

We truly loved the welcoming atmosphere of Aachen, the local people that we chatted to have a huge amount of pride in their city.
Elisenbrunnen
Exploring Aachener WeihnachtsMarkt
Around the Dom and Katschhof
To fully appreciate and relish the experience of Aachen's markets, you'll need to take it slow and unhurried, as the markets are a feast for the senses. Even if you believe you've explored them once or twice, there will still be something you've missed.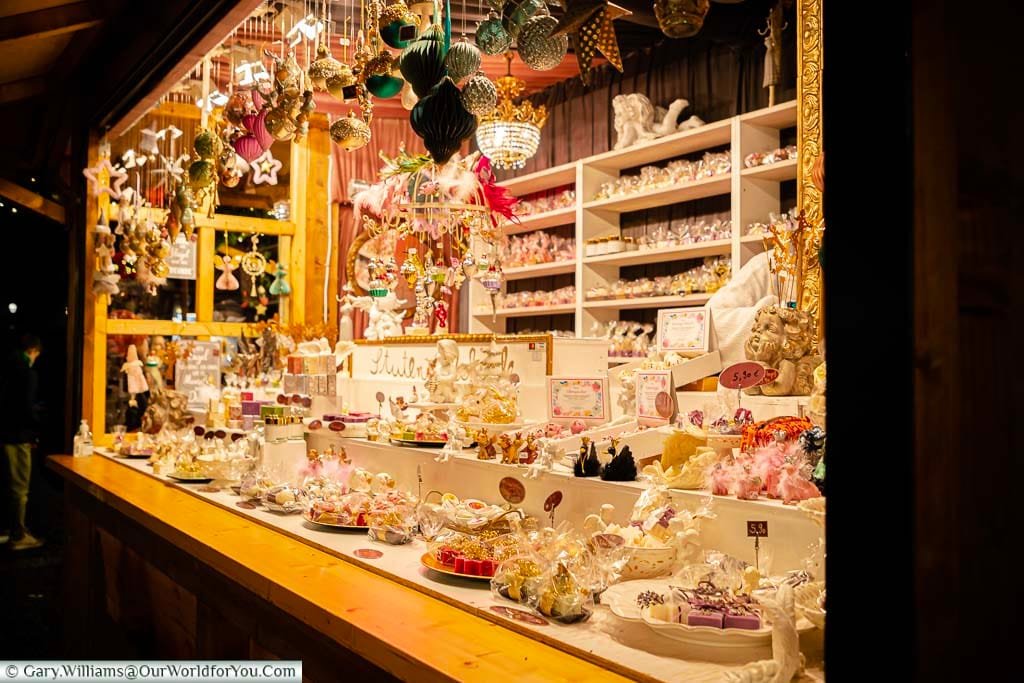 A stall full of gifts
As you wind your way seamlessly along the cobbled streets around Münster-Platz and Aachen Dom, weaving through to Katschhof, you'll discover twinkling festive Christmas cabins galore.

Within Katschhof, there's a colourful traditional merry-go-round full of children giggling and laughing, stalls with an abundance of wooden soldiers and nutcrackers and aromas from scented candles to transport you back to your childhood.
Stall full of traditional German dwellings
The Christmas store that Gary and I love to visit is Käthe Wohlfahrt; this magical workshop takes Christmas ornaments and decorations to another level. We've so many Käthe Wohlfahrt items in our home that I'm beginning to believe we could open a store of our own.
There are some delightful cabins around Katschhof selling unique local gifts and produce. A stall that we especially liked was the metal crafts by G&M Metallbau; we couldn't resist picking up a little handcrafted Christmas tree.
Metal crafts by G&M Metallbau
Things to see and do in Aachen
Here are some ideas to fit in around your Aachen Christmas market adventure.
Aachener Printen
A taste unique to Aachen
As you stroll around Aachen's streets and especially the market, you'll undoubtedly notice the delightful abundance of lebkuchen or gingerbread to you and me. In Aachen this is known as Aachener Printen.

Aachener Printen's origin is protected, so all its producers, of which there are around 30, are found in or near Aachen.
Nobis Printen
Aachener Printen is similar to gingerbread in taste; however, it is sweetened using a syrup made from sugar beets; historically, honey was originally used. The Printen is quite firm when you buy it, but if you open the packs and store it with an apple or bread, it softens up a treat.
Klein Printen spices
We love the Printen; we have previously bought some from a Klein Aachener Printen stall at Cologne Christmas markets. So, needless to say, we have topped up our quotas for this year.
I'm sure you won't miss it but keep a lookout for the giant Aachener Printenmann by the Rathaus overlooking WeihnachtsMarkt in Katschhof.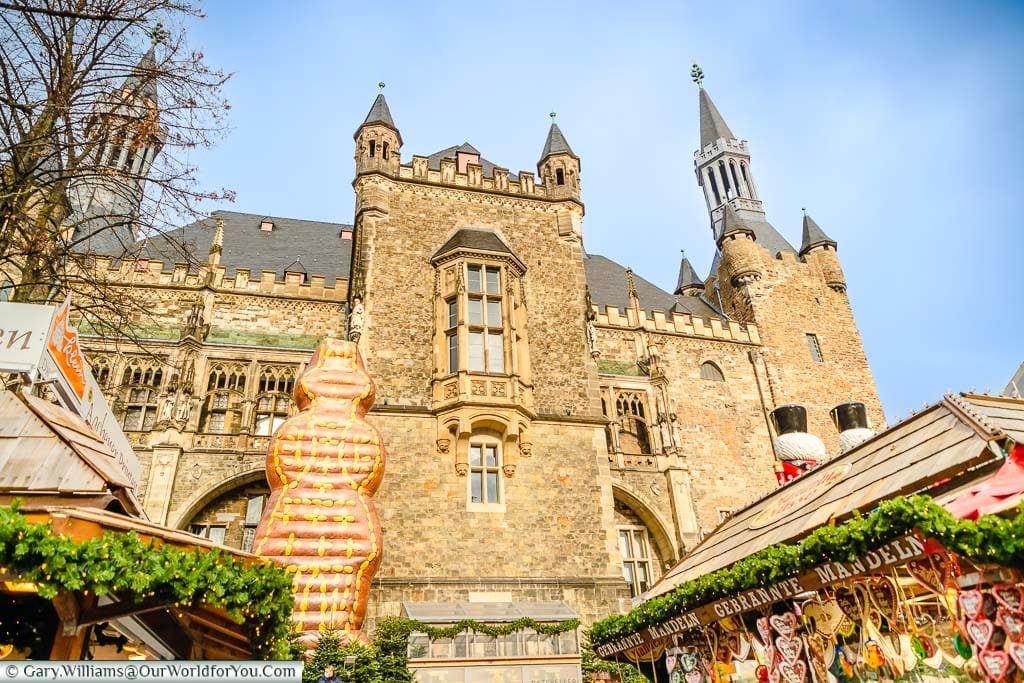 Giant Printenmann
Further discovering Aachener WeihnachtsMarkt
Aachen's Christmas tree and Rathaus
As we continue to meander through the Christmas market, we follow the trail of twinkling fairy lights and the alluring aroma of fresh nuts being coated in sweet, sticky, crystalised chocolate. Every time I catch this smell, I'm whisked back to the joys of Christmas markets in Germany.
The Rathaus at night
The striking gothic Rathaus and the glimmering Christmas tree will melt the heart of any Ebenezer Scrooge. It's the cheerful atmosphere and the happy smiling faces that truly bring Christmas markets to life.
Friends sharing tales over a glühwein or two, kids young and old mastering the art of eating a mustard slathered bratwurst and couples young and old, reminiscing and creating new memories. You need to experience a Christmas market in Germany to appreciate that Christmas is for everyone.
The carousel in front of the Rathaus
Visiting the Christmas markets is an absolute joy any time of day. However, the heart-warming magical feel truly comes to life when the sunsets and the twinkling huts and festive cheer is sprinkled everywhere.
I love nothing more than planning a trip and so often I use the DK Eyewitness books.  I find them extremely informative, easy to follow and the pictures and maps tempt you into discovering more.
We used a previous version of this book to plan our Germany road trips, now you can grab the revised copy.
A "Magical Winter" guided tour
Local knowledge of Aachen's Christmas Market
During our visit to Aachen, we joined the "
Magical Winter
" guided tour. It was incredibly fascinating to learn about local traditions, Aachen's history, how Christmas has evolved in Germany and to appreciate that many of their charming customs continue.
Aachener Dom Liqueur
Our guide, Sabine Mathieu, was extremely informative; she escorted us all through the Aachener WeihnachtsMarkt, pointing out local Aachen producers and unique stallholders. Sabine explained all about the Aachener Printen, the distillery that makes Aachener Dom Liqueur and tales about Aachen that you wouldn't otherwise know.

A little-known fact that Sabine shared was that the earliest surviving German language Christmas hymn originated in Aachen in the 14th-century, "Sei uns willkommen, Herre Christ".
"Hütte 16"
We were also introduced to the local butcher Rolf Gerrards.
Gerrards
is a family butcher and sources the finest ingredients for his shop. During the Christmas festivities, Rolf runs "Hütte 16", where you can sample their delicious food and glühwein.
If you're tempted to visit
Aachen
, the local tourist office provides some highly useful information and handy pointers for around the city.
A guided tour of Aachen Rathaus
The striking gothic Town Hall
The beautiful medieval Aachen Rathaus stands so majestically in the centre of the Old Town. After centuries of welcoming royalty and hosting coronation banquets, it is now the seat of Aachen's Lord Mayor.
We were given the opportunity to enjoy a guided tour of the Rathaus, and with our love of history, we jumped at the chance.
Aachen Rathaus
Our delightful guide was Annelore Einmahl; she escorted us all around the magnificent Rathaus and explained the history of Aachen's Town Hall with astonishing detail. Annelore's knowledge and passion truly gave us a feel of the significance and importance the people of Aachen place on the Rathaus.

Aachen Town Hall was originally built during the 14th-century. Through various natural and manmade disasters, it has been reconstructed and renovated into the stunning gothic hall that stands today.

The Charlemagne Prize for European unification is awarded annually in the vaulted Coronation Hall within Aachen Rathaus. The unification award has been received by spiritual leaders and many notable politicians
Coronation Hall, Aachen Rathaus
A beautiful Christmas tree in the entrance hall to Aachen Rathaus and hanging on the branches are touching Christmas wishes. Each year kids from the local children's homes write a wish of a gift they'd love to receive.
Then anonymously, people choose a card and buy and wrap the gift, and it is given to the child named on the card. This is an amazing idea and will make a child's Christmas.
Christmas wishes
Our video of Aachen's Christmas Markets
The festivities through our eyes
We have created a little YouTube video of Aachen at Christmas.  Why not take a look?
Also, why not subscribe to our YouTube channel and get the latest clips as we post them?
Feasting at Aachen's Christmas markets
Festive nibbles and tipples
There are plenty of food and drink choices to be enjoyed at Aachener WeihnachtsMarkt, especially if you love sausages, and Gary certainly does. You can choose from bratwurst, Krakauer and currywurst name just a few.
Currywurst "Hütte 16"
If bratwursts aren't your thing, then you can also savour the pork shashlik, báckfisch, reibekuchen the deep-fried potato cakes with apple sauce or hearty soups.

Although I must admit I do have a bit of a sweet tooth, so, just to be polite, we had an apple strudel with custard and waffles and cream.
Apple strudel
And of course, it wouldn't be a German Christmas market if you didn't enjoy a glühwein or two. In Aachen, the red and white glühwein's were €4 each, and the deposit on the festive mug was €3.

If you're like us, then you may want to keep a mug; just head back to the glühwein stall and ask them for a clean one. You can immediately start building your Christmas mug collection.
Aachener WeihnachtsMarkt Gluhwein
To ensure that you make the most of your
Aachen
mini-break, why not stay for a couple of nights?  Discover Aachen's historical sights and fascinating museums in this ancient German city.
Where we stayed in Aachen
Just a short hop to the Old Town
During our Christmas stay in Aachen, we were hosted by Novotel Aachen City Hotel.

Novotel Aachen City Hotel is located along a main road in Aachen; however, our room was extremely peaceful day and night. The hotel adhered strictly to the 2G COVID rules, and everything was very clean throughout.

The staff were very accommodating and friendly, and they allowed us to check in to our room early.
Novotel Aachen City Hotel bedroom
The room was very comfortable, clean, and had ample lighting. The desk area was a reasonable size, allowing us to set up our charging station and work on the laptop.

The bathroom had a shower and separate bath, along with the essential toiletries. The toilet was in its own individual room.
Dining area at Novotel Aachen City
There was a wide variety of food and drinks for breakfast, and all were served in a very light and airy location. The food was constantly being replenished, and there were ample coffee, tea and fruit juices.
Breakfast at Novotel Aachen City
The hotel is only a 10-minute stroll to the Old Town, making it exceptionally convenient after a long day exploring the Christmas markets.

We visited Aachen as part of a Christmas market road trip, so the underground car park was perfect, and not bad at €14 per day.
Everyone we interacted with at this hotel was friendly, polite and helpful. A pleasurable experience.
The bedroom was clean, comfortable and very peaceful.
A full continental breakfast was available, with traditional German fare in a spacious dining area.
We were able to get 43.4mbps download speed and 57.5mbps upload speed in our bedroom.
The hotel is located on a main road and only a 10-minute stroll to the Old Town.
The car park is directly under the hotel and is managed by Q-Park. The spaces are reasonably sized and chargeable.
This article was produced in partnership with Aachen Tourismus in exchange for an honest review and an account of our personal experiences.
* This post may contain links to affiliated sites where we earn a small commission at no additional charge to you.