by Janis /
2 comments
- Orginally published:23rd November 2021
In the midst of the Weald, East Sussex
Strolling around the captivating gardens at Bateman's, you'll immediately appreciate why Rudyard Kipling loved this beautiful Jacobean retreat so much.

Bateman's is located in an idyllic part of the Sussex Weald countryside. Other than the local cows mooing and butterflies fluttering amongst the fragrant wildflower meadows, it feels like you've stepped into an enchanting novel.

The adoration of the Kipling family home extends from within the historic sandstone walls to its delicately planted patchwork of walled gardens. With every secret corner, you turn another joyful gasp of breath hastily follows.
Why not Pin it for later?
- By Train
The nearest mainline railway station is at Etchingham (3 miles). You will then need to catch a bus service or pre-book a taxi to Bateman's.
- By Car
Bateman's can be accessed from the A21, then west off the A265. There's a free car park for National Trust members, or parking charges apply to non-members.
A brief story of Rudyard Kipling
From Mumbai to East Sussex
Rudyard Kipling was born in Mumbai, India, on 30th December 1865. Rudyard enjoyed the years he spent in India, and it was a considerable influence upon his writing.

His early childhood was spent in India; however, his education was mainly in the UK. Rudyard returned to India when he was sixteen, and his father had secured him a job at a local newspaper.

In 1886 whilst at the newspaper, Kipling published his first collection of verses and had a hunger to write more and continued at an unstoppable pace.
A bust of Rudyard Kipling
Kipling decided to leave India in 1889 and arrived in the UK after travelling via the USA. Rudyard married Carrie Balestier in London in 1892, where they lived briefly. After a spell living in the US, the Kipling's decided to return to the UK in 1896. It wasn't until 1902 that Rudyard and his wife discovered Batemen's in Burwash and decided to purchase it and turn it into their beloved family home.
Although Rudyard Kipling died in Fitzrovia, London, in 1936, Bateman's continued to be his family home. Rudyard's widow Caroline bequeathed the house to the National Trust on her death in 1939.
Rudyard Kipling's ashes are interred at Poets' Corner in Westminster Abbey.
Rudyard and his wife had three children his first daughter died of pneumonia in 1899, aged 6, his son John was killed in action, aged 18, during the First World War in Loos, France. Their third child Elsie lived in Cambridgeshire until her death, aged 80, in 1976.
The study at Bateman's
Rudyard wrote many fictional stories, novels, and poems, many of which were influenced by his life in India. Some of his most famous works include The Jungle Book, Kim and The Man Who Would Be King. Kipling's well-known poems are "Gunga Din", "Mandalay", and one of my favourite pieces of poetry "If- "it is so touching.
In 1907 Rudyard Kipling was awarded the Nobel Prize for Literature, although he declined a knighthood on several occasions.
Rudyard Kipling
The Kipling family home
Tranquillity within the High Weald
Bateman's was constructed in 1634 of beautiful golden sandstone. The Jacobean Wealden manor house was originally built for a Sussex ironmaster. However, after the demise of the iron industry, Bateman's was used as a farmhouse and gradually deteriorated until Rudyard Kipling, and his wife fell in love with it in 1902.
Bateman's
The Kipling's purchased Bateman's for £9,300 when Rudyard was only 36. They gradually transformed it back into a magnificent family home. Although Bateman's appears large from the outside, the interior layout and design make it feel very welcoming.

When Bateman's was initially purchased, the house came with 33 acres of land. As time passed and more farmlands became available, Bateman's Estate grew to over 300 acres.

Bateman's was granted Grade I Listed Building status in 1961.
The secret gardens at Bateman's
Where to stay near Bateman's
-
Rose and Crown
- Just 1 mile from Bateman's is the charming village of Burwash. Here you'll find the Rose and Crown, a historic inn with an in-house restaurant serving a delicious breakfast.
-
The Abbey Hotel
- Located within the picturesque town of Abbey, this delightful Grade II listed building has recently been refurbished. You have history literally on your doorstep.
Exploring Bateman's
It's all in the detail
The National Trust has done a fantastic job maintaining the house. The serene, fragrant gardens are such a pleasure to stroll around.

As you enter Bateman's, you'll spot a bell-pull on the righthand side. Rudyard added this as a memory from visiting his auntie's home in Fulham and that of her husband, the artist Sir Edward Burne-Jones.
Entrance to Bateman's
As you stroll into the entrance hall, you're surrounded by grand furnishings, dark wood panelling and oak beams on the ceiling, looking very traditional. The well-used stone fireplace had certainly kept people warm over the years.
Entrance Hall at Bateman's
Adjacent to the hall is the dining room decorated with 18th -Century English leather wall hangings covered with silver leaf depicting ornate birds and foliage.

Mrs Kipling was a stickler for timing, and dinner would be served at eight o'clock sharp.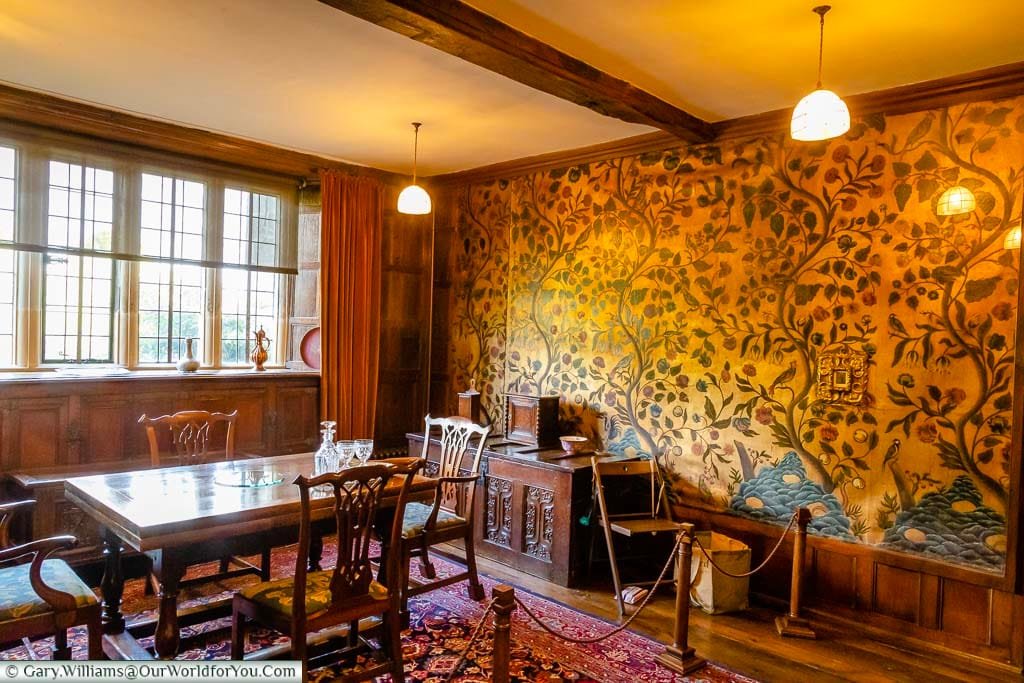 The dining room
Two more rooms are accessible on the ground floor, a charming parlour where the family would have relaxed and entertained, lined throughout with oak panelling.
Across the hall is a delightful music room, which was originally a schoolroom. You could imagine the Kipling's would have gathered around by the piano.
The music room in Bateman's
We have created a little YouTube video of our visit to Bateman's.  Why not take a look?
Also, why not subscribe to our YouTube channel and get the latest clips as we post them?
Discover Rudyard Kipling's study
The man behind Jungle Book
We headed upstairs to my favourite room in the house, which was Kipling's study. The National Trust has recreated the room to look as if Rudyard had just stepped out for a brief moment. Towering bookcases filled with fascinating novels to be thumbed through and a well-used typewriter with so many tales to tell.

Although I'm always mesmerised by a globe tempting me to explore far-flung places around the world.

You can just imagine the author staring out across the rolling High Weald countryside with whimsical characters skipping through his mind, ready to leap out onto paper at any given moment.
Rudyard Kipling's study
Next to Kipling's study is the exhibition room; here is a collection of memories and personal items Rudyard once owned. His daughter, Elsie Kipling, chose the extremely precious objects to be displayed and wrote her own captions for each piece.
"If- " By Rudyard Kipling
The final room we visited upstairs was the bedroom of John Kipling, Rudyard's only son. As mentioned, John died in France during the First World War on 27th September 1915, aged 18. John's final correspondence to his parents is on display within the bedroom and is quite moving.
John Kipling's bedroom
Hiking the East Sussex Countryside
Bateman's is located in East Sussex, nearby the historic town of Battle and the seaside town of Hastings. This region of Sussex is ideal for hikes as it is in the High Weald (AONB), an Area of Outstanding Natural Beauty. To explore the trails in this region of East Sussex, the Ordnance Survey map that will help you along the route is no. 124, 'Hastings & Bexhill'.
Alternatively, why not purchase and download the OS Maps App, which covers all of Great Britain.
The enchanting gardens at Bateman's
Relax and soak up the scenery
The 12-acre gardens at Bateman's are magnificent, full of vibrant colours, beautiful scents and awash with different species of plants.

From the moment you enter Bateman's, you're greeted with the overflowing walled vegetable garden and lush fruit trees in the delicious orchard; it's stunning.
The Mulberry Garden
The garden that I fell in love with was the quintessentially English Mulberry Garden; it was like stepping into a children's fantasy garden. Creaky wrought iron gates lure you into a garden surrounded by a weather-beaten terracotta wall and a swathe of colour throughout, encompassing you like a warm blanket.
The vibrant borders in the Mulberry Garden
The immaculate formal lawns and fragrance fuelled Rose Gardens lead you alongside the lily ponds, down to the Wild Garden.
Strolling through the wild garden, which was once home to Kipling's tennis court, you are met with the charming watermill at Park Mill.
Garden at Bateman's
It is believed that there has been a mill on this site since the late 1200s. The renovated black and white weatherboarded mill you see today is beautiful. The working mill has been lovingly restored, and when you step inside, you get to see all the intricate workings and the tools that the millers would have once used.
Park Mill
If, like us, you enjoy visiting the National Trust gardens around the United Kingdom, then grab yourself a copy of the latest 'Gardens of the National Trust'.
It's a beautifully illustrated book, and it won't be long before you're planning your next trip.
To ensure we made the most of our National Trust membership, we also visited the enchanting
Bodiam Castle
, which is only 9 miles (14.5km) from Bateman's. Grab yourself a picnic or have a delightful lunch at one of National Trust's charming cafés, and you'll manage them both in one day.
Time for tea at Bateman's
Pick up your very own Kipling novel
It's such a pleasure strolling around Bateman's, and it's exceptionally maintained by the National Trust. The eye-catching oast house is now a charming shop selling plants, garden ornaments and some lovely gifts for your friends and family.
Bateman's oast house
If a little rest is required and you didn't bring your picnic to enjoy in one of the peaceful gardens, then pop into the Mulberry tea-room. Here you can pick up delicious delights made from the produce of their vegetable garden or a scrummy cream tea.
What I also like about National Trust sites are their second-hand bookshops. For bookworms amongst us, Bateman's Scullery bookshop can be found as a pop-up in the old kitchen in the manor house..
Scullery Bookshop
If you're intrigued by Sussex's fascinating past and weird and wonderful history around the county, then take a peek at "The A-Z of Curious Sussex".
You won't be able to put it down, you can pick it up for your Kindle or in good old paperback.
* This post may contain links to affiliated sites where we earn a small commission at no additional charge to you.
Ahh, thanks very much, yes, you'd love it. The house and especially the gardens are beautiful, you could spend hours just sitting in the gardens.