by Janis /
0 comments
- Orginally published:1st February 2022
A captivating medieval town full of beauty and history
Strolling around the tranquil ancient streets of Winchelsea is such a delight. You'd be forgiven for believing that this charming little town is a village as it is so petite and has such a solid tight-knit community feel.

However, Winchelsea in East Sussex has its own town mayor and was granted this status by Edward I around 1292. Therefore, the little town of Winchelsea counts itself as the smallest town in England and has a population of about 600 inhabitants.

Winchelsea sits high on Iham Hill and overlooks the magnificent countryside across the ruins of Camber Castle and its neighbouring picturesque, ancient town of Rye. Just a short hop away is the bustling seaside town of Hastings.
Why not Pin it for later?
- By Train
Winchelsea railway station is located 0.75 miles (1.21km) north of Winchelsea, around a 15-minute walk. Also, the bus no. 100 from Hastings and Rye stops in the town.
- By Car
Winchelsea is located on the A259 between Hastings and Rye, and free on-street parking is available.
A brief history on Winchelsea
From a shingle island to an Ancient Cinque Port
Many moons ago,
Winchelsea
was never located on a hilltop. The original Old Winchelsea was in a low-lying area of the shingle coastline and was slowly engulfed by the sea. The Great Storm in 1287 washed away many buildings, and Old Winchelsea became an island.
A historic home in Winchelsea
In 1288 a new site was allocated, and the inhabitants of Old Winchelsea moved to New Winchelsea atop Iham Hill in 1292. Winchelsea is quite unique in that it was created on a grid structure and the narrow roads and lanes criss-cross each other.

Many of the houses and ancient cottages in Winchelsea have wine cellars as the trade-in wine with France during the medieval period of the 1300s was quite prosperous. During this time, Winchelsea also had a flourishing fishing port.
The Cinque Ports sign
During the 12th-century, Winchelsea and Rye became a Cinque Port Ancient Town. Members of the Cinque Ports Confederation were responsible for providing ships and men to meet the naval requirements of the English Crown. The towns and ports were granted certain privileges and statuses in return for this.
There are five Head Ports, Dover, Hastings, Hythe, New Romney and Sandwich, two Ancient Towns Rye and Winchelsea and seven Limbs.
Visit Winchelsea's ancient gates
Welcoming Kings and their countrymen
When you first enter Winchelsea, you'll spot its old town gates. Originally there were four gates, of which three remain, Strand Gate, Pipewell or Ferry Gate and New Gate, which is slightly out of town.
Pipewell Gate
Traffic still passes through the single lane 13th-century Strand Gate; these incredible structures were built to last. When Strand Gate was initially constructed, it would have been a third higher and incorporated two portcullises.
Strand Gate
This gate would have welcomed through many of the King's soldiers and merchants, bringing in trading goods from the bustling port and harbour below the town.
Peering through Strand Gate
Through a tower in Strand Gate
If you're intrigued by Sussex's fascinating past and weird and wonderful history around the county, then take a peek at "The A-Z of Curious Sussex".
You won't be able to put it down, you can pick it up for your Kindle or in good old paperback.
Discover Winchelsea's hidden wine cellars
A taste of Bordeaux in East Sussex
As mentioned, Winchelsea was renowned for trading with Gascony in France for medieval Bordeaux wines. There are still quite a few of these ancient cellars dotted around the streets of Winchelsea, and the wooden entrances to the barrelled vaults can be seen from the roadside.
Wine cellar door was once the Salutation Inn
It is believed that the cellars were some of the first structures to be built in Winchelsea as the underground vaults pre-date the first houses constructed above them. The stone is thought to have been quarried and imported from Caen in Normandy.

Tours of these intriguing wine cellars are due to resume again this year.
Where to stay in Winchelsea
-
Matchbox
– Situated in the heart of Winchelsea is a delightful white weatherboarded holiday home. This tranquil house makes an ideal base for exploring the surrounding countryside and the towns of Rye and Hastings.
–
The Mermaid Inn
– Located in the nearby Ancient Town of Rye, this wonderfully historic inn dates from the 12th-century. It is overflowing with history, smuggling tales and ghosts.
Exploring the quaint streets of Winchelsea
Amongst the picture-postcard cottages
Winchelsea is such a peaceful town to amble around. It really has a small village feel and a friendly atmosphere. With locals out for their morning strolls saying hello and passing the time of day, one gentleman gave us a tip on where to grab a coffee and even suggested that we return in spring to tour the open gardens.
Five Chimneys
It has a welcoming 18th-century inn, a local village store and a magnificent central church. There's a delightful mixture of terracotta-tiled cottages, white weather-boarded houses and immaculately kept rose arbored homes with fine leaded windows.
The New Inn, Winchelsea
The beautiful old Court Hall is one of Winchelsea's oldest buildings; the lower floor was a gaol from the late 17th-century until 1879. Since the 1950s, the Court Hall on the corner of the High Street and Hiham Green houses the lovely museum on Winchelsea's local history for you to discover.
Winchelsea Court Hall
Continuing down the High Street in the direction of Strand Gate, turn left onto Castle Street. Along this picturesque street, you'll discover Winchelsea's Town Well, which was dug out in 1851 to save the residents carrying the water up the hill. It is brick-lined and drops down 130 feet to running water below.
Winchelsea Well
Strolling along Castle Street, turn right into Mill Street once again, passing by some stunning cottages and heading right onto Barracks Square. This street was named Barracks Square from the Napoleonic Wars when the Duke of Wellington's troops were quartered here.
Barracks Square
Hiking the East Sussex Countryside
Winchelsea is located in East Sussex, nearby the historic towns of Rye, Battle and the seaside town of Hastings. This region is ideal for hikes as it is close to the High Weald (AONB) and Romney Marshes in Kent. To explore the trails in this region of East Sussex and nearby Kent, the Ordnance Survey maps that will help you along the route are no. 124, 'Hastings & Bexhill' & 125, 'Romney Marsh, Rye & Winchelsea'.
Alternatively, why not purchase and download the OS Maps App, which covers all of Great Britain.
St Thomas's Church, Winchelsea
Spike Milligan's grave
The delightful church of St Thomas stands pride of place in the centre of Winchelsea and was named after the martyr Thomas Becket, the Archbishop of Canterbury.

St. Thomas Church was built at the same time as the town, and today only the chancel and chapel remain. However, the ruins around the church make it feel quite atmospheric.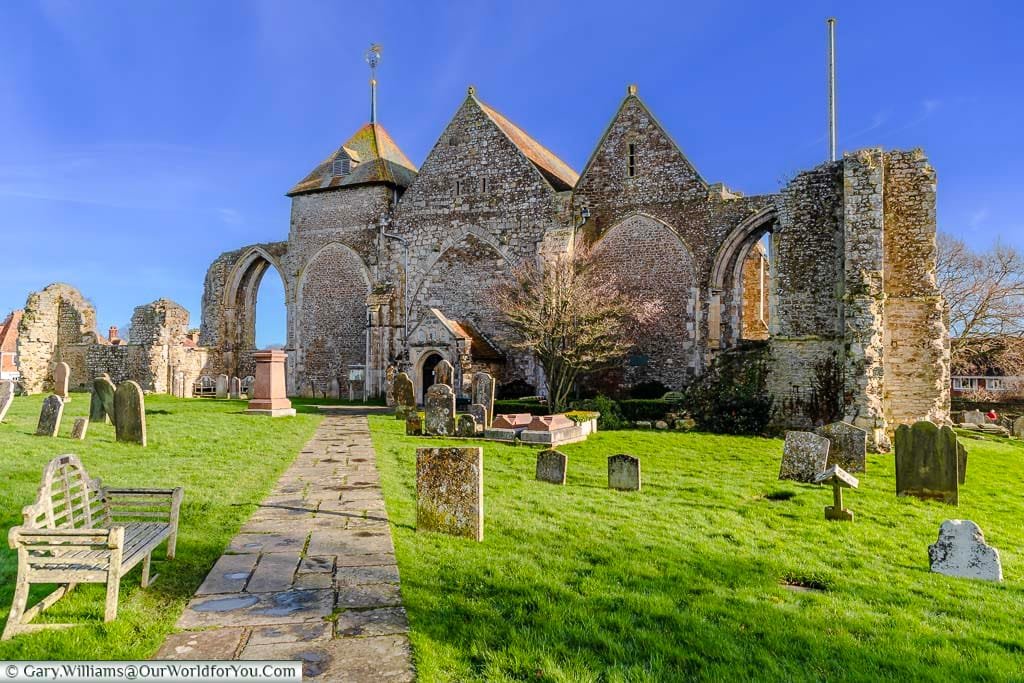 St Thomas's Church
The church fell into severe decay after several invasions by the French, and it wasn't until the mid-1800s that extensive repairs were carried out. The church is wonderful inside, and high above the church entrance is a magnificent church organ.
Inside St Thomas's Church
Stained glass window in St Thomas's Church
As you step out of the wooden church doors, weave your way along the path directly ahead of you and then carefully amongst the historic gravestones to the last resting place of Spike Milligan.

Spike Milligan was a hilarious British-Irish actor famed for his comedy and writing. Spike was renowned for his Goon Show sketches on radio and TV, amongst many other things.
Spike Milligan's headstone
Spike Milligan lived near Rye until he died in 2002; he wished to have the words "I told you I was ill' written on his headstone. However, the epitaph was refused, but as a compromise, it was written in Gaelic and read Dúirt mé leat go raibh mé breoite, a translation of "I told you I was ill".
Why not discover the delights of East Sussex; its castles, its coastline and its countryside and then relax in your own little hideaway.
Browse through the handpicked properties and unique retreats at Holiday Cottages.
More to discover in Winchelsea
Blackfriars Barn, John Wesley and Dame Ellen Terry
It's such a pleasure wandering around the attractive streets of Winchelsea; there are so many nooks and crannies to explore. Along Rectory Lane are the remains of the 14th -century Blackfriars Barn and Cellar, now managed by the
National Trust
. The barn ruins are believed to have belonged to the local Dominicans, the Black Friars; within the cellar are images of 12 ships believed to be medieval graffiti.
Blackfriars Barn
Directly opposite Blackfriars Barn is the Methodist Chapel erected in 1785 and where John Wesley preached on several occasions. John Wesley was a British Cleric, and a leader of the Methodist movement set up within the Church of England.
John Wesley's Chapel
Heading back towards Strand Gate and sitting high on the corner overlooking the stunning landscape of East Sussex is Tower Cottage.

Tower Cottage was built in the early 17th-century and where the Duke of Wellington stayed when he assessed his troops during the Napoleonic Wars.
Tower Cottage
Fast forward to the 19th-century, and this delightful cottage was home to the famous English Shakespearean actress Dame Ellen Terry from 1896 to 1906. During Ellen's time at Winchelsea, she ran a stage school for local children at the Court Hall.
We have created a little YouTube video of Winchelsea - why not check it out?
Also, why not subscribe to our YouTube channel and get the latest clips as we post them?
* This post may contain links to affiliated sites where we earn a small commission at no additional charge to you.