A few hours in Nice, France
A captivating city that deserves so much longer
The reason that we were only in Nice for a few hours is that we were visiting there as part of a day out and about touring around the Côte d'Azur. Although, it has certainly given us a taster to want more of the delightful city.
Your first impressions of Nice, whether you're flying into the coastal airport or driving along the stunning French Riviera, is the sweeping shoreline, it's beautiful.
The welcoming bay stretches for what appears to be, miles and miles, and it's almost irresistible for a dip.
If you love Provence as much as we do, you'll want to start planning your visit now. I so enjoy using the DK Eyewitness books, as they are extremely informative, easy to follow and the pictures and maps tempt you into discovering more.
We used a previous version of this book to plan our Provencal road trip, now you can grab the revised copy.
However, what Nice really won me over with, was its rustic charm. It has the elegant promenade, the swaying palm trees and grand boulevards, but step one or two roads back and you're into the charming lanes and lived-in streets that are so appealing.
Although this is a busy city with tourist and visitors alike, you still feel that Nice is continually bustling with locals, getting on with their day to day lives.
Cave Pierre Bianchi & Cie
You can imagine the wealth and glamour of years gone by. But Nice has not been left to decline, to me, it has the earthiness of "love me for what I am" and has not been polished up around the edges.
Life in Nice amongst the streets and lanes is so alluring, you feel like the city is keeping something back for itself. And don't get me started on the incredible architecture, wow.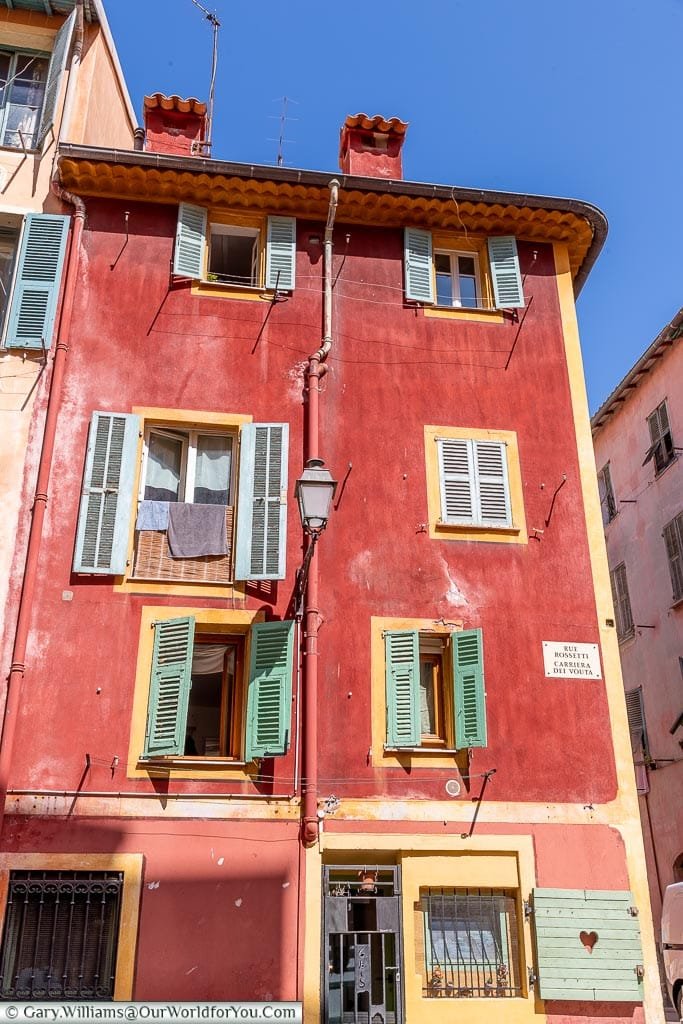 Discover more of France and create your own memories? It's so easy to do this on a road trip,
Rental Cars
searches multiple well-known car hire brands and discovers the deals that suit you the best.
Well, where do you start? For us, we just wanted to take in the atmosphere, walk and enjoy the hustle and bustle. So, we went for our own little promenade along the bay, then into the Old Town.
Wandering up via Place Massena and around the Fontaine du Soleil. Strolling in and around the streets by the Hôtel de Ville, the Opera house and passing by a very quaint confiserie of Henri Auer, which has been trading since the mid-19th-century.
Visited Nice and discovered any wonderful places to see or restaurants to enjoy. I'm sure we'll be back, I'll add them to my wish-list?
Heading a little further and we are in Cours Saleya a very traditional town square, where the local market traders sell their wares. Not only are they selling beautiful aromatic flowers, but there's incredibly fresh fruit, dried chillies and aubergines and of course garlic.
It is all so tempting, I just loved wandering around here and couldn't resist buying a couple of nectarines.
Grapes at Cours Saleya market
Fresh fruit at the market
Grab a bottle of water and keep yourself topped-up.
With the Côte d'Azur sunshine beating down upon us, there was only one thing for it, ICE-CREAM. So, we head to Fenocchio's ice-cream parlour in Place Rossetti. Fenocchio serves 94 flavours, 59 of them are ice-creams, and 35 are sorbets, some quite weird like cactus or thyme.
I'm a bit of a traditionalist when it comes to ice-cream, this is a serious matter. Gary is one for the more exotic flavours.
Janis and an ice-cream from Fenocchio
Cathedral of Saint Reparata
In the same charming square as Fenocchio's ice-cream parlour is the Cathedral of Saint Reparata. Place Rossetti is such a pretty square, you'll just want to sit down and watch the world go by.
Start creating your own French adventure and discover the beautiful Côte d'Azur for yourself, by, jumping on Le Shuttle and tour through France under your own steam.
After our sugar hit, it's now time to climb the hill. Castle Hill in fact, which overlooks the whole of Nice and gives incredible panoramic views along the Promenade des Anglais and the terracotta rooftops below.
Now, I need you to take my word for this, the previous day we drove along the promenade, and we could see an amazing waterfall cascading near the top of Castle Hill. Well, we arrive (I say arrive, I'm a bit exhausted by this point) and the waterfall wasn't working. I couldn't believe it, as it was only the day before that we saw it. We hung around for a while just in case it was our bad timing, but no, this "must see" was a definite "must not see".
The main fortification of Nice Castle was destroyed in the 18th-century; however, you can still see its ancient ruins and stroll around the gardens.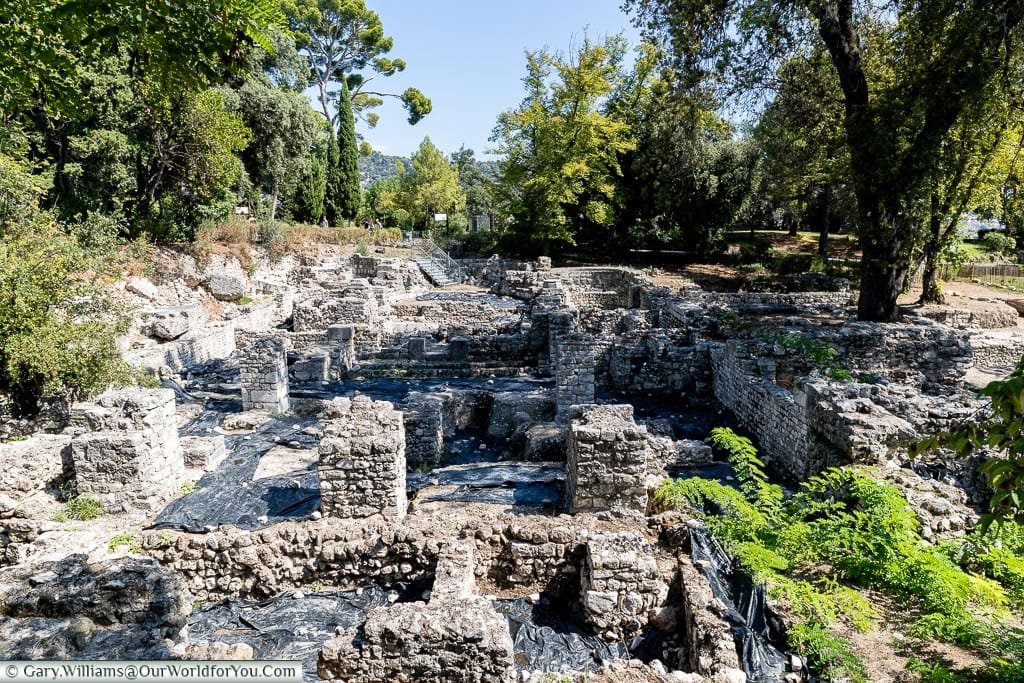 There is a train line that runs along the Côte d'Azur, with incredible views and it stops at some very picturesque towns en route. We were staying at Villefranche-sur-Mer, a couple of stops along the bay and this stunning old fishing town is most definitely worth a visit.
I highly recommend heading up Castle Hill, as the views alone are worth it.
There are few options of getting to the top of the hill, the first is to walk (which I'm proud to say we did), secondly; you can get the dotto train (which I'm proud to say we didn't). However; the third is to get the elevator up, which until I got back down to the bottom, I didn't know existed (and I believe it's free). But, hey I needed the exercise.
Nice harbour, Nice, France
Would you like a little more?
We have created a little YouTube video of Nice - why not check it out?
Why not subscribe to our YouTube channel and get the latest clips as we post them?
Until we meet again, as I'm sure there will be a next time.
During our trip, we also visited the charming hillside village of Tourrettes-sur-Loup. This is a quaint village, not to be missed.
(These options are provided by GetYouGuide.Com. We will earn a small commission, at no extra cost to you if you book through our site)
Like us, base yourself at the beautiful Riviera bay of Villefranche-sur-Mer and enjoy a few hours exploring the charming lanes of Nice.
Search for your flights in one easy place with
ebookers.com
and open up a world of options. Over 400 airlines are scanned for your favoured routes and chosen dates.
(Why not Pin It for Later?)
* This post may contain links to affiliated sites where we earn a small commission at no additional charge to you.