Tourrettes-sur-Loup, France
A delightful medieval hillside village
So, you're in the glorious South of France, you've toured along the beautiful Corniche in the Côte d'Azur and blown your money away in Monaco. And now you fancy heading up into the hills and cruising around the twisting lanes.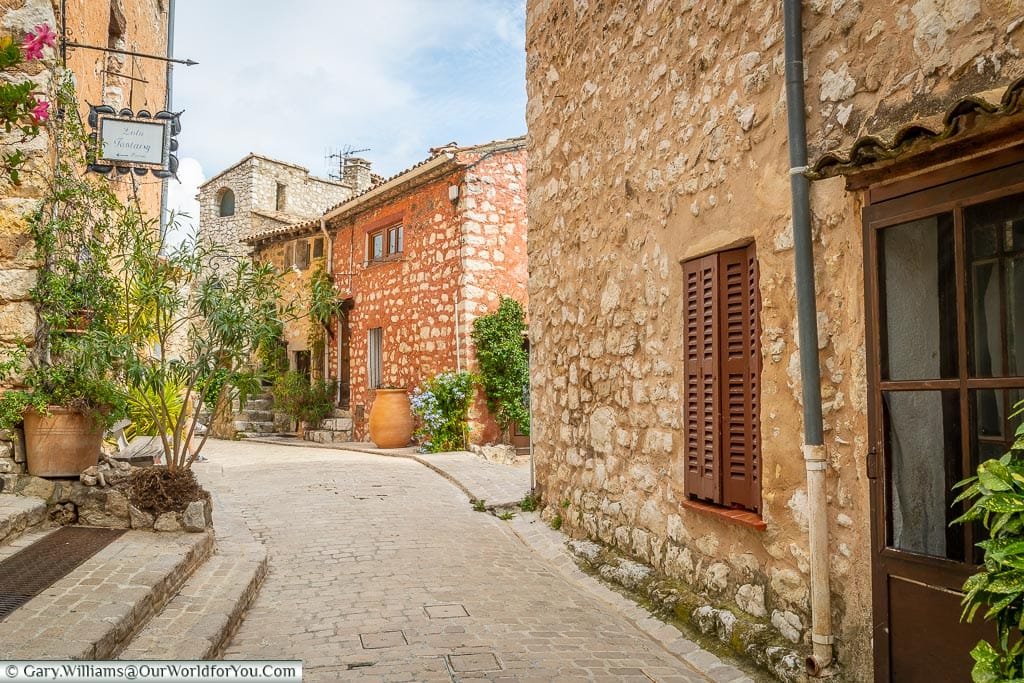 So peaceful - Tourrettes-sur-Loup
You may have heard of the picturesque villages of Èze and Saint-Paul-de-Vence; however, we also came across the charming hillside village of Tourrettes-sur-Loup.
If you love Provence as much as we do, you'll want to start planning your visit now. I so enjoy using the DK Eyewitness books, as they are extremely informative, easy to follow and the pictures and maps tempt you into discovering more.
We used a previous version of this book to plan our Provencal road trip, now you can grab the revised copy.
I'd not heard of it before but that wasn't going to stop us from making a visit, and I'm so pleased that we did.
There's a little car park in the middle of town, and this is just next to the historic village. So, we jumped out and went for a stroll. Whether we were just lucky on the timing, I'm not too sure, but we couldn't believe how quiet it was.
We wandered through the historic archway and into the maze of tiny little-cobbled lanes. We almost felt like we were disturbing the local cats.
Visited any beautiful towns or villages in southern France, that you'd love to share? I'll add them to my wish-list?
Tourrettes-sur-Loup was so charming, quaint medieval homes with window boxes overflowing with roses. I just love the blue shutters that you so often see through France.
Lucky enough I'm quite short, so ducking under the ancient stone buildings wasn't an issue for me, but "mind your head".
We strolled all around the little lanes admiring its picturesque charm, and the beautifully kept homes. Still unsure where everyone was, we certainly weren't complaining it was incredible.
Lovely little art galleries, craft shops and boutiques sympathetically line the ways.
Discover more of France and create your own memories? It's so easy to do this on a road trip,
Rental Cars
searches multiple well-known car hire brands and discovers the deals that suit you the best.
As far as the eye can see
Tourrettes-sur-Loup is built high on a hillside so as we head further through the village, we're drawn to a glimpse of the views beyond.
The view of the landscape from Tourrettes-sur-Loup
The landscape in southern France is wonderful and to be greeted with the view of the rolling hills as we peak around a corner was beautiful.
Start creating your own French adventure and discover the beautiful Côte d'Azur for yourself, by, jumping on Le Shuttle and tour through France under your own steam.
Continuing through the village, it gets prettier and prettier, we just couldn't stop taking photos. As Tourrettes-sur-Loup is perched on an outcrop, all the cobbled lanes meander around in a half-moon shape, with alleyways trickling off either side.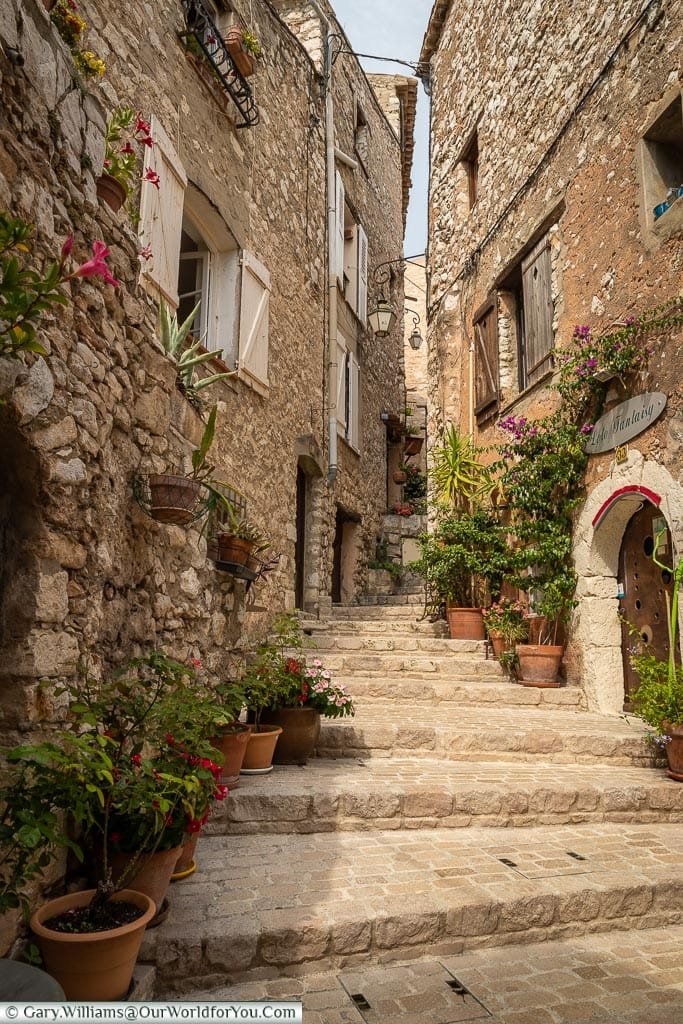 We then head into the main village square, with its customary Hotel de Ville, any French town or village wouldn't be 'worth its salt' if it didn't have a Hotel de Ville.
We really enjoyed visiting Tourrettes-sur-Loup it was certainly worth the detour. Hopefully, you're as lucky as us and manage to dodge the crowds.
There isn't a huge amount of car parking in the town, so you may have to be patient.
Would you like a little more?
We have created a little YouTube video of Tourrettes-sur-Loup.  Why not have a wander around with us?
You can subscribe to our channel and get the latest clips as we post them too.
Inspired to visit Tourrettes-sur-Loup?
Like us, base yourself at the beautiful Riviera bay of Villefranche-sur-Mer and enjoy a few hours exploring the charming hillside villages.
Why not checkout the latest deals on Booking.Com?
(Why not Pin It for Later?)
* This post may contain links to affiliated sites where we earn a small commission at no additional charge to you.