A trip to Camden Market, London
A vivacious labyrinth of vintage, vinyl and damn right stylish
Having worked in London for several years and visited as a tourist on so many occasions that I've now lost count. I can't believe that I've only headed to Camden Market twice.
One entrance to Camden Market
Perhaps it's that Camden portrays the hip, cool and trendy vibe, and I'm not too sure if I ever mastered that, or now, ever will.
Discovering Camden Market
However, we thought sod it, let's go, surely no-one would mock my rara skirt and leg warmers (only joking).
Camden Lock Market first threw open its warehouse doors on 30th March 1974. The market started from a converted run-down timber yard, by the banks of Regent's Canal.
Initially trading with 16 stalls, today the market is a flourishing hive of eclectic activity. Camden Market is open 364 days a year and sees an incredible 28 million visitors annually. This is such a credit to the continually evolving market.
Want to discover more than about London?
We have a little book on our shelves that we sometimes delve into when we're about to hit an area of London.
Packed full of historical facts, and broken down into the different regions of London, it's a great resource to help you see what's hidden in plain sight.
Available in Kindle & Hardback editions, it's an excellent addition to anyone's collection who loves London.
There's always smiles in Camden
A grey London day didn't dampen our spirits. As we strolled nearer to the infamous "Camden Lock' railway bridge, you could feel the vibe of the area, it was friendly, relaxed and welcoming.
Camden Lock Railway Bridge
People from all age groups and different walks of life ambling around, just soaking up the atmosphere and going with the flow. As the markets seamlessly wind their way from one to another.
Camden Lock Place and railway bridge
Some of the stalls here are fascinating, there is so much imagination and creativity put into producing these unique gifts.
Every so often, I would get distracted by something a little quirky and just wander off amongst the maze of passages. It was so immersive; you keep heading deeper and deeper inside.
Everything you need to know
Majority of the stalls and boutiques are undercover, so there's no fear of fending off the good old English weather. As you stroll further through the themed lanes, you get a true sense of a community amongst the locals.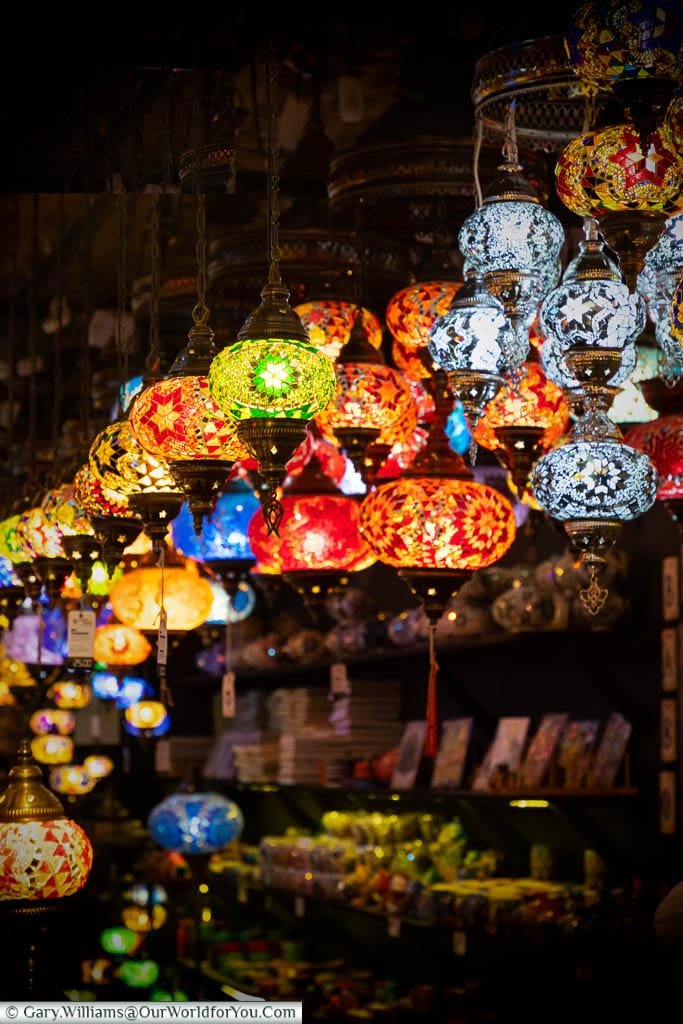 Colourful mosaic brass lanterns
The faint smell of joss sticks floated through the air as we passed enchanting mosaic lanterns teetering above our heads. Fluttering handmade candles and crafted gothic gifts.

There was even an Egyptomania area if pharaohs are your thing.
I loved it around by the Horse Tunnel Market. Full of vintage clothes, new clothes, antiques, street art, crazy hats, and even a wall of pre-loved gentlemen's leather shoes all weaved in together.
You can never have too many hats
I just couldn't get enough of the whole character of the market. You wander seamlessly from one cubicle to the next, hand-painted street art t-shirts, comic strip prints. Then artisan jewellery standing shoulder to shoulder amongst old LP's and vintage cameras.
Prints and posters in Horse Tunnel Market
What's not to love about Camden Market?
To slightly mask the fact that part of Camden Market is set within old brick railway arches, a couple of the lanes were adorned in the skies with vibrant umbrellas and curved draped canvas sails.
Vibrant umbrellas through Camden Market
To be perfectly honest, I think to be within earshot of the trains bumping and jolting on tracks overhead, brings a unique earthy feel to your burlesque shopping experience, don't you think?
If you've yet to discover London and its ancient history, then let's start planning. I find these DK Eyewitness Travel Guides invaluable. They're extremely informative, easy to follow, and the pictures and maps tempt you into discovering more of those fascinating sites.
You can now grab a recently revised copy of this guidebook, so you won't miss a thing.
What Gary and I didn't expect while strolling through Camden Market was to hear the dulcet tones of Dean Martin.
Italian Alley in Camden Market
Ahh yes, as we sauntered into Italian Alley, we were greeted by the incredible aroma of freshly ground coffee beans. Followed by the sweet scent of Italian snacks, although the only item of cuisine I was eyeing up, was the gelato.
An ice-cream from Gelati Pepino 1884
I didn't care that it was January, ice-cream time is anytime.
Around North Yard and Stables Yard
Camden Market has grown so much over the years, there are nooks and crannies everywhere. Strolling out into open air of the North Yard, the shops are slightly larger; however, no less quirky.
Shops in the North Yard at Camden Market
Along here are even more food stalls, there is such an incredible selection of freshly prepared dishes, you are truly spoilt for choice. For those of you with a sweet tooth, you'll surely get a sugar rush at Hans & Gretel.
A trip to Camden Market wouldn't be complete without a visit to the iconic statue of Amy Winehouse. Ohh, and of course, Cyberdog, who could forget that?
Amy Winehouse statue in Camden Market
Cyberdog in Camden Market
Please share with us the markets you've enjoyed in London and drop us a
comment
below. We always love to visit more.
Would you like a little more?
We have created a little YouTube video of our visit to Camden, and a good look at the Camden Market.
Why not subscribe to our channel and get the latest clips as we post them?
* This post may contain links to affiliated sites where we earn a small commission at no additional charge to you.
Inspired to visit Camden Market?
Visit the captivating lanes of Camden Market, grab your overnight bag and enjoy a day rummaging around for that unique special buy.
(Why not Pin It for Later?)
If you enjoy what you see, and you'd like regular updates then join us for a monthly newsletter.