by Janis /
0 comments
- Orginally published:15th March 2022
Chartwell House is located in a beautiful region of Kent and has exceptional views across the picturesque Wealden countryside. It's incredibly easy to see why Sir Winston Churchill and his wife Clementine fell in love with it.
Chartwell is very secluded and must have offered the Churchill family a tremendous amount of privacy. Every section of the estate has been extremely well thought out, from the tranquil hidden ponds and magnificent lake to the enchanting walled garden and the croquet lawn.
It's such a pleasure strolling around the estate as there are so many distinctive areas that you'll want to just sit back and enjoy and will bring a smile to your face.
Why not Pin it for later?
Keep an eye out for Chartwell's resident cat Jock VII. Jock VII, a rescue kitten, is the latest feline to reside at Chartwell and was welcomed in May 2020 when his maturing predecessor retired from the role to live a more peaceful life. Winston requested that there will always be a marmalade-coloured cat with a white bib and four white socks residing on the estate.
Jock VII
- By Train
Chartwell is slightly remote; therefore, the nearest train stations are Edenbridge (4 miles), Oxted (6 miles) and Sevenoaks (6 miles). Sevenoaks has a regular service from London and a taxi rank for that final hop.
- By Car
Chartwell can be accessed from the A25 near Westerham. There's a free car park for National Trust members, or parking charges apply to non-members visiting Chartwell.
A little history on Chartwell
A country manor house with an air of grace
The estate dates back to the 14th-century and has been built upon since the 16th-century. Amazingly sections of Tudor brickwork are still visible on the external walls.

Winston Churchill acquired the striking manor house in 1922 and, after extensive restoration, moved in with his family in 1924. Winston lived at Chartwell for many years, skipping a few during the Second World War and remaining until shortly before his death in 1965.
Chartwell House
The upkeep of Chartwell was proving to be very expensive; it was agreed that a group of businessmen would purchase the home in 1946/47, which was then offered to the National Trust. The only condition was that Winston and his wife could continue to live there.

Chartwell House was opened to the public in 1966 and was designated as a Grade I Listed Building in 1975.
Exploring inside Chartwell House
Bringing elegant history alive
Stepping through the original wooden door from 1923, you're walking in the footsteps of Sir Winston Leonard Spencer Churchill. One of the UK's most influential Prime Ministers.

The interior of Chartwell House is decorated as it was in the 1930s. Still, today, if any alterations need to be made, the National Trust discuss them with the Churchill family first.
Chartwell House entrance
The first room we enter is Lady Churchill's Sitting Room decorated so tastefully with duck egg blue walls and adorned with many paintings by Sir Winston.
This room later became Lady Churchill's bedroom, and with the stunning views from the 'Pink' Terrace across the Weald of Kent, I don't blame her.
Lady Churchill's Sitting Room
We then wander through the hall and into the attractive Drawing Room, which overlooks the acres of garden. The Drawing Room feels a little more informal and where the Churchill family would relax and meet their guests and where Winston would play the card game bezique.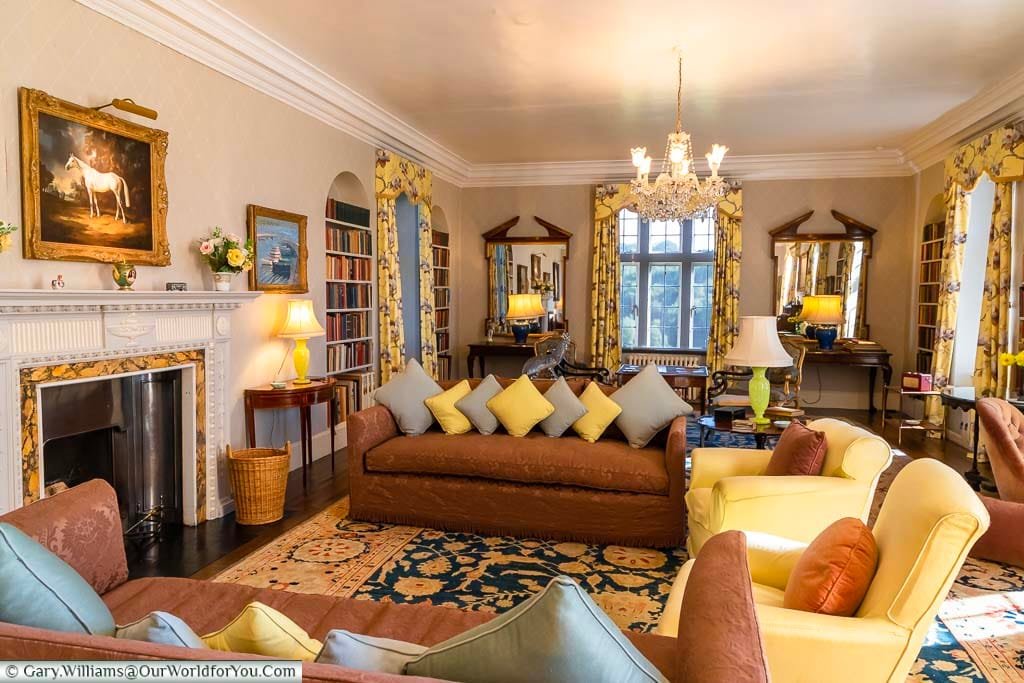 The Drawing Room
The library is our next stop and contains rows and rows of floor to ceiling bookshelves full of fascinating reads and historical reference books. This once peaceful retreat has a wall-mounted model of the Port Arromanches detailing the Mulberry harbour from the
Normandy Landings
. Sections of the harbour can still be seen today in Arromanches.
Chartwell Library
Wall-mounted model of the Port Arromanches
Where to stay in nearby Westerham
-
Willow Cottage
– This beautiful holiday home with exposed beams is in the heart of Westerham and surrounded by some delightful restaurants and shops. It's around 1.7 miles from Chartwell and offers free parking.
-
The Kings Arms Hotel
– This charming pub is in the centre of the historic town of Westerham. It has plenty of amenities on your doorstep and offers a full English breakfast. It's around 1.7 miles from Chartwell and offers free parking.
The first floor of Chartwell awaits
From the boudoir to the study
As you stroll around Chartwell, ensure you talk to the Room Stewards. They are so passionate about Chartwell and love chatting and divulging fascinating snippets of information regarding the Churchill's and the house.

Heading up to the first floor we pass by some amazing black and white photos of notable Lords and a delightful statue of Churchill.
Statue of Churchill
We then enter the charming bedroom of Lady Churchill. The barrel-vaulted ceiling gives a wonderful height to the room, which has breath-taking views over the far-reaching Kent countryside.

It almost feels as though Clementine Churchill has just stepped out of the room. Every detail was in place on her desk and not a hairbrush out of place on her dressing table.
Lady Churchill's Bedroom
Also on the first floor, are three guest rooms which were converted in 1966 to a Museum Room and a Uniform Room. Churchill had always planned on creating a small museum at Chartwell to share his many pictures, gifts he'd received from around the world, other significant keepsakes, and memorabilia. Of course, a collection of his many hats and military uniforms.
The Museum and Uniform Rooms
One of Churchill's many uniforms
Winston Churchill's Study
The Churchill's entertaining at Chartwell
If only walls could speak?
The final floor in Chartwell House is the lower ground and where the elegant Dining Room and the bustling kitchen reside. Although many important gatherings would have taken place here in the dining room, it feels quite intimate and personal.
Chartwell's Dining Room
The purposely designed circular wooden dining table stands gracefully in front of the striking arched windows. It overlooks Chartwell's manicured garden and lake beyond. It's a beautiful spot in the house and is understandably chosen for its views.
Chartwell's Kitchen
Just beyond the dining room is the heart and soul of most houses, and that's the kitchen. Full of shiny copper pans in all shapes and sizes, a well-used heavyweight stove and a simple butler sink.
"Never was so much owed by so many to so few"
The final room of the house is a permanent exhibition to Sir Winston Churchill and his achievements during his life. The stories and photos are intriguing to see and portray such a remarkable and diverse life story.
Are you looking for that 'perfick' holiday hideaway to relax in while you discover the Garden of England?
After a day exploring the Kent coast and its many historic castles enjoy one of the handpicked properties and unique retreats at Holiday Cottages.
Sir Winston's studio
Churchill's largest single collection of paintings
I truly enjoyed visiting Chartwell House; it had been somewhere I wanted to explore for years; however, Churchill's passionate and emotive studio was stunning.
Inside Churchill's studio
As soon as we stepped into the studio, I felt a sense of calm. I love art, and visiting Churchill's personal studio had such an air about it.

It's unbelievable to comprehend that Churchill didn't start painting until 1915 when he was in his 40s. There were so many vibrant paintings from his travels in Italy, Marrakech, and the Middle East. They were often completed within a matter of hours.

Sir Winston continued painting for a further 50 years and produced over 500 canvasses. This studio at Chartwell contains the most extensive single collection of Churchill's artworks.
Just how Churchill would have left it
If you're intrigued by Kent's weird and wonderful history, or all unusual stories around the county, then take a peek at "Kent's Strangest Tales".
You won't be able to put it down, you can pick it up for your Kindle or in good old paperback.
Chartwell's gorgeous gardens
Exploring the estate
When you first approach the beautiful gardens at Chartwell, you are set off on a voyage of discovery. Your inquisitive mind wants to explore every hidden corner, its numerous tranquil ponds, and each perfectly scented flowerbed.
Chartwell swimming pool
On your stroll to Chartwell House, you'll spot the large circular swimming pool built in the 1930s and used by the Churchills during Kent's beautiful summers. Although just in case the British weather wasn't reliable, Winston ensured the swimming pool was heated.
Golden Orfe Pond
Meandering further around the winding path and you'll spot the Golden Orfe Pond where Winston used to feed his fish amongst the lush vegetation of Gunnera and Acers. Also, near here is the Gavin Jones water feature.
Lady Churchill's Rose Garden
After touring Chartwell House, we stepped out onto the exquisite terrace and into Lady Churchill's Rose Garden.
The charming rose garden has a beautiful backdrop of the country manor and a characterful old wall. I can imagine in the summer months, when the fragrant roses are in full bloom, they'll look stunning.
We'll have to return!
Marlborough Pavilion
Just down from the rose garden is the Marlborough Pavilion and the terraced lawns, immaculately kept by the National Trust.

Strolling a little further around the estate, you'll discover the croquet lawn, which was once a tennis court. The croquet was more of a passion for Clementine than Churchill.
Croquet Lawn at Chartwell
If, like us, you enjoy visiting the National Trust gardens around the United Kingdom, then grab yourself a copy of the latest 'Gardens of the National Trust'.
It's a beautifully illustrated book, and it won't be long before you're planning your next trip.
Chartwell's Walled Garden
Wandering the walking trails
The garden I especially loved was the gorgeous Walled Garden.

We amble amongst the fruit-filled orchard and brush past the bursting lavender beds, full of bees and butterflies. Then step through into the captivating Walled Garden, built by Winston Churchill's own fair-hands between 1925 and 1932.
Lavender within the Walled Garden
Swiss Chard ready for harvesting
Today the walled garden is full of seasonal, vibrant blooms, delicate wispy planting and an incredible amount of fruit and vegetables. The home-grown produce, once harvested for the Churchill family at Chartwell House, now keeps the provisions at the welcoming onsite café stocked up at the estate entrance.
The Walled Garden at Chartwell
Once you've explored Chartwell House and its splendid gardens, then venture off onto one of Chartwell's walking trails. You'll discover a treehouse, a Canadian Camp (created in honour of the Canadian troops stationed at Chartwell), a Doormouse Den and a Second World War bomb crater.

Oh yes, keep a lookout for the tactile statue of Winston and Clementine, which is down by the lake. It was created by the Croatian sculptor Oscar Nemon.
The Churchills
We have created a little YouTube video of Chartwell  Why not take a look?
Also, why not subscribe to our YouTube channel and get the latest clips as we post them?
* This post may contain links to affiliated sites where we earn a small commission at no additional charge to you.