The D-Day Landing Beaches, Normandy, France
A poignant time for reflection
One of the reasons Gary and I wanted to return to Normandy, was to visit the D-Day Landing Beaches of Utah, Omaha, Gold, Juno & Sword and pay our respects along the way.
The Normandy Landing beaches
My grandfather had been fighting in North Africa & Italy during the Second World War with the 8th Army, and I am eternally grateful that my 'Pop' survived, but for him, as he got older the memories became more painful.
Stories of his recently made friends 'for life' from a Welsh battalion singing "Land of My Fathers" was unbelievably moving. I still remember exactly when & where we were sitting when he told us of the horrific atrocities that befell them.
Peace at last - Bayeux Commonwealth Cemetery
We should never forget the immense sacrifice that men and women from many nations laid down before us. Gary and I wanted to remember, and we wanted to be reminded.
Our journey started at Pegasus Bridge the east of the D-Day Landing Beaches.
This was where soldiers first set foot on Normandy soil, late on 5th to 6th June 1944 and where Operation Overlord began.
Monument to Pegasus Bridge
Bénouville Bridge was captured within 10 minutes by the 6th Airborne Division and as a tribute to the British Troops became known as Pegasus Bridge. The original bridge is a memorial in the museum.
Pegasus Bridge
The museum is very touching; there are some incredible personal stories told by young and old.
Pegasus Bridge in its new home
What was very encouraging to see was the number of families here, parents ensuring that their children also learn, and remember, why we have the freedom we do today.
The open roads await, pop in your location details then
Rental Cars
will search well-known car hire brands and discover the deals that suit you the best.
Sword Beach is one of the two beaches that British Troops landed upon on 6th June 1944, prior to them capturing the nearby towns, close to Pegasus Bridge.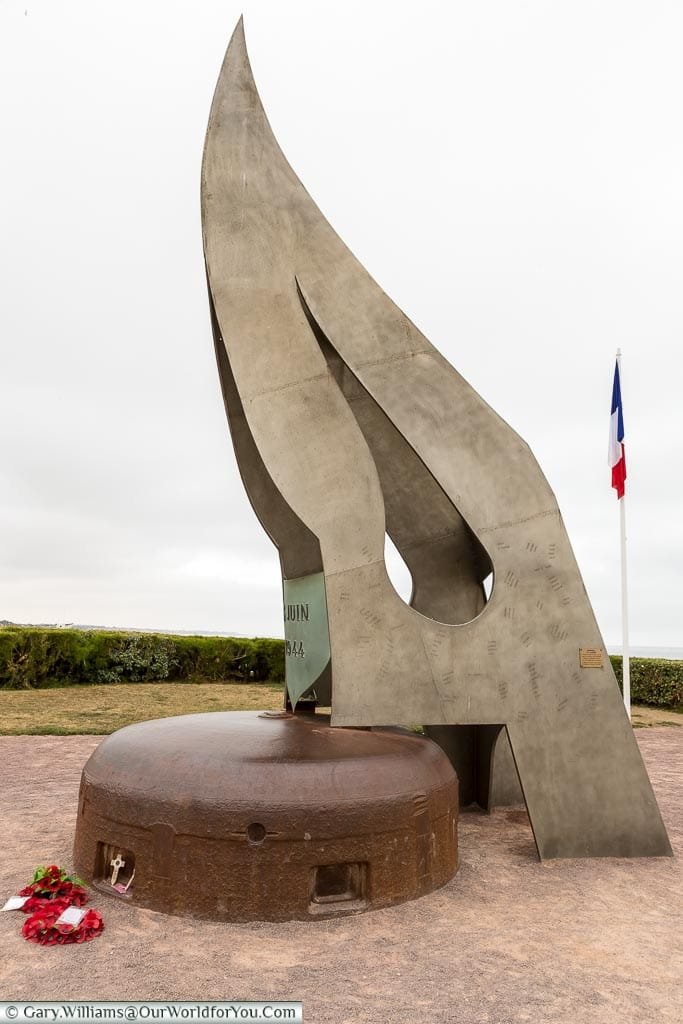 Monument to the fallen - Sword Beach
It's impossible to imagine the thoughts that were passing through the minds of the soldiers that descended on to these beaches. The impending assault was just moments away.
As we headed west along the Normandy coastline, there are memorials all along the way and strong reminders of the past.
Juno Beach was the point of entry for the Canadians, and a very hard battle was fought here, with them losing 50% of their forces in the first hour of assault.
The sandy dunes that we stroll along today hold so many poignant stories, particularly for the 10 Platoon "B" Company The Royal Winnipeg Rifles, as the bunker/pillbox that was captured by them was named after their Lt. W. A. "Cosy" Aitken.
Cosy's Bunker - Juno Beach
Further west we arrive at Gold Beach the second beach to be captured by British soldiers. What the troops achieved here in the bay of Arromanches is astounding.
Remnants of the Mulberry harbour - Arromanches
As Gary & I stand high above the bay, we see the magnitude of the artificial Mulberry harbour that was created in a 5-mile arc. In 100 days, the new "Port Winston" landed 220,000 soldiers, 39,000 vehicles and 530,000 tons of supplies, amazing!!!
The Mulberry harbour - Arromanches
Founded by the Commonwealth War Graves Commission, Bayeux cemetery is the last resting place for over 4,000 soldiers. Amongst the manicured graves are not only British troops but also Polish, Russian, Italian, Czech & French.
Their name liveth for evermore - Bayeux
We were amongst just a handful of people that were showing their respects, and the peacefulness was just occasionally broken by chirping birds.
Portland headstones at the cemetery in Bayeux
The age of these young men was astounding, so many lives unlived. No matter what their rank or background all these soldiers lay side by side with their comrades.
Polish and Russian Allies remembered - Bayeux
An Aircrew - together - Bayeux
The coastline at Omaha Beach
Omaha Beach is probably the most poignant of the American beaches as a heavy loss of life was brutally taken here.
For the allies to conquer Omaha Beach they had to combat the cliff-like slope facing them, this exposed them immensely to the enemy.
Normandy American cemetery
Positioned high above Omaha Beach, the Normandy American Cemetery literally does take your breath away.
Frank D Peregory - Medal of Honor, Normandy American Cemetery and Memorial
When you see lying before you, row after row, after row, of symmetrical white crosses, the magnitude of the ultimate sacrifice that our loved ones undertook, stops you in your tracks.
It is unbelievably moving, standing in front of the headstones of 9,387 fallen soldiers.
Normandy American Cemetery and Memorial
Try not to be rushed here; time needs to be dedicated to respectfully wander amongst the thousands of names.
The Spirit of American Youth Rising from the Waves - Normandy American Cemetery and Memorial
You'll notice the British & Americans headstones differ in the person they remember.
The British record
Regiment emblem, Service number, Rank, Initials & surname, Regiment, Date of death, Age at death
The Americans record
First name, initials & surname, Rank, Regiment, Home State, Date of death
What I found most heart wrenching, were the memorials to the Soldiers with no names, but remains and to the Soldiers with names, but no remains.
The Omaha Beach D-Day Memorial
To those who have no grave - Bayeux
We love visiting France and each region so different from one another. I find the DK Eyewitness Guides really helpful in planning a trip and so often find interesting little snippets of info.
Take a peek at this revised Top 10 Pocket Travel Guide and see what you can discover.
Would you like a little more?
We have created a little YouTube video of the day. Just under 5 minutes if you fancy checking it out.
Why not subscribe to our channel and get the latest clips as we post them?
Something from Get Your Guide?
Why not check out what else is on offer through Get Your Guide.
(These options are provided by GetYouGuide.Com. We will earn a small commission, at no extra cost to you if you book through our site)
Visited the region? Or is it something you'd like to do? We think it's important to remember those who gave the ultimate sacrifice, and their friends who carried their memories.
* This post may contain links to affiliated sites where we earn a small commission at no additional charge to you.
Inspired to visit the Normandy Beaches?
We visited from Caen, but Bayeux would make an equally attractive base to explore the area.
Why not check out the latest deals on Booking.Com?
(Why not Pin It for Later?)
If you enjoy what you see, and you'd like regular updates then join us for a monthly newsletter.