by Janis /
8 comments
- Orginally published:17th December 2019
Charles Dickens, sticks of rock and the Clangers...
... does it get any more English?
I can see why Charles Dickens fell in love with Broadstairs. Beautiful views across sandy Viking Bay, waves were crashing the shoreline and an elegant clifftop promenade.
If you are in need of some quaint seaside nostalgia, then Broadstairs is waiting for you.

Spending my early childhood growing up in Kent, I remember visiting Broadstairs with my family. I'm not too sure if Dickens was at the forefront of my mind; however, ice-cream and crabbing from the harbour indeed were.
Why not Pin it for later?
Victoria Parade and Gardens
Enjoyable recollections of dangling hooked orange twine into the quay, with the expectation of a great catch. Only to lasso some seaweed onto a barnacle on the harbour wall. Oh, yes "the one that got away" was huge…..
The open roads await, pop in your location details, then
Rental Cars
will search well-known car hire brands and discover the deals that suit you the best.
Discover Broadstairs's charm whatever the weather
A golden, sandy beach never disappoints
Today, Broadstairs still hasn't lost its bucket and spade charm with the young and old. The summer sunshine may not be beating down on the golden sandy beach. Nonetheless, there is something quite special in visiting these seaside towns on a bright crisp winters' day.
Children are running up and down the sand chasing their dogs and couples promenading along the clifftops, snuggled up in their hats and gloves.
Broadstairs still has the rustic charisma of centuries gone by. You could almost envisage smugglers drifting around the bay under the flicker of dim light, ready to unload their bootlegged rum and doubloons. Or is it just me.
Exploring Broadstairs harbour
It brings back memories of crabbing
We take a stroll around the little harbour, keeping an eye out for that seventh wave to come tumbling towards land. Is this just an old wives' tale, or is there some truth behind it, I'm not too sure although there definitely appears to be a pattern.
Crashing waves in Broadstairs
I also love those distinctive sounds and smells that leave you under no illusion that you are at the seaside. The unique aroma of seaweed washed up against the shore and seagulls squawking overhead ready to steal your fish and chips, from right under your nose.
The Harbourmasters office and old boathouse are full of so much character. The folks in this charming building must be able to tell a nautical yarn or two. Along with the salty seadogs that would have shared an ale in the flint fronted Tartar Frigate.
The Tartar Frigate
We have a new little book on our shelves that we delve into when we're heading to the coast.
Packed full of historical facts, and broken down into the different counties of England.  It tells tales of the history of the shoreline that surrounds our country.
Available in Kindle & Hardback editions, it's an excellent addition to anyone's collection who loves the English seaside.
Visit Viking Bay in Broadstairs
And not a Viking in sight!!
A stroll along Viking Bay is a delight, with the attractive multi-coloured beach huts lining the cliff wall. The lovely sound of the waves lapping onto the beach and children were running back and forth dodging the waves before their wellies are covered in seawater.
Beach huts on Broadstairs beach
From the beachhead up the zigzagging stairs to the cliff tops, you'll keep stopping to soak in the view below.
Colourful beach cabins in Viking Bay
The main bay in Broadstairs is Viking Bay, there are others dotted around the coastline, two of which are Botany Bay and Joss Bay. These also beautiful, although the parking facilities are not so readily available.
Clifftop promenade in Broadstairs
A delightful English pastime
What I love about some of the seaside towns in this part of Kent are the walks along the high chalky clifftops. The views from above are magnificent with the English Channel stretched out beyond.
Clifftop view of Viking Bay
At the top of Viking Bay in Broadstairs, are Victoria Gardens. The gardens are wonderfully kept and have plenty of seating for you to just sit and watch the world go by.
Victoria Gardens overlooking Viking Bay
During the summer months, you could enjoy live music from the bandstand or even try your hand at sinking a few holes at Lillyputt Mini Golf.
 
At one end of Victoria Gardens is the elegant Royal Albion Hotel which has been overlooking this delightful bay at Broadstairs since 1776.
Where to stay in Broadstairs
- The Royal Albion - A beautiful Historic hotel with magnificent sea views across Viking Bay and beyond, what could be better. Oh yes, Charles Dickens was a regular visitor too.
- The Crown Bar & Guesthouse - Located in the heart of Broadstairs, this characterful inn offers a comfortable, friendly stay, with the charm and vibe of an English pub.
There are some beautiful buildings all along Victoria Parade, many with lovely arched bay windows and attractive wrought-iron balconies. Just a little further along you'll find Morelli's ice-cream parlour which has been serving delicious gelato since 1932.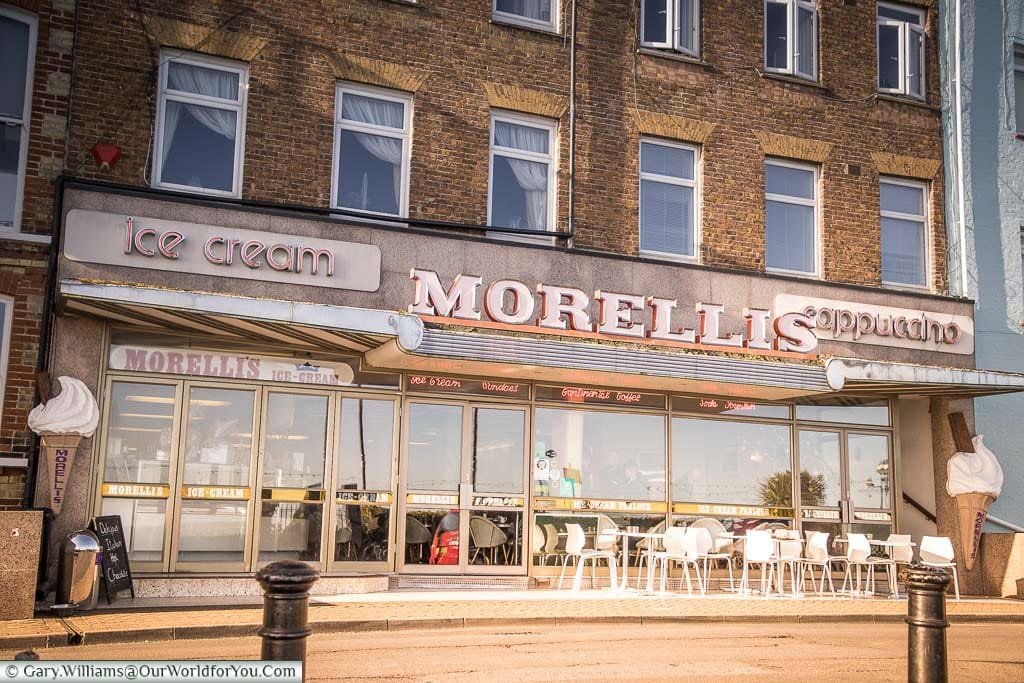 Morellis Ice-Cream Parlour
Are you looking for that 'perfick' holiday hideaway to relax in while you discover the Garden of England?
After a day exploring the Kent coast and its many historic castles enjoy one of the handpicked properties and unique retreats at Holiday Cottages.
Charles Dickens visits to Broadstairs
Inspiration for David Copperfield
Charles Dickens loved the charm of Broadstairs and regularly visited from 1837 to 1859. Gathering inspiration for characters and locations for his novels.
Bleak House on the clifftop in Broadstairs
Dickens stayed at Bleak House which stands pride of place on the cliff edge, with undoubtedly one of the best views across Viking Bay. Bleak House was originally named Fort House, and it was from here that he penned 'David Copperfield'.
Dickens House, Broadstairs
There are many other references of Dickens visit throughout Broadstairs, along Victoria Parade there is a museum dedicated to him in 'Dickens House'. This house is believed to inspiration for the home of Betsey Trotwood in the novel 'David Copperfield'.
Dickens plaque on the Royal Albion Hotel
Charles Dickens also stayed in the Royal Albion on many occasions and wrote part of 'Nicholas Nickleby' from there.
The Broadstairs 
Dickens Festival
 is held annually around the 3rd week in June. If you want to discover more of Charles Dickens in Kent, then the historic town of 
Rochester
 is a wonderful place to visit all year round.
What the Dickens!
If you're intrigued by Kent's weird and wonderful history, or all unusual stories around the county, then take a peek at "Kent's Strangest Tales".
You won't be able to put it down, you can pick it up for your Kindle or in good old paperback.
Stroll around Broadstairs town
Amongst the family run independent shops
Another thing I really enjoyed about Broadstairs was the old town. It's reasonably small; however, I was surprised at the number of independent shops there were. It appears to have been able to fend off many of the high street chains.
That little something different
There are quaint little galleries, family-run jewellers, antique shops and locally run butchers and bakers. Even the old character buildings that used to house British banks have been converted for other use.
H.E. Harrington, Ironmonger
It was like we stepped back a couple of decades in places, there are not many occasions you now see a wool shop or an ironmonger anymore.
You won't go thirsty or hungry in Broadstairs
Is it beer-o'clock already?
As Gary and I strolled around Broadstairs, we were amazed at how many pubs, bars, brewhouses, tea rooms and restaurants there were.
 
You were spoilt for choice, and they all looked really welcoming.
The Old Bake House - Bakery & Tea Room
Osteria Pizzeria Posillipo
So, just for research purposes (honest), we headed into The Chapel.

Yes, it is on the site of what was once a chapel. The original shrine dates back to the 1350s it has since been replaced and then befallen disaster. However, the current building dates from 1601 and is one of the oldest buildings in Broadstairs.
In more recent years the Chapel became the Albion second-hand bookstore. Then in 2012, it became a combination of a bookshop and craft beer pub. So, while you are sitting at the bar enjoying your ale, you can also educate yourself.
Visit some of Kent's coastal towns
Kent is not short of picturesque historic towns, particularly along the Kentish coastline., and we have a collection of posts you may enjoy - why not check one out?
Go on, let's get lost exploring Broadstairs
Amongst the picturesque lanes
With so many old historic towns like Broadstairs, there are always some intriguing little lanes and side streets. We kept strolling off in different directions discovering more of this charming town and wondering why we hadn't visited sooner.
Discover more of the Great British Isles, why not jump in a car and tour the country at your own pace. You can do it all on a road trip, 
Rental Cars
 cover all budgets and allow you to pick up and drop off at different destinations.
Quirky findings in Broadstairs
In search of blue plaques
Whenever we visit a new town or city, we are always on the lookout for historical blue plaques. Some can be a little tenuous; however, it's still interesting to read the little snippets of history.
We found a couple of blue plaques; one was in Chandos Square dedicated to the animator and author, Oliver Postgate. He created some classic British children's programmes, which I remember when I was growing up. A few of which were the Clangers, Bagpuss and Ivor the Engine (now I'm showing my age).
Oliver Postgate blue plaque
The other blue plaque was dedicated to a hotel that British Olympians stayed at, prior to heading off to the 1924 Paris summer Olympics. These games were immortalised in the movie 'Chariots of Fire'. I told you some were tenuous.
Historic British Olympians
Another claim to fame that Broadstairs can boast about is that a young Princess Victoria often holidayed in the town at Pierremont Hall. This is now council offices.
You have a couple of options for more information; firstly Broadstairs is located on the Isle of Thanet, so why not check out the Visit Thanet.
If you want to know more about the county, then try Visit Kent.
Whether you're planning a road trip, plotting a hiking route or cycling one of UK's scenic trails, there's nothing quite like using a tactile paper map.
The Ordnance Survey folk are here to help, with maps, guides, gadgets and more. Take a browse through their vast array of maps and grab your ideal companion for your adventure.
Our YouTube video of Broadstairs
We have created a little YouTube video of Broadstairs.  Why not take a look?
Also, why not subscribe to our YouTube channel and get the latest clips as we post them?
* This post may contain links to affiliated sites where we earn a small commission at no additional charge to you.