by Janis /
0 comments
- Orginally published:10th May 2022
3 relaxing days exploring southwest Cyprus by car
The beautiful island of Cyprus is found within the glistening blue waters of the Mediterranean Sea. It's the third-largest island in the Med after Sicily and Sardinia and is overflowing with centuries of ancient history.
For our winter sun break in Paphos, we stayed for a week at the 5-star Olympic Lagoon Resort Paphos with Jet2holidays. The fully-inclusive Olympic Lagoon Resort is pleasingly nestled directly on the shores of the Mediterranean Sea and was perfect for a peaceful week away.
We stayed in Paphos for seven nights; it gave us plenty of time to hire a car for a few days and explore southern Cyprus at a relaxed pace.
Why not Pin it for later?
We've created a 3-day itinerary where we'll be discovering the delights of Cyprus's coastline, its mountainous landscape, historic sites, and a couple of its delightful villages.
Each day, we'll depart from the Olympic Lagoon Resort and return late afternoon.
Another great benefit of staying at the Olympic Lagoon Resort Paphos is that it has free underground parking for its guests
Hiring a car in Paphos
A seamless experience with SIXT
We pre-booked our hire car for Paphos with Rentalcars.com. Rentalcars.com allows you to select which hire car company suits you best, offering all the required options and additions at competitive prices.

We chose SIXT, which is located between Paphos Old Town and Paphos Harbour and just 10 minutes taxi journey from our hotel. The hotel pre-booked our taxi and cost us €10.
Martine: our hire car
It was a pretty seamless experience with SIXT, and what made the service even better was that SIXT would come and pick up our hire car from the hotel car park free of charge.

All we had to do was refuel the car and drop the keys off at the resort reception.

You'll notice that the number plates are red; this indicates that your vehicle is a rental car. Perhaps an indication to the locals to give you a wide berth.

I know it seems corny, but we always like to name our hire cars based on their registration plate, so our trusty KIA Ceed was named 'Martine'.
Where is the Paphos, Cyrpus
The open roads await, pop in your location details, then
Rental Cars
will search well-known car hire brands and discover the deals that suit you the best.
Day one of our Paphos road trip itinerary
First stop 'Tombs of the Kings'
History beneath your feet
So, just after 10am, we hopped into 'Martine' and were off on our first day's adventure.

Our initial stop was just a couple of minutes north, to the incredible necropolis, the 'Tombs of the Kings'. These breath-taking catacombs formed part of Paphos's UNESCO World Heritage Site along with Nea Pafos Archaeological Site and were inscribed in 1980.

I would just like to say that do not underestimate your time spent here. In my opinion, allow at least a couple of hours, the 'Tombs of the Kings' are not to be rushed.
Inside Tomb 3
The tombs are located on the shoreline of the Mediterranean Sea, so I would advise sunscreen, don't get caught out.

The catacombs are magnificent, and it's hard to believe that these were carved out of the solid rock below ground. Some of the vaults are more ornate than others and indicate a high level of wealth.

Don't miss Tomb 3 and Tomb 7.

Also, from here, you'll get a reasonable view of the shipwreck M/V Demetrios II. This cargo ship ran aground on 23rd March 1998 in heavy seas carrying a cargo of timber.
The shipwreck of the M/V Demetrios II
Journeying on to Coral Bay beyond
Visiting the shipwreck of Edro III & Lara Bay
Our next stop is Coral Bay, around 11km (7 miles) north of Paphos in the Peyia region. Unfortunately, day one with our rental car was a bit overcast, so you can't fully appreciate the beautiful shoreline of Coral Bay.

This Blue Flag crescent-shaped sandy bay is quite a tourist spot for sunseekers on a sunny day.
Coral Bay on an overcast day
Hopping back in the car, we head around the bay to the second shipwreck EDRO III. This ship ran aground on 8th October 2011 and is much closer to land; I was quite taken aback.
It is so close there's graffiti on it, so some adventurous folk headed over to it on a boat.
You'll spot sea caves in the same bay, where waves continue to crash into the rockface, changing the landscape for eternity.
The Shipwreck EDRO III
We are heading further north for around 7 miles (11.5km); and we stop at Lara Bay. This wasn't to have a sunbathe; we wanted to see if we could visit the secluded Lara Beach that the sea turtles flock to annually from May to August.

The conservation area at Lara Beach is off-road along a gravel track; and as we didn't have a 4X4, we thought it best to keep our hire car intact. So, we hopped out along the shores of Lara Bay and admired the stunning coastline from there.
The view was beautiful, with open seas as far as the eye can see.
Lara Bay
Weaving across the rural Cypriot landscape
Ohh, those wood-burning fires
We now journey inland east and then venture north towards Latchi. We head to Latchi to experience more of the beautiful landscape of Cyprus. Latchi is a small resort with a delightful sandy beach and a charming harbour. We didn't stop for a swim; it wasn't the weather for it.

We wind our way back south, crisscrossing the rural and tranquil countryside and passing through lovely villages.
The coast from the hills of Peyia
As we drove through Kathikas village, we just had to stop; the smell of the wood-burning fires wafting through the tiny streets was irresistible. We jumped out and had a stroll amongst the welcoming lanes.
Kathikas village
That was our final stop exploring beyond Paphos for day one; we arrived back around 5pm.
Day two of our Paphos road trip itinerary
it's ancient history all the way
From the Romans to the Ottomans
Our first stop on day two was at the Hellenistic-Roman Amphitheatre. You just head along a little side street and discover the ruins of an amphitheatre thousands of years old. It's pretty amazing the history to be found in Paphos.

It's hard to imagine Romans gathering here to watch such astonishing spectacles.
Hellenistic-Roman Amphitheatre
Just a short hop from the theatre is another element of the UNESCO World Heritage site: Agia Kyriaki Chrysopolitissa and Ottoman baths. This great 13th-century church is also known as "The Church by St Paul's Pillar" as it is believed to be where St Paul was flogged.

The pretty church was built upon the ruins of a Byzantine Basilica; take a stroll around the raised platform to admire It in its full glory.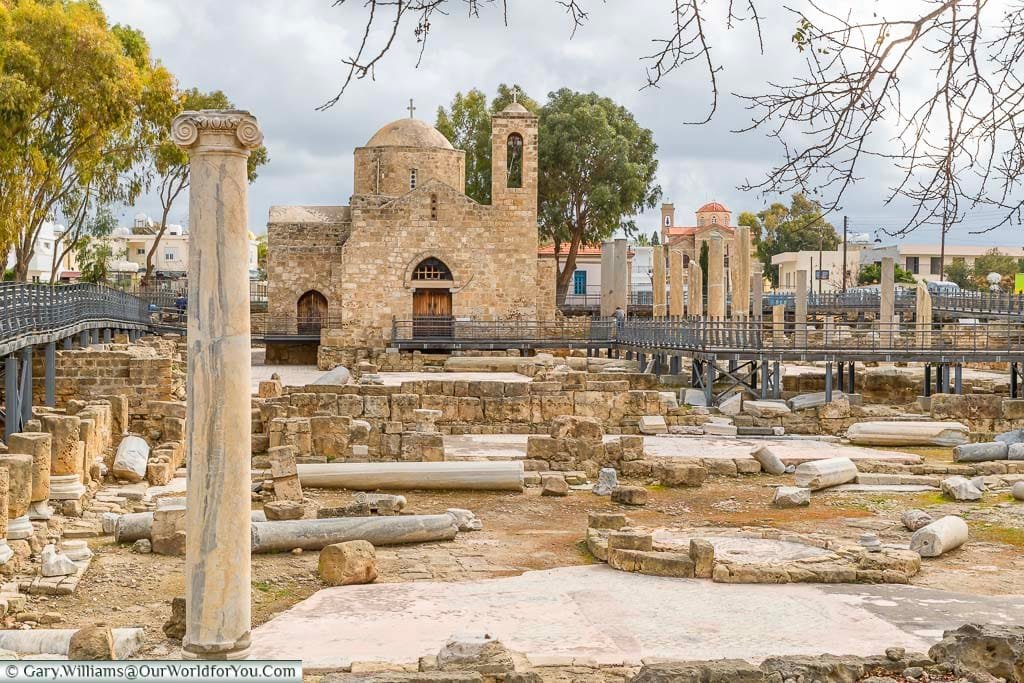 Agia Kyriaki Chrysopolitissa
We're exploring Paphos Old Town
Full of rustic charm
As we were out and about in the car, we thought we would drive up to Paphos Old Town. If you choose to walk, it takes around 45 minutes to an hour from Paphos Harbour; it's about 2 miles (3.5km) uphill. It may be slightly hard going on a hot Cyprus day.

We easily parked up in the centre of Paphos Old Town, and it was only €1 for 2 hours of parking.
The Old Government Office
Paphos Old Town is a must to visit. It is full of charm and character, from the modern-day cafés to the rustic homes and shopfronts carrying off that certain lived-in patina.

It's like stepping back in time in places, with ladies politely passing the time of day outside the old Singer sewing machine shop and elderly fellas playing board games in doorways.

Allow plenty of time to stroll around the town, meandering off along tiny side streets, admiring the street art as you go.
Paphos Old Town
It's a perfect place to stop for lunch and mingle with the locals.
Touring the rural landscape
Visiting Aphrodite's Rock
Jumping back in the car, we're now heading towards Aphrodite's Rock southeast of Paphos. However, we're not taking the direct route; we want to see and experience more of the Cypriot countryside.

We weave our way across the rural landscape passing through small towns and villages, admiring the many goats munching through grassy fields.

The scenery is spectacular and so peaceful at times.
Asprokremmos Reservoir
We arrive at Aphrodite's Rock, the legendary birthplace of the ancient Greek Goddess of Love and Beauty, Aphrodite.

It is said that Aphrodite majestically rose through sea waves at 'Petra tou Romiou', Aphrodite Rock. It's believed that if you swim around the protruding rock three times, you will be blessed with eternal youth and beauty.

The shoreline along this region of Cyprus is breath-taking and very easy to reach as it is only around 19 miles (30km) from Paphos Harbour.
Aphrodite's Rock
We take the quicker route back to the Olympic Lagoon Resort along the A6, one of the few motorways in this region of Cyprus.
Day three of our Paphos road trip itinerary
Touring the Troodos Mountains
In the shadow of Mount Olympus
Today will be a full day; we're up and on the road by 9am, the sun is shining, and we're heading to the Troodos Mountains venturing through Paphos Forest.

The scenery is spectacular, with Pine and Cedar trees stretching high into the Cyprus sky. As we weave our way through the forest, pinecones lay strewn across the narrow roads.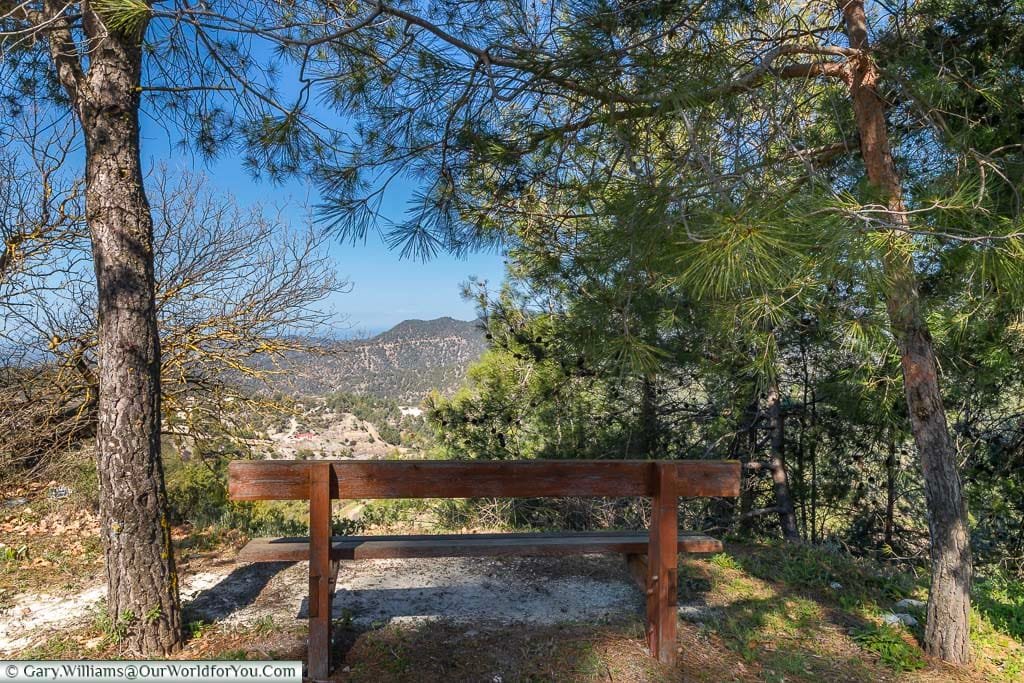 Views across the Paphos Forest
Depending on which type of roads you choose, some are easier to navigate than others. Although you'll still have the fun of switchbacks and twisty-turny roads, whether you opt for the 'E' roads or the 'F'.

The 'F' roads were narrower and often more rutted. Occasionally, fallen rocks lay across the roads, making it a little tricky at times, although the roads are very quiet.

With less fallen debris, the 'E' roads were wider and easier to drive on.

I'm not too sure what I originally expected; however, I did imagine we would come across one or two remote villages; this wasn't the case. There weren't any. Although, there were plenty of picnic spots.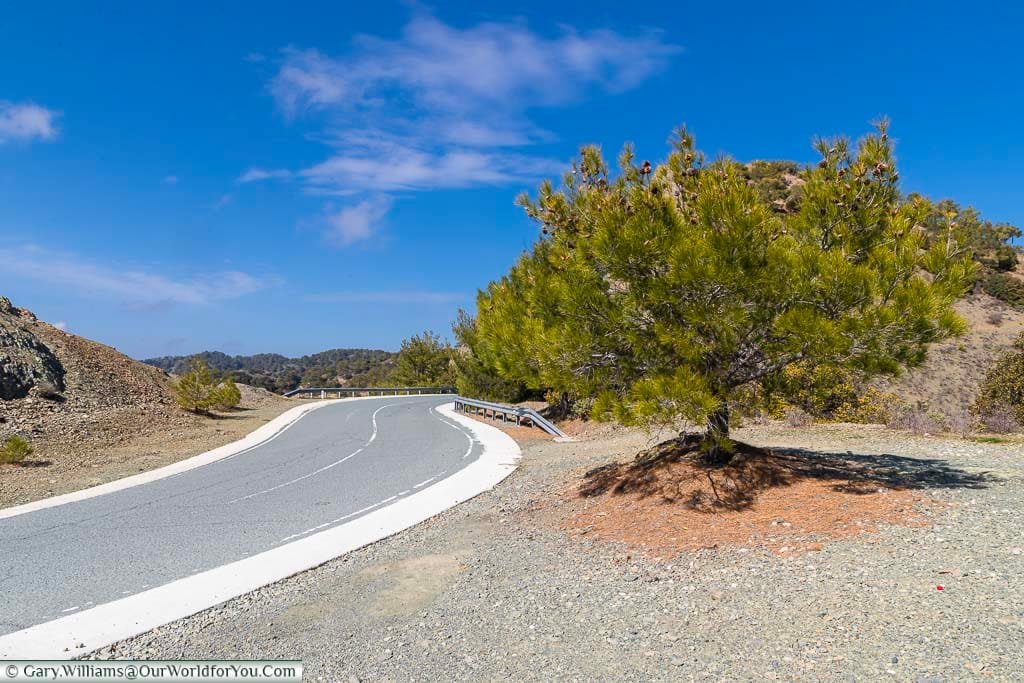 The wider 'E' roads
Our aim was to discover the Kykkos Monastery high in the Troodos mountains; following the 'E912', we were successful. It was so tranquil, and just a handful of people around.

Just nearby the monastery is a welcome rest area with stunning mountainous views across the Cypriot landscape. Also, a couple of tiny stores were here selling local produce; we grabbed some delicious, dried fruit and nuts.
The Kykkos Monastery
Back on the road again, we could see the snow-capped peak of Mount Olympus; it was beautiful. As we climbed further through the breath-taking scenery, there were shrines and remote monasteries dotted around. Although, what I didn't expect was to see snow piled up on the roadsides, bearing in mind the temperature in Paphos was an average of 20 degrees.
The stunning Troodos Mountains
We started to weave our way back down through the mountains, and near the bottom of the forested area, we began to pick up the wine routes.
Visiting Omodos wine village
Our final stop
The last destination on our three-day road trip itinerary of southwest Cyprus was the delightful wine-producing village of Omodos.
Omodos is located nearby the Troodos Mountain region in the district of Limassol and is a wonderful place to visit after a day of touring through the forested mountains. Park up and take a stroll amongst the cobble-stone lanes and stop at one of the welcoming tavernas.
Omodos wine village
Omodos is a very traditional wine village and full of so much charm. Around the village square are old stone-built houses, the Monastery of Timios Stavros and a medieval wine press.
What could be better than basking in the early evening sunshine, sampling the local wine and enjoying the delicious Cypriot cuisine.
We now journey back to our hotel, which is around 37 miles (60km), refuel, park up and leave the keys in reception for SIXT to collect.
It has been an incredible few days, and we've seen so much more of Cyprus by hiring a car. Gary said that driving in Cyprus was relatively stress-free, and our fellow drivers were easy-going and friendly.
Venturing off with Jet2holidays to Paphos
The perfect way to relax and enjoy Cyprus
Jet2holidays offers several departure locations around the UK, we selected to hop aboard the Jet2holidays flight from London Stansted Airport. Stansted Airport is easily accessible by car from the M11 motorway. You can catch the Stansted Express rail link from London Liverpool Street, which departs every 15 minutes.
If you choose the driving option, you can book your car parking through the Jet2 Extras website, and you'll also get a discount.
The pool area of the Olympic Lagoon Resort, Paphos
Our experience during our Jet2 flights to Cyprus was incredibly smooth and stress-free.
When you hop off your flight at your chosen destination, you'll have the comfort of knowing that your hotel transfer awaits. Also included in your package holiday to Paphos, you'll have a generous baggage allowance of 22kg and a hand luggage allowance of 10kg.
If you wish to make the whole in-flight experience even less stressful, you can pre-book your seats and meals for a charge.
Additionally, ensure you download the Jet2holidays app; it is effortless to manage your booking.
The Olympic Lagoon Resort Paphos
Discovering more of Paphos
We were invited to Cyprus as guests of Jet2holidays to stay at the Olympic Lagoon Resort Paphos. However, all our views, opinions and personal experiences are our own.
Would we recommend a winter sun stay at the Olympic Lagoon Resort Paphos with Jet2holidays? Unequivocally yes, we would return tomorrow. You instantly start to unwind and feel a wave of relaxation flow through you.
* This post may contain links to affiliated sites where we earn a small commission at no additional charge to you.