by Janis /
2 comments
- Orginally published:20th December 2016
Visiting Nuremberg's Christmas Markets, Germany
A hidden festive treat in Bavaria
The charming and historic city of Nuremberg in southern Germany lies in the beautiful region of Bavaria. It is home to one of Germany's oldest Christmas markets.
Christkindlesmarkt in Nuremberg's Main Market Square can trace its roots back to 1628 and is now one of the most famous Christmas markets in the world. So, what other reasons do you need to visit this enchanting city at yuletide?
Nuremberg was our 3rd Christmas market destination out of 5 during this magical German festive road trip. I know what you are thinking, how much wurst can one person eat?
This trip for us was always going to be a road trip; we love the freedom it brings, and we're not restricted by the memorable gifts we return with. There is always room for some gingerbread.
Why not Pin it for later?
As we live in the southeast of the UK, we choose to catch Le Shuttle,as the crossing only takes 35 minutes. Then from Calais, where the shuttle disembarks, Europe is your oyster.
So, after relishing in the Christmas atmosphere of our first 2 towns of Düsseldorf and Cologne, we head further south to Nuremberg, prior to heading on to Rothenburg ob der Tauber and Stuttgart.
We were lucky enough to journey around this area previously on our Lakes and Lederhosen road trip. So, it was definitely on our list to return to.
- By Air
The nearest airport is Nuremberg International Airport, about 20 minutes (5mls/8km) from the centre of Nuremberg by taxi. Take a browse through ebookers.com for departures from your local airport.  There are also public transport connections which take around 20 minutes.
- By Car
If you're venturing from the UK, jump on Le Shuttle and tour Germany under your own steam.
Alternatively, if you're arriving into an airport it's so easy to explore on a road trip. Rental Cars searches multiple well-known car hire brands and discovers the best deals that suit you.
The historic Christkindlesmarkt
Yuletide heaven in Nuremberg
Undoubtedly the beating heart of the Nuremberg Christmas markets is in the historic square of Hauptmarkt. This magical Christkindlesmarktis every Christmas lover's dream.

Row after row, there are twinkling wooden huts adorned with red and white candy-striped roofs, offering so many delightful traditional gifts.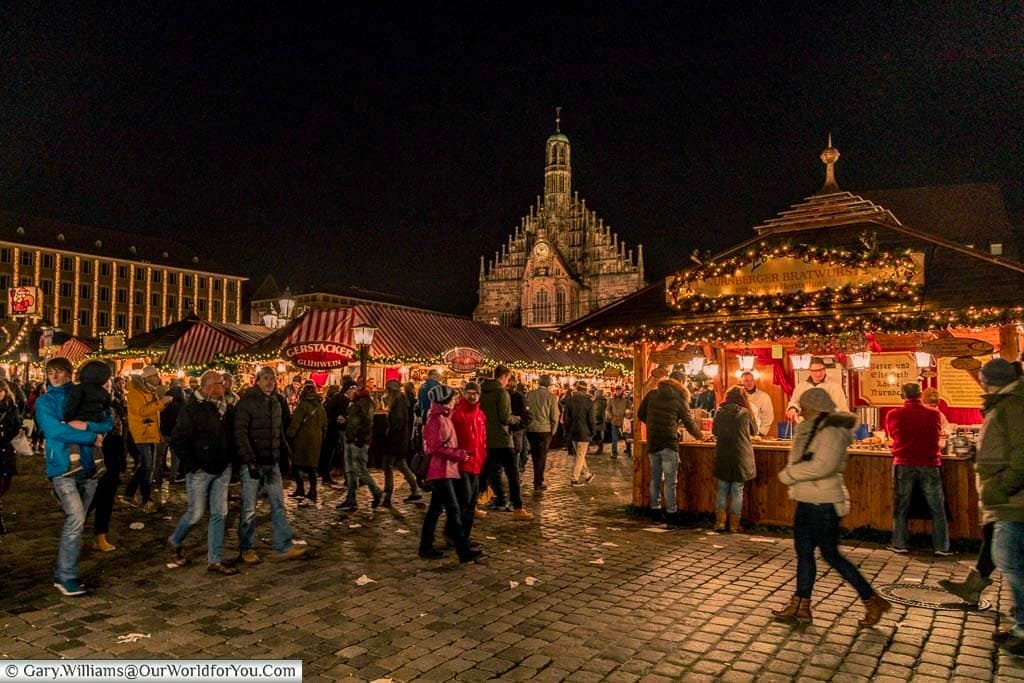 The Christkindlesmarkt on a Monday evening
Just in this main square, there are 162 cabins for you to explore, one after the other; we were stopping to admire the handmade decorations or enjoying a specially flavoured glühwein.

Even though you'll be captivated by the many festive stalls in this enchanting square, the magnificent Frauenkirche will undoubtedly catch your eye. Ensure you stay until the sun goes down, as the beautiful church looks stunning when illuminated.
The nut seller
The amazing aroma of gingerbread and freshly roasting nuts as you weave between the bustling lanes is too tempting to resist. One of my weaknesses while strolling amongst the cabins is the sweet and sticky chocolate-coated nuts; they are delicious.
Exploring Nuremberg's Christmas markets
Something for everyone
It is easy to see why Nuremberg's Christmas markets are so popular with visitors and locals alike; it has such a joyous atmosphere as we amble amongst the yuletide stalls.
Wooden figures
Nuremberg's ancient Christmas markets offer such a variety of gifts and cuisine; we loved strolling around day and night, discovering all the little differences from other German markets that we had visited.

Christmas in Nuremberg brings out a smile in everyone.
Star Lanterns
Allow yourself plenty of time to wander around as the delightful cabins are there to be explored.

There is so much to feast your eyes upon and so many decorations and ornaments to be tempted by.

Even though some of the Christmas markets in Germany appear to have similar gifts, there is always something unique and quirky to be found in each different town or city. We couldn't resist buying a cheeky little fluffy-haired angel which caught our eye.
The imperfect angel
I love all the wooden Santa, nutcrackers and soldiers; they really bring a traditional feel to your Christmas back home.

We find that we have to restrain ourselves; otherwise, we'll have a twinkling snow globe from every German Christmas market we visit.
A selection of baubles
Where to stay in Nuremberg
Our accommodation for the two nights in Nuremberg was in the SORAT Hotel Saxx; this hotel was in a perfect location.
We couldn't believe how central it was; it overlooked the main Christkindlesmarkt, just a short hop and the festive fun begins.
Included in the room's price was access to the 'breakfast to go' lounge which provided hot drinks and pastries. If you required the full breakfast, this was an additional charge.
Another plus point for us was the underground car park, a daily charge applied.
Alternatively, pop your dates in the Booking.com search box and discover further options for all budgets.
A leisurely tour of Nuremberg's yuletide streets
Two horsepower
If you've spent the day mooching around Nuremberg's historic Christmas markets, and you're flagging a little, then why not take the weight off your feet. Just hop aboard the striking yellow stagecoach and let horsepower take over.
The horse and carriage in Nuremberg
This beautiful old carriage, usually found at Nuremberg's Museum of Communication, will take you on a 20-minute trip around the festivities.
Enjoy the clattering of hooves and bells jingling as the historic stagecoach is pulled by two charming horses.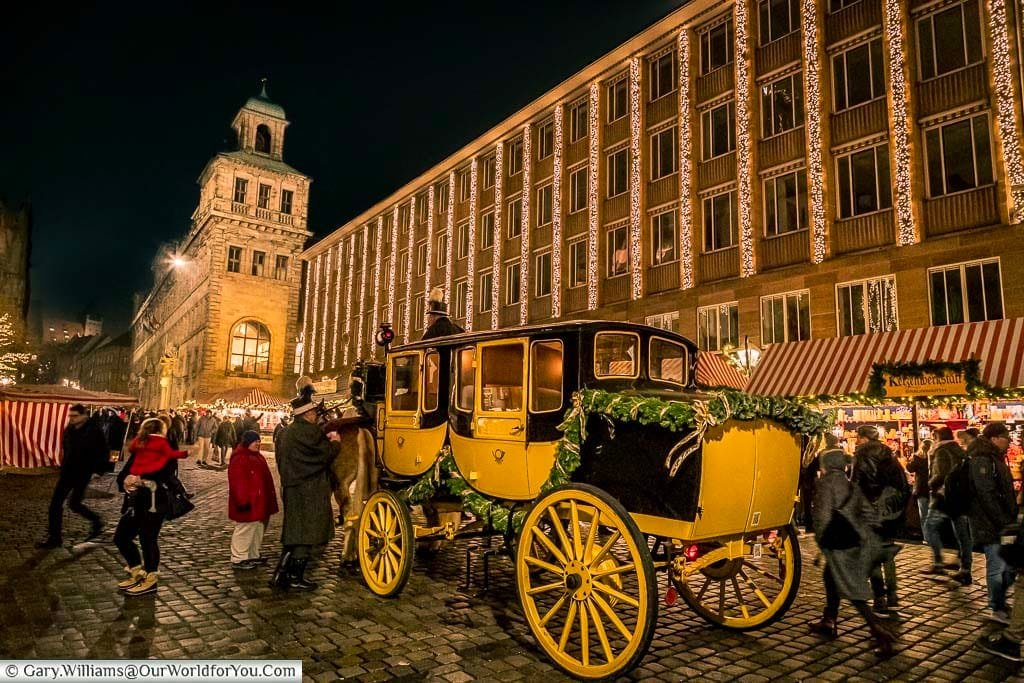 The horse and carriage waiting in Nuremberg
Nuremberg's delicious wurst
Food glorious food
It wouldn't be a German Christmas market if a bratwurst stall wasn't along every aisle of yuletide cabins, and Nuremberg certainly didn't disappoint.

Undoubtedly if you've visited Nuremberg, you'll know the most popular savoury snack is the delicious Rostbratwurst. When you order it, you are in for a surprise as you get three little sausages in one roll.

We've visited quite a few Christmas markets in Germany and have never seen sausages served this way before. What a treat, three wursts in one bun.
Sausage and sauce
Apparently, the Franconian way of ordering these tasty sausages is "Drei im Weggla" – "Three in a bun".
You can add an accompaniment to these freshly grilled rostbratwurst, try them with sauerkraut, potato salad or with a dollop of your usual mustard.
Three in a bun
For one weak moment, I broke with the German tradition as I fancied a change from sausages. I chose a delicious pork steak, served with onions in a crusty roll, sorry.
Steak in a bun
Christmas wouldn't be Christmas if you didn't pick up a traditional wooden soldier nutcracker. And there's nowhere better to find one than at
Käthe Wohlfahrt
on Plobenhofstraße 4.
Nuremberg's irresistible sweet treats
Mmmmm, gingerbread
If you're heading to Germany and particularly Nuremberg, you must indulge in their gingerbread. One of my favourites is lebkuchen; I really love this; I think the combined flavours of sweet and savoury make it so delicious.
Gingerbread loaves for sale
Nuremberg's world-famous gingerbread is produced using local honey from the surrounding forests. Nuremberg's gingerbread, which has now been trademarked under European law, must be made within the city limits to be officially classified as Nuremberg gingerbread.
Greetings and gingerbread
Grab yourself a huge cookie from the market sellers, or even pick up one of their nourishing loaves baked with almonds.
Gingerbread loaf
Nuremberg's Glühwein
With a blueberry twist
Now, in my honest opinion, a visit to any Christmas market in Germany is not complete until you have sampled the local glühwein or mulled wine.
Two different glühwein's
In Nuremberg, they have a few additions to the glühwein menu. Firstly you have the Nuremberg Glühwein, made using plump blueberries and slightly spicier with a welcoming hint of cinnamon and cloves and a little pinker.

There is also an alcohol-free version of this glühwein which children and your designated driver can enjoy.
Heidelbeer Glühwein
Then there is the Winter Warmer which is produced by Hausbrauerei Altstadthof and contains malt, hops, and a special mix of nine spices. All of these tipples are very mouth-watering.
Two mugs of winter warmer drink
The charming ceramic mugs that the glühwein is served in are wonderful. A new design is created every year, and since 1989 they have been environmentally friendly. So, ensure you cherish your Christmas mug and take it home with you.
Winter Warmer to take away
Now, Nuremberg's Christmas market is also famed for the largest punch bowl in the world, where it serves up feuerzangenbowle.
The biggest punch bowl in the world
Feuerzangenbowle is a red wine and rum punch, and its unique touch is that when the warm punch is served, a rum-soaked sugar cone is placed over the drink and lit. The sugar gradually melts from the flame, and as it caramelises, it drips into your delicious tipple below

You must give it a try.
The punchbowl, Nuremberg
This huge bubbling punch bowl which contains up to 9,000 litres of Feuerzangenbowle, is located below Fleischbrücke on the banks of the River Pegnitz.
Feuerzangenbowle
I love nothing more than planning a trip and so often I use the DK Eyewitness books.  I find them extremely informative, easy to follow and the pictures and maps tempt you into discovering more.
We used a previous version of this book to plan our Germany road trips, now you can grab the revised copy.
The unique Zwetschgenmännle
The 'Prune Men' and Women
Don't be mistaken; these charming little 'prune men' are not for consuming; they are for brightening up your day.

These delightful figures, which are named 'Zwetschgenmannle', are very unique to Nuremberg and so unusual. They have been sold at the Christkindlemarkt for decades.
A stall with history
The prune men are handmade decorations created from prunes, dates, and nuts and are crafted into little men and women. There are over 350 styles of figures, all dressed in different outfits with a distinctive theme.

Legend has it that they were invented in the 18th-century by a man who wanted to give a gift to his children, but all he had was wire and a plum tree at the front of his house.
Our very own Prune Man
Six generations
Today they are handcrafted by mounting a piece of wire onto a small piece of birch wood, which is used as the spine. Dried prunes create the arms and legs, figs make up the body, and smooth walnuts are used for the head. A face is then painted on the walnut, and you then dress your prune man or woman in any outfit you wish.

It could be a chimney sweep, a baker, a musician, or a farm worker; the choice is yours.

I couldn't resist buying one as they were so unusual; the stall we had bought it from had been making the Zwetschgenmannle for six generations.
More Christmas markets to discover in Nuremberg
Festive fun for everyone
Ensure you have comfy shoes on as there are more markets dotted around Nuremberg's Altstadt (Old town) to discover, and they all are within easy walking distance of each other.
Inside the Markt der Partnerstadte
Just next to the bustling Christkindlesmarkt is Markt der Partnerstadte, which is the Christmas Market of the Sister Cities, an international market. This delightful festive market is a celebration of craftsmen and artists with Nuremberg's sister cities from around the world.

The Sister Cities market has a lovely selection of yuletide cabins, and it is so interesting to see the local traditions from other parts of the world at this time of year. A few of the cities that joined in the fun were Krakow, Glasgow, Prague, Nice and Antalya, to name a few.
Entrance to the Markt der Partnerstadte
Another short walk from the Christkindlesmarkt is Nuremberg's children's Christmas market, "Kinderweihnacht". This sparkling market, is full of magical fun with twinkling lights, carousels and other enchanting children's rides and stalls.
The children's market
The Christmas cheer is spread through the whole of the old town, and as you wander between the main markets the streets are lined with more festive stalls and cabins for you to enjoy.
Medieval Market
Amongst the city walls
As we head southeast of Nuremberg's old town, we arrive at the historic Frauentor and its ancient city walls and Medieval village. Nearby can be found Nuremberg's 'New Museum'.
Inside the Craftsmen's Courtyard
The cobbled lanes of the Craftsmen's Courtyard
Although this Christmas market is a little further from the centre of Nuremberg, it really is worth a visit, as this historic courtyard is full of so much character and charm.
Half-timbered houses
All along the cobble-stone lanes and amongst the timber-framed buildings are quaint shops and stalls selling unique and quirky gifts made by local craftsmen and women.
Nuremberg's local brew
A tipple at Hausbrauerei Altstadthof
As we stroll around the Christmas markets, it's difficult to resist the wonderful aromas emitting from the many food stalls in Nuremberg. We ate on the markets for the couple of nights we were there; however, there were also some great-looking bratwurst restaurants, so you certainly have plenty of choices.
A bottled selection Hausbrauerei
Two beers
Although for a nightcap, we couldn't resist popping into the Hausbrauerei Altstadthof. Not only did it have the local speciality, Rotbier, or red beer, it had a selection of other brews, too - Gary was very impressed.
It was in Hausbrauerei Altstadthof that we got chatting with a young couple about German cars. We mentioned that we were heading to Stuttgart within the coming few days. They recommended that we visit the Mercedes-Benz Museum.
The ornate Schöner Brunnen
The 'Beautiful Fountain'
Nestled in the corner of Hauptmarkt is the stunning Schöner Brunnen, the 'Beautiful Fountain'. Stretching high upon the fountain sits a magnificent ornate Gothic spire.
The Beautiful Fountain
The Schoner Brunnen at night
All around the 19-metre-high spire are 40 intricate, colourful figures. The Schöner Brunnen was originally erected in the 14th-century, but this treasured fountain has since been replaced with a replica. The original now stands in Nuremberg's Germanisches Nationalmuseum.
Nuremberg Castle
The eye-catching fortress
The
Imperial Castle of Nuremberg
sits proudly on a sandstone rock and has far-reaching views overlooking the rooftops of the ancient city below.
The Castle on High
The medieval Bavarian fortification consists of three main structures the Kaiserburg, Burggrafenburg and the Imperial City buildings. It's such a pleasure to stroll around the inner courtyard and the galleried walkways.
Inside the castle courtyard
Christmas tree in front of the defences
Nuremberg Castle is one of the largest castles in Europe and what makes this citadel so impressive is the incredible city walls and towers that encompass the city. There's history around every corner.
View across the city
The Way of Human Rights
Nuremberg remembers
The North Gate
The Way of Human Rights is a very touching commemoration and is extremely important to Nuremberg for many reasons. Especially as Nuremberg is where the vast Nazi party rallies were held.
The Way of Human Rights
The memorial was opened in October 1993. As you stroll through the monumental north gate, 27 huge white stone pillars stretch out before you. There are three additional pillars, one is oak, and two others are buried in the ground with just a circular plate showing.
Where to stay in Nuremberg
SORAT Hotel Saxx
For our 2 nights in Nuremberg, we chose to stay at the SORAT Hotel Saxx; this hotel was perfect for us.
We couldn't believe how central it was, it actually overlooked the Haupmarkt, where the main Christmas market is held. Included in the room's was access to the 'breakfast to go' lounge which provided hot drinks and pastries.
If you wanted the full breakfast, this was an additional cost.
Another big tick for us was the underground car park, for a daily charge.
SORAT Hotel Saxx
Just a few points to note;
If you wish to fly, it only takes about 1 hour and 15 minutes from London.
You really need to book early as these markets are very popular.
Although all these markets are fantastic to visit during the day, they really come alive in the evenings, don't miss it.
Be warned these markets become extremely busy at the weekends, particularly in the evenings. Children may feel a bit swamped with the crowds.
Dress warm and comfortable; this is essential because it was cold in December.
Germany's Christmas markets are for all ages, don't be put off that it is all for children; it really isn't. We are all big kids at heart…..
* This post may contain links to affiliated sites where we earn a small commission at no additional charge to you.
Thanks very much, Fizz; we try to include as much practical info as possible but not overdo it, as it is always a pleasure discovering things for yourself. It was also important to us that many aspects of Nuremberg are covered as it has certainly had a chequered past.

Have a lovely Christmas and New Year.