by Janis /
0 comments
- Orginally published:22nd December 2016
A visit to Rothenburg ob der Tauber's Christmas Markets
Where the magic happens in Bavaria
When you enter the beautiful walled town of Rothenburg ob der Tauber in the heart of Bavaria, you truly feel like you've stepped into a medieval open-air museum.
Rothenburg ob der Tauber in Germany is breath-taking; it's incredibly satisfying to know that towns like this still exist and haven't been lost to the harshness of time.
Rothenburg ob der Tauber was our 4th Christmas market destination out of 5 on our German Crimbo road trip.
We really enjoy the independence a road trip brings, and it also means we are not restricted by the memorable gifts we return with.
Why not Pin it for later?
We have a bit of a soft spot for Käthe Wohlfahrt's traditional decorations. As Rothenburg ob der Tauber is the spiritual home, we had to try and restrain ourselves.
So, after savouring the Christmas atmosphere in the first 3 towns of Dusseldorf, Cologne, and Nuremberg, we've journeyed west to Rothenburg ob der Tauber.
The lanes of Rothenburg ob der Tauber
The classic view of Rothenburg ob der Tauber
Where is Rothenburg ob der Tauber?
How to get to Rothenburg ob der Tauber
- By Air
The nearest airport to Rothenburg ob der Tauber is either the city of Nuremberg or Stuttgart. Take a browse through ebookers.com for departures from your local airport.
Alternatively, why not combine your visit into a 'Romantic Road' road trip? Rental Cars search multiple well-known car hire brands and discovers the best deals that suit you.
- By Car
If you're venturing from the UK, jump on Le Shuttle and tour Germany under your own steam. Like us, you can visit multiple Christmas Markets and bring some gifts home too.
Christmas in a Bavarian paradise
Where dreams do come true
We arrived at Rothenburg ob der Tauber on a cold misty evening when the sun had gone down, and the yuletide December air was flowing amongst the medieval cobbled streets.

We turned into Marktplatz, the towns striking main square, and it felt like we had stepped into a Christmas paradise. Surrounding us were historic half-timbered buildings glistening in the hazy mist and the remarkable Rathaus proudly dominating the square.
Rothenburg ob der Tauber, full of Christmas spirit
It's quite extraordinary that the whole town of Rothenburg ob der Tauber greatly celebrates this festive season. It feels like each and every home and shopfront are adorned with glimmering lights and pine-scented Christmas trees.
Reiterlesmarkt in Marktplatz
Christmas fun begins
Rothenburg ob der Tauber in Bavaria is a fairly small town, and the
Reiterlesmarkt
is respectfully in keeping with this quaint setting. The main gathering of its traditional festive cabins is around Marktplatz and Grüner Markt, with a magnificent towering Christmas tree taking centre stage.
Gathering in Marktplatz
The tree is emblazoned with twinkling Christmas lights. All around the base of the tree is a welcoming social area created to allow families and friends to gather and enjoy the spoils of the market.

What could be better than sipping on a heart-warming glühwein with its scents of cinnamon and cloves floating in the air and listening to merry tunes?
Where to stay in Rothenburg ob der Tauber
Our accommodation for the two nights in Rothenburg ob der Tauber was at the Hotel Eisenhut. The hotel was incredibly central, just a few steps from the festive fun.
We skipped breakfast and chose to indulge in a pastry and hot chocolate at a local café.
Private parking is available nearby at a charge.
Alternatively, pop your dates in the Booking.com search box and discover further options for all budgets.
Rothenburg ob der Tauber's Medieval Rathaus
Embracing the history
Elegantly gazing down upon the Christmas market in Martlplatz is the ancient eye-catching Rathaus (Town hall), which has a combination of Renaissance and Gothic styles. The rear Gothic section of the Rathaus dates from 1250, and the Renaissance portion was constructed around 1572.
If you're feeling energetic, you can climb the 61-metre (200-foot) tower and enjoy the breath-taking views across the rooftops of Rothenburg ob der Tauber.
The Rathaus and Christmas tree in Rothenburg ob der Tauber
The historic town of Rothenburg ob der Tauber at Christmas
Although the Rathaus is the dominating structure in this delightful square and so it should be the other wonderful timber-framed buildings that encircle Marktplatz are equally astounding.

It really is a lovely square to embrace and just sit and watch the world pass by.
An evening in Rothenburg ob der Tauber
Taking it all in your stride
We arrived in Rothenburg ob der Tauber in the early evening. A soft blanket of mist floated over the town and a warm mystical glow coursed amongst the historic lanes. It was like stepping into a wintry fairy-tale.
Quiet lanes of Rothenburg ob der Tauber
A quiet evening in Rothenburg ob der Tauber
We were staying in the centre of Rothenburg ob der Tauber in the beating heart of the festivities. The Christmas markets here closed their wooden shutters at 7pm midweek and 8pm Friday and Saturday, which was quite early compared to other German Christmas markets we had been to.
However, this gave us the opportunity to explore more of Rothenburg ob der Tauber in the evening. We enjoyed strolling around the town's enchanting streets, admiring the Christmassy window displays, and finding a quaint restaurant to end the perfect evening.
Santa Claus arrived
Enjoying the German treats
As we meander from the Marktplatz, the twinkling wooden Christmas cabins weave their way around to Grüner Markt.

In Grüner Markt, you may be lucky enough to catch Santa playing the trumpet or enjoying the festive anthems on his wind-up music organ.
Santa and his organ in Rothenburg ob der Tauber
The Gruner Markt Christmas tree
These additional features in a Christmas market make it more joyful for everyone.  Whichever activities you are being entertained by the joyous festive atmosphere is infectious.
Flammbrot choices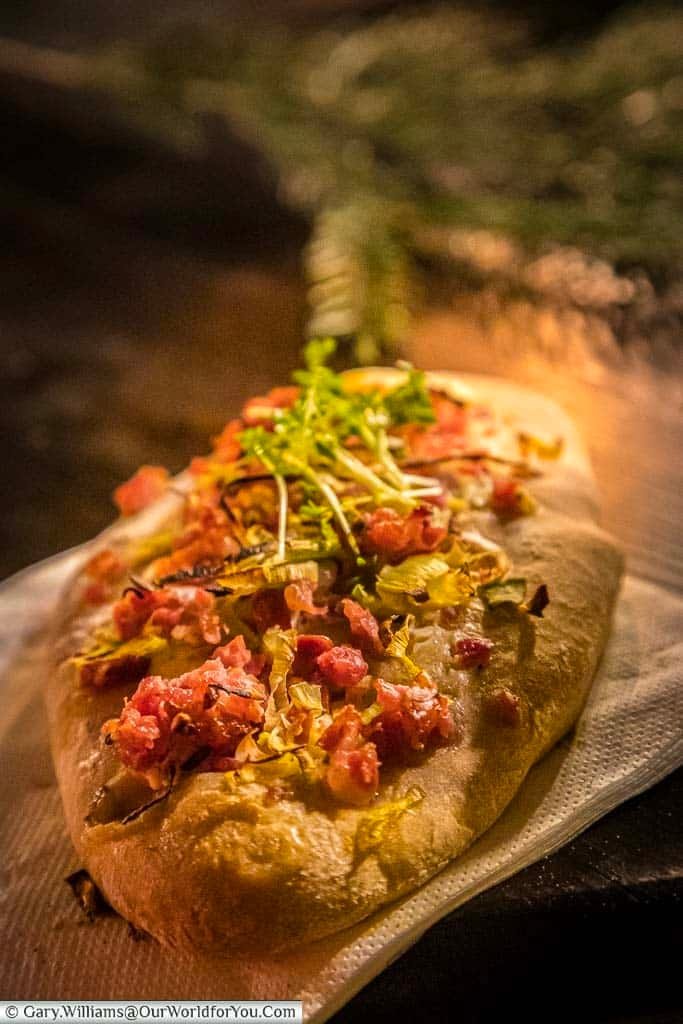 Oh Flammbrot
All around, friendly people, young and old, are relishing the delicacies on the markets, from the staple bratwurst to the equally tasty flammbrot.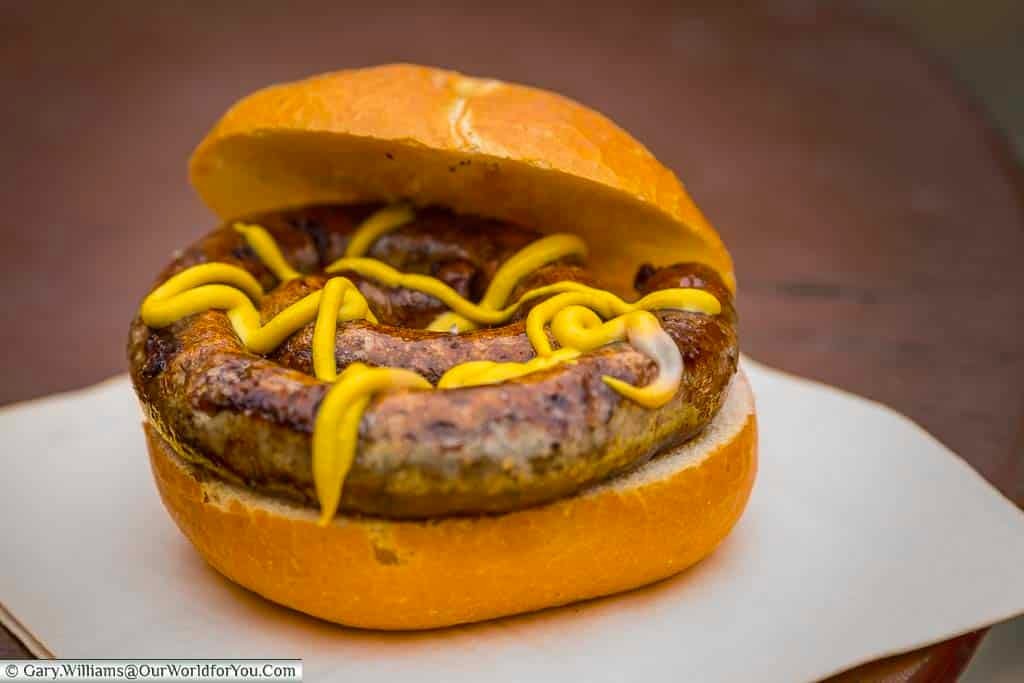 My first curly wurst
We even came across a curly sausage at Rothenburg ob der Tauber, which is not too dissimilar in look to the good old British Cumberland sausage (but I wasn't going to mention that).
Warming Glühwein in Rothenburg ob der Tauber
I love nothing more than planning a trip and so often I use the DK Eyewitness books.  I find them extremely informative, easy to follow and the pictures and maps tempt you into discovering more.
We used a previous version of this book to plan our Germany road trips, now you can grab the revised copy.
Christmas memories all around
Follow your senses
As we continue to stroll through Grüner Markt, we are effortlessly drawn towards St Jakob's Church in Kirchplatz, where there is more fun to be had.

Ensure you dress up warm for the markets, as some evenings can get quite chilly.
St Jakobs church and the carousel
In Kirchplatz, we are greeted with the alluring aroma of roasted chestnuts and the lovely sight of the carousel swirling around.
The chestnut roaster
It really doesn't get more Christmassy than Rothenburg ob der Tauber. Festive cabins are overflowing with eye-catching gifts, not just for your loved ones; I'm sure there will be a little prezzy for you too.

I'm beginning to think that before you are able to live in this picturesque town, an initiation process is carried out to find out how Christmassy you actually are.
A window display, full of Christmas
A wonderful window display in Rothenburg ob der Tauber
If you're tempted to visit
Rothenburg ob der Tauber
at Christmas, this informative website will guide you around the enchanting Christmas market 'Reiterlesmarkt'.
Visiting the Käthe Wohlfahrt store
Christmas 365 days a year
Christmas wouldn't be Christmas if we didn't visit a Käthe Wohlfahrt shop. As this medieval town is the mystical heart of all things Christmassy, it was inevitable that we would pop in once or twice.

Käthe Wohlfahrt certainly didn't hold back on the glitter or the baubles; in fact, the more sparkle, the better.
Käthe Wohlfahrt deliveries
There are two main Käthe Wohlfahrt stores in Herrngasse, one is a Christkindlmarkt, a 'Christmas Market' and the other is a Weihnachtsdorf, a 'Christmas Village'. And if this wasn't enough, there are a few smaller stores dotted around the medieval town.
Outside the store
When you step into the Christmas Village, you are greeted with a 16ft rotating Christmas tree laden down with enchanting Christmas decorations and fairy lights, there was also an 18ft revolving Christmas pyramid.
Pyramids and more
The Nutcracker
The Germans really know how to decorate their stores. It's a sight to behold, but there's no photography, so you'll have to pop along to see it for yourselves.
Have you tried a Schneeball?
Yep, a delicious snowball
A what!!...I hear you say, yes, a schneeball, a Franconian delicacy made of biscuit. And you guessed it, it's even shaped like a snowball.

The pliable biscuit dough is rolled out, and a cutter is used to make the narrow strips. They are then delicately shaped into a ball of around eight to ten centimetres in diameter and deep fried until golden brown.
The Schneeball maker
There are many different varieties of flavours added to the schneeball, chocolate, nuts, and sugar, and some are also stuffed; I must admit they all look very tempting.
The art of the Schneeball
Be warned, they are very filling and go exceptionally well with hot chocolate.
The Schneeball and hot chocolate
Visiting Rothenburg ob der Tauber
Exploring the ancient walled town
One of the aspects that makes the ancient town of Rothenburg ob der Tauber an amazing place to visit any time of year; is the magnificently preserved ramparts and towers that envelope the city.
 A wintery day in Rothenburg ob der Tauber
It is genuinely incredible exploring Rothenburg ob der Tauber; you feel like you've stepped into a curious period in history.
A crisp winters day in Rothenburg ob der Tauber
It is free to stroll all around the battlements, and you are treated to some stunning views over the Bavarian countryside and across the rooftop peaks of the town itself.

It is fascinating to discover the medieval town of Rothenburg ob der Tauber; it is a gem of Bavaria. Don't worry if you get lost within the narrow-cobbled streets; that's the enjoyment of exploring the winding lanes and town gates.
Burg Turm und Tor
Heading away from the main town square, you'll be amazed at how peaceful and tranquil the colourful streets become.
The southern entrance of Rothenburg ob der Tauber
Start creating your own Christmas Market adventure and discover the culinary delights for yourself. Take a browse through ebookers.com for departures from your local airport.

Discover more of Germany on a road trip like us; why not check out Rental Cars as they search multiple well-known car hire brands for the best deals.
Touring the Romantic Road
An idyllic German road trip
We were fortunate enough to previously journey around this region of Germany on our Lakes and Lederhosens road trip.
There is an incredibly picturesque route that you can tour through, which is named the Romantische Straße. We've since journeyed through this region of Bavaria and embarked upon sections of the 'Romantic Road' on a road trip, which takes in some breath-taking scenery.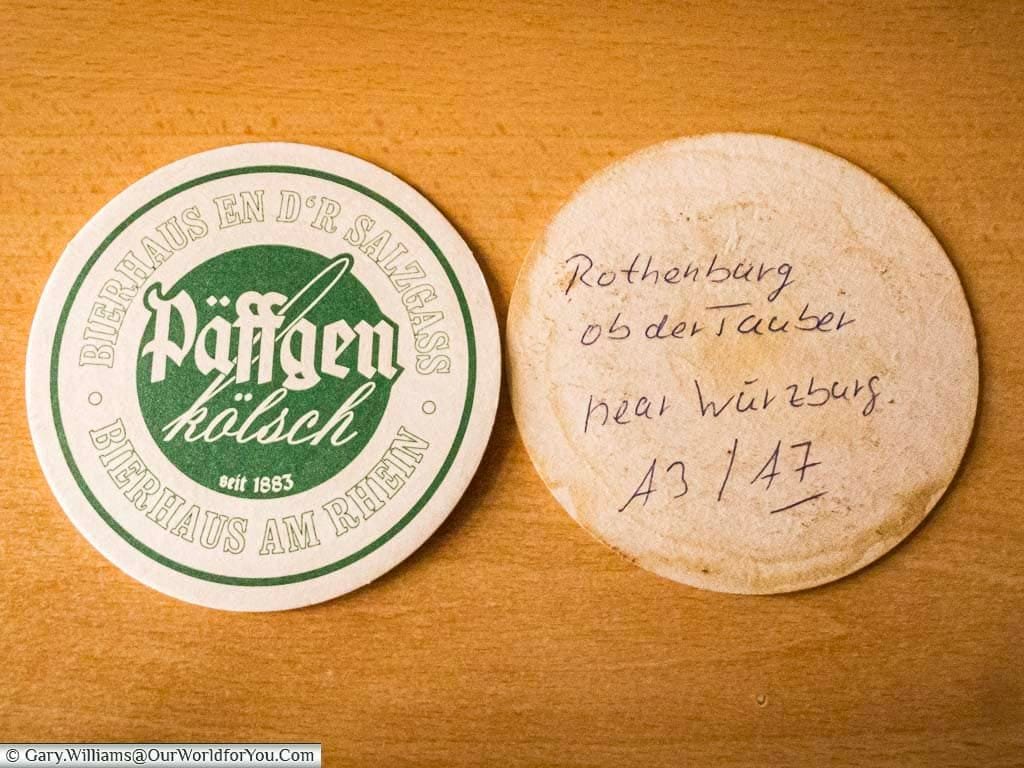 The beer mat from Cologne
A few years ago, whilst in Cologne for the Christmas markets, we met a gentleman in a bar. He recommended a town we should try and make an effort to visit. He jotted the name down on a beer mat, and it was Rothenburg ob der Tauber.

Amazingly we still have the beer mat today.
Filming location of Chitty Chitty Bang Bang
Beware of the child catcher!
I thought Rothenburg ob der Tauber looked like a movie set.
To the eagle-eyed amongst you, this lovely town was also used in some scenes from Chitty Chitty Bang Bang.
The child catcher's carriage
It doubled as Vulgaria, where the child-catcher lurked. His carriage can be seen outside the town's Medieval Crime & Justice Museum.
When Caractacus Potts landed in Chitty Chitty Bang Bang, it was next to the Tauberbrücke. The filmmakers adopted a little bit of artistic licence and merged the town with the Neuschwanstein Castle some 120miles (200km) away.
The Tauberbrücke
Where we stayed in Rothenburg ob der Tauber
The Hotel Eisenhut
For our 2 nights in Rothenburg ob der Tauber, we chose the
Hotel Eisenhut
, which is right in the heart of the town. So as soon as you walked out of the hotel the door, the Christmas festivities started.
Hotel Eisenhut
The Hotel Eisenhut has recently been fully refurbished and looks incredible. The room we previously chose was very comfortable, and our stunning views over the Bavarian landscape were amazing.
The views from our room
Just a few points to note;
If you wish to fly, there are no direct flights from London. You will need to change in either Nuremberg or Stuttgart.
Dress warm and comfortable; this is essential because it was cold in December.
You really need to book early as these markets are very popular.
As Rothenburg ob der Tauber is a very picturesque town, it does become very popular with day trippers. Although this means that the pace slows down nicely in the evening.
Germany's Christmas markets are for all ages, don't be put off that it is all for children; it really isn't. We are all big kids at heart…..
* This post may contain links to affiliated sites where we earn a small commission at no additional charge to you.