Our excuses for a Normandy road trip
France was calling us again
We never really need an excuse to visit France as we love their culture, food and landscape, often we jump in the car and head south through France visiting cities, towns and villages en route. However, this time we fancied exploring the north-western region of France, more precisely Normandy.
An inspiration for artists, Honfleur
We had previously spent a couple of nights in beautiful Honfleur back in 2007, where we took a day out to explore part of Normandy's coastline, learn more about WWII landings & visit Bayeux (home of the famous tapestry). However, that was just the tip of the iceberg in regards to what Normandy has to offer.
Here are just a few of our inspirations that lured us back, so, with our taste buds tempted off we embark again on a Normandy road trip.
Normandy has a wonderful coastline stretching out over the English Channel, it'll be pleasure driving along the winding roads & discovering, as parts of this shoreline appear to look quite harsh & unforgiving.
The Cliffs at Étretat
We're also looking forward to exploring the charming harbour towns that are scattered amongst the bays.
That's not to say that Normandy is all about its coastline, there appears to be some intriguing rugged landscapes and lush countryside to tour through. Particularly around the Calvados region, where we plan to pick up a 40-mile (65km) route around Suisse Normande.
A view over the route Suisse-Normande
We love visiting France and each region so different from one another. I find the DK Eyewitness Guides really helpful in planning a trip and so often find interesting little snippets of info.
Take a peek at this revised Top 10 Pocket Travel Guide and see what you can discover.
Normandy is certainly full of history, particularly from the allied invasion in WWII.
Pegasus Bridge in its new home in Normandy
We plan to visit some of the poignant places around here including the Military cemeteries & the renowned D-day landing beaches.
The Omaha Beach D-Day Memorial
Another large part of Normandy history is the impact of William the Conqueror, the King of England & also the Duke of Normandy.
William the Conqueror's tomb is at the Abbaye-aux-Hommes, one of two abbeys in Caen.
A light display is performed on the façade of Rouen Cathedral each evening during the summer of 2017, to depict his life and influences. This is a must for us, as we had watched one in Reims last year and it was fantastic.
There is certainly no forgetting the huge effect that Joan of Arc had on France, and unfortunately her young death at the age of 19 was at the stake at Rouen.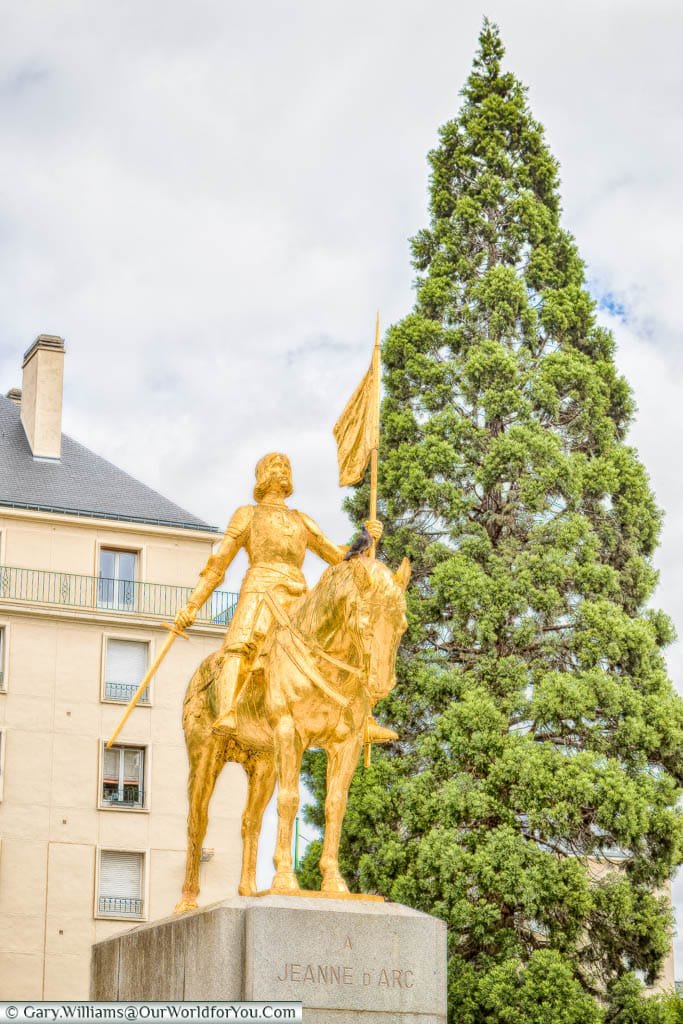 Normandy has a rich history of artists, Eugène Boudin a marine painter was born in Honfleur. However, one of my favourites artists is Claude Monet & I'm looking forward to visiting the house and gardens in Giverny, which are synonymous with his water lily paintings.
The Lily ponds at Giverny
Another reason why we love to travel is to see the architectural differences & Normandy has some wonderful cathedrals, churches & half-timbered buildings.
Looking up at Rouen Cathedral
One cathedral that particularly stands out is the Gothic style Rouen Cathedral, which has had its fair share of natural disasters fall upon it. Rouen Cathedral also contains a tomb of Richard the Lionheart
We will certainly be visiting the island commune of Mont Saint-Michel, located 0.6 mile (1km) off Normandy's coast, which was inscribed as a UNESCO World Heritage site in 1979.
No trip to France would be complete without sampling the local delicacies & Normandy has a few 'Must tries.'
The galettes are something we will definitely enjoy, but I'm not too sure about the tripe and the andouille, we have fell into that trap before in France. (See Troyes - and their Andouillette de Troyes)
A gallette with Camembert and cream
Seafood is also very good in this region for obvious reason, however, no trip would be complete for me if cheese wasn't involved. In Normandy, there are quite a few local varieties a few of the more popular ones are Camembert, Livarot & Pont l'Eveque.
With Normandy's abundance of orchards, the tipple in this region has to be cider, well 'When in Rome' – as they say. I suppose we may have to try Calvados the apple brandy, just for research reasons you understand.
Cidre de Normandy
We are also planning to pick up the Cider Route, which is a 25-mile (40km) tourist trail through the picturesque area of the Pays d'Auge.
When planning a trip we use Google MyMaps. We create a layer for the routes we want to take, the accommodation the Points-of-Interest, and then try to see if we join the dots when we're on the trip. Why not try it yourself?
Something from Get Your Guide?
Why not check out what else is on offer through Get Your Guide.
(These options are provided by GetYouGuide.Com. We will earn a small commission, at no extra cost to you if you book through our site)
Toured around the Normandy region of France, as we'd love to hear all about your tales & adventures?
* This post may contain links to affiliated sites where we earn a small commission at no additional charge to you.
Inspired to visit Normandy?
Are you inspired like we are? What you waiting for?
Why not checkout the latest deals on Booking.Com?
(Why not Pin It for Later?)
If you enjoy what you see, and you'd like regular updates then join us for a monthly newsletter.