by Janis /
0 comments
- Orginally published:20th June 2023
From the historic shady lanes to the contemporary modern art
I love visiting Bankside in London; it's bustling, laidback and full of history. Bankside is located in the Borough of Southwark and hugs the south side of the River Thames by Shakespeare's Globe.
I've been strolling through this region of London on and off for the last 30 years, and it has undoubtedly seen some changes in those few decades, let alone the centuries that have passed.
It's a fantastic area of London to explore; as you leisurely amble along Bankside, Southbank, and a few streets beyond, you'll be wending your way through Southwark's historical past.
Discover a medieval prison, a galleon, Shakespeare's Globe, Tate Modern, London's lively Borough Market and the Crossbones Graveyard, to name a few.
Why not Pin it for later?
I love sauntering beside Old Father Thames; there's always something going on to entertain you. As I take you on a virtual stroll along Southbank, I'll highlight some charming sights along the way.
Where is Bankside in London
Bankside is located on the south side of the River Thames. Its closest underground stations are London Bridge Station, on the Jubilee Line and the Northern Line and Southwark Station, also on the Jubilee Line.
London's underground network is so easy to use, just tap in and out with your phone, and your journey is underway. Check the Transport for London website for the latest updates.
For a relaxed arrival to Bankside, jump aboard the RB2 line on London's River Bus, and you'll be dropped at Bankside Pier.
There nearest mainline station to Bankside is London Bridge Station. Although not too far away are Waterloo East, Blackfriars, and London Cannon Street stations.
If you're visiting from further afield, check out the offers on Raileasy.
A little history around Bankside
Bards, breweries, and brothels
Bankside itself runs roughly from London Bridge in the east to Blackfriars Bridge in the west and is around 1 mile in distance, give or take a few detours.

The area of Bankside was claimed by the Bishop of Winchester, and during the early 13th-century, Winchester Palace was built along Clink Street. Remains of the Great Hall and the Rose Window can still be seen today.
Underneath Blackfriars Bridge
The name of Bankside was recorded in 1554 as 'Banke syde', and even though the City of London was just opposite Bankside, it fell outside its jurisdiction and led to a rather rowdy region of London.
Bankside has had quite a chequered past, and during the 16th-century this lively district was often frequented by ne're-do-wells and ladies who worked in houses of ill repute. The prostitutes became known as 'Winchester Geese' as the Bishop of Winchester owned the brothels and turned a blind eye and benefited from their revenues.
Bankside was also known for gambling dens, bearbaiting, breweries, and playhouses and became an inspiration to many writers. A replica of the Globe Theatre was opened in 1996, and excavation is still taking place of the Rose Theatre, which was discovered in Park Street in 1989.
Park Street
The historic Borough Market can be found within the web of these south London streets and is one of the largest and oldest food markets in London, dating from 12th-century.

Fast forward several years, and Bankside was thriving with industrial trade. The Thames flourished with traffic supplying goods through the wharves and warehouses lining the riverside. Unfortunately, Bankside suffered heavily through bombing during the Second World War.

Today this charming and upbeat district of London is prospering once more.
Beneath old London Bridge
Historical steps
Let's start at London Bridge, well, actually underneath the bridge. You'll see a few surviving sections of the original 1831 London Bridge at the end of Tooley Street.
Nancy's steps
Old London Bridge blue plaque
The existing parts of the historic old London Bridge are the arch along with 'Nancy's steps, so-called as they are believed to be the scene of the murder of Nancy in Charles Dickens's novel Oliver Twist. Old London Bridge was sold to the USA and now resides at Lake Havasu City, Arizona.
London Bridge
Wander into nearby Minerva Square to the river's edge for an incredible view of London Bridge and the City of London skyline beyond. This is a wonderful spot to watch London's river traffic cruise by.

Opposite Minerva Square is The Mudlark pub, established in the 1700s. This characterful pub was used in filming Bridget Jones's Diary, Lock Stock and Two Smoking Barrels, and Harry Potter and the Prisoner of Azkaban.
Where to stay in London's Bankside
Mercure London Bridge
This modern central hotel is only a 7-minute stroll to Bankside, where you'll find Shakespeare's Globe Theatre, the Tate Modern and plenty of restaurants. The modern 4-star Mercure is friendly, comfortable, and welcoming.
Visiting Southwark Cathedral
A poignant memory
Just a short hop, and we're inside the historic
Southwark Cathedral
. A place of worship had stood on this site for over 1,000 years when it was an Augustinian priory. Southwark Cathedral suffered severe damage over the centuries, from the Great Fire of Southwark in 1212 to bomb damage in WWII. Between October 1940 to June 1941, 1,651 bombs were dropped on Southwark.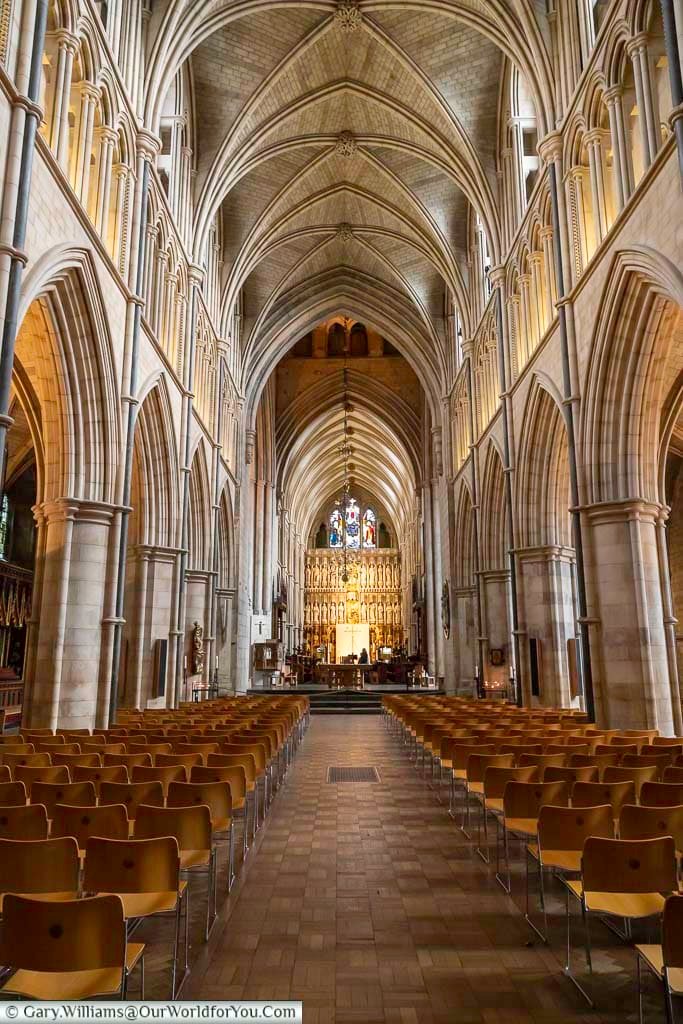 Southwark Cathedral Nave
The Great Screen and Altarpiece
Today the delightful Gothic cathedral stands proud within the bustling streets around Borough Market. It's bizarre there is so much happening around this Southwark region that the cathedral goes almost unnoticed. However, I urge you to step inside; it is a lovely peaceful haven which should be explored.
Memorial to Marchioness Disaster in 1989
Within the cathedral is a touching memorial to the 51 victims of the horrendous Marchioness Disaster in 1989. Many people who lost their lives on the pleasure boat that night were very young and celebrating a 26th birthday.
William Shakespeare memorial
There are many things to look out for within Southwark Cathedral; memorials to Nelson Mandela and Desmond Tutu, a stained-glass window dedicated to William Shakespeare, the churchyard and herb garden and Hodge, the resident cathedral cat, to name a few.
We have a little book on our shelves that we sometimes delve into when we're about to hit an area of London.
Packed full of historical facts, and broken down into the different regions of London, it's a great resource to help you see what's hidden in plain sight.
Available in Kindle & Hardback editions, it's an excellent addition to anyone's collection who loves London.
London's Borough Market
A world of cuisine
Our next venture is exploring
Borough Market
, and I love it here; there is such a pleasant buzz around the market.
Entrance to Borough Market
Borough Market is one of the oldest food markets in London. Incredibly there has been a market on this site since the 12th century. The present buildings were erected in the 1850s, and the beautiful Art Deco front was added in 1932.
Ted's Veg
The market sells all different types of foods, from your run-of-the-mill fruit and veg to speciality foods from around the globe. Borough Market not only offers produce for you to take away and enjoy at home, but plenty of stalls sell freshly cooked street food for you to savour in the market.

The market is open from Tuesday to Sunday, and just a word of warning, it can get extremely busy at the weekends.
Neal's Yard Dairy
Once you've visited Borough Market, you must explore all the surrounding streets and lanes, they are full of such fascinating history, and you may also recognise them from the silver screen, particularly along Park Street, where scenes from Lock Stock and Two Smoking Barrels were filmed.
Also, along this lane, you'll see Neal's Yard Dairy, which opened in 1998 and sells some beautiful cheeses.
Hop aboard the Golden Hinde
Or get locked up in The Clink
Heading down towards the River Thames along Cathedral Street, we arrive at the Golden Hinde, a galleon moored in the St Mary Overie Dock dry dock.
The Golden Hinde is a replica of the 16th -century Elizabethan galleon, the first English ship to circumnavigate the globe and was captained by Sir Francis Drake. The ship set sail from Plymouth in 1577, and after a very turbulent and long trip, the galleon returned back to English shores 3 years later in 1580.
The ship was originally named the Pelican; however, during the circumnavigation of the globe, it was renamed the Golden Hinde on 20th August 1578. Jump aboard and discover life onboard the galleon.
The Golden Hinde
Winchester Palace ruins
As we stroll along Pickford's Wharf onto Clink Street, you'll spot the ancient ruins of Winchester Palace. Winchester Palace was once an extremely grand palace. It was once the residence of the Bishops of Winchester during medieval London.
Winchester Palace was mainly destroyed by a fire in 1814; however, the Great Hall and the Rose Window remains can still be seen. The ruins are now managed by English Heritage and Bankside Open Space Trust.
The Clink Prison Museum
For a ghoulish insight into the medieval prisons of London, visit
The Clink Prison Museum
. The first prison was located at the sight of today's museum, which had a reputation for being notoriously squalid. The Clink Prison dated back to 1144 and was owned by the Bishop of Winchester, residing at the adjacent palace.
If you've yet to discover London and its ancient history, then let's start planning. I find these DK Eyewitness Travel Guides invaluable. They're extremely informative, easy to follow, and the pictures and maps tempt you into discovering more of those fascinating sites.
You can now grab a recently revised copy of this guidebook, so you won't miss a thing.
Exploring Shakespeare's Globe
Strutting the theatre stage
As we weave our way back towards the Thames, passing The Anchor inn, we amble along Bankside and under Southwark Bridge for another lovely view across London's skyline with St Paul's Cathedral in the distance.

It's along Bankside where you'll discover the magnificent "Shakespeare's Globe". The Shakespeare's Globe is incredible and looks so majestic nestled along the south bank of the River Thames.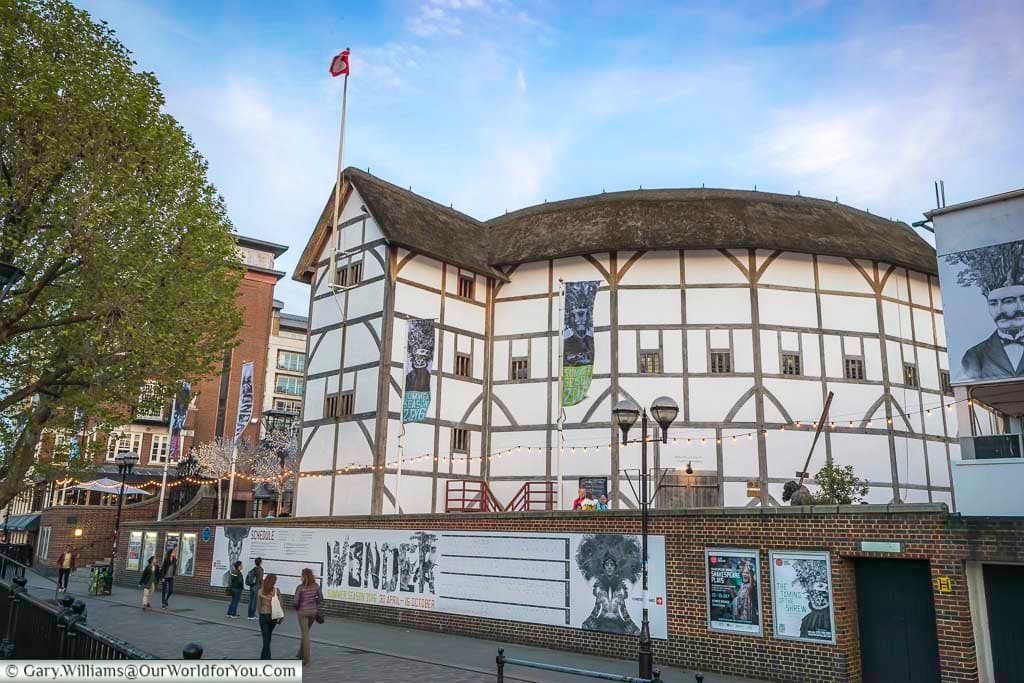 Shakespeare's Globe
The modern-day
Shakespeare's Globe
was the dream of the actor Sam Wanamaker and is a replica of the original Globe Theatre which was built in 1599. The initial theatre was located in nearby Park Street and suffered fire damage in 1613, it was then rebuilt in 1614, and unfortunately demolished in 1644 due to the First English Civil War.
 Location of the original Globe Theatre
Sam Wanamaker's reconstructed Elizabethan playhouse opened its doors in 1997 with a production of Henry V. Ensure you take a tour of Shakespeare's Globe, or even better, attend one of the many tremendous performances.
Cardinal Wharf
A short hop past The Globe, and you'll spot a row of 18th-century Georgian terraced houses. The tall white house is named Cardinal's Wharf and is one of the oldest surviving houses in the area. Cardinal's Wharf is believed to be where the architect Sir Christopher Wren resided while St Paul's Cathedral was built. Keep a look out for the ornate ceramic plaque on the front of the house.
Sir Christopher Wren ceramic plaque
If you enjoy finding out a little more about London's districts, take a look at the articles we created for the different regions we've explored, all easily discovered on foot.
London's "Wobbly Bridge"
And a power station like no other
Along the last little stretch of Bankside is where the Millennium Bridge crosses the River Thames linking Bankside with the City of London.

The Millennium Bridge was nicknamed the "Wobbly Bridge", due to the noticeable swaying motion it experienced on its opening day on 10th June 1998. Later that day, the Wobbly Bridge closed, and after considerable modifications, the bridge re-opened nearly two years later.
The Millennium Bridge
Nearby the Millennium Bridge is another icon of the Southbank skyline, and that is Tate Modern, once the former Bankside Power Station.
The Tate Modern is a modern and contemporary art gallery that houses work by some of the world's most famous artists and sculptors, and admission is free. The gallery was opened on 11th May 2000 by Queen Elizabeth II.
Tate Modern
As you wend your way around the magnificent gallery, you'll spot incredible pieces by Pablo Picasso, Andy Warhol, Henri Matisse and Damien Hirst. The vast Turbine Hall needs to be seen to be believed; it is breathtaking.
Quirky aspects of Bankside
Oh yes, and a couple of pubs too
It wouldn't be the same if I didn't point out some quirky bits of this region of London, along with a few pubs and inns to pop into.
Anyone who knows me will know that I love visiting a cemetery or graveyards, so how pleased was I when I found out about Crossbones Graveyard. The only problem was the Crossbones memorial garden was closed when we visited. It is open 12-2pm Wednesday, Thursday and Friday.
However, here is a little knowledge of this historic and touching slice of South London, which can be found on Redcross Way.
Crossbones Graveyard
Cross Bones Graveyard was an unconsecrated burial ground. It was believed to have been used since 1598 and wasn't closed until 1853. Up to 15,000 people are buried within this small site and predominantly from society's poorer side. They included paupers and prostitutes known locally as "Winchester Geese", as I mentioned, were licensed by the Bishop of Winchester.

A delightful communal garden has been created, and touching messages, ribbons, and offerings adorn the external gate.
Take Courage sign
Also, along Redcross Way, high on the side of a residential home, is one of London's ghost signs, "Take Courage".

In the early 1600s, Anchor Brewery was established in Park Street, Southwark, and by the 19th-century became the largest brewery in the world. In 1955 Anchor Brewery, now operated by Barclay Perkins & Co, merged with Courage and continued to brew beer on this site until the early 1970s.
The slogan "Take Courage" was used by Courage from the 1950s.
The Ferryman's Seat
The next unusual site that we spotted was the Ferryman's Seat. If you blink, you'll miss it, as it is located on a narrow-cobbled lane just off Bankside named Bear Gardens. Bear Gardens was so named as this area of London was renowned for Bear Baiting pits during the 16th & 17th centuries.
I have recently found out that my great-grandfather was born in Bear Court in 1879. Unfortunately Bear Court has now disappeared; however, the adjacent street Bear Lane still remains. I knew I loved this region of London.

I digress; let's get back to the Ferryman's Seat; this rather crude stone plinth was used by the local ferryman while waiting for patrons to cross the River Thames on a water taxi service. This was once a thriving trade as the south of the river was quite an unruly region and attracted a few undesirables.
The Mudlark
It's good to talk! Tip Box
Please share with us your favourite spots in and around Bankside, as there are always new places to be discovered.
* This post may contain links to affiliated sites where we earn a small commission at no additional charge to you.