A few hours in and around Camden Town, London
With a little Chalk Farm and Primrose Hill thrown in
In January, Gary and I headed up to 'The Smoke', for what has now become an annual tradition for us.

A mini-break to the culturally rich city of London is an incredible experience any time of the year. However, in January, when heaps of people are hibernating, it's perfect. Ok, so it may be a bit, hit and miss with the good ol' English weather, although that gives you an excuse to find a cosy warm pub.
This year during our visit to London, we chose to head to Spitalfields, Westminster, Whitehall and the ever-vibrant Camden.
 
Though I couldn't wait to discover Camden Market, we thought we'd also have a little wander around its surrounding streets and neighbouring areas too.
Everything you need to know
As you stroll closer to Camden Market along the High Street, you really feel the vibe of the area changing. The colourful, bustling streets were stretching their arms wide open and coming alive.
What I love along here are the striking shop fronts, vying to grab your attention. I spent more time looking up at the imaginative designs and displays than I did actually entering the stores. Although, I think that's what it's all about here.
The New Rock Leather and Boots
I understand that there are always going to be the tourist shops, tempting you with that unique piece of London memorabilia. However, there is something quite quirky in Camden that you just don't seem to mind them.

There are so many weird and wonderful façades, for tattooist, piercing parlours, the bohemian and most definitely for the shoe shopper.
Evil from the Needle, Tattooist
I wasn't in the market for a tattoo on this visit, perhaps I'll leave that for a later date.
Want to discover more than about London?
We have a little book on our shelves that we sometimes delve into when we're about to hit an area of London.
Packed full of historical facts, and broken down into the different regions of London, it's a great resource to help you see what's hidden in plain sight.
Available in Kindle & Hardback editions, it's an excellent addition to anyone's collection who loves London.
The Regent's Canal that runs through north Camden has been hauling goods up and down the waterways since 1816. The towpaths that were once used by horses to pull the barges are now footpaths and cycle routes.
Regent's Canal, Hampstead Road Lock
Today the canal is more likely to be used for tourist canal boat trips, heading towards Regent's Park to visit London Zoo or Little Venice.

Although, if you are on a narrow-boat and pass through a network of UK waterways heading north, you'll get to Liverpool which is 302 miles away.
Regent's Canal, passing through Camden
Gary and I are always trying to find local street art, and as you can imagine, Camden didn't fail to meet our expectations.
Street Art along Hawley Mews
Street Art by Void 16 at Hawley Mews
Therefore, if you too love to admire this eye-catching and often thought-provoking talent, then head to Hawley Mews. This little lane is just opposite the Camden Market and full of art by London artists.
Street Art by Irony at Hawley Mews
Street Art by Airborne Mark
Just along this short lane, there were some incredible pieces by Void 16, Irony, Airborne Mark, PLIM and Choots.
If you've yet to discover London and its ancient history, then let's start planning. I find these DK Eyewitness Travel Guides invaluable. They're extremely informative, easy to follow, and the pictures and maps tempt you into discovering more of those fascinating sites.
You can now grab a recently revised copy of this guidebook, so you won't miss a thing.
For many years now Camden is not just synonymous for its lively flamboyant market, but also for its music venues.
The Electric Ballroom is an iconic music venue along Camden High Street and has been holding events for 80 years. It started as an Irish club, and over subsequent decades it has had true greats through its doors.
Although possibly not greats in everyone's eyes, but who couldn't like Sid Vicious, Madness, The Clash, Foals, Future Islands and Alt-J, to name just a few.Intro Paragraph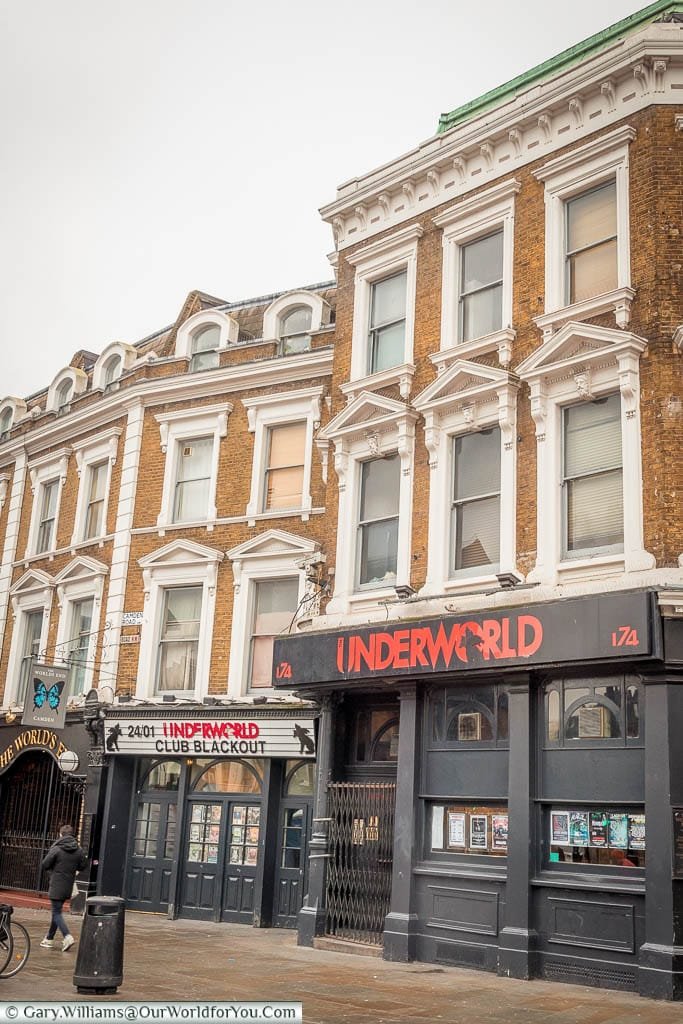 The Underworld next to The World's End in Camden has become a thriving scene for alternative music and regularly hosting big names.
 
The Roundhouse, which is found along Chalk Farm Road, was once a railway engine shed. It's now a performing art and concert venue. It continues to allow young people to develop their creative talents and also a platform to follow their dreams.
The Roundhouse, Chalk Farm
Not only does The Roundhouse develop new talent, but it is also a renowned venue for established artists to perform. Keep a lookout for the events taking place for the 2020 6 Music Festival.
 
The Blues Kitchen on the main High Street has live music every evening. Which includes as you would expect Blues; however, also Soul and Country. On Friday and Saturday evenings it has live bands and DJ's.

After our little jaunt around the streets of Camden and its market, we headed along Chalk Farm Road and crossed the railway bridge at Regent's Park Road.

Immediately you felt a difference in the surroundings and the vibe of the environment, you can't believe how streets just within a few yards of each other, felt like worlds apart.
Regent's Park Road, Primrose Hill
The Queen's pub, overlooking Primrose Hill
The air of wealth took to the streets around Primrose Hill. All along Regent's Park Road are immaculately kept boutiques, artisan shops, florists, café's and small independent stores.

Don't get me wrong, it is a delightful part of London, I just couldn't believe the change of atmosphere within such a few roads from Chalk Farm.
Chalcot Gardens, Primrose Hill
We strolled around the stylish, elegant streets of Primrose Hill along Chalcot Crescent, Chalcot Gardens, passing by grand houses, and headed through such a tranquil part of London.
Stylish homes along Chalcot Road,
Colourful houses along Chalcot Crescent
Some of the houses here were so immaculately kept and painted in subtle pastel shades and looked beautiful with their perfectly manicured front gardens.

We wound ourselves around towards Regent's Canal and crossed back over to Camden.
Blue Plaques and Street Art
Oh, of course, if there's going to be street art, then it's only fitting that it's Royalty. This piece of street art is by bambi and one of many great pieces dotted around London.
Royals with ABBAtude by bambi in Primrose Hill
Yes, we are still blue plaque spotting, and around Primrose Hill there are several. A couple of the ones we spotted were for William Butler Yeats, an Irish Poet and Dramatist and also the poet Sylvia Plath.
A Blue Plaque to Sylvia Plath, Poet
Blue Plaque to William Butler Yeats
Please share with us the district of London that you love to visit and drop us a comment below. We always love to visit more.
Just down the end of Camden High Street, is Mornington Crescent. The tube station here originally opened in 1907. After a lengthy refurbishment project between 1992 and 1998, the underground station was brought back to its former glory, with its lovely tiling restored.
Mornington Crescent Tube station
We're always on the lookout for Art Deco architecture and just opposite Mornington Crescent tube is Greater London House.
When this vast Art Deco building was originally constructed in 1928, it was the Carreras Cigarette Factory.  The structure was designed in the Egyptian Revival style (not that I knew there was such a style).
Art Deco Greater London House, formerly the Carreras Cigarette Factory
It also became known as The Black Cat Factory, due to the two bronze statues standing pride of place at the entrance. The Black Cats were also used as a brand for one of their range of cigarettes.
Black Cats outside the Art Deco Carreras Cigarette Factory
The factory was converted into offices in the early 1960's, where a lot of the Art Deco façade was lost. Then it wasn't until the 1990s that the current Art Deco renovations were carried out.
Would you like a little more?
We have created a little YouTube video of our visit to Camden, why not check it out?.
Why not subscribe to our channel and get the latest clips as we post them?
* This post may contain links to affiliated sites where we earn a small commission at no additional charge to you.
Inspired to visit Camden Town?
Grab your overnight bag and enjoy a day exploring the eclectic streets.
(Why not Pin It for Later?)
If you enjoy what you see, and you'd like regular updates then join us for a monthly newsletter.