by Janis /
0 comments
- Orginally published:23rd May 2023
The Apple Market and beyond
Visiting Covent Garden in the heart of London's West End is a perfect location to start your London adventure.

There is so much to see and do and all within a short stroll of Covent Garden's spectacular and historic covered market.

As you leisurely mooch around Covent Garden's colourful market stalls, opera singers serenade you with heartfelt ballads, and when you amble out into the open-air courtyard, street performers will be dazzling you with their unabashed talent.

Covent Garden is on the fringes of London's theatre district, so after a day exploring the Apple Market and Long Acre, grab yourself a seat in a playhouse.
Why not Pin it for later?
How to get to Covent Garden
- By Public transport
Covent Garden is located in the heart of London's West End and is within skipping distance of the bustling and lively theatre district.
Covent Garden has its own underground station which is on the Piccadilly line.
The are several mainline stations within a tube distance of Covent Garden; if you're visiting from further afield, check out the offers on Raileasy.
...
A little history of Covent Garden
From the orchards to the Apple Market
Many moons ago Covent Garden was a sea of fields, it wasn't until the 1200s that an area of land was walled off and utilised by Westminster Abbey as gardens and orchards. This section of land later became known as "the Convent Garden", hence the name we have today.

During Henry VIII's Dissolution of the Monasteries, where land was seized from abbeys and churches across the country, Westminster Abbey's gardens fell to the same fate and the estate was handed to the Earl of Bedford.
Covent Garden Market
In 1630 the renowned architect Inigo Jones was commissioned to build three rows of elegant houses around a piazza, the plans also included the grand church of St Paul's which faces Apple Market today.

From 1654 a small open-air fruit and vegetable market was built, and the area became very desirable for wealthy tenants. Although unfortunately it wouldn't be long, that Covent Garden started to attract the less welcome type of tenant.
Covent Garden Market sign
Covent Garden that we know, and love today certainly had a tumultuous past, particularly during the 17th & 18th-century, when rowdy alehouses and prostitution was commonplace. Notable ladies-of-the-night ran busy brothels and the area gained quite a reputation. An Act of Parliament was put in place to control the area and a beautiful neo-classical building was erected to cover the market.
Punch & Judy Pub sign
Punch's Puppet Show
Fast forward to the late 1960s and this popular fruit and vegetable market was outgrowing its plot of land and causing congestion around London's streets. In 1974 the market was rehomed in Nine Elms in south-west London and the market is known as New Covent Garden Market.

The delightful pedestrianised district that we appreciate and enjoy today was re-opened in 1980.
Visiting Covent Garden Piazza
Exploring the covered market
Covent Garden Market is incredibly iconic in London and is such a pleasure to stroll around day and night, there's always such a lovely buoyant atmosphere.

The magnificent covered market and grand arcades are stunning and will entice you in, to dig a little deeper into Covent Garden's bustling marketplace.
Exploring Covent Garden Market
Allow plenty of time to explore Covent Garden's charming terraces and the delightful halls and quirky stalls which surround the elegant piazza.
Live music in Covent Garden Market
As you wend your way amongst the tempting boutiques offering weird and wonderful things, ensure you stop and listen to the talented classic singers and the captivating live bands. These gifted performers lift the Covent Garden experience to another level.
Apple Market, Covent Garden
Wandering through the 'Apple Market' is a delight, there are independent market stalls selling tasty, sweet treats, unusual gifts for friends and that piece of London memorabilia you can't live without.
If you've yet to discover London and its ancient history, then let's start planning. I find these DK Eyewitness Travel Guides invaluable. They're extremely informative, easy to follow, and the pictures and maps tempt you into discovering more of those fascinating sites.
You can now grab a recently revised copy of this guidebook, so you won't miss a thing.
Museums to visit in Covent Garden
Hiding from the rain
I've chosen three museums for you to visit in Covent Garden, you never know what will happen with the ever-changing English weather.

The first is the London Transport Museum and a treat for any visitor to London. This delightful museum has over 200 years of transport history.

Discover how the Victorians navigated London's streets, rivers, and rails. Visit an 'abandoned' tube station to reveal it's shadowy past and learn how the tangling network of underground railway lines snake beneath your feet.
The London Transport Museum
The second museum I've chosen is the Bow Street Police Museum, which is located just off Bow Street in a part of the old Bow Street Police Station. Policing at Bow Street dates back to the 18th-century.

You'll discover the history behind the Bow Street Runners (London's first official police force) the formation of the Metropolitan Police and fascinating stories from the old Bow Street courthouse.

In 1908 the Suffragettes Emmeline Pankhurst, Christabel Pankhurst and Mrs Drummond stood in the dock at Bow Street on charges of breaching the peace following a demonstration at the Houses of Parliament.

Bow Street Police Station closed in 1992.
Bow Street Police Museum
The final museum I've chosen which is around a six-minute walk from Covent Garden Market is the Freemason's Hall on Great Queen Street.

I appreciate this is something a little different; however, it is free to visit, and you'll be treated to an Art Deco wonder. Inside there is also an interesting museum where you can learn all about the history of Freemasonry.
Inside Freemasons Hall
Masonic meetings have been held on this site since 1775; though, the present Freemason's Hall was built between 1927 and 1933 to commemorate those who died during the First World War.
Covent Garden's beautiful architecture
Operas, theatres and churches
Whether you're catching an operatic or ballet performance at The Royal Opera House or just soaking up the local West End vibes, take a stroll past the magnificent theatre as the façade is stunning and incredibly iconic to Covent Garden.

The Royal Opera House is the home of The Royal Opera and The Royal Ballet; the present building, which was opened in 1858 and is the third on this site; the previous two were constructed in 1732 and 1809; unfortunately, they both succumbed to devastating fires.

Along with visiting the Royal Opera House, you can pop into Theatre Royal Drury Lane, just around the corner.
Royal Opera House
Another stunning building you should visit free of charge is St Paul's Church, known as the Actors' Church. This fascinating church was designed by Inigo Jones in 1638 and is a pleasant place to sit in peace with the hustle and bustle of Covent Garden Market beyond.
St Paul's Church
The beautiful church and gardens established their theatrical connections as early as 1663 with the opening of Theatre Royal Drury Lane and then the Royal Opera House.

Many well-known legendary actors are commemorated on memorial plaques within St. Paul's Church and also on the delightful garden benches resting throughout.
Memorial of Dame Diana Rigg
Some of the legendary names you'll find here are John Thaw, Sir Charlie Chaplin, Richard Beckinsale, Dame Barbara Windsor, Vivien Leigh, Peter O'Toole and Dame Diana Rigg.
Where to stay near Covent Garden
The Savoy
For full on decadence and an absolute treat why not stay at the iconic Savoy Hotel. Just a short stroll from Covent Garden, the Royal Opera House and the theatre district.
Studio Apartment, Covent Garden
This central studio apartment is located just a short hop from Covent Garden and has all modern facilities and comfortable. Shops, restaurants, theatres, and bars all at your fingertips.
Eye-catching spots in Covent Garden
From the 'Yard' to the 'Dials'
There are a few places I always love to visit around Covent Garden, and they can so easily be missed if you haven't done a little planning.

The first picturesque area to search out is Neal's Yard, located down a narrow alleyway just off Monmouth Street and Short's Gardens. As you wend your way through into the main yard, it truly is a wow moment, as it is so quaint and vibrant.
Neal's Yard
The renovated warehouses were originally used by the Covent Garden fruit and veg market and have now been totally transformed into a colourful haven of quirky boutiques and eateries. Here you'll also find Neal's Yard Remedies, once known as Neal's Yard Apothecary.

As you step out onto Short's Gardens, keep a lookout for Neal's Yard Dairy, they have an incredible selection of British cheeses to suit every palate.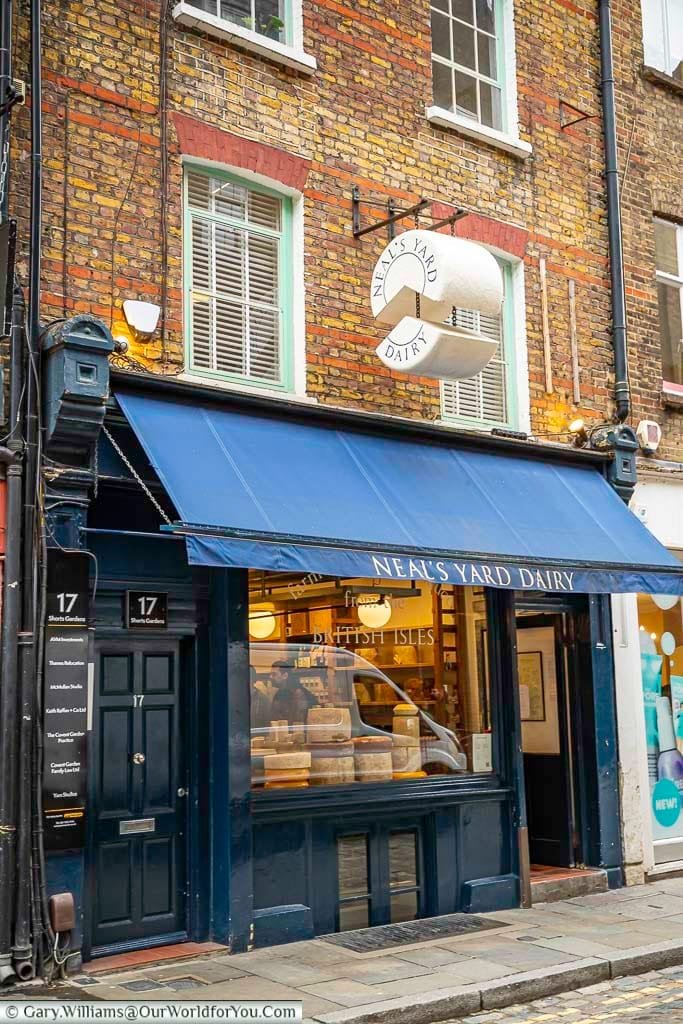 Neal's Yard Dairy
Seven Dials
Continuing down Short's Gardens, you'll arrive at Seven Dials, which I often revisit. Leading off of the Seven Dials monument are seven narrow streets all lined with colourful boutiques and cafés, and they all unite into one tiny chaotic roundabout.

Who knew a roundabout could be so appealing? Since its design during the late 1600s, the monument has become quite a gathering point throughout the centuries.
Its centrepiece is a Doric column, and for the eagle-eyed, you may spot that the monument only has six sundials at the top instead of seven. The initial road plans around the pillar changed from six roads to seven after the column was built.
Neal Street
Another street Gary and I love to stroll along in Covent Garden is Neal Street; we have been returning to this eclectic lane for decades. It holds so many memories, and some shops we once visited are still there.
We have a little book on our shelves that we sometimes delve into when we're about to hit an area of London.
Packed full of historical facts, and broken down into the different regions of London, it's a great resource to help you see what's hidden in plain sight.
Available in Kindle & Hardback editions, it's an excellent addition to anyone's collection who loves London.
Amusing and quirky Covent Garden
Fun to be found everywhere
We just love exploring the streets of London, and often with no agenda in mind, you never know what you'll discover, especially around the lanes of Covent Garden.

Fun fact, did you know that the tube journey from Covent Garden to Leicester Square underground station is the shortest in London at 0.3km, around 958 feet?
Telephone boxes
There's nothing quite like a fiery red telephone box to let you know you've arrived in the UK, and with the striking telephone booths to be found in Broad Court, Covent Garden, you'll have the choice of five.

While we were wandering along Short's Street near Neal's Yard, we spotted a plaque for 'The Kip'. The Kip was a famous lodging house which ran from 1860 to 1922; it must have been cheap lodgings as the residents slept 'on the rope'. The rope was secured, and the boarders just sat down and fell asleep leaning on the rope.
The Kip sign, where residents slept leaning on a rope
The 'Young Dancer' statue is just near the Royal Opera House, along Broad Court. This beautiful bronze ballerina was sculptured by the Italian artist Enzo Plazzotta and unveiled in 1988, six years after his death.

The young lady sits elegantly on a stool with one leg lifted, preparing for her next dance.
Ballerina
The Savoy and the Rolls-Royce
Well, there is opulence, and there is opulence, and arriving at the Savoy Hotel in a chauffeur-driven Rolls Royce Phantom has to top it all.

This striking luxury limousine with the registration plate S8 VOY can be booked at the Savoy Hotel at an hourly rate of £175, and you'll feel like you've won the lottery.
If you enjoy finding out a little more about London's districts, take a look at the articles we created for the different regions we've explored, all easily discovered on foot.
Eating and drinking in Covent Garden
Spoilt for choice
When it comes to traditional dining or just enjoying an ale at a local boozer, Covent Garden has you covered; you could not ask for a more varied choice of restaurants and bars.

If you fancy splashing out and would like to sample a very historic and traditional English restaurant, then we can highly recommend Rules Restaurant in Malden Lane.

Rules Restaurant is London's oldest restaurant and has been serving clientele since 1798. Upstairs is a charming cocktail bar where they serve one of the finest Bloody Marys in London, and on the ground floor is their elegant and very traditional restaurant.

Go on, treat yourself.
Rules restaurant
If you are around the region of Seven Dials in Covent Garden and you fancy a tasty bite to eat or just a drink, then pop into Seven Dials Market; it has a relaxed and fantastic atmosphere.

There are so many culinary choices from all around the world you won't know which way to turn. Head into Banana Warehouse with its incredible glass roof and open plan balconies from 11am until late.
Seven Dials Market
Now if you're looking for somewhere to rest for a little while and fancy a traditional ale, head to The Harp, Covent Garden in Chandos Place.

The tiny narrow inn was once known as The Welsh Harp and was renamed in 1995. The earliest known record of it being a pub is from 1805; however, it is believed to have been trading many years prior. The Harp won many consumer awards, notably the London Pub of the Year in 2008.
The Harp, Covent Garden
The Lamb & Flag
The next traditional tavern is the Lamb & Flag in Rose Street, and thought to be the oldest pub in the area. The Lamb & Flag dates from 1772 and was once named the Cooper's Arms.

The Lamb & Flag inn has had quite a chequered past; in the early 19th-century, it earned the nickname 'The Blood Bucket' as it had a reputation for staging bare-knuckle prize fights.

It is also believed that the English author Charles Dickens frequented the Lamb & Flag during the 19th-century.
Please share with us your favourite spots in and around Covent Garden as there are always new places to be discovered.
* This post may contain links to affiliated sites where we earn a small commission at no additional charge to you.