Is this a Lakes & Lederhosen revival?
Yay, another European road trip
In the Autumn of 2015, Gary and I ventured across to mainland Europe on a road trip, which we now refer to as our Lakes and Lederhosen trip. Well, no guesses to which countries we were heading to? Yep, it included stops in Italy at Lake Maggiore and Lake Como.
Then a sneaky trip to the Formula 1 GP in Monza.  Cheers all around for Lewis Hamilton, luckily for us we weren't seated with the Ferrari supporters. After the F1 circus, we headed up through Germany, stopping at Füssen (home of Neuschwanstein Castle) and then Heidelberg, plus many stops in between them all.
A sailboat on the Lake Como
Fast forward to mid-2018, and we were reminiscing about the previous European road trip, and we thought we'd love to discover more of Bavaria in southern Germany. So, the seed had been sown for the idea of heading off on another road trip, for 2019.
Then as a happy coincidence for us in October 2018, Traverse announced they were going to hold their annual conference at Trento, northern Italy in June 2019.
This was fantastic news, and this meant only one thing, "Lakes and Lederhosen 2019" was in the making.
The courtyard of Schloss Neuschwanstein, Germany
We wanted a new adventure with new destinations so, Gary and I sat down and started plotting the route. Hopefully, you know us well enough by now to know we're setting off from the UK in our trusty steed and heading under the English Channel on Le Shuttle.
One of the things Gary and I love about travel is the cultural differences between countries. Although it isn't just from nation to nation, the regional variances within one country can be so mixed too. The traditional food customs and the local tipples are always something we sample wherever we are.
Here are just a few of our inspirations that may tempt you into a similar road trip adventure.
As mentioned, we've previously visited a few of Italy's lakes in the north, and if they are anything to go by, then we are in for a treat. Lake Garda, Italy's largest lake looks particularly beautiful, I'm so looking forward to touring the towns and villages around the water's edge.
The view of Lake Garda from the north at Torbole
Then at the end of the day, we'll be soaking up the Italian sunshine, glistening across the lake with the mountains from the Italian Alps as a backdrop. 
That Lake Garda is actually split between three different regions in Italy, Lombardy, Veneto & Trentino.
Driving the road around Lake Garda
One of the reasons we enjoy road trips is for the sights and sounds that you experience while en-route. Journeying along mountain passes, winding tunnels and lush countryside. The different countries and regions we are travelling through should have plenty of incredible scenery. 
Looking over the rooftops of Limone sul Garda on the banks of Lake Garda
If you're hooked like us and want to tour around the beautiful Italian Lakes in northern Italy, then take a look at this DK Eyewitness book.
This Top 10 Pocket Travel Guide is invaluable, I find them extremely informative, easy to follow and the pictures and maps tempt you into discovering more.
Oh yes, there is undoubtedly going to be some unearthing of history on this trip. Trento was annexed by Italy just 100 years ago in 1919, prior to that it was part of the Austro-Hungarian empire. So, it will be interesting to find out more.
The gardens of the Buonconsiglio Castle Museum, Trento, Italy
When we head through Bavaria not only are we visiting the quaint historic towns dotted along part of the Romantic Route. We are also going to make a stopover to Dachau Concentration Camp, I know it is going to be very moving and touching, but it's a place Gary and I want to visit. 
The Jourhouse, or main entrance, of the Dachau Concentration Camp
We have previously visited Nuremberg; however, as it was Christmas, we didn't get a chance to visit the location of the notorious Nazi Party Rally Grounds. Hopefully, this time will be more successful in our visit.
Is Northern Italy or Bavaria on your list?
Are there any beautiful towns and villages that you've visited around Italy and Germany, we'd love to know your favourites for our future adventures? 
Oh, it's always good to throw some culture into a trip. Although Gary and I aren't particularly religious, there is just something about the lure of what is beyond a large wooden church door, that always draws us through.
Let's see what we'll discover.
The view inside St. Emmeram's Abbey
The pulpit in St. Emmeram's Abbey
Some of the towns and villages that we've chosen to visit in southern Germany, definitely seem to have a theme of half-timbered buildings, which adds so much character to a place.
This is particularly prominent in Bavaria; however, Molsheim in the Alsace region of France, which is almost within touching distance to Germany, has them too.
The fountain in Alter Marktplatz (Schnatterloch), Miltenberg, Germany
Having never visited Trento before, I'm intrigued to see if the architecture here is Italian through and through. Or whether there are influences of the time that this region was within the Austro-Hungarian Empire.
Café Italia in Piazza Duomo in the centre of Trento
Start creating your own adventure and discover these true delights around Italy, Germany and France.
Take a browse through ebookers.com for departures from your local airport. and like us you could also incorporate them into a road trip, Rental Cars searches multiple well-known car hire brands and discovers the deals that suit you the best.
I know, we're heading to Italy and Germany, so it goes without saying that pasta and bratwurst are going to appear frequently on the menu. 
Grilled Regensburger Sausages from the Ratskeller, Regensburg
However, Gary and I love finding the little delicacies or specific ingredients of any region that we visit, whether they are sweet or savoury, we like to give them a try.
Well, I say we, if anything looks a little too suspect, I let Gary try it out first.
If your heading off on your own Italian adventure, than grab a copy of this DK Eyewitness book. I love planning road trips and these guides are so helpful. I find them extremely informative, easy to follow and the pictures and maps tempt you into discovering more of the back roads.
We used a previous version of this book to plan our Italian wanderings, now you can grab the revised ccopy.
Did some say Aperol Spritz?
Well, we are in Italy after all, and it would be rude not to. Although, I've noticed that Trento has its own sparkling wine "Trentodoc", so "when in Rome" as they say……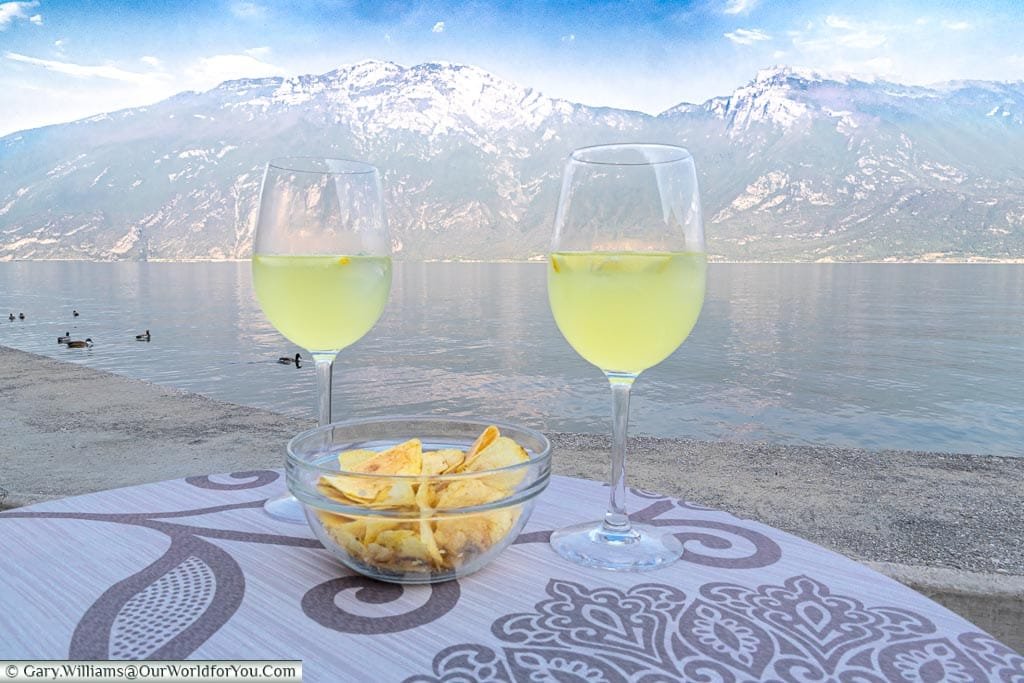 Two glasses of Limoncello Spritz by the edge of Lake Garda
Ohh and there is no way you can visit Germany and not enjoy one of the local Bavarian beers.
Inside the Regensburger Weissbräuhaus, Regensburg
I love nothing more than planning a trip and so often I use the DK Eyewitness books.  I find them  extremely informative, easy to follow and the pictures and maps tempt you into discovering more.
We used a previous version of this book to plan our Germany road trips, now you can grab the revised copy.
Do you need a vignette on your road trip?
Well, this question obviously depends on where you are driving from and which countries you plan to tour through. Based on our experience and knowledge, this is what we have found.
France's tolls, you can pay as you go, and I would advise using a credit card if you have one which offers reasonable exchange rates. It is so much quicker.
Germany it's free to drive on their roads, and they have Autobahns with sections without speed limits, so be alert.
Germany is now becoming more environmentally friendly in some towns and cities, so check to see if you are travelling through a low emission zone.
We obtained a sticker online here, they are only €6, and we received our sticker within 5 days (although I'd allow a little longer)
Switzerland, well we actually diverted around Switzerland this time. We didn't particularly want to pay CHF 40 for the vignette that lasts for 1 year when we were just driving through for a couple of hours.
Austria is slightly different as you need a vignette if you are planning on driving on their motorways. You can purchase one from a service station, and you have the option of a 10-day, 2 month or annual vignette. The 10-day vignette in 2019 is €9.20
You are also able to obtain the Austrian vignettes at service stations on the bordering countries.
* This post may contain links to affiliated sites where we earn a small commission at no additional charge to you.
Inspired to kick off your own road trip?
Why not stay at Trento and explore the beautiful region of mountains and lakes?
The open roads await, pop in your location details then
Rental Cars
will search well-known car hire brands and discover the deals that suit you the best.
(Why not Pin It for Later?)
If you enjoy what you see, and you'd like regular updates then join us for a monthly newsletter.