Lakes and Lederhosens – Our Italian lakes and Bavarian Road Trip Part 2
Now we're into Germany...
We were now half way through our Lakes & Lederhosens adventure.
(Hopefully, youve already caught part 1)
This Global Block does not have any content.
Day 10: Monza to Füssen, Germany
Today we knew was going to be a long day in the saddle, as we wanted to take in Lake Garda before we headed north out of Italy, through the western branch of Austria and onto Fussen in southern Germany. This wasn't the shortest route, but hey this is a road trip. (Had the weather been against us, we had a plan B)
The route picked up the E64 heading east skimming the outskirts of Bergamo and onto the A4 until just after Brescia, where we picked up the SS45bis which we knew was going to take in some stunning views along the western shore of Lake Garda, queue opening scenes of James Bond's Quantum of Solace.
We approached the lake from a beautiful town of Salo, which had wonderful terracotta roofed villas.
Within near touching distance of the lake, we carve our way through the dug out tunnels and weave back and forth, this was so enjoyable particulalry with the Italian sunshine bearing down on us. Gary is trying to be on his best behaviour, but he's using low gears and making the Audi V8 engine sing, the sonourous tones resonate from the exhausts, it feels like we're in the movies.
Passing through the north of Lake Garda, we were overlooked by a magnificent hilltop medieval castle in Arco, protecting its town below. We continued north passing through the valleys surrounded by citrus orchards and vineyards.
Further north towards Austria, the change in scenery as we headed into the mountains was noticeable, more chalets, and alpine resorts. The view as we looked back south to the snow capped peaks of the Alps was amazing.
We crossed over into Austria and purchased our second vingette of the trip. Once again this is required if you want use the Austrian motorways. Fortunately you can buy one for a 10 day period and this was easily purchased at a small petrol station, for Euro 8.80.
Unfortunately the Austrian leg of our trip passed by all too briefly, we knew this was somewhere we would love to come back to.
Fussen, our next destination was just a short hop over the Austro-German border. We were now in Bavaria, home of the WeiBwurst (white sausage), Lederhosens and many beers...
Brotmarkt in the old town of Füssen
The journey to Fussen was long but certainly worth it, it took us over 8 hours and we covered around 320 miles (515km).
Our accommodation for 3 days was the Hotel Hirsch, which was extremely friendly and had a very welcoming local bar.
Schloss Neuschwanstein - through the main gate and into the courtyard
… and Hohenschwangau Castle.
Lake Constance & Lindau Island
This Global Block does not have any content.
Day 13: Füssen to Heidelberg
With the weather feeling decidedly cooler in this region, we head off to our final destination of Heidelberg.
Fully gassed up, we set off following the 'Romantische Strabe', (romantic route) the hood was up as it was 8° (46f), and the cloud level was low. You could no longer see the mountain tops. The drive was great though, passing through open countryside, interspersed by small farming villages.
The Romantic route is not that well sign-posted, and a couple of times we had to correct ourselves to keep on track. After around 3 hours on the road we discovered we were not making progress as we wanted, we kept with the route until we reached Ausburg, before fast forwarding to Rothenburg ob der Tauber.
This meant a sprint on the Autobahn (Gary's secret dream). These roads are not dissimilar to the UK motorways, other than the traffic could be hurtling towards you at 120mph easily. It made the hour we spent on it 'interesting'.
With time pressing, we couldn't stay too long as we would have liked as we still had a fair few miles to cover. Definitely a place to revisit.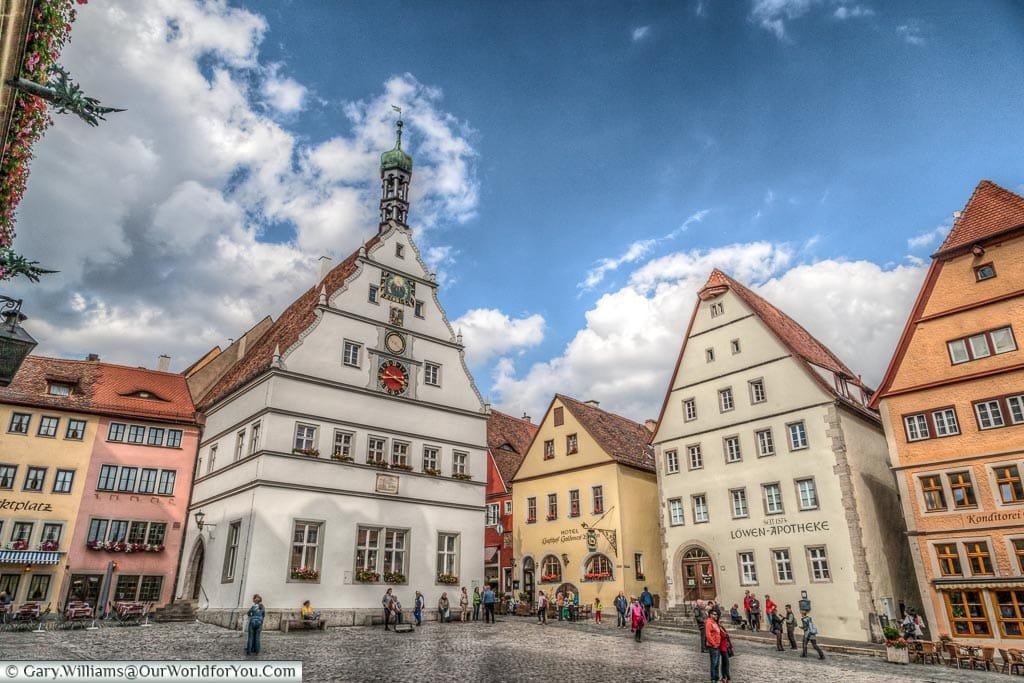 Marktplatz and Ratstrinkstube, Rothenburg ob der Tauber
So, we set off across country, we chose that over the Autobahn because once again this is a road trip. Again, plenty of quaint German villages, and some nice flowing country roads.
When we arrived at Heidelberg we decided to fuel-up, as the next journey is the 450-mile trip home. Gary had calculated that we would only then need one additional fuel stop on the way back.
Schloss Heidelberg from Kornmarkt
The journey to Heidelberg, via a section of the Romantic Road totaled 292 miles (467km)
The last 2 nights we stayed at Hotel Europäischer Hof Heidelberg. a lovely hotel, at least it meant we had somewhere safe to park the car. Also their breakfast omlettes were a delight….
Hotel Hackteufel, Heidelberg
Day 15: Heidelberg to Home
Up early for our long stint to Calais, for this part of the journey it was going to be all autobahn/autoroute. The route was about 420 miles (676km).
Once out of Heidleberg we headed west out of Germany, the temptation to 'enjoy' the freedom of the autobahn is tempered by the knowledge that increased fuel consumption risks a further stop before getting home.
After leaving Germany we picked up the toll roads in France heading via Metz, Reims and Lens before reaching Calais.
We hop onto the Le Shuttle again and head back into Blighty, remembering to drive on the other side of the road.
This trip has given us even more of a taster to explore other parts of Europe and we will certainly want to head back to where we left off.
Created a road trip that gives you the experience of different cultures in one 2-week trip? We'd love to here about your experiences too.
This Global Block does not have any content.
Inspired to visit Germany?
Does the castles tempt you? The different regions of this magnificent country?
Why not checkout the latest deals on Booking.Com?
(Why not Pin It for Later?)