Kensal Green Cemetery, London
The final resting place of Brunel, Babbage and Blondin
Yes, you're right, I've dragged Gary around yet another one of London's "Magnificent Seven" cemeteries. This time we visited Kensal Green Cemetery in north-west London.

My interest in searching out these historical cemeteries hasn't waned at all. Visiting at wintertime, they seem even more mysterious and fascinating.
Anglican Chapel in Kensal Green cemetery
Kensal Green Cemetery located along the banks of the Grand Union Canal was originally named General Cemetery of All Souls. It is the oldest of the seven cemeteries and was consecrated in January 1833 and covers 72 acres. It still conducts burials and cremations today.
Tomb of Major General Sir William Casement, K.C.B.
The cemetery was founded by the barrister George Frederick Carden. He gained his inspiration for Kensal Green after he visited the garden cemetery of Père-Lachaise in Paris. And yes, I've visited Père-Lachaise too.
So far, the "Magnificent Seven" cemeteries that we have visited are Brompton, West Norwood and Nunhead. We just have Abney Park, Tower Hamlets and probably London's most famous of cemeteries, Highgate.
So, on a winter Sunday morning in January, we don our comfy shoes and coats. Then go in search of those quirky little tales and heartfelt stories, that lay dormant behind the twisting ivy.

We strolled through the Main Gate and similar to the other Magnificent Seven cemeteries that we've visited, it has that intriguing muddled feel about it, with no precise symmetry.
As we ambled along the main path beside more recent burials, we could hear green parakeets squawking high above us. It was strange as we headed further and further into the encroaching cemetery, ravens were swooping in front of us. Settling on headstones that were struggling to bear their own weight. The parakeets were then long gone until we headed out again.
The main path to the Anglican chapel
One of Britain's most famous engineers is Isambard Kingdom Brunel. He became one of the most influential figures in the Industrial Revolution. Following on in his father's footsteps, Sir Marc Isambard Brunel, who is also buried in this family grave.
Isambard Kingdom Brunel and his father, Sir Marc Isambard Brunel
Many of Brunel's incredible feats of engineering paved the way in transportation today. Brunel designed three ships, one of which is the SS Great Britain, and now a museum ship in Bristol.

Also, in Bristol head to the Clifton Suspension Bridge, another of Brunel's magnificent legacies.
This intricate grade II* listed tomb was designed by William Burges and is the last resting place of Commander Charles Spencer Ricketts, of the Royal Navy.
Commander Charles Spencer Ricketts, of the Royal Navy
Charles Ricketts was born in 1788, and unbelievably at the age of seven, he enlisted in the Royal Navy. His career was an amazing progression from ship to ship fighting off the shores of southern Spain.

He retired at the age of 27 and survived until 1867. His tomb was restored in 2017.
Unable to locate Global Block : 30494
Andrew Ducrow's crypt is immediately eye-catching, as this British circus performers grave was guarded by Egyptian sphinx.
Crypt of Andrew Ducrow a British Circus performer
Egyptian sphinx guarding the tomb of Andrew Ducrow
Andrew Ducrow was born in 1793 and was the owner of Astley's Amphitheatre in London, which unfortunately has long gone. He was also believed to be the first to perform with horses in circus acts and performed in Covent Garden.
Tightropes across Niagara River
Moving from one performer to another, this reserved crypt is the last resting place of Charles Blondin (1824–1897).
Charles Blondin was a French acrobat and tightrope-walker and became famous with his death-defying acts of tightrope-walking across the Niagara Gorge.
Charles Blondin (1824–1897), acrobat, tightrope-walker
Blondin first performed this act in 1859 and continued many times after. Often blindfolded or carrying out outrageous feats while crossing.
Have you visited any unusual cemeteries around the world, I'd love you to share them with me? Please drop a comment below.
Although the grave of Charles Babbage is quite unassuming, the legacy he left behind for us is monumental.

Charles Babbage was a mathematician, engineer, computer scientist and a genius. Where would we be today without his invention of the first mechanical computer?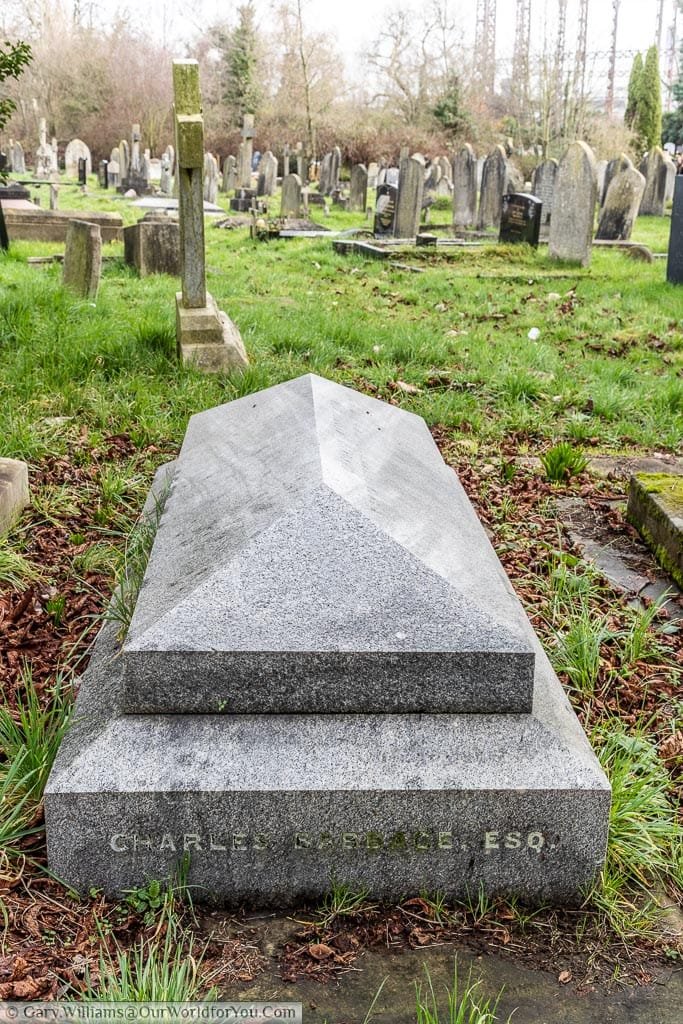 Charles Babbage grave in Kensal Green cemetery
Head to the Science Museum in London to find out more about Charles Babbage and his inventions. If you don't have a weak stomach, you can also see half of Babbage's brain in the museum.
Yes, there are even a few Royals buried at Kensal Green Cemetery. The first is Prince Augustus Frederick, Duke of Sussex and son of King George III, who died in 1843.
The tomb of Prince Augustus Frederick, Duke of Sussex and son of King George III
The second is Prince Augustus's sister Princess Sophia and daughter of King George III. Then also Prince George, Duke of Cambridge, grandson of George III and commander-in-chief of the British Army.

Even though these tombs are quite large, they mingle so well with so many the other prominent crypts, within the cemetery.
Crypt of Princess Sophia, sister of Prince Augustus Frederick and daughter of King George III
Mausoleum of Prince George, Duke of Cambridge, grandson of George III
If you'd love to discover more about Kensal Green Cemetery take a look at the Friends of Kensal Green website.
 
The Friends of Kensal Green Cemetery also offer guided tours of the cemetery every Sunday from March to October. Then in November, December, January and February, it is the first and third Sunday.
In Kensal Green cemetery, there are 473 World War I commonwealth war graves and 51 from World War II.

Although a significant number of the graves were together, I found it unusual that so many were dispersed around the cemetery. As so often, they in close vicinity of each other.

Once again, they are so lovingly maintained by the Commonwealth War Graves Commission.
There Name Liveth for Evermore
So many incredible stories
Although Kensal Green cemetery is still used as a burial ground today, it is incredible how many beautiful mausoleums and monuments still remain from centuries gone by. There are 153 Grade II* and Grade II Listed structures within the grounds and so many other beautiful headstones.
Robertson Aikman family crypt
Beautiful honour after death
Elegant grave of Thea Canonero Altieri
Anglican Chapel & Catacombs
The Anglican Chapel in the centre of Kensal Green cemetery is awaiting its well-deserved restoration. I can only imagine what it must have looked in its prime, surrounded by an elegant colonnade.
Anglian Chapel with the catacombs hidden below
Underneath the Anglican Chapel and also currently inaccessible are its catacombs, one of the very few catacombs that still exist in London.
At the far end of Kensal Green cemetery are the crematorium and its beautifully kept tranquil gardens. Also, still used today and like the rest of the cemetery, utmost respect is expected here.

A few notable cremations that have taken place at Kensal Green over more recent years, and all of which have had their ashes taken care of privately. Are; Freddie Mercury, Alan Rickman, Ingrid Bergman, Christine Keeler, Joe Strummer and very recently Gary Rhodes.

RIP one and all.
* This post may contain links to affiliated sites where we earn a small commission at no additional charge to you.
Inspired to visit
Kensal Green Cemetery

?
One of London's "Magnificent Seven", there is so much history to be discovered.
(Why not Pin It for Later?)
If you enjoy what you see, and you'd like regular updates then join us for a monthly newsletter.