Street Art found on our travels
Graffiti, Art and a little more
In the past, I've posted some Street Art pictures on our Instagram feed; you do follow us on Instagram, right?
 
Anyhow, it's astonishing that an imaginative or inspired piece of street art can transform an often-gloomy back street, into a spot that raises a smile.
Beauty, Reykjavik, Iceland
This then got me thinking - where do you find the best Street Art?

Is it in down-beat areas, up 'n' coming 'hipster' neighbourhoods, or just anywhere?
Let's start with a definition of sorts; Wiki had this at the time of writing;
 
Street art is visual art created in public locations; usually, unsanctioned artwork executed outside of the context of traditional art venues.
 
Then I went a bit highbrow and shot off to the Tate Modern;
 
'Street art is related to graffiti art in that it is created in public locations and is usually unsanctioned, but it covers a wider range of media and is more connected with graphic design'.
 
Then I thought, what about the stuff that we found in Oviedo? Like the Milk Maid?
La Lechera, Oviedo, Spain
Well, it turns out after a small amount of research that this is Public Art (I know, I should really be called Sherlock Holmes!). Again, turning to the Tate Modern's website for the definition.
 
'The term public art refers to art that is in the public realm, regardless of whether it is situated on public or private property or whether it has been purchased with public or private money'.
 
So originally, I was going to include both Street Art & Public art in this post, and I started to pull the images together and realised there was just too much for one post. So, here we're going to concentrate on Street Art & possibly a mural that may slip into a bit of the Public Art definition, but hey-ho.
This Global Block does not have any content.
So, let's start with some home-grown work
If you're talking about Street Art and the UK, then I guess you might as well start at the top - Banksy.
As I write this post, we still haven't left the EU; nonetheless, our local Banksy has to be the Dover mural.

Or it was until some bright spark painted over it.
Banksy's Brexit - as it was, Dover
Obviously, the spiritual birthplace of Banksy is much further west, Bristol. However, in December 2018, another Banksy appeared in Port Talbot, close to our friends Mel & Marcus of FlyDriveExplore.
 
They were there in a flash and created this Vlog of the experience.
Stepping back in time, all the way back to 2008, Janis high-tailed it to 'The Cans Festival' Street Art exhibition, underneath the Leake Street arches near Waterloo. A collection of work including another Banksy titled 'Graffiti Removal'.
The Banksy piece - 'Graffiti Removal' captured at the 'Cans Festival'
However, it's not only Banksy, but those wandering around the West End of London may also happen upon this work by Bambi, another elusive artist.
As naughty as you want...
In France, we were surprised to fall upon a piece in the wine-producing town of Arbois, that celebrates a famous son, Louis Pasteur.
Louis Pasteur mural, Arbois, France
A couple of murals that also popped out were at the home of Jules Verne in Amiens northern France.
Jules Vernes and a creature from the deep
The mural at Jules Verne Museum
In memory - Among Us, Amiens, France
Touching portraits to the fallen.

Another big name in the Street Art world is the Frenchman, Jean-François Perroy AKA Jef Aérosol. We first stumbled across his work in Brussels on the Arlequin second-hand record store.
Arelquin Record Store, Brussels, Belgium
Brussels also sports a few rather attractive murals, all close to the centre of the city - what have you seen on your travels?
Have you discovered a town that embraces street art, drop us a
comment
below as we'd love to take a look?
On our travels through Portugal, on both our visit to Lisbon and our Portuguese Road Trip we found some interesting artwork.
 
Now with our trip to Lisbon, we didn't get time to visit the LX Factory, home to part of Lisbon's cool district, but that didn't stop us admiring some pretty eye-catching work.
Trams in Lisbon, Street Art, Lisbon, Portugal
Once, we were on the open road and ventured to further Portuguese towns, we discovered a little more. There was the stunning mural in Aveiro, which was of the salt production that the town was renowned for.
Salt panning street art, Aveiro, Portugal
Amarante shop front, Portugal
However, the real magic happened when we arrived at Porto.
In the lanes of Gaia where we bumped into a giant rabbit, constructed from recycled materials.
Our recent new found love is Portugal, it is such a beautiful country. While planning our trip, I used the DK Eyewitness books. I find them extremely informative, easy to follow and the pictures and maps tempt you into discovering more.
We used a previous version of this book to plan our north to south Portuguese road trip, now you can grab the revised copy.
We find ourselves in Spain
Let's start in the north, in the region of La Rioja, and that's Logroño, and follow 'The Way' - The Camino de Santiago, where the traveller collects stamps in their 'Pilgrims Passport'. This guy's wearing his passport.
Another town in the north is Burgos, the birthplace of the graffito artist Cere, and his 'interesting' work.
An abstract piece of street art by Cere, Burgos, Spain
We now travel south-east to Valencia, and the birthplace of paella wouldn't you know.

Guess that's the inspiration behind this impressive work.
There are so many incredible places to discover in Spain and I love planning road trips. I often use the DK Eyewitness books, I find them extremely informative, easy to follow and the pictures and maps tempt you into searching for more.
We used a previous version of this book to plan our Spanish road trips, now you can grab the revised copy.
It's not all cheese in the Netherlands
Our visit to Rotterdam far exceeded our expectations, the mixture of architecture is incredible. Then intertwined with the old and the new is captivating Street Art.
Money Street Art, Rotterdam, Netherlands
Then when we were wandering around the tranquil lanes and canals in Haarlem, we came across this serene piece of Street Art.
A stencilled bush in Haarlem
Yes, that's right we've arrived in Iceland, and the works of art in Reykjavik are genuinely astonishing. Huge murals emblazoned across old warehouses and colourful pieces in the smallest of corners.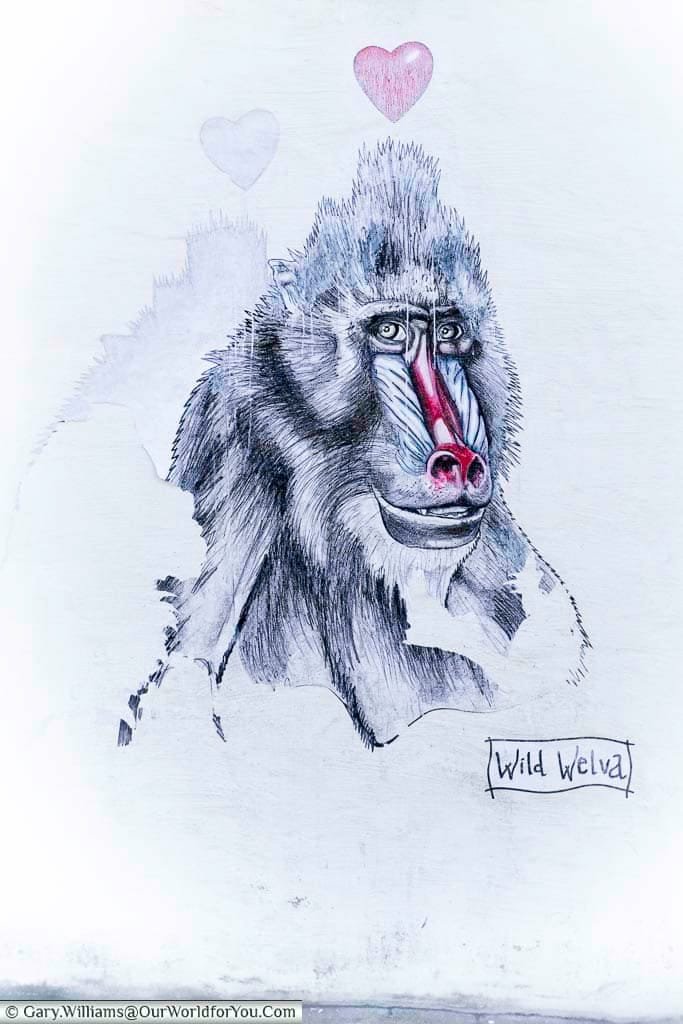 Lovers - Street art, Reykjavik, Iceland
Our visit to Iceland not only included a stay in Reykjavik but we also planned a road trip around Iceland's ring road, and boy some of those towns are remote. Although it didn't stop us finding this little gem.
These are just a selection of what we've caught on our travels. There are so many talented folks out there, they bring imagination and life to an otherwise dull environment.
* This post may contain links to affiliated sites where we earn a small commission at no additional charge to you.
Inspired to find your own street art?
Search for your flights in one easy place with
ebookers.com
and open up a world of options. Over 400 airlines are scanned for your favoured routes and chosen dates.
(Why not Pin It for Later?)
If you enjoy what you see, and you'd like regular updates then join us for a monthly newsletter.