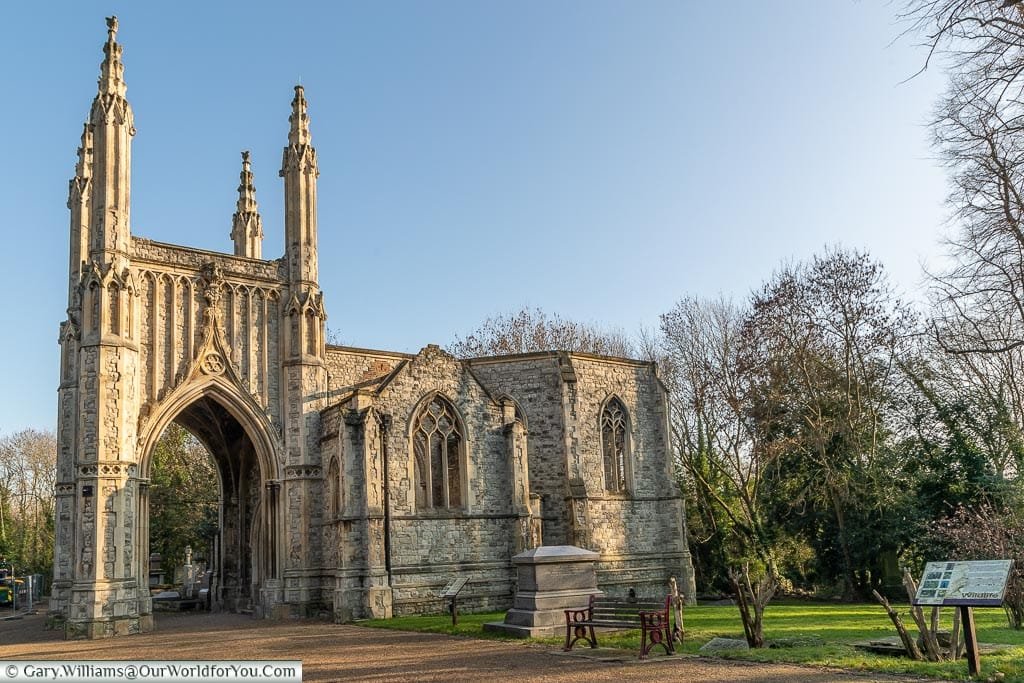 Lost Scouts, Scottish Martyrs & a little TLC…
Yep, I'm still ticking off London's "Magnificent Seven" cemeteries. The fascination that I find with these historical places doesn't diminish, this time we are at Nunhead cemetery.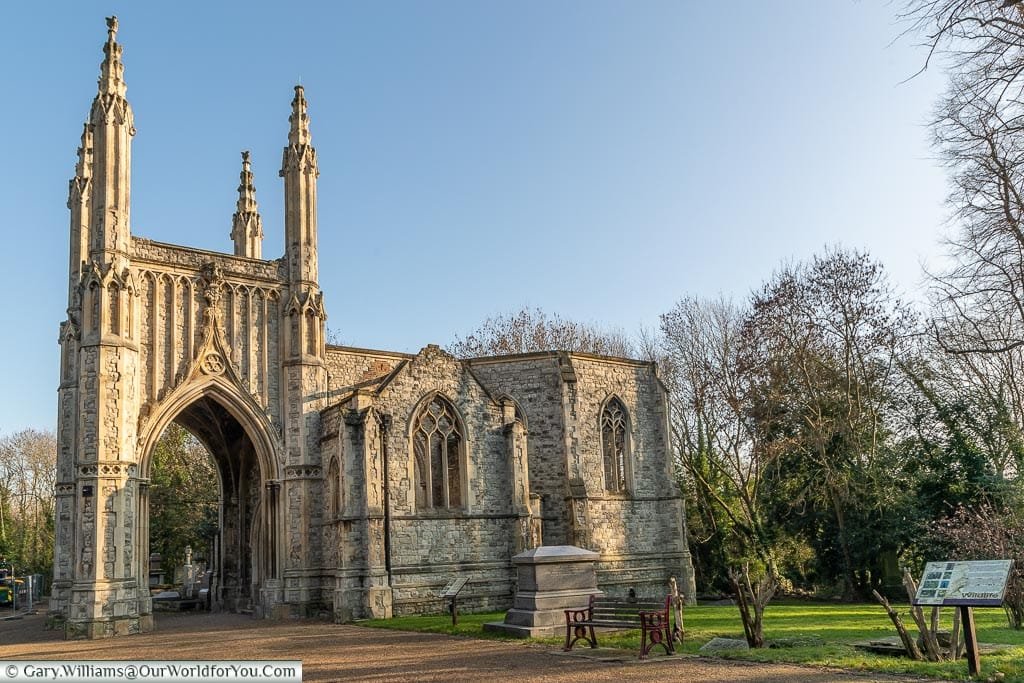 Well, my excuse was we were just up the road at West Norwood cemetery so it would have been rude not to pop into Nunhead, and probably one of the lesser known cemeteries.
Along with West Norwood, these are the only two of the seven that are south of the River Thames.
Nunhead Cemetery also is known as "All Saints" and was consecrated in 1840. The seven private cemeteries that make up the "Magnificent Seven" were created during the 19th-century, to ease the overcrowding in London. We visited Brompton cemetery last year, and I'm not too sure yet, which one is next on the list, it could well be the most well-known of these, Highgate cemetery.
So, on a bright but cold, winter Sunday morning in January, we head off to find out a little bit more of the stories that lay hidden.
Unable to locate Global Block : 30494
As you step in through the North Gate entrance of Nunhead cemetery, you'll immediately see the obelisk dedicated to the "Scottish Political Martyrs" which stands 33 feet (10 metres) high.
The five men that this memorial is dedicated to were imprisoned for campaigning for parliamentary reform.
They were sentenced during 1793 and 1794 and sent on penal transportation to New South Wales in Australia.
The Scottish Martyrs memorial
The idea behind erecting the memorial was decided at the Crown & Anchor (now Crown Tavern) on Clerkenwell Green in 1837. Bizarrely we were at Clerkenwell only the day before and had taken a photo of the Tavern, as it holds interesting tales of other patrons.
The Crown Tavern, Clerkenwell
There's a touching memorial to 9 young boys, 8 scouts from the 2nd Walworth Scout Troop and one lad from the training ship of Arethusa. They tragically drowned off the Isle of Sheppey on 4th August 1912. The Scout Troop had set off from London the day before, to enjoy summer camp in Kent. Sadly, tragedy struck just 2 miles from the Kent coast, and a sudden gale caught their boat, and it capsized.
Memorial to the Leysdown Scout Troop tragedy
The marble book-shaped memorial erected in 1992, stands on the plinth which was once home to a bronze Life-size Scout built in 1914. Unfortunately, this was stolen in 1969.
Have you visited any unusual cemeteries around the world, I'd love you to share them with me?
Vincent Figgins was a very successful typeface founder and played a significant part in the typefaces and fonts that we see and use today.
He died in Peckham in 1844 and is buried along with other family members in a Grade II listed tomb.
The eye-catching restored mausoleum of the Stearns family was built in 1902 and is also Grade II listed. It is constructed of the same Doulton terracotta that is used for Sir Henry Doulton's mausoleum in West Norwood cemetery.
It's not all about the headstones, take a seat, and if you look beyond the cemetery, you'll see an iconic London landmark in the distance.
Sir Christopher Wren's St Paul's Cathedral, it is a wonderful view.
The view of St Paul's Cathedral
In Nunhead cemetery, there is also a considerable number of graves to those lost the WWI and WWII. This area is maintained by the Commonwealth War Graves Commission and has 703 identified casualties, 592 of which are from First World War.
The Australian and Canadian war graves are all named on individual headstones. Within the United Kingdom plot, they could not all be marked individually, as they are scattered throughout the cemetery. Therefore, they are all commemorated on a Screen Wall inside the main entrance.
If you also have this strange fascination with cemeteries like me, then West Norwood cemetery is only a few miles from Nunhead. This is also one of London's "Magnificent Seven".
John Allan's tomb sculpted by Matthew Noble is quite elaborate and large compared to others around it.
John Allan was a partner in a shipping firm, and the monument is said to be one the most expensive in Nunhead cemetery.
The headstone of British actor Calvin G Simpson was one that caught our eye.
Quite unique and touching, it's these sorts of memorials that make me want to find out a little bit more about the person's life.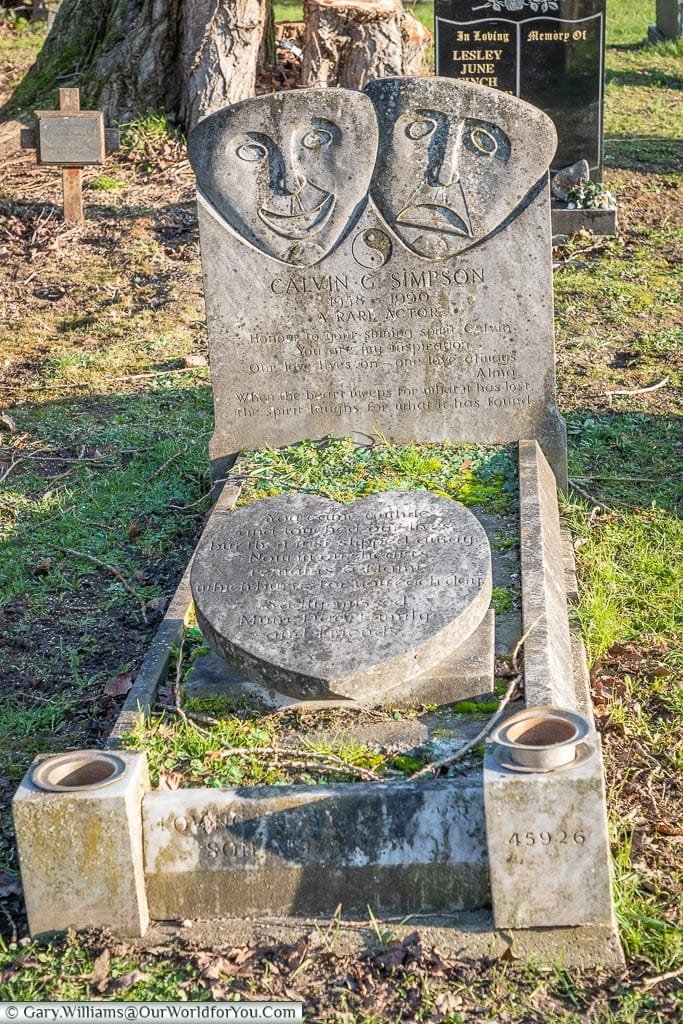 The Calvin G Simpson grave
There are so many interesting stories, take the grave of Thomas William Wing, he was a Justice of the Peace for Suffolk and on his death in 1889, bequeathed in trust £70,000 for the poor, blind persons of the Clothworkers Company.
The Thomas William Wing memorial
A little help from the "Friends"
Nunhead Cemetery fell into disrepair and became overgrown and vandalised. It wasn't until the early 1980's that "Friends of Nunhead Cemetery" was formed. A project was set up to restore and renovate the cemetery, giving some much-needed TLC back to the graveyard. In May 2001 it was reopened to the public and is still being overseen and cared for today.
The nearest station to Nunhead Cemetery is Nunhead station. It's an overground service and can be accessed from London Victoria & London Blackfriars. The journey takes around 15 minutes.
Inspired to visit Nunhead Cemetery?
Do you want to visit one or all of London's "Magnificent Seven", there is so much history to be discovered.
(Why not Pin It for Later?)
* This post may contain links to affiliated sites where we earn a small commission at no additional charge to you.