Memories of our Cotswolds, Oxford & Stratford-Upon-Avon Road Trip
And a few stops in between…
This was a little bit of a spur of the moment road trip, both Gary and I had never visited Oxford and only briefly touched on the Cotswolds. So, when we looked at the map and noticed that Stratford-upon-Avon wasn't too far either, we had a mini road trip in the making.
The River Eye, Lower Slaughter
Looking back at those 5 days, we had a wonderful trip and some great memories.
It all started at Henley-on-Thames after celebrating a friend's birthday in Marlow.
If you've never visited Henley, I suggest you do, I really don't think there could be a town more quintessentially English if it tried.
So, to hopefully tempt you to embark on your own road trip around the English countryside, here is a taster of what we discovered.
A beautiful scene in Stratford-upon-Avon
I'm so pleased we included 
Stratford-upon-Avon
 to our trip, it's such a beautiful town. The history amongst its attractive lanes and half-timbered architecture are fantastic. While its famous resident was William Shakespeare (and one certainly to be admired), there is so much more to Stratford-upon-Avon than the renowned playwright himself.
Halls Croft, Stratford-upon-Avon
Strolling around the town is pleasant and easy, particularly down by the riverside, where you can take a boat trip or even hire one yourself.
The River Avon, with the Holy Trinity church in the background, Stratford-upon-Avon
Touring through the Cotswolds
We set off on this mini road trip in June 2018, and if you live in the UK, you'll know it was a summer to remember. So, when you have the roof of the car down, and you're touring between beautiful Cotswolds villages, and through the surrounding countryside, there are not too many other places you'll wish to be.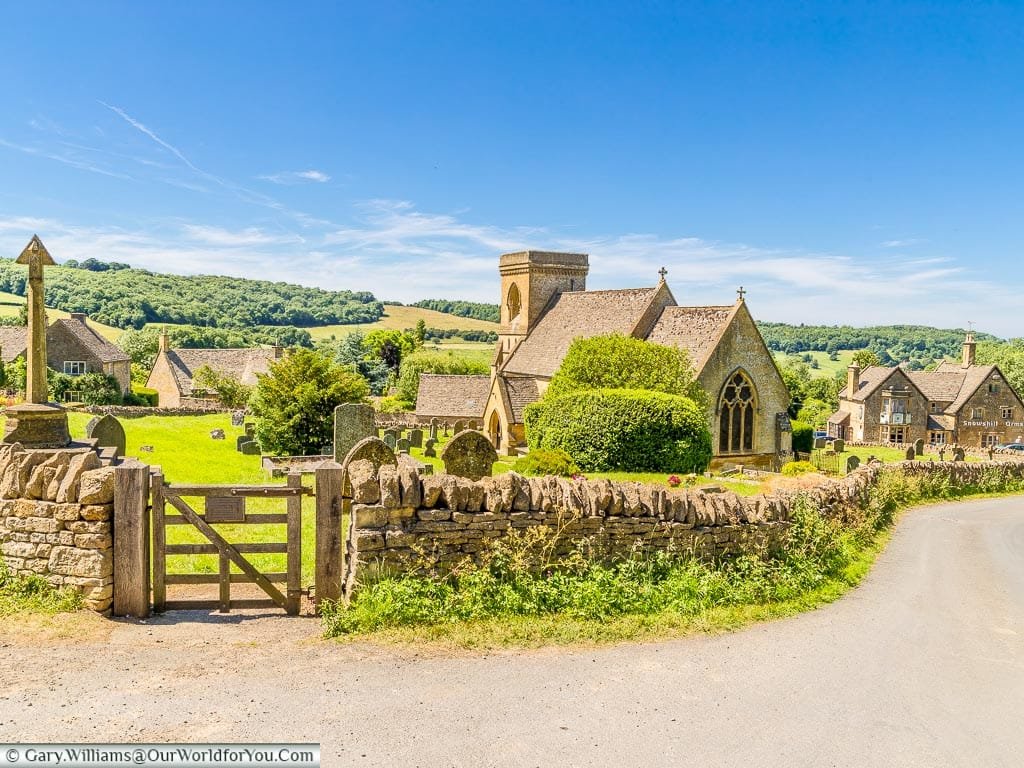 Across the churchyard, Snowshill in the Cotswolds
Oxford's beautiful architecture
One of the reasons we wanted to head to 
Oxford
, was that so many times we had seen images or programmes, showing the amazing colleges and beautiful sand-coloured brickwork, throughout the city.
Strolling through the lanes is like stepping back into a different era. Academics are fluttering by in their gowns, porters standing in doorways in bowler hats and locked wrought iron gates you can only peer through into another world.
The Radcliffe Camera, Oxford
However, it's not just the colleges that are incredible, there's the Ashmolean Museum, Bodleian Library, Christopher Wren's Sheldonian Theatre, the Radcliffe Camera and of course the Bridge of Sighs. What more could you want?
The Bridge of Sighs, Oxford
Now, admittedly it doesn't sound like the most attractive of places but believe me it will knock your socks off. It wasn't initially on our villages to see list; however, we overheard a conversation in a coffee shop chatting about it, so off we went. 
On the River Eye, Lower Slaughter
Out of all the Cotswolds towns and villages, we visited this was definitely one of the prettiest and actually one with fewer tourists. I've let the cat out of the bag now!!!!
The well on Malthouse Lane, Lower Slaughter
Looking back on this tour, water definitely seemed to be the theme running through this trip. The River Thames weaving its way within Henley-on-Thames & Oxford. The River Avon meandering past Strafford-upon-Avon and the trickling streams through the Cotswold villages.
The waterfront, Henley-on-Thames
Obviously, I was in my element, if I'm not near water, then we've probably taken the wrong turn.
Does our reminiscing bring back any memories of your trip? Drop a
comment
below and let us know your favourite Cotswold destination?
While we were in Oxford, we wanted to visit one or two of the colleges. However, what we didn't anticipate was that the colleges were having their open days for new students, so our choice was slightly limited. Although to be perfectly honest, Magdalen College was one, I wanted to visit.
The Hall - Magdalen College, Oxford
I find it quite intriguing the comings and goings of the elite life, hidden behind these huge wooden closed doors, so it was interesting to take a peek.
The Cloisters of Magdalen College, Oxford
Majority of the colleges have their own, chapels, courtyards, Harry Potter dining halls, libraries, bars and incredible grounds and gardens. Magdalen College even has resident deer.
Discovering the lesser known Cotswolds villages
There are some 
Cotswolds towns
 and villages that are so picturesque and popular with tourists, that you'll be struggling to find a spot to park at or even a tea shop to visit.
Peter House, Northleach, Gloucestershire
I'm certainly not advising you to miss them out, they're popular for a reason. However, part of the fun for us was touring around finding some slightly off the beaten track or following people's recommendations.
The Street, Castle Combe, Wiltshire
Out of the eight we visited, three were reasonably quiet they were Northleach, Snowshill and Lower Slaughter.
Castle Combe was also relatively peaceful but may have been as we visited later in the day.
Planning your day to visit the busier Cotswold villages is advisable, it's a good idea to try to head to them early or late in the day if you have the flexibility.
Well, we couldn't mention Stratford-upon-Avon and not include the famous bard himself. William Shakespeare was born, studied, lived and passed away in Stratford-upon-Avon.
Shakespeares Birthplace, Stratford-upon-Avon
His life and history are remembered throughout the town with stunningly restored buildings, charming statues, The Royal Shakespeare Theatre and just out of town in Shottery is Anne Hathaway's cottage.
Take a stroll through Bancroft Gardens along the River Avon, and there is a delightful bronze 'Gower Memorial', dedicated to Shakespeare.
Oh, so English, Henley-upon-Thames
It just so happened that the annual Henley Regatta was due to take place a few days after we visited, so the town was full of bunting, cream cakes and Pimms.
The Market at Henley-on-Thames
That was even before we headed to the riverside to see all the preparation underway for the rowers that had arrived from around the globe, to take part in this exclusive gala.
It wasn't until we did some research on Henley that we realised the singer Dusty Springfield died at Henley-upon-Thames, and a marker dedicated to her is in the St Mary the Virgin church in the town.
Henley-upon-Thames
 is a lovely town to visit all year around, and it was pleasing to see so many families and friends, strolling along the Thames waterside having fun.
Now, I had said there were a few other stops we made during our road trip; 
Bletchley Park
 was one that we tagged on the end. It was a place I'd wanted to visit for some years, as the intrigue behind the whole spying life and codebreakers I find quite fascinating.
The Mansion, Bletchley Park
You need half a day minimum to visit Bletchley Park, there is so much to digest and explore within the huts and the mansion. Even bring along a picnic and enjoy your lunch around the lake.  
Codebreaking in Bletchley Park
Would you like to tour the beautiful English countryside and discover the Cotswold villages and historic towns of Oxford and Stratford-upon-Avon for yourself?
You can do it all on a road trip, Rental Cars searches multiple well-known car hire brands and discovers the deals that suit you the best.
Romeo & Juliet at the RSC
While strolling past the Royal Shakespeare Theatre in Stratford-upon-Avon, I thought I would pop in to see if they had any tickets for the performance of Romeo and Juliet that evening.
The Royal Shakespeare theatre, Stratford-upon-Avon
 As luck would have it, England was playing in the World Cup that night, so obviously it wasn't a popular day to go to the theatre.
We managed to get two stall tickets for £25 each rather than £62.50.
Romeo and Juliet programme
The performance was incredible, and a wonderful memory to have.
As you can possibly guess the visit to the 
British Motor Museum
 in Warwick, was Gary's idea and not mine. However, I must say secretly I quite enjoyed it. As soon as we walked in, we were greeted with a big smile.
The iconic E-Type Jaguar at the British Motor Museum
If you love cars and particularly British ones, then you'll love this museum. It was bright, airy and full of exhibits, old, new, film star cars and royalty vehicles. They even had a viewable mechanics garage, where we could watch their employees working on some of these treasured automobiles.
For research purposes, of course, we visited what is believed to be Stratford-upon-Avon's oldest pub, which has been an inn since 1718.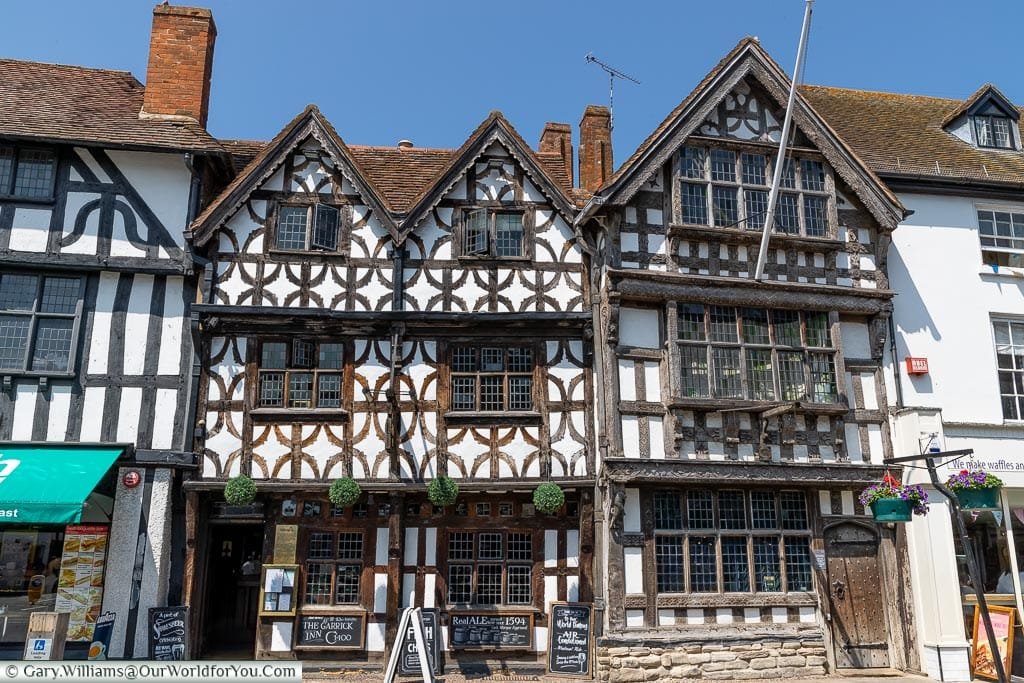 The Garrick Inn, Stratford-upon-Avon
It was here we got chatting to some friendly locals. Even though we were just passing through, they welcomed us into their local haunt. The following day a couple of them also recognised us strolling around their historic town. One of the guys gave us an excellent restaurant recommendation. So, it's always worth a chat.
Although visiting Oxford is celebrated for its academic history and the incredible architecture, it was also fun following in the footsteps of the fictional literary character "Inspector Morse".
And proud of it they are too, we couldn't resist sticking our noses into a couple of the local haunts that the investigators, Morse and Lewis had frequented.
Which English county next?
Is there a region of the English countryside you think we should visit next; we'd love to know?
To be perfectly honest there's isn't a lot I would do differently, as we fitted quite a lot in the 5 nights we were on the road. 
If you're intrigued by Oxfordshire, a historic UK county, then why not check out  "The Little Book of Oxfordshire".  Full of facts and obscure information. It's a fun read on the region.
You won't be able to put it down.  You can pick it up for your Kindle or in good old paperback.
We have a bit of an in-joke in my family, every year since I was little my Dad and I have a bet on the Oxford and Cambridge boat race. The stakes are high, we are now at 50p to win.
My Dad was born in Oxford, so there is no guessing who I have. Actually, he still owes me 50p for 2019's outcome.
When we visited Oxford, we didn't realise it was the open days for new students and their families. So, we were unable to visit a couple of the colleges that we wanted to.
* This post may contain links to affiliated sites where we earn a small commission at no additional charge to you.
Inspired to visit Oxford or Stratford-upon-Avon?
These are two great places to use as a base to discover the surrounding regions. 
The open roads await, pop in your location details then
Rental Cars
will search well-known car hire brands and discover the deals that suit you the best.
(Why not Pin It for Later?)
If you enjoy what you see, and you'd like regular updates then join us for a monthly newsletter.