From north to south & back again
I think it goes without saying we'll be revisiting Portugal again, we left with such fond memories.
The Praça da República, Tomar
Although, I do feel that we are slightly late to the "Portugal party", I don't quite understand why it wasn't on our road map years ago. But hey, that's all changed now.
Our new found love of Portugal started in 2017 when we had an incredible mini-break in Lisbon.
It gave us a taster to discover more of the country, and that wasn't just from the Pastel de Nata, although who could blame us.
So, as Gary and I love our road trips, there was no other option for us than to fire up the Quattro and head south.
Ok, so there was the matter of jumping on to a Brittany ferry to Bilbao, but that was all part of the fun.
Whether you're like us, you head directly with your own car, or you fly into Portugal and hire a car, a road trip is the way to go.
A roadside scene in Portugal
Our circular trip took us 2-weeks, and we visited some amazing places and saw some incredible sights, and it didn't feel rushed at all.
So, grab your passport and driving licence for a taster of what you'll see.
Guimarães - Ironically, I'm starting in Guimarães, where it is said to be the birthplace of Portugal. This ancient UNESCO city was a fantastic choice, firstly as the history and architecture here are wonderful. And secondly, it's an ideal place to base yourselves while touring the region, particularly the Douro Valley.
Largo da Oliveira at night, Guimarães
Northern Portugal still feels undiscovered compared to the south, and there are so many historic towns to visit in the region. We headed to Amarante, Viana do Castelo, Pont de Lima, Lamego to see the Shrine of Our Lady of Remédios and of course Casa Mateus, home to the infamous Rose wine in its flask-shaped bottle.
The fountain in Praca da Republica, Viana do Castelo
Douro Valley - If you're not on a road trip, I would highly recommend jumping on an organised tour to get the full Douro Valley experience. Weaving your way through the terraced vineyards with the Douro River meandering through the valley below is magnificent.
The Graham's estate, Douro Valley
Alternatively, if you're staying in Porto, you can also embark on a river cruise and take things at your leisure.
Porto - A friend of mine who has a Portuguese husband kept telling me to visit Porto, as she knew we'd love it, and she was definitely correct. Porto has such a lovely relaxed vibe about it and feels like it has nothing to hide.
Rabelo boats, with the historic Porto in the background
Full of so much charm and character and of course you must have a taster of the local tipple while you're here.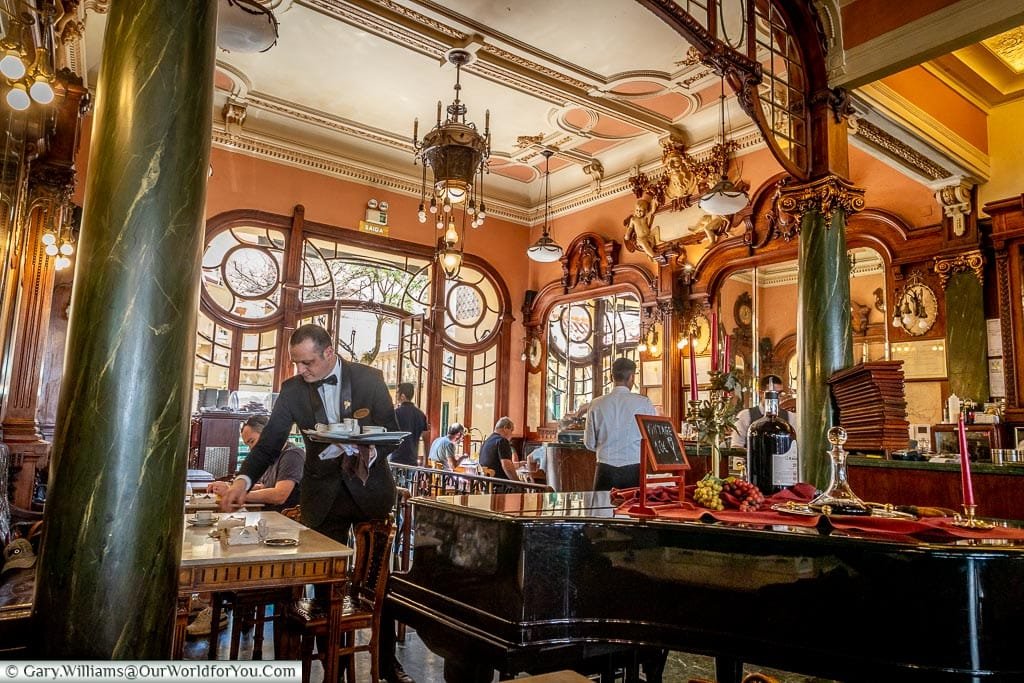 The interior of the Majestic café , Porto
Évora - Now we're further south in Évora and in a region known for its cork. This city once again has a UNESCO historic centre and has so much history amongst its whitewashed houses.
The remains of the Roman Temple, Évora
A Roman Temple, an aqueduct, a Chapel of Bones and a Gothic Cathedral where you can wander around its rooftops.
And that's before you've discovered all its little squares.
Along the streets of Évora
Aveiro & Costa Nova - Wow, Aveiro is such a colourful town, and that's just the historic buildings and fisherman's cottages. The moliceiro boats are so eye-catching, originally, they were used for harvesting seaweed and are painted with amazing designs. Nowadays you can hop on one and go for a cruise around the canals.
Moliceiros plying their trade, Aveiro
If you've reached Aveiro head across the bay towards the Atlantic Ocean to Costa Nova to see the colourful candy-striped palheiros. Now used more for holiday homes; however, these lovely cottages were used for storage by local fishermen.
Strolling along Costa Nova
Architecture - Although I'm drawn to the whitewashed houses all around Portugal, I do love their incredible Azulejo, the glazed ceramic tilework. It's used across so many of Portugal's buildings inside and out and often used to tell a story.
The Fonte dos Leões in front of the Igreja do Carmo and Igreja dos Carmelitas, Porto
If you are in Porto head to the train station foyer, it depicts parts of Portugal's history all in tilework.
The lobby of São Bento train station, Porto
Start creating your own Portuguese adventure and discover its historical colourful towns and cities for yourself.
Search for your flights in one easy place with ebookers.com and open up a world of options. Over 400 airlines are scanned for your favoured routes and chosen dates.
Tomar - Tomar is probably not so high on some visitors lists, but Gary and I love the history of the Knights Templar. Within the Convent of Christ, that sits high overlooking Tomar, is a stunning Knights Templar Church. The convent also has a maze of arcades, a Manueline Window and seven cloisters, who needs seven.
If you get the chance, stay for the evening in Tomar, it a lovely town full of character and not too many English speakers.
Touring the coastline south - This really was a pleasure, winding our way down the Atlantic coastline, stopping every so often to soak up the scenery and sea air. Areas of empty sandy beaches, then a little further along, waves crashing against the harsh ochre rocky shoreline.
Sandeman Port tour - This is a must while in Porto, so, ensure your wheels are safely parked and head to the south of the Douro river, on the Gaia side. Here there are plenty of Port houses to welcome you.
Inside the Sandeman Cellar, Porto
We chose Sandeman, as it was one, we were familiar with and offered a selection of tours, based on how many tipples you wanted to sample at the end. It's a great way to find out if you're a Ruby or a Tawny person.
Portugal's History - As mentioned, it was during our visit to Lisbon and discovering the incredible history that runs through its ancient streets, that planted the seed for us to uncover more of the country.
Old Roman thermal baths, Conímbriga
On our journey back north to Porto we visited the Roman ruins in Conímbriga, which date from 139 BC. I thought to myself, this visit will only be around 45 minutes, well, 90 minutes later we just heading out, it was a fascinating place.
Hilltop towns - There are some beautiful hill-top towns in Portugal, the little town that we loved was Monsaraz. Which is actually very close to the Spanish border towards the south of Portugal.
You weave your way from one end of the village through tiny lanes passing the white-washed homes so immaculately kept.
Then when you reach the far end, you are greeted with a 13th-century fortification.
A couple hand in hand in Monsaraz
Another picturesque hill-top town we visited is Óbidos, it's around an hour north of Lisbon. You may need to juggle around the time of day you visit, as it can get a bit busy.
Cuisine & Vinho - Well, there's no way I could have a list of pleasures and not include Portugal's excellent food and drink. I can't mention everything as the list would be endless. Sampling their fish is a must, however, if you're in Porto try the Francesinha (you need to be hungry for this), also, not to everyone's taste but, suckling pig is a speciality.
The bifanas (grilled pork) are great for a lunchtime snack and as a little sugar treat while in Aveiro pick up some ovos moles, which are egg yolks and sugar in rice paper.
An Ovos Moles stall, Aveiro
If you've headed to the north of Portugal, Vinho Verde is the order of the day. This light white wine is lovely to enjoy in the sunshine. While we were in Guimarães, they produce a local chilled red Vinho Verde, this is served in mugs which is a bit different.
Chilled red Vinho Verde, Guimarães
Discover more of historic Portugal and tour its picturesque countryside or even head south to the Algarve coastline. You can do it all on a road trip,
Rental Cars
searches multiple well-known car hire brands and discovers the deals that suit you the best.
Our recent new found love is Portugal, it is such a beautiful country. While planning our trip, I used the DK Eyewitness books. I find them extremely informative, easy to follow and the pictures and maps tempt you into discovering more.
We used a previous version of this book to plan our north to south Portuguese road trip, now you can grab the revised copy.
Culture - With so many countries and cities overrun with modern lifestyles, it was heart-warming to see how traditional living is still running through Portugal. Particularly in the rural parts of the country.
The coastline of the Algarve - Now, there's a reason why the Algarve is so popular, if you venture slightly off the beaten track, you'll find one of their incredible bays. We took a wander to the cliff top above Praia de Benagil, and I must say it was breath-taking, and I'm not a beach person.
The beautiful sands of Praia de Benagil
The rugged coastline in the south is stunning, and a popular viewpoint near Lagos is Ponta da Piedade. The opal seas gently flow in and out between the rocks, it is beautiful.
The stairway at Ponta da Piedade, Algarve
Bom Jesus do Monte - As part of a day out while in the north of the country, we headed to Bom Jesus do Monte, a sanctuary sitting high on a hill, just 3 miles from Braga.
It is most impressive standing at the bottom and looking up at the incredible Baroque terraces, almost crisscrossing as it heads high above.
The view from the bottom, Bom Jesus do Monte
We cheated a bit here and caught the funicular railway up to the top to visit the sanctuary and grotto and then walked back down.
The grotto at Bom Jesus do Monte
UNESCO Monasteries - Just to swat up on a bit more history, we visited two UNESCO Monasteries. The first was the Monastery of Alcobaça, founded in 1153 by Afonso Henriques, the first King of Portugal.
The second was the Monastery of Batalha, which was built to celebrate the victory in 1385 of the Battle of Aljubarrota by King John I of Portugal
Both of these monasteries were equally impressive and so peaceful throughout, especially around the cloisters.
Within the Monastery of Batalha, there's an incredibly moving vigil taking place.
Two sentries stand guard over the Tombs of the Unknown Soldiers from WWI.
Inside the Royal Cloisters, Monastery of Batalha
View from Sagres - If you've got the time, head to the bay at Sagres. This was our furthest point south-westerly on the trip, and as you stare out across the Atlantic Ocean, the next stop was America.
The coastline of Sangres on the Argarve
Our Things to do Differently
To be perfectly honest there's not a lot I would do differently, as we loved the whole trip and it gave us a taster of what the different regions had to offer.
I did have laugh at the cork bikini for sale in Évora, I suppose it may be good as a buoyancy aid.
Really a cork Bikini, Évora
Does our reminiscing bring back any memories of your trip? Drop a comment below and let us know your favourite destination?
Our Slight Disappointment
It's difficult to say this was a disappointment; however, we are not relaxing on the beach type of people. So, although some of the bays along the Algarve are beautiful, it's not really a region of Portugal we'd rush back to, and it was quite touristy.
Toll roads in Portugal can be a bit confusing, and some work independently from each other. We found the best option was to purchase an EASYToll, from what looked like a vending machine, when heading onto the motorway.
A lot of people get caught out on the motorways along the Algarve, so be very careful as the fines can be quite steep.
What I adored about Portugal is that it still has so much traditional charm throughout the country. It hasn't lost it roots, driving through the villages you still see flat-capped men driving a horse and cart transporting their produce around.
We even saw three ladies in an outside covered wash-stand scrubbing their clothes on the old traditional large stone slabs. Casually chatting to each other wearing their dark blue smocks and pinafores.
Inspired to visit Portugal?
Don't just take our word for it, plan yourself a road trip and search out the latest offers on Booking.Com?
(Why not Pin It for Later?)
* This post may contain links to affiliated sites where we earn a small commission at no additional charge to you.