Memories of Seville, Spain
Who would refuse a relaxing break in the Spring sunshine?
We didn't need the car this time, so we stayed in the heart of the old town. Where the streets and lanes are so narrow that they entice you around every corner.
You can easily just stroll a few streets away from the main plazas and you will find some wonderful tapas bars serving to locals and tourists alike.
For me it has to be the Plaza de Espana, not because it is free of charge, it is just an amazing mixture of architecture.
The Moorish and Art Deco styles that blend into the whole Plaza are intriguing. What I particularly like are the tiled Provincial Alcoves that encompass the square and allow visitors to sit and relax and chat about memories of their home provinces.
The lovely little boating river that flows under the ornate bridges, is another element of this plaza that lures me back.
Real Alcazar and the Seville Cathedral are in the heart of the old town and are amazing pieces of architecture in their own right.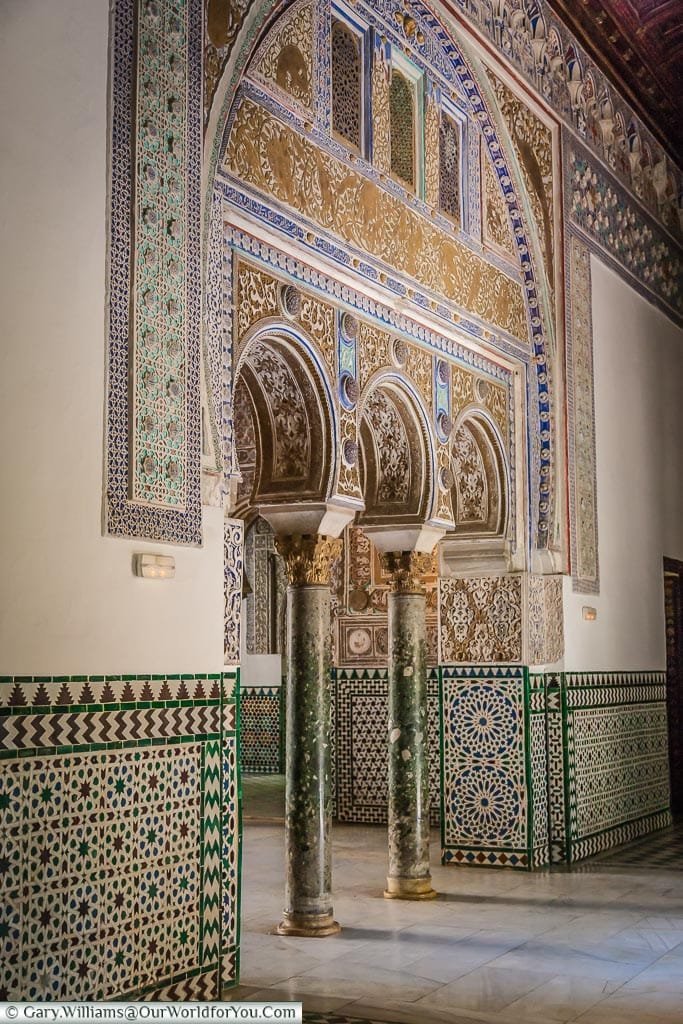 Plenty of time needs to be given to ensure this stunning palace and cathedral are given the justice they deserve.
We always try to go out of our way to visit the local food markets in any country we go to.
So we headed across the Canal de Alfonso XIII, to the Mercado de Triana, this market was bustling with locals and traders alike.
Plaza de Toros; the bullring. As an amphitheatre to one of Spain's passions, it is an impressive sight.
Not visited on this mini-break, but explored as part of our 2014 Spanish road trip.
The wonderful varieties of tapas, there are so many to choose from. We particularly enjoy the Iberico ham and regional cheeses. But equally Gary has a penchant for the Morcilla (blood sausage to you and me, bit of an acquired taste) and also Albondigas (meatballs)
Our hotel for this break was El Rey Moro, which is in a fantastic location and the staff really made you feel welcome, without being too imposing.
We personally don't like the weather to be too hot when visiting a city, so the temperature of the early 20's in mid-November was ideal for us.
I have become Sherry lover, the varieties which are to be indulged upon in southern Spain are not your typical sweet syrup, that you often get around Christmas time in the UK.
They range from the bone dry Fino to the rich sweet Pedro Ximenez are a pleasure to be experienced.
'Casa Placido tapas bar', when we arrived in Seville's old town the sun was just beginning to set, but we headed out immediately to make the most of our time.  We stumbled upon a little tapas bar that caught our eye, slightly rustic but that was part of the appeal. We popped in a few times during our stay and was from then on known as 'our tapas bar'.
Nothing really, other than continuing to discovery new treasures.
Well funny for Gary anyway…., I really didn't appreciate before I went to Seville the abundance of orange trees. Street after street the trees are dripping with these wonderful gems
There is a hazard warning though, don't stand under them for too long. I'm still reminded by Gary of when I was hit by an orange…….he continues to find it amusing.
Flamenco; I only mention this as a slight disappointment as we didn't get the opportunity to see an intimate show, but perhaps next time.
It is probably a good idea to try and get your bearings when you arrive because as the sun starts setting, the narrow streets really can be a maze.
I loved Seville and I can't wait to rekindle the friendship again.
Inspired to visit Seville?
It is one of our favourite European cities, with so much to offer you. You'll love exploring during the day, and then being fed & watered of an evening. For us, it's a magical place, especially the Plaza d'España.
Search for your flights in one easy place with
ebookers.com
and open up a world of options. Over 400 airlines are scanned for your favoured routes and chosen dates.
(Why not Pin It for Later?)